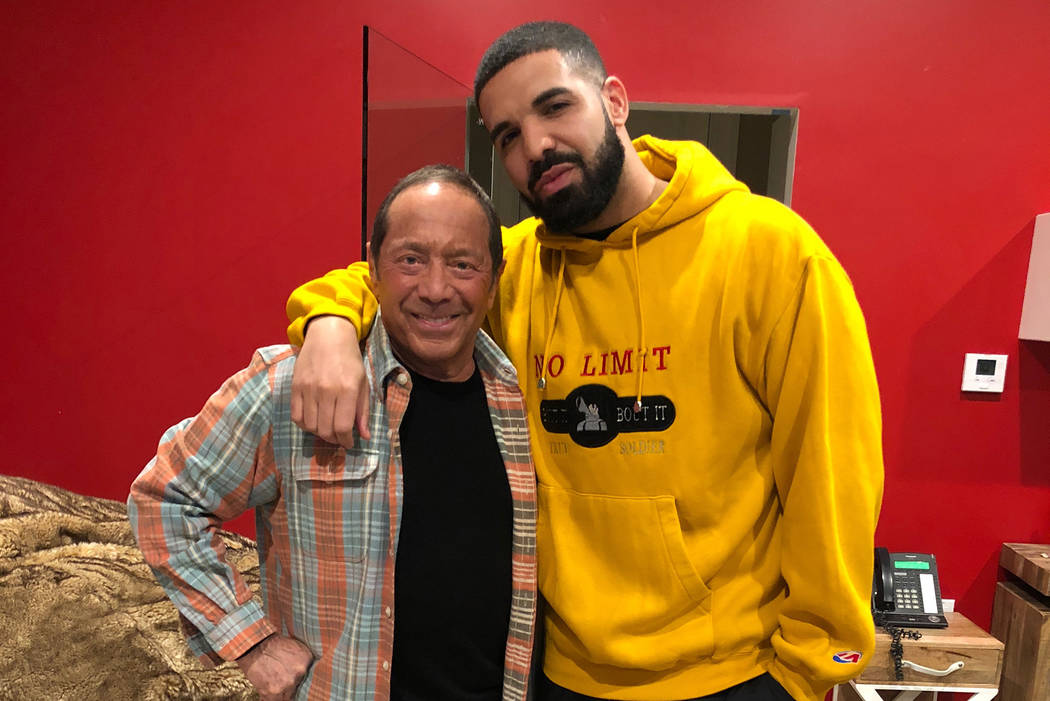 Deep into this phone chat with Paul Anka, I ask if he's considered partnering with a contemporary artist —- maybe a star from the EDM or rap universe.
"It's very curious that you bring that up," Anka says, "but I'm working with Drake right now."
Yes. Paul Anka is working with Drake.
"He's a fellow Canadian, so we have been working on infusing what I do, and what he does," Anka continues. "It's a merging, if you will, of cultures, in a sense of what I do to what he does very well."
Continually creative and prolific, the 76-year-old member of contemporary music royalty continues to expand his artistic horizons. Since that chat, Anka announced at the Canadian Music and Broadcast Industry Awards show in Toronto on Thursday night that he and Drake are indeed teaming on a new project to be released in June (Anka teased the project in February by posting a photo of him and Drake on Instagram). Anka accepted that award from a fellow Canadian, and fellow superstar crooner, Michael Buble.
With that upcoming collaboration in the backdrop, Anka is back on the Strip for five shows at Encore Theater at Wynn Las Vegas, a series running from Friday and Saturday, May 23, 25 and 26.
The master of classic pop is marking his 60th year in show business, a career peppered with such classic tunes as "My Way," written for Frank Sinatra but covered by so many stars, especially Elvis; "Diana," "Put Your Head On My Shoulder" "Lonely Boy"; Tom Jones' "She's a Lady"; and "Johnny's Theme," the opening of "The Tonight Show Starring Johnny Carson" for 30 years.
Some highlights of our chat:
Kats: So, who makes the first call in a Drake-Paul Anka conversation?
Anka: Well, somebody from that world saw me and they were amazed at the performance and all the songs, and they made the introduction because they think I should be working with not only Drake but others. So he called and we got together over the phone and we decided what the idea would be and he came over to home, in my studio. The hip-hop world is really what's driving our culture right now, and it's not getting the respect that it should.
You know, covering the entertainment scene here, I have to tell you, there is not one week that goes by when I don't hear "My Way" someplace.
(Laughs) Annoying, isn't it?
It depends on who's doing it. But does it ever get old? How does it feel to hear your song recited by so many artists?
It's always a rush, really, because I harken back to when I wrote it, when I was in my mid-20s and I wrote it for Sinatra, and only him, because I knew he was retiring from show business. But like you said, it depends on who's doing it. I got a text from my friend who was in Paris and was at the bar and the piano player was singing it (laughs). So, you know, your songs are like your children, and it's hard to pick one over another. But "My Way" has become very special and separated from the pack.
Can you take me back to when you first arrived here, what Vegas was like?
I first came to Vegas in '58, to the Sahara with Sophie Tucker. I was opening for her, and "Diana" had already been out and the hotel had never seen a rash of teenagers carrying on. So they asked me to close the show. I've kind of been a product of that town ever since.
Did you hit the scene and see other performers in those days?
Yes, my manager took me around and we saw the Rat Pack and Eddie Fisher and all the lounge acts that were happening. When I moved to the Sands in the '60s there were just a few hotels, a small airport and a lotta desert. The guys who were on top then were Johnnie Ray, Red Skelton, Freddie Bell, and I saw all of them. I got to know Bobby Darin, and we talked about how we could do something different from what we were seeing — we wanted to evolve.
What do you think of the stage presentation of shows in Vegas today?
What people today simply don't get is that technology didn't prevail in those days. The music industry was small, technology was small, and we didn't have the tricks to make us sound better, or DJs coming in with music stored on a computer making $500,000 a night. You either had it or you didn't. And to have it, you needed to work. If you wanted to be like Sinatra and all those guys, you had to get as much exposure to them as you could. Every chance I got, I went to Vegas to soak it up.
You worked as a newspaperman as a young man, right?
Yes, I did! I started as a writer at the local newspaper (the Ottawa Citizen) because my father threw me into a typing class. I typed 70 words a minute. From the very beginning the writing part of my life has been very important. I'm writing a lot right now, in fact. I always write, and I'll never stop writing.
Contact John Katsilometes at jkatsilometes@reviewjournal.com. Follow @johnnykats on Twitter, @JohnnyKats1 on Instagram.