Paul Rodriguez becomes comedy elder; 'Pawn Stars' faces cloudy future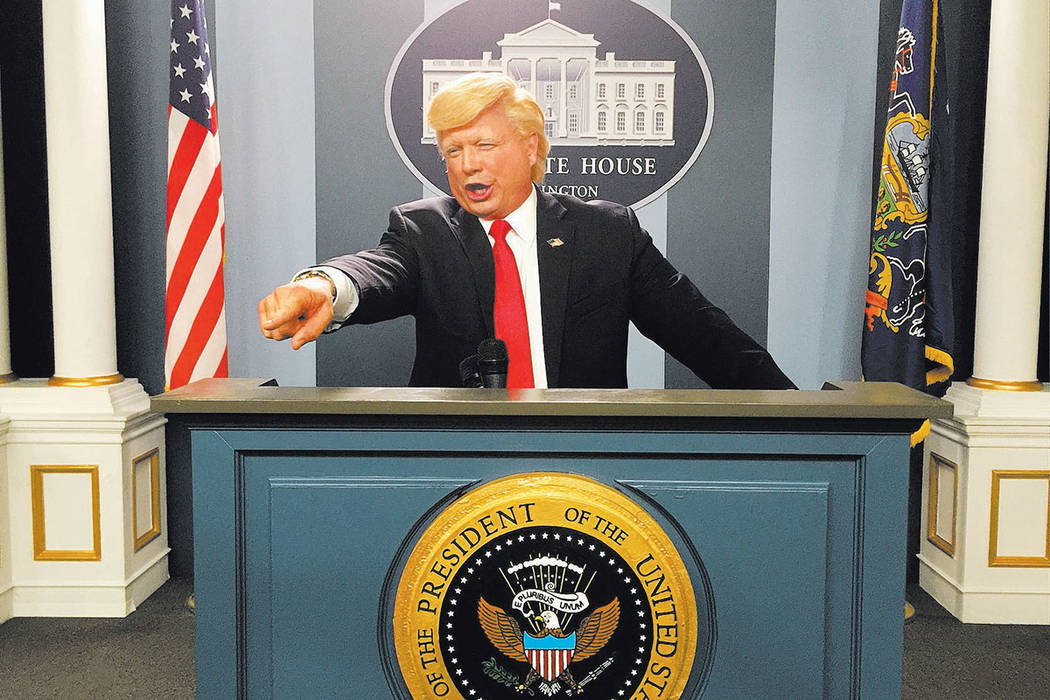 A funny thing happened to Paul Rodriguez as he returns to telling jokes on the Strip.
He became one of comedy's elder statesmen.
"Now, with the passing of guys like Don Rickles and so many others, you wake up one day and you're the old guy," says the 62-year-old Rodriguez, who has been performing in Las Vegas since the late-1980s. "So now I'm telling audiences, 'Back in the day, my microphone was made out of wood!' That's how bad it was!'"
Rodriguez is making another pass through town as the host of "Latin Kings of Comedy" on Friday and Saturday night at Tropicana Theater. Rodriguez is joined by touring partners Joey Medina, Manny Maldonado and Gene Pompa.
The show also coincides with the heavy Latin turnout for Cinco de Mayo weekend and the upcoming Canelo Alvarez-Julio Cesar Chavez bout Saturday at T-Mobile Arena. "Latin Kings" also lauches the "Laugh Factory Concert Series" at the Trop, top draws who will complement the Laugh Factory's lineup of club pros.
The shows mark a return to the very room in which Rodriguez attempted a residency in 2010. "The Whole Enchilada" ran for about a month, a noble effort during which Rodriguez added a Spanish-speaking matinee as he tried to improve sales.
"Nothing worked for us in Vegas back then," says Rodriguez, who is going English exclusively this weekend. "It was a tough room for us."
Rodriguez has since crafted a highly successful career as a film and TV actor and in stand-up. He's working with Cheech Marin, his co-star in the 1987 film "Born in East L.A.," and his son, Paul Rodriguez Jr. (aka "P-Rod") on a sitcom for NBC. Marin plays a retired cop, and Rodriguez portrays "a guy who has retired from nothing." The three are housemates in the yet-untitled series.
"I have wanted to work with Cheech again since 'Born in East L.A.,' " Rodriguez says. "My kid, I dunno. He's great at everything I'm not great at, which means he is great at everything. I'm just along for the ride."
In the "Latin Kings" engagement, advance advertising of the show boasts that the threesome "have been touring and bringing down the house and bringing down the wall with their caliente comedy." So expect a certain level of topical humor from the lineup, though Rodriguez himself is cautious about alienating his audiences.
"I have never seen our country so divided, so much division, everywhere," says Rodriguez, who steers clear of political messaging in his stand-up act even as he has supported the presidential candidacies of Mitt Romney and Donald Trump. "Personally, I took a lot of heat for my views, and I've never been a political guy onstage or push for a particular candidate during my act. But with Trump, we chose the lesser of two evils and we should respect our system.
"I just stay away from political or presidential jokes. They'll kill with one audience, but piss off another one."
Di Domenico's Donald dominates
On the topic of Laugh Factory, Vegas comic John Di Domenico captured the top spot in the comedy club's international Donald Trump impersonators competition last Wednesday night in L.A.
"I won, I won. I just keep winning. That's what I do, I win. That's all I do," Di Domenico, as Trump, said from the stage. The 10 finalists arrived from international outposts including Iran and New Zealand. Among the judges was "Saturday Night Live" alum Darrell Hammond, who was also a judge when Di Domenico prevailed in the semifinal round on the morning TV show "The View."
Di Domenico's award for winning the contest is hosting a weekly show on the Laugh Factory's website, "Fake News/Real News," and performing at Laugh Factory outlets. He's yet to have booked a show in Las Vegas.
Amazing Tat action
Find this on The Amazing Johnathan's Instagram page: A fan has tattooed the upper half of the great comic-magician's face to her left forearm, showing his famous, raised-eyebrow expression. He met the woman during his weekend gig at the Orlando Improv Comedy Club and posed with her forearm across his forehead. It's an inventive, abeit spooky, effect.
Here comes Chum
Head's up for news this week on Austin "Chumlee" Russell, co-star of "Pawn Stars" on History. The show has finished its 13th season and the cast — Richard, Rick and Corey Harrison and Chumlee — have yet to be informed if History will pick up the show's 14th season. The series debuted in 2009. Rick and Corey Harrison, especially, have been seeking ventures outside the TV show for when it inevitably ends.
John Katsilometes' column runs daily in the A section. Contact him at jkatsilometes@reviewjournal.com. Follow @johnnykats on Twitter, @JohnnyKats1 on Instagram.