Pawn Plaza remains work in progress in downtown Las Vegas
August 22, 2016 - 8:13 pm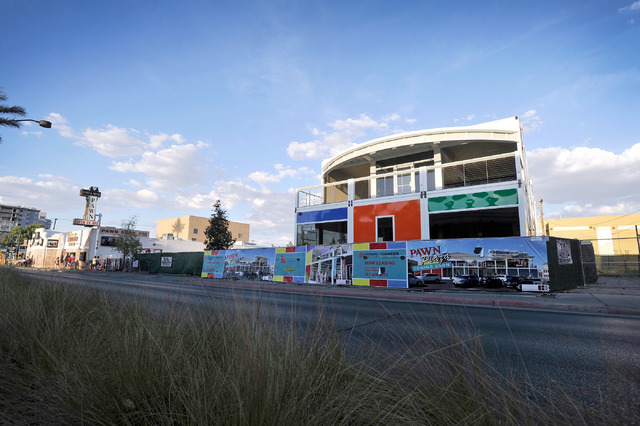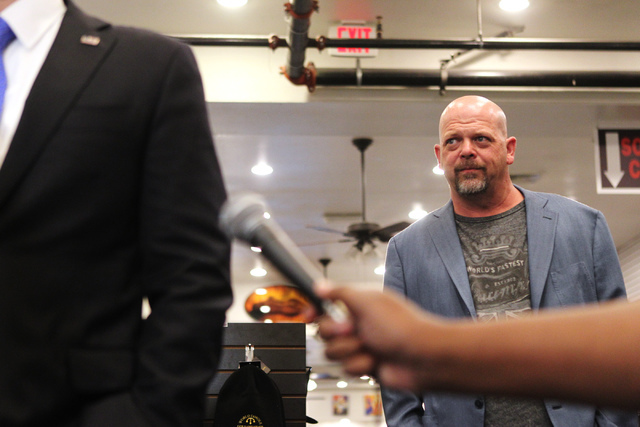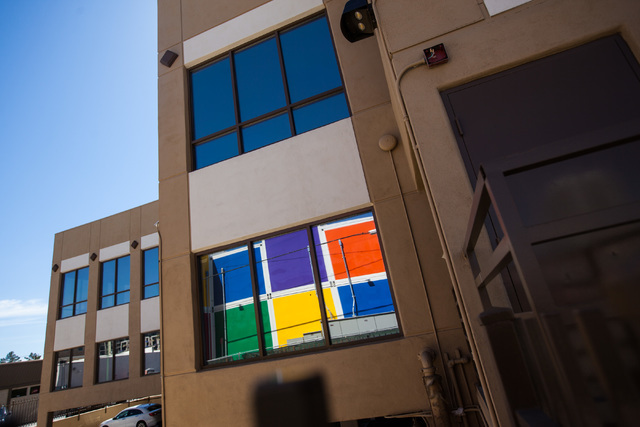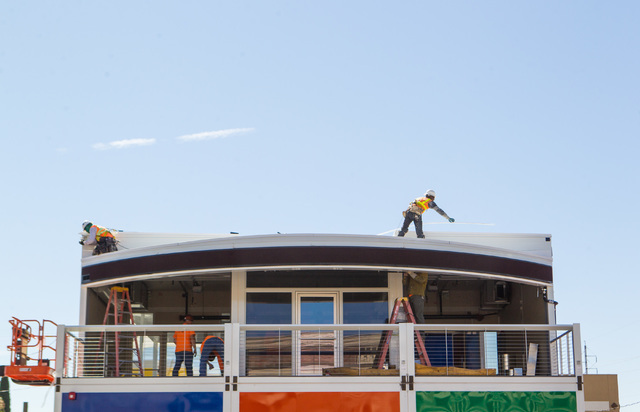 The Kats! bureau at this writing is Rick's Rollin' Smoke Barbecue & Tavern at Pawn Plaza. This is the stack of restaurants in the multicolored strip mall of and shops on Las Vegas Boulevard just north of Gass Avenue, sharing a parking lot with Gold & Silver Pawn.
I just polished off an order of smoked mac and cheese, honey-slathered cornbread and an Arnold Palmer while taking inventory of what is and isn't open at Pawn Plaza.
First, the quick story of this spot: Rick Harrison, who founded Gold & Silver Pawn in 1989 and has ascended to stardom on the History channel show "Pawn Stars," opened Pawn Plaza in October. The idea was to filter the hordes of visitors to Gold & Silver Pawn to this Container Park-fashioned mall and build a business that would outlast the TV series. A bunch of independent businesses and small franchisees signed on to the project and awaited the tide of tourists.
Ten months on, we have an early verdict, and it's that a poutine eatery next to a Vegas pawn shop is not quite a lead-pipe cinch. A few of the original businesses at Pawn Plaza have closed and moved out in the past week. Shutdowns (reported first by our friends at Las Vegas Advisor and confirmed Monday morning by the Pawn Plaza PR reps) include: Smoke's Poutinerie, Pawn Coffee and Donut, Vegas Flip Flops and Inna Gadda di Pizza.
In a statement, Harrison said, "While we are disappointed to see some of our original tenants leave Pawn Plaza, it is the nature of this business. Tenants will shuffle around to some degree before we settle in with the perfect blend of businesses. We wish all of those departing the best of luck and look forward to announcing our new tenants very shortly."
In a glass-half-full vein, Pawn Plaza reps mention many of the original Pawn Plaza businesses remain open: Rollin' Smoke (obviously), Rockabilly Girl,Body Spa, So-Cal Speed Shop andPawn Plaza Vow Renewal and Weddings.
Crucial to the marketing draw of Pawn Plaza is Harrison's role as bartender at Rollin' Smoke Tavern on select weekends. At least one tenant has complained that Harrison has not followed through on some announced appearances, but his camp reminds that he does appear to sling drinks (and, likely, offer relationship advice) when he is in Vegas. A delayed flight for weather wiped out one announced appearance, but Harrison is back behind the bar this Friday and Saturday night starting at 8 p.m.
As always, Harrison's specialty is any drink whose ingredients are same as the name — rum and Coke, vodka and soda, gin and lawn trimmings. Those, he can handle.
Just don't ask for flip-flops.
BETWEEN THE TIMES
We have new schedules for "Baz — Star Crossed Love" and Clint Holmes' "Between The Lines" at Palazzo Theater, and Holmes certainly does benefit from these adjustments. "Baz" is going dark Sundays and Mondays beginning Aug. 28, leaving open the 7 p.m. slot on those nights for Holmes. His show at the Palazzo is normally 9:30 p.m., a tough time for his Las Vegas fans, few of whom are apt to visit the Strip at 9:30 p.m. on a weeknight or any night.
The new, full schedule is Holmes at 7 p.m. Sundays and Mondays and still at 9:30 p.m. Thursdays, Fridays and Saturdays. "Baz" is 7 p.m. Tuesdays through Saturdays. And if you feel this is a way to bolster the financial viability of these shows, both of which are outstanding, you would be right.
ZOWIE!
More on this cat in a future post, but Zowie Bowie is back at Rocks Lounge at Red Rock Resort at 10 p.m. Friday. ZB, or Chris Phillips as he is known on the police scanner, burned it up in that room for nearly a decade before his run ended abruptly in January. He then developed a big-band production, a show loaded with great Vegas musicians and nodding to the heyday of Bobby Darin, the Rat Pack, Tom Jones and Wayne Newton. That show, "Vegas … Straight Up" sold out Grandview Lounge at South Point on Saturday night, given a healthy shot from Frankie Moreno, Gordie Brown, Jaime Lynch and the reliably thunderous Vinnie Paul).
Phillips also mentioned his hero Tony Orlando, who had earlier sold out South Point Showroom and performed the first Vegas show Phillips attended at Las Vegas Hilton when he was a kid.
Phillips will continue monthly performances at South Point through December while pouring it on at Red Rock with his Top 40 dance extravaganza. The Zowie Bowie formula is to just bring the party, and it has worked at Rocks Lounge for a very long time.
A TIME FOR SWEETS
Some save-the-date action here: "Absinthe" star Melody Sweets is performing her first solo show at the Smith Center at 10 p.m. Oct. 11. Titled "The Sweets' Spot," the show is under the music direction of the great Lon Bronson. Tickets are $25 and $40, available at 702-749-2000 or at the Smith Center website.
Long a column favorite, Sweets promises "enough glamorous burlesque, kinky cabaret, and other vaudeville-style variety acts to satisfy your Sweets tooth!" Dress accordingly.
John Katsilometes' column runs Saturday, Sunday, Tuesday and Thursday and Fridays in Neon. Contact him at jkatsilometes@reviewjournal.com. Follow @johnnykats on Twitter.