Penn & Teller play the 'Fool'; Donny & Marie fill dates at Flamingo
Updated March 8, 2017 - 8:29 am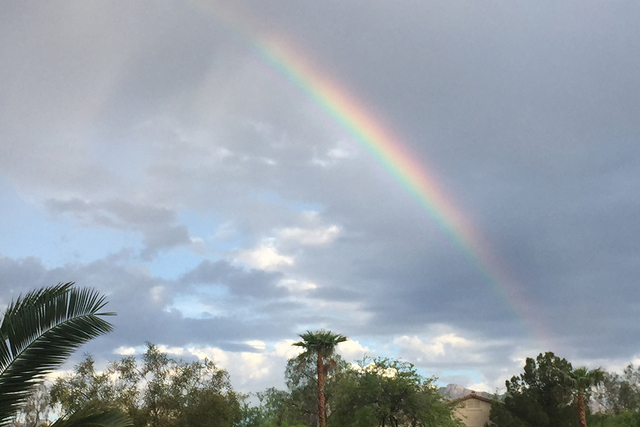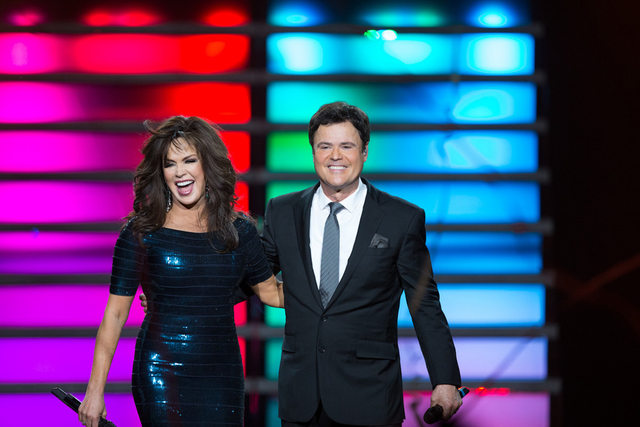 Occasionally I'll post a #quoteofthenight or #quoteoftheday on my Instagram or Twitter pages. Tuesday night, the quote was: "I just met the Axl guy, and he was lovely."
For more explanation, read on:
FOOL HOUSE
Penn & Teller have been overhauling their stage show for much of this year, including the revival of "Tomsoni," a lengthy act once performed by "The Great Tomsoni," Johnny Thompson. A new children's act is also in development.
But the duo is shelving the production at the Rio theater for much of this month to tape the next season of the CW show "Fool Us." Those shows, running between March 14-22, are open to the public with free admission. (Times and additional ticketing information at on-camera-audiences.com).
In its fourth season, "Fool Us" invites professional magicians to perform acts for the duo. Those good enough to fool the veteran Vegas headliners are awarded a chance to perform onstage in a live Penn & Teller show. Stars have been made this way. "Piff the Magic Dragon," now headlining at Bugsy's Cabaret at Flamingo Las Vegas, appeared on the first season of "Fool Us" in 2011 when it was taped in London.
Piff and his tiny canine sidekick Mr. Piffles wound up in "Vegas Nocturne" at the Cosmopolitan, and the act was a hit on "America's Got Talent." Piff also worked behind the scenes with P&T at the Rio, helping develop the now-famous Vanishing African Spotted Pygmy Elephant Act, which took six years and cost $500,000 to develop. Worth every minute, ane every penny.
NEW DATES FOR D&M
Some silver-lining action for fans of Donny and Marie Osmond with the news of Olivia Newton-John ending her run at Flamingo Showroom: D&M have added four weeks to their schedule this year, their ninth at the hotel. The new dates are May 2-6, June 13–17, Sept. 5–9, Oct. 30, and Nov. 1–4. Hotel officials are also looking to fill dates with occasional headliners, such as the Keith Sweat run in January.
SERIOUS MOB ACTION
A title to keep an eye on is the Jeff Kutash-produced "Mob Musical," which held auditions Sunday in Los Angeles. More than 300 dancers turned out.
Kutash is famous for producing "Splash" at the Riviera for two decades ending in 2006. He has talked informally for the past couple of years about the title … resurfacing.
The 'SEXXY' 500
The adult revue "Sexxy" —produced, choreographed and starring Jennifer Romas — celebrated its 500th show on Friday night at Westgate Las Vegas. The show was originally slotted into the Westgate Cabaret in January 2015 as an entertainment option for Consumer Electronics Convention visitors, and has been running nonstop ever since.
NEW EVENT CENTER ACTION
The first event set for the Plaza Event Center at the hotel of the same name is the NCAA Tournament viewing extravaganza March 16-19. Under the trademark-friendly title of "March Mania Viewing Party," admission costs $15 per day, or $40 for a four-day pass (excluding fees).
Plaza Chief Executive Officer Jonathan Jossel says the focus is first on private events and sports-viewing parties (including boxing and UFC cards), then ramping up to ticketed concerts.
BEL AIR DANCE
Steve Wynn has made a small profit selling his Bel Air mansion to a couple of high-profile Beverly Hills surgeons for $16.55 million. Wynn purchased the, 11,000-square foot estate in 2015 for $16.25 million. The buyers are plastic surgeon Sheila Nazarian (who has appeared on "The Doctors" and "Real Housewives of Beverly Hills," among other TV shows) and her neurosurgeon husband, Fardad Mobin.
COOL HANG ALERT
The "atmospheric" dance production "Reverie" filled Indigo Lounge at Bally's on Sunday night. This was quite the pleasant surprise, with the fiery five-member dance team grooving on the lounge's back stage and through the audience behind the singing of Maren Wade (formerly of "50 Shades: A Parody" at Windows Showroom). The show was developed by former "Steve Wynn's Showstoppers" dancer Genise Ruidiaz and kicks off at 10 p.m. with 15-minute segments on the hour through midnight. Animating a Strip lounge in such a way on a Sunday night is no easy feat, but these performances rock. No cover, either.
ROCK IT!
The Tenors of Rock have added a Monday show to their schedule at Harrah's Showroom, good news for fans of classic rock (seemingly everywhere in VegasVille). Beginning next week, the Tenors will perform at 8 p.m. nightly, except Tuesdays, at Harrah's.
Meantime, give it up for the live, rock production "Rock Fantasy," which just opened at Hooters. The rotating acts include tributes to Axl Rose (Colby Veil), Mick Jagger (the coincidentally named Mick Adams), Robert Plant (Michael O'Mara) and Elton John (Kenny Metcalf) — that was the lineup in Tuesday's media night — and hosted by column fave Kelly Vohnn. This is a loud and proud production, so bring earplugs.
Also, know that Metcalf handmade the replica of Sir Elton's sequined L.A. Dodgers uniform he wore during his two sold-out shows at Dodger Stadium in October 1976. Metcalf actually visited the Hard Rock Hotel, where the uniform is displayed, and took photos of the piece to ensure accuracy.
John Katsilometes' column runs daily in the A section, and Fridays in Neon. He also hosts "Kats! On The Radio" Wednesdays at 8 p.m. on KUNV 91.5-FM and appears Wednesdays at 11 a.m. with Dayna Roselli on KTNV Channel 13. Contact him at jkatsilometes@reviewjournal.com. Follow @johnnykats on Twitter, @JohnnyKats1 on Instagram.