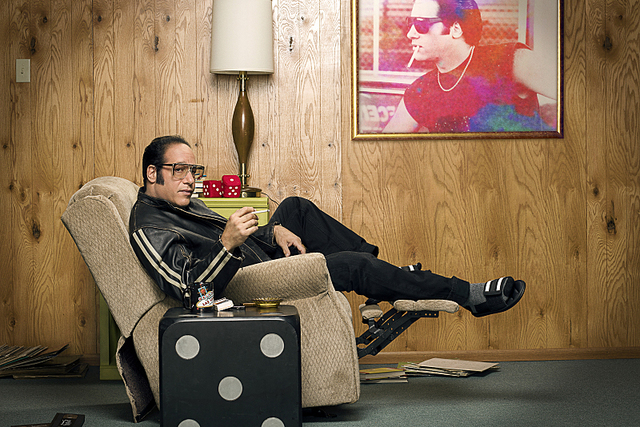 As Dice Clay talks, he smokes, and vice versa. A nonsmoker might find this offensive, but Clay is here to offend – it's his entire state of being. He is equal parts funny and offensive, qualities that belong together like a pack of Camels and a Zippo.
That balancing act has made The Diceman, as he is widely known, a star for decades in stand-up and elsewhere.
Clay continues his three-pronged invasion of entertainment mediums. He's at the Laugh Factory at the Tropicana, where he invariably fills the room, at 10 p.m. today, Saturday and Sunday. This summer, Clay finished filming the remake of "A Star is Born," working alongside co-stars Lady Gaga and Bradley Cooper in the role of Lorenzo, the Italian father of Gaga's Ally.
And on Aug. 20, The Diceman is back with the second season of his series "Dice" on Showtime.
Clay expounded on all those topics, and more, during a lengthy interview backstage at the Laugh Factory, just as "Dice" had wrapped filming and he'd performed onstage. Highlights:
He worked with "two powerhouses" in "A Star is Born": "Lady Gaga is phenomenal. I got nothing but respect for her. She doesn't even need to do a movie like this, but her acting is great. In every scene we have magic. It's exciting," Clay says. "And Bradley, the way he is directing. It's almost like watching Martin Scorsese — he's that detailed, and he's starring in it, too. So to watch him direct what he's doing is amazing."
His role in the movie is "heavy." "It's a big part, a heavy part, and I love it," clay says. "I had to go from filming the TV show to doing 'A Star is Born' a day later. It's a whole different mindset, but Bradley got me there. We got really close, talking about our families and our lives."
Clay cried when Cooper offered him the role in the film: "He's so sensitive, and I know it sounds nuts but I'm also ultra-sensitive," Clay says. "You know, that's the other side of me which is what's in that movie. He's just the greatest guy – I have met his family, and they are the nicest people. I call his mom just to talk, to B.S."
There are some serious actors in the upcoming season of "Dice.": "We've got Mike Starr, Michael Imperioli, and Mickey Rourke," Clay says. "With Mickey, this is the first time he's ever done TV, and it's just an insane episode. I don't want to give anything away, but look out. We've got Ron Livingston, Spencer Garrett, Billy Gardell – I was thrilled to work with because we are buddies."
He has no formal acting training: "No, my whole idea was using a comedy stage, and just developing on stage at different levels, developing characters and different voices," Clay says. "It all comes from the stage, being sharp there. I just want to tour a little more. I feel I owe it to people to do that."
He likes the cozy confines of the Laugh Factory room: "I love the Laugh Factory because, you know, it sounds like a cliché line when you say it's intimate, but 300 people to me is like there because I've done over 100,000 people a night, so what's 300?" he says. "They want to move me into the main room here, the theater, but I love being in front of 300 people."
He's still nervous before taking the stage: "You feel it it, you know? They show this film before I go on, with black hair, and I walk out with the gray because I colored it in the movie, and that makes me nervous. This is what I think about!" Clay says. "I still get stress, nerves, because I still love it. I still want to thrill people. I still get that feeling like, 'Oh, (expletive), I've gotta go on? I never want to lose that."
John Katsilometes' column runs daily in the A section. Contact him at jkatsilometes@reviewjournal.com. Follow @johnnykats on Twitter, @JohnnyKats1 on Instagram.