Phones locked up during Bruno Mars concert on Las Vegas Strip
Updated July 28, 2018 - 12:55 pm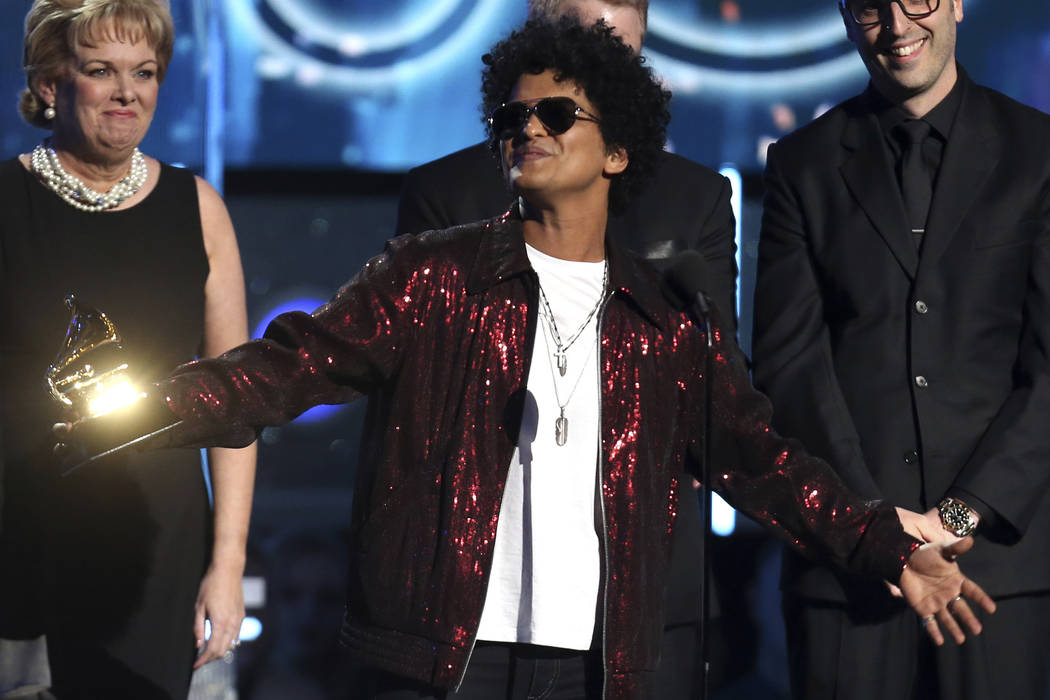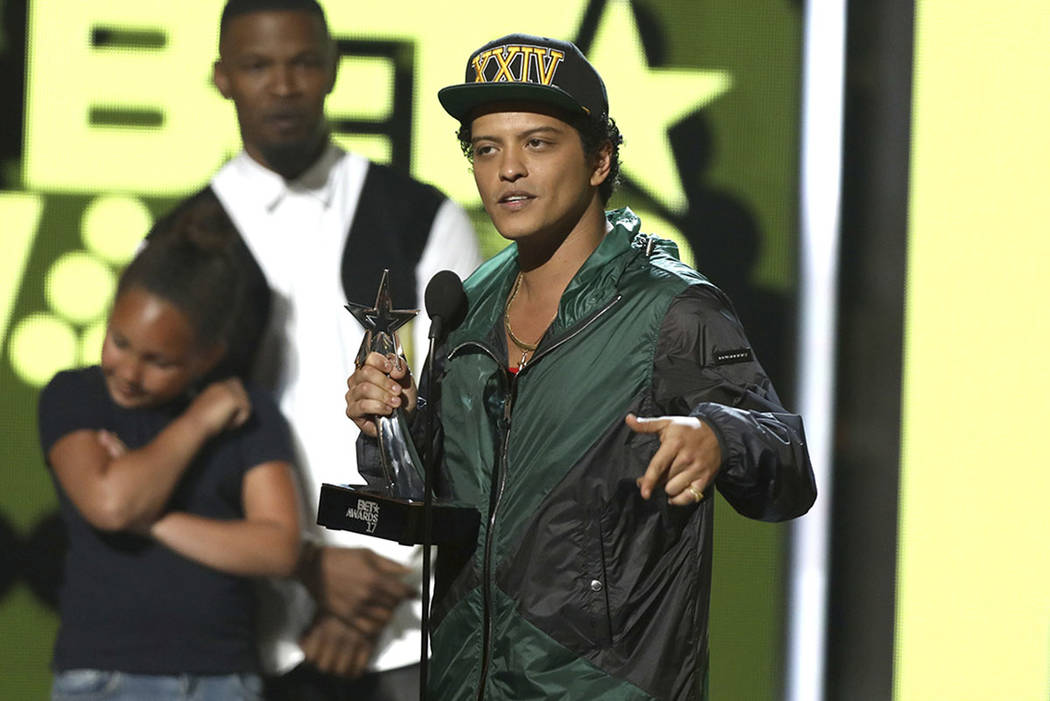 Bruno Mars locked up our phones Friday night at The Park Theater. He didn't take them personally, but enlisted the ushers at the venue to stuff all smart phones into locking "phone cozies" at start of the performance.
The phones, locked into cases provided by San Francisco company Yondr, were released (under the rules of mobile-phone probation, I believe) as the crowd filed out. I call these types of shows "pouched."
Dave Chappelle was the first Strip headliner to pouch a show, in May 2017 at Mandalay Bay Events Center. Chris Rock (also at The Park Theater) soon followed, along with such stars as Jack White (at Brooklyn Bowl) and Kevin Hart (at The Chelsea at the Cosmopolitan of Las Vegas) have also pouched performances.
MGM Resorts did provide a warning about this policy (without exactly trumpeting the information):, From the Park MGM/Ticketmaster link for Mars' shows: "No Refunds or Exchanges. No smoking, this includes vaping and e-cigarettes, no audio recorders/cellphones/smart watches/cameras/recording devices, and no outside food."
As always, read the small print.
A lot of concert-goers hate this policy. A confession, after seeing three "pouched" performances (Chappelle, Rock and now Mars): I prefer pouched shows to those where the crowd, including me, has their phones trained on the stage recording photos and video. I am the worst, and also the best, offender. But if everyone is playing by the same rules, I'm fine with it. You can simply absorb, observe and enjoy a performance more if your face is not stuck in your phone while you captain the Social Media All-Star Team.
But I still lost some moments in the show as I routinely grabbed at my phone to share …
— A text to my brother with a video clip of Mars in his red "Hooligans 24k" jersey with the message, "We need him in a VGK jersey ASAP."
— A boomerang video of pyro from the stage, behind the glowing "BRUNO MARS" lettering on the theater's LED screen.
— A Twitter video of Mars' medley of other stars playing the Strip, including Celine Dion ("My Heart Will Go On,"), Queen ("We Will Rock You" and "Another One Bites the Dust"), Gwen Stefani ("Hollabck Girl," spelling "B-A-N-A-N-A-S"), Backstreet Boys ("I Want it That Way,"), The Beatles, specifically the refrain of "Hey Jude" from Cirque's "Love" at The Mirage; AND Stevie Wonder ("Isn't She Lovely"). Mars closed that stretch with, "I just saved you a lot of money!
— A Twitter post quoting Mars as he kicked the words to "My Heart Will Go On," and saying, "It doesn't matter no one will see this, anyway."
— Pics on Instagram and Twitter of Mars and his band posing in the spotlight, contorting as Cirque artists in silhouette form. "This is all they do!" he called out.
— An Instagram story of Mars just dancing, absent any backing music, in a single spotlight.
— An Instagram/Twitter video of the confetti blasts at the end of the show, and the extended play-out of "Uptown Funk."
— A full video of Mars singing, "I took your phoooooones! I took your phooooones!" It was a mocking number, not to be found on any album or on anyone's social-media feed. But like the artist, and this his extraordinary performance, it was classic.
Contact John Katsilometes at jkatsilometes@reviewjournal.com. Follow @johnnykats on Twitter, @JohnnyKats1 on Instagram.