Pixies' guitarist says, 'Hit me,' especially at Binion's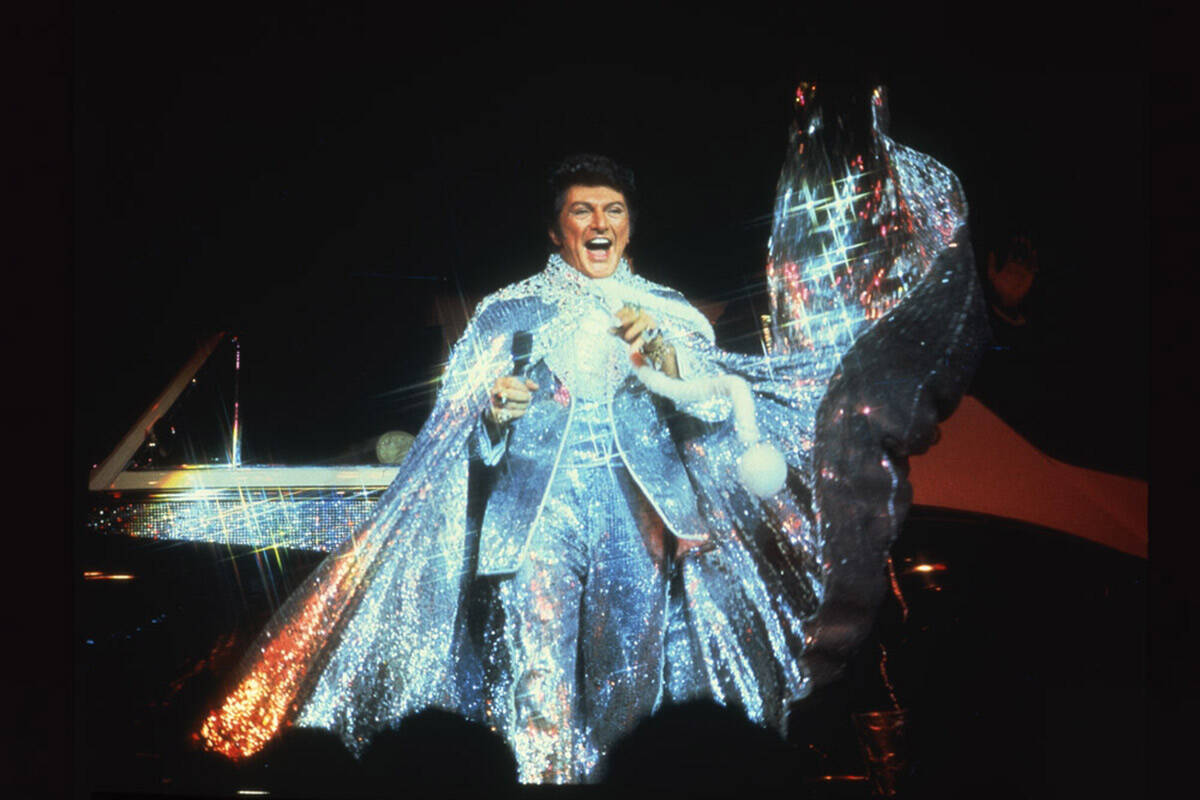 The Kats! Bureau at this writing is Sid's at Westgate Las Vegas. Time for Sid's Breakfast, served all day. I've just wrapped a chat with a rock 'n' roll legend who is never out of season.
Our chat was not at Sid's, but under this roof at Elvis's old haunt. More on this individual soon enough. We're rockin' on, elsewhere:
Here comes your man
You never know who you might find yourself playing blackjack next to on Fremont Street. Could be a tourist from Topeka. Could be the guitarist from the Pixies.
"I like to gamble, or I used to like to gamble," Joey Santiago says. "I would go for the single-deck, if I could find it. Somewhere where it's not too loud."
Lemme guess, Binion's?
"Yes, exactly!" Santiago says. "No bells and whistles. Let's gamble."
The '80s alt-rockers play Encore Theater at the Wynn on Friday and Saturday nights. This is the band's first appearance at the Wynn venue. They premiered in Vegas at The Joint at the Hard Rock Hotel in September 2010. The band returned to the theater four years later.
"I just recall that it bigger than I expected," Santiago says. "I didn't expect the Hard Rock to be that big. I haven't been in Encore Theater, but I know it's a smaller place, and we'll bring a lot of energy to it."
The Pixies are promoting their latest album, "Doggerel." Front man Black Francis came to the studio armed with 40 new songs; the album whittled to 12. Santiago has for the first time written a pair of songs for a Pixies release, "Pagan Man" and "Dregs of Wine."
The band's will also play such iconic cuts as "Monkey Gone to Heaven," "Here Comes Your Man," "Hey," "Bone Machine," "Wave of Mutilation," and "Where Is My Mind," featured in the combative 1999 feature film "Fight Club."
The Pixies formed in 1986, split up in 1993, and re-formed in 2004. Their fans span generations.
"We now have parents and kids coming in," Santiago says. "I never thought this would happen. I see a father come in with his son or daughter, and think, god, why are they here (laughs). But there are new generations who love the shows and keep up with us."
The original celebrity chef
Liberace was not just a great showman. He was pretty adept in the kitchen, too. The restaurant he founded, Tivoli Gardens, is returning to life at its original location at 1775 East Tropicana, in the same strip mall where Liberace Museum once stood. A private party on Tuesday marks the 40th anniversary of the restaurant's opening on May 16, 1983. Tivoli's grand opening is to be announced, likely a month or so out.
Pancho's Vegan Cantina owner Sacbe Meling has taken over operations, overhauling the declining space into its original form.
Tivoli Gardens was known Liberace's international cuisine (it was not just an Italian restaurant), its star-patterned lights, piano-fashioned and British pub-styled bars, mirrored walls, and the lyrics to "I'll Be Seeing You" (sorry for the ear worm) around the room.
Shortly before his death, Liberace sold to a new operator in 1986. The place was renamed Carluccio's Tivoli Gardens. Carrying just a hint of its former glory, restaurant shut down in 2011, within year of the museum's closing.
"From the moment I walked in here, I knew I was on Las Vegas entertainment holy ground," Meling is quoted on Liberace.org. "This place is very much still Liberace's. I knew instantly we had to save it."
Workers unearthed a "hidden history" during renovations.
"The truth, in Las Vegas, is always far stranger than fiction," Liberace Foundation Chairman Jonathan Warren says. "This is yet another perfect example. The origin story of the place as recorded by the Foundation originally, was all wrong. The real one will astound."
The restaurant's opening is in line with events recognizing his 104th birthday. A new show titled "Puttin' On The Glitz," being developed by Jeff Kutash (the famous producer of "Splash" at the Riviera) is being showcased Monday at Coop's Cabaret & Hot Spot. Keith Thompson is music director, with Brent Barrett, Niki Scalera and Philip Fortenberry performing a couple of original number from the musical.
Wednesday, a birthday party hosted by Perez Hilton (whose surname is the same as Liberace's famous hotel-casino during his Vegas heyday) is scheduled for Alexis Park. Column fave Lisa Gay is producing the entertainment, the them being late-1970s, retro formal glitz.
The Glam tram
On the topic of glitz and related styles, "Glam" is returning to Ghostbar at the Palms at 9:15 p.m. (doors at 9 p.m.) Sunday. "American Idol" and Rose. Rabbit. Lie. at the Cosmopolitan alum Mikalah Gordon hosts. Latin artist and top Jennifer Lopez tribute artist Connie Pena and and multi-talented comic/musician/singer Sarah Hester Ross are featured performers.
Several entertainers from Vegas stage shows and LGBTQ+ establishments across the city paying tribute to mothers, drag mothers and house mothers, kicked off by the opening number, "Mothers of the World."
Twenty-five performers are set to perform. Go to synergyhaus.com for guest-list access; purchase VIP bottle service at palms.com. Then, go to the hotel itself for in-person frivolity.
San Gennaro serves it up
Entertainment abounds — abounds, I tell you! — at the San Genaro Feast, the annual Italian and international food and music festival at M Resort. The event runs through Sunday. It returns Sept. 21 through Oct. 1.
Jimmy Tripi (the artist formerly known as Jim Buck), Michael Monge (the onetime Eastside Lounge at Encore headliner), Bella Strings (starring Nina DiGregorio), a Lady Gaga tribute, a Santana tribute, a Madonna "Truth Or Dare" tribute starring Coty Alexander; New York performer Biagio, the cast of "MJ Live"; David Neil Austin's tribute to Frank, Sammy and Dean; the cast of "The Rat Pack is Back" and David Perrico and the Raiders House Band are all on the bill through the weekend. Andy DiMino and Carmen Romano (whom, we understand, are legit Italian) co-host.
The lineup assembled by Lon Bronson is stacked; go to sangennarofeast.com for all the details.
Cool Hang Alert
Our first mentalist ever in CHA, Alain Nu, "The Man Who Knows," runs 5 p.m. Thursdays through Sundays at Notoriety Live. He is an international man of mystery, who, according to the venues, uses "untold powers to foretell our actions, reveal our unspoken thoughts and create seemingly unexplainable phenomena." It's not untold now. We tellin' it. Go to notorietylive.com for intel.
John Katsilometes' column runs daily in the A section. His "PodKats!" podcast can be found at reviewjournal.com/podcasts. Contact him at jkatsilometes@reviewjournal.com. Follow @johnnykats on Twitter, @JohnnyKats1 on Instagram.