Producers' Las Vegas roast, Liberace musical in May wrap
Updated June 2, 2023 - 3:25 pm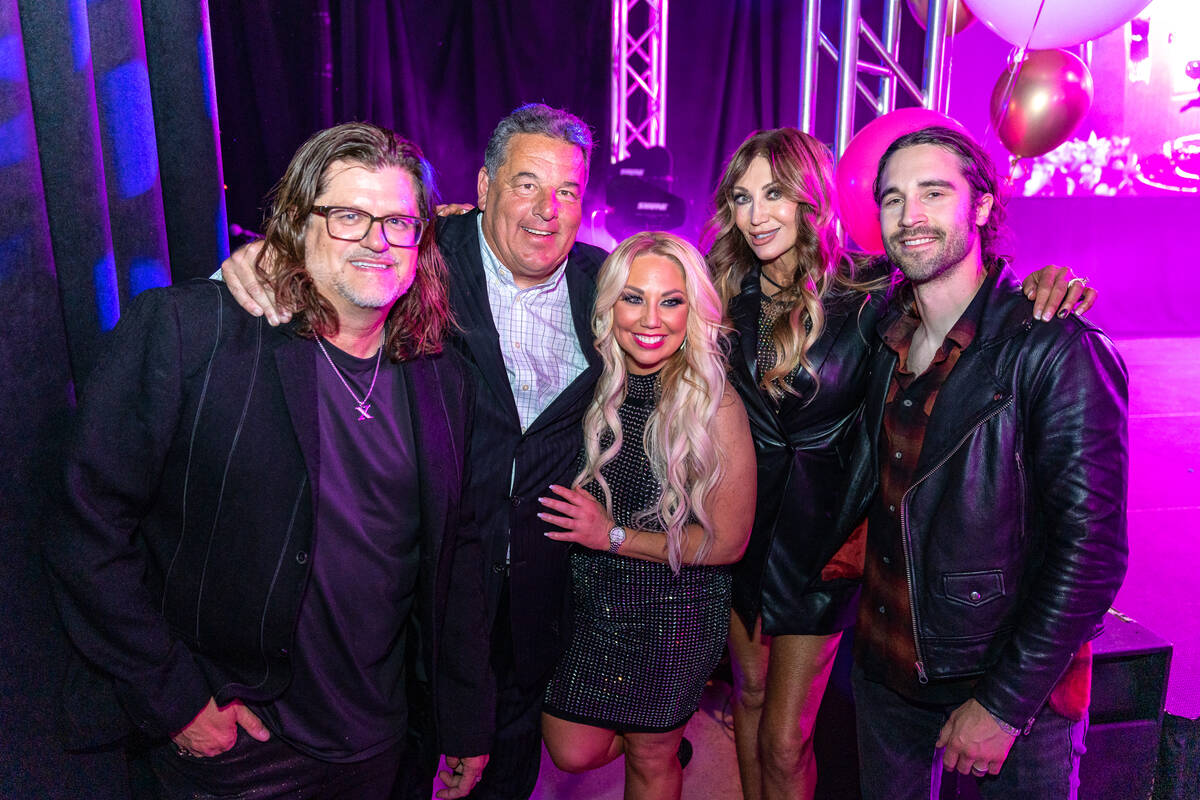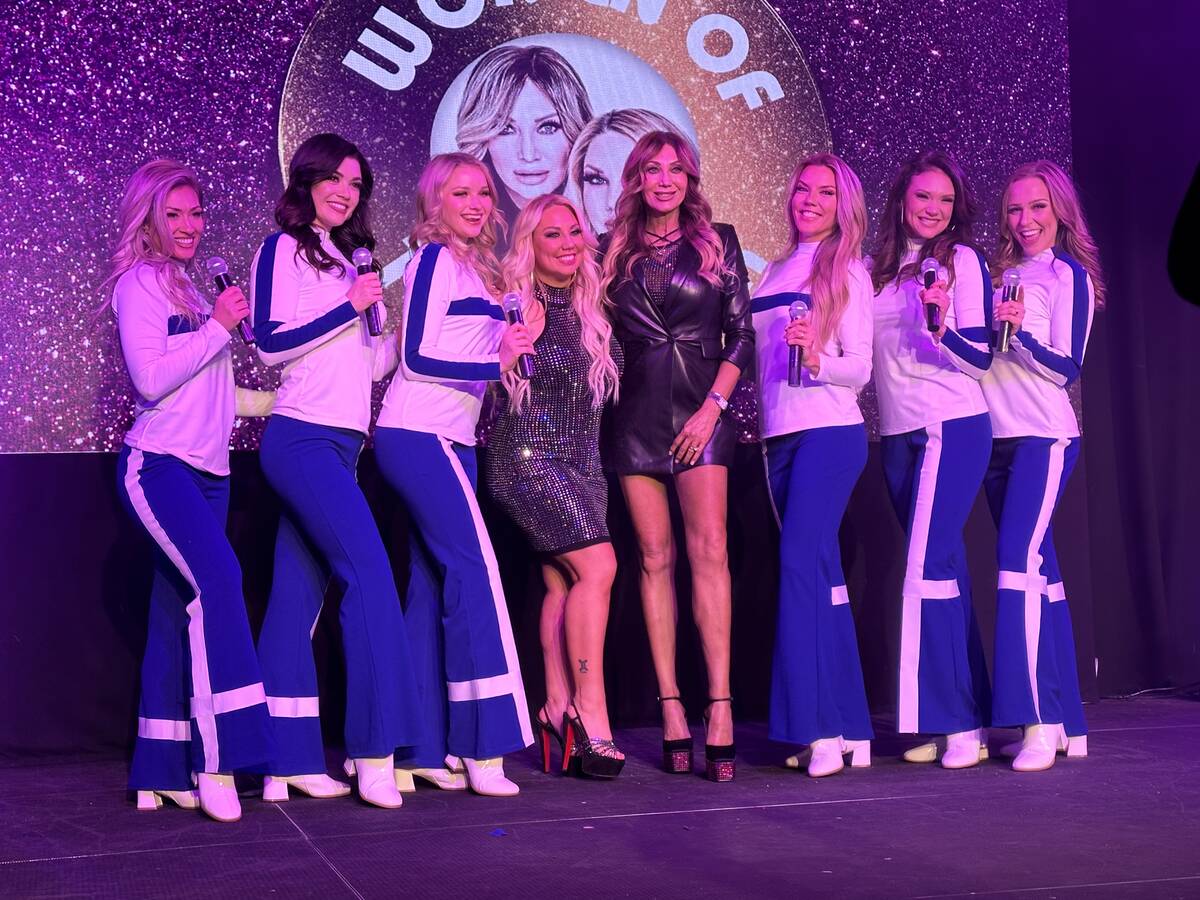 The temperature didn't reach 100 degrees in May. But the month ran hot otherwise.
Some highlights of the past 31 days, or so, culled from my iPhone 14 Pro Max. I purchased this magic device at the start of the month. It is already jammed with VegasVille content:
Iconic roast action
Angela Stabile and her daughter, Tiffany Mondell, celebrated their respective birthdays at the "T&A" party at The Space. The May 9 roast, party and celebration marked Stabile's 60th birthday and Mondell's 40th (Mondell's birthday was actually May 26; Stabile's was Wednesday).
Angela and Matt Stabile operate Stabile Productions in Las Vegas. The company produces Piff the Magic Dragon and "X Burlesque" at Flamingo, and "X Country" at Harrah's. Angela was an original member of the iconic "Crazy Girls" dance revue. Stabile's father, Joe, was Jerry Lewis' manager for nearly 50 years.
From May 15, @NikiScalera & Brent Barrett w/ Phil Fortenberry in a number from the Liberace musical "Glitz!" at Coop's Cabaret & Hot Spot. Producer Jeff Kutash is shopping the project. #RJNow @reviewjournal pic.twitter.com/jYmTARgcVy

— John Katsilometes (@johnnykats) June 1, 2023
Former "Sopranos" cast member and onetime Riviera Entertainment Director Steve Schirippa hosted. The roster of roasters: Comics John Bizarre ("X Country") and Nancy Ryan ("X Burlesque); former "Crazy Girls" cast member Shellee Renee; Angela's (and, Frank Sidoris Sr.'s) son and rock guitarist Frankie Sidoris; Mike Cardella, the very funny brother of Stabile Productions co-producer/choreographer Anthony Cardella; comic James Bean, from the "X" performance family; and John van der Put, outside of his Piff persona.
"X" dancers performed a rendition of the classic (or, pseudo-classic) "Sunshine Day" routine from "The Brady Bunch." The show was as blue as the slacks worn by the dancers in that number. There is a final, edited version due out on video. It will be a must-see.
M.J.'s jazz experience
Las Vegas's "First Lady of Jazz" Michelle Johnson hosted "Lady Be Good," alongside Grammy nominees Jane Monheit and Tierney Sutton, and Tony nominee Ann Hampton Callaway. Clint Holmes' was the male rep in the show backed by the wonderful Joe Williams Foundation.
Williams' estate is fueling such endeavors, and Johnson is co-starring in, and producing, shows to keep the legacy alive. The show was April 30, but spilled after midnight and into May 1 with a fantastic, Vegas-tinged, post-show hang at Vic's Las Vegas.
The headliners and crowd in the lounge (including several Vegas vocalists), sang "Somewhere Over the Rainbow," and "You've got a Friend" to honor Johnson, and the night. As Callaway put it, "You have inspired dreams to come true."
Bling's the thing
"Glitz!" an under-development musical reviving Liberace's life and career, was showcased at Coop's Cabaret & Hot Spot on May 15. This was one of the events honoring Liberace's 104th birthday. It might seem an odd birthday to honor. It also might seem an odd room in which to stage a show recalling "Mr. Showmanship," who had headlined spectacularly at Las Vegas Hilton.
But the point was to give a taste of a show authorized by the Liberace Foundation and Jonathan Warren. The show was conceived and is co-produced and directed by Jeff Kutash of "Splash" fame. His longtime creative partner, Marty Romley, is also on the "Glitz!" team, with backing from Jeffrey Lee Costell, CEO of the L.A. law firm Costell & Adelson.
Music is from Keith Thompson, Phil Fortenberry and Robert Oleysyck (who has worked on "A Mob Story" and Spiegelworld productions in Vegas).
Artist, composer, writer and producer Chloe Flower is also on board. The virtuoso created a stir when she played Cardi B's "Money" on Liberace's crystal-covered Baldwin at the 2019 Grammy's broadcast.
Top-line performers Niki Scalera, Brent Barrett and Daniel Emmet sang original tunes to Fortenberry's piano mastery at the May 15 show. Fun night, and the 11-minute video (voiced by Vegas broadcast entertainment reporter Stacey Gualandi) effectively conveyed the "Glitz!" objective.
It's clear Kutash's has grandiose plans for this show, which is to be staged in a replica of Liberace's production at Radio City Music Hall.
What was presented: The requisite blinged-out pianos and cars, rotating platform lifts, 180-degree video mapping, pyrotechnics, a Rockettes-styled dance troupe, dancing waters, aerialists, a "human candelabra," a gospel choir, an ice number, deep-fake technology to create Liberace's image, and an orchestra presented as a massive marching band.
What else … Ah, an A-list actor — still to be recruited — narrating the story in the Liberace role.
Whew. In today's Las Vegas? Maybe. There are a few showroom and theaters open that could house this experience (at Horseshoe and Paris, for starters). I asked the reliably savvy Kutash afterward for specifics, beyond his vision and what was presented in the video.
The important thing is to take what he did, and revise it as if he were here today," Kutash said. "What would he be doing with the music of Prince, Katy Perry? He would have taken their stuff and manifested it. That's what we're doing with this show."
Kutash needs to take this idea somewhere, be it Las Vegas or elsewhere.
"There are quite a few, four or five, places here that I've talked to," Kutash said. "But nobody can commit to a long run until they've seen the show. I want to do a limited run, if it catches fire, we can run it longer."
He also said, "It could very well go to the West End of London, or my dream, which is Broadway. We are trying to give it a Broadway flavor."
For now, Kutash has a dream built on real talent, with some powerful support, starting with the Liberace Foundation itself. But it remains to be seen if this superstar, who was ahead of his time, has not timed out.
Carbonaro's effect
We had missed Michael Carbonaro's previous appearances at Penn & Teller Theater at the Rio. The comic magician is the creator of the hidden-camera prank show "The Carbonaro Effect" on TruTV, and spells the duo when they are on the road.
P&T are currently on a sold-out tour of the U.K. Carbonaro is a favorite of both Penn Jillette and Teller (and Penn's family), and I finally caught him over the weekend.
I can see the appeal. Carbonaro is a witty, affable, self-effacing, seemingly ageless performer. You can't tell if his missteps are planned (there are verbal gaffes that might actually be in the script), and the precision of his delivery is remarkable.
Carbonaro impressively recites an entire, lengthy stretch describing deja vu — twice, creating deja vu. The bit throws off the audience and is an instant classic.
In his stage show, Carbonaro fuses clips from his TV pranks with pranks of audience members. Everyone is fair game in this production, which is edgy but works for the entire family.
The comic-magician closes with a piece of performance art. In this spellbinding, shaving-cream number, Carbonaro forms gooey-white masks and covers his torso in Barbasol. The routine reminds of Blue Man Group's use of marshmallows (this is a high compliment).
At one point, Carbonaro's face takes on the look of Victor Van Dort from Timothy Burton's "Corpse Bride." A little unsettling, but you can't help but watch. Catch the effect, through July 2.
John Katsilometes' column runs daily in the A section. His "PodKats!" podcast can be found at reviewjournal.com/podcasts. Contact him at jkatsilometes@reviewjournal.com. Follow @johnnykats on Twitter, @JohnnyKats1 on Instagram.