'Proud Mary' as an assassin? Never, says John Fogerty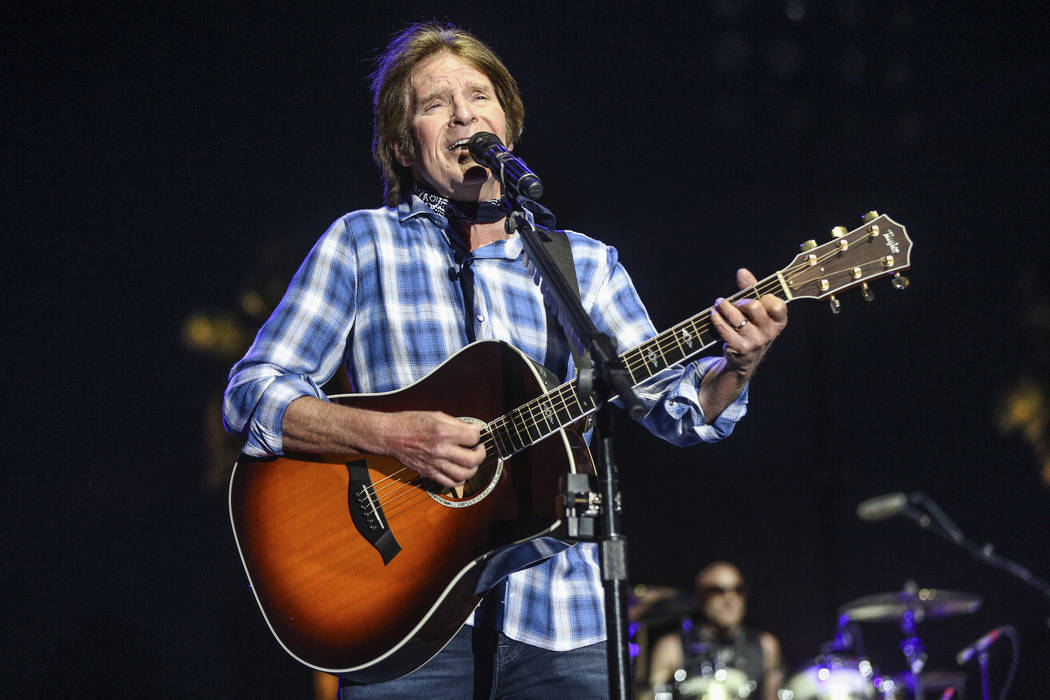 John Fogerty said his songs are precious to him. He recalls writing "Proud Mary," which he calls, "My first good song," by hand into a notebook nearly 50 years ago.
Proud Mary was "a mythical riverboat, cruising on a mythical river, in a mythical time," he explains. The song became a classic.
But today, "Proud Mary" is not just a monster hit rock song from 1969. It's a new movie, out this weekend. The title character is an assassin (played by Taraji P. Henson) working for an organized-crime family in Boston.
And the man who made "Proud Mary" a rock 'n' roll legend is not happy.
"First of all, when you see that someone is making a film called 'Proud Mary,' of course it was a total surprise to me," said Fogerty, who on Wednesday night launched his latest set of performances at Encore Theater at Wynn Las Vegas.
The shows run Wednesday, Friday and Saturday.
"No one ever tells me about things like this, including the record company," he said. "But my wife, Julie, and I were walking to a movie complex around Christmastime and there was a movie poster and it said, 'Killin' for the man every night and day.'
"I went, 'Hey, they've changed my lyric!' And they did it in such an awful way."
Fogerty said his attempts to complain to the film's production company, Sony Pictures subsidiary Screen Gems, gave been ignored.
"We couldn't get anybody to respond to us. They just decided they were going to bowl us over, you know?" he said. "Finally, I decided that my fans would want to know how I feel about this, or if I was involved in any way or have anything to do with it. Which I don't."
Fogerty qualified his feelings, adding, "I want you to understand that I don't really begrudge the actors in the movie or those folks. I imagine that, like all artists, they are putting their heart and soul into something when they have the chance. This is more about bigwigs who decide on marketing and stuff. It just sort of sends you in the wrong direction."
Fogerty, of course, plays "Proud Mary" in his stage show at Encore Theater. He has performed intermittently on the Strip since opening his "Fortunate Son In Concert" production at The Venetian Theatre in January 2016. The greatest-hit shows moved to Encore Theater last March, returning in May.
The performances are a rowdy, rockin' recitation of Fogerty's hits with Creedence Clearwater Revival and, later, his impressive solo career. Wednesday's show was a typically blistering performance, though pockmarked with a few technical snags, such as Fogerty approaching a mic stand — with no microphone attached.
Those familiar with the Las Vegas music scene will recognize Fogerty's horn section, with Rob Stone on sax, Jason Levi on trumpet, Randy Crawford on trombone and Steve Flora on — yes — tuba.
"The songs we're doing with the horns really work out nice, and they're songs and arrangements that really almost cry out for it," said Fogerty, referring to "Proud Mary," "Long as I Can See the Light, and "New Orleans," when he sends the horn players parading through the audience. "Those guys are so great and the blend is so nice. It's a really nice extra color in my music. It's like a spice, it's great as long as you don't have it going all the time."
Fogerty is told of a comment by fellow rock legend who plays the Strip, House of Blues headliner Carlos Santana, who has mentioned he would enjoy performing with Fogerty in Las Vegas should their schedules allow.
In January 2016, Santana recalled opening for Creedence in 1968 at the Santa Clara Fairgrounds in Northern California, and named "You Put a Spell on Me" as a song he'd love to perform with Fogerty.
Conveniently, the song is already in Fogerty's set list at Wynn Las Vegas.
"Wow, that would be interesting. Carlos is just a wonderful artist and a wonderful man," Fogerty said. "Gosh, I've known him for almost 50 years. That seems surreal to me. He's just a beautiful human being and I would love to see that happen, too."
Maybe so. We'll leave it to the Fortunate Son to find a way.
John Katsilometes' column runs daily in the A section. Contact him at jkatsilometes@reviewjournal.com. Follow @johnnykats on Twitter, @JohnnyKats1 on Instagram.