Ramsay turns up burner with Hell's Kitchen at Caesars Palace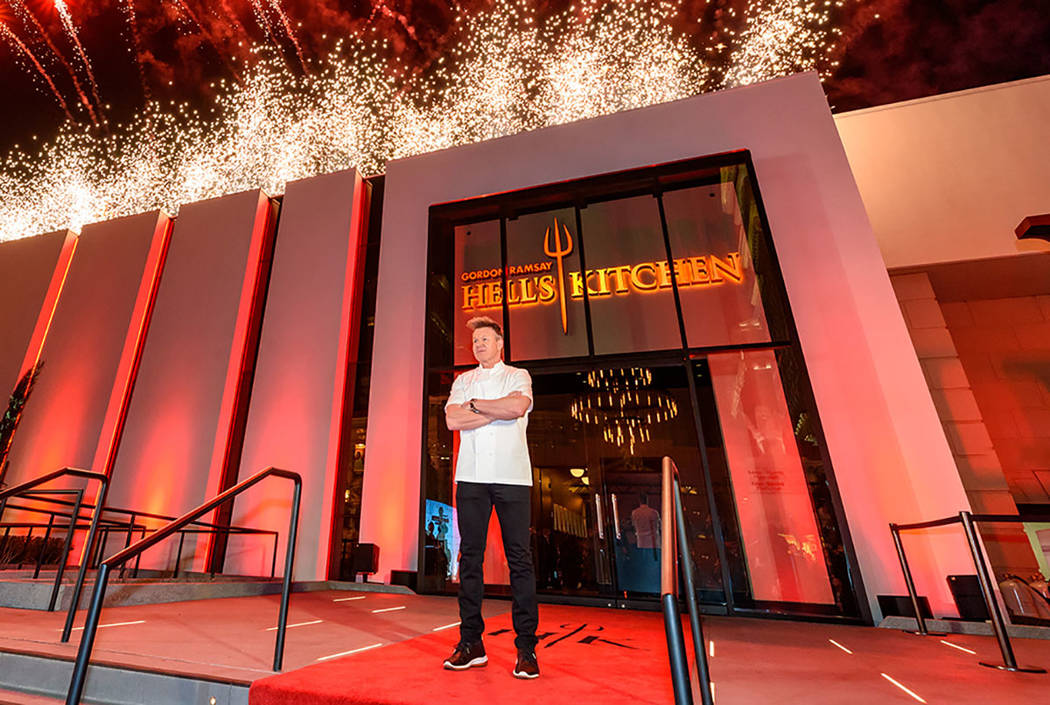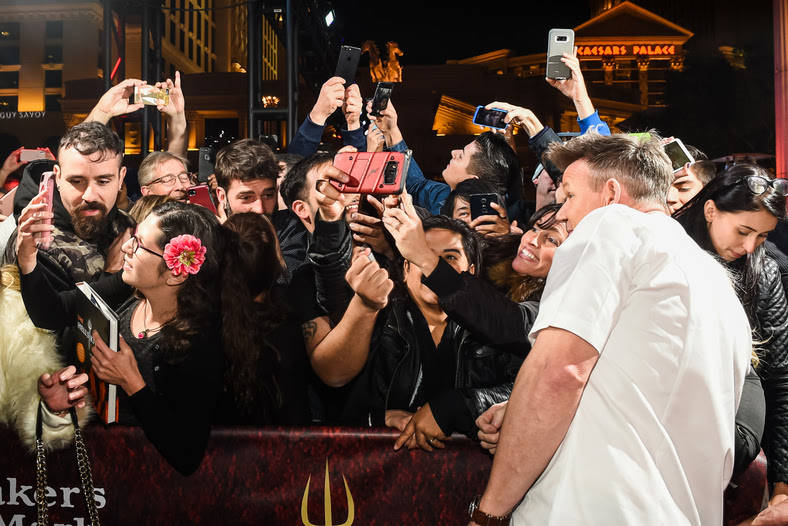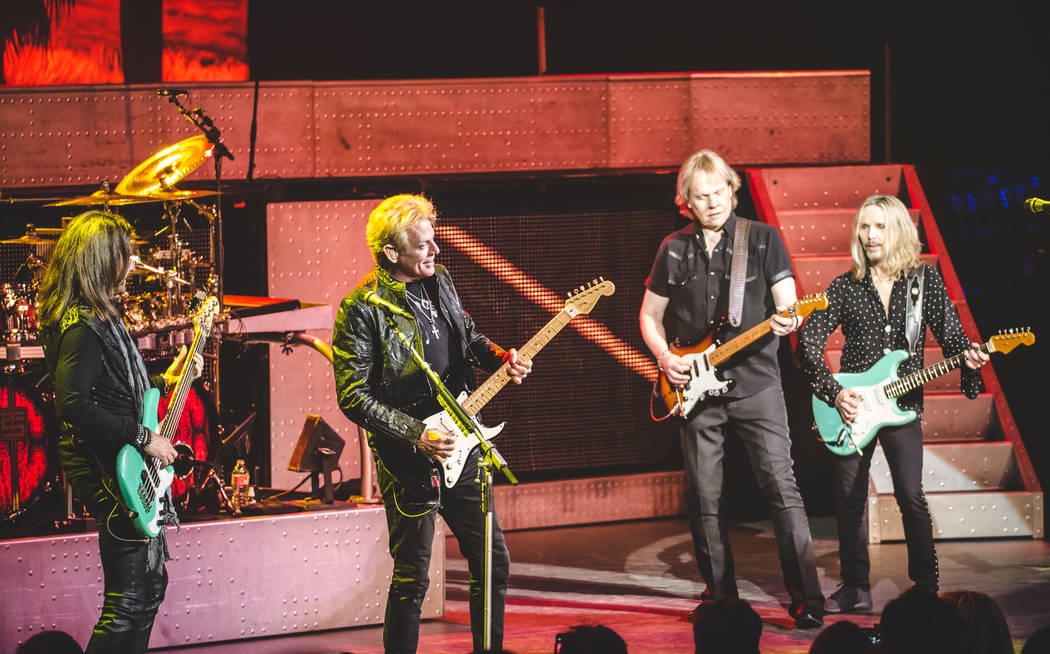 Gordon Ramsay runs five restaurants in Las Vegas, all in Caesars Entertainment resorts and two at Caesars Palace.
Not one of them is a drive-thru or serves fast food.
But Ramsay's made a swift delivery along the red carpet at Friday night's flame-infused opening of Hell's Kitchen at Caesars, where Serendipity once stood.
Ramsay, an ex-soccer prospect in Scotland before a knee injury sidelined his athletic career, is still in top shape and fired up about his new restaurant. Ramsay's place is open and spacious, with a crowd of 350 easily moving around at Friday's party. Culinary highlights in two words: Beef Wellington. And three more: Sticky toffee pudding.
A snapshot of our give-and-take during the opening wingding:
What do you appreciate most about Las Vegas right now?
"Right now, I would say the amazing T-Mobile Arena and that Golden Knights hockey team. How great are they? Come on. Amazing."
You have always appreciated athletes, haven't you?
"I think the grounding you need, being disciplined enough to be a professional athlete, can transfer to the kitchen. I still say that, although the last time I played soccer, someone said, 'The calendar turns quicker.' That's not nice!"
Is it hard to concentrate on the food when you're in the middle of all this whoop-de-do?
"No. My focus, always, is what's most important, and that's what's on the plate. Our customers answer with their feet. We need to make sure they continue to walk in."
Also on that scene …
The sports kings of the VegasVille, members of the Vegas Golden Knights Erik Haula, William Karlsson, Jonathan Marchessault, Deryk Engelland, Oscar Lindberg, David Perron and Brad Hunt. Haula told me inside the event that he's being recognized around town and has been as amazed as anyone at the team's hold on Vegas.
Life in the checkout lane
Ex-Eagle Don Felder, performing with Styx in "Renegades in the Fast Lane" at The Venetian Theater. is usually decked out like a rock star. The man looks like he could model for John Varvados.
That is no coincidence.
"I love Las Vegas, but I am here for 10 days and I don't drink, don't gamble, don't chase women, I don't do a lot of things I shouldn't be doing," Felder said Friday afternoon, a few hours before the launch of the five-show series. "I pack an extra suitcase for John Varvados, and all the shoe places I visit." Consider it an incidental plug.
Cellphone White-out
Jack White is the latest Las Vegas headliner to ban cellphones during his performances. White is set to appear at The Chelsea at The Cosmopolitan of Las Vegas on Aug. 23. On Wednesday, White issued a statement to ticket holders that they would not be allowed to carry their phones or Apple watches into his concerts.
White writes, in part, "PLEASE NOTE: this is a PHONE-FREE show. No photos, video or audio recording devices allowed. We think you'll enjoy looking up from your gadgets for a little while and experience music and our shared love of it IN PERSON."
The San Francisco tech company Yondr has been contracted to zip all cellphones into soft pouches at the venue entrance; fans can retrieve their devices on their way out.
The cell-ban trendsetter is superstar comic Dave Chappelle, who was the first Strip headliner to enact the ban for his shows at Mandalay Bay Events Center last May. Chappelle's buddy and occasional stage partner Chris Rock, who performed at The Park Theater in June, also has adopted the ban.
Clint's sweep
Clint Holmes has hung with Bill Murray and James Corden during his weekend breeze through New York in advance of Sunday night's Grammy Awards telecast (Corden hosts the show, which airs live at 4:30 p.m. on CBS, and replays immediately at 7:30 p.m.).
Two songs from "Rendezvous" are nominated for Best Arrangement, Instruments and Vocals: "Every Time We Say Goodbye," his duet with jazz great Jane Monheit; and "I Loves You Porgy/There's A Boat That's Leavin' Soon For New York" from "Porgy and Bess," which Holmes recorded with another universally respected jazz vocalist, Dee Dee Bridgewater.
Holmes, running the pre-Grammy circuit, has been posting photos of himself hobnobbing with Murray and Corden, and also studio wiz and percussionist Gregg Field, who produced "Rendezvous." One of Holmes' hashtags: #ButterfliesAreBuilding.
Entered in Holmes' category are the cast of "La La Land" and Justin Hurwitz with "Another Day of Sun," Seth MacFarlane and arranger Joel McNeely for "I Like Myself," and Randy Newman with "Putin."
Early anny
"Absinthe" at Caesars Palace celebrated its seventh anniversary Friday night, more than two months early. The show's premiere was April 1, 2011.
Sports bettors refer to such early celebrations as "jinxing your action," but the premature party was staged for airing in May on a cable-TV show to be announced.
Increasingly confident in …
Criss Angel moving to Planet Hollywood Showroom after his run at Luxor ends on Oct. 28. Caesars Entertainment will be home to a horde of headlining magicians in 2019, folks.
Copacabana action
The deal is still being finalized to bring Barry Manilow to Westgate Las Vegas in time for a March opening. No reason to believe this won't happen; just a lot of chefs in this deal. Ask Mr. Ramsay about what it's like trying to cook with multiple chefs.
How do you get there?
Frankie Moreno's performance at Carnegie Hall is now on the books for Oct. 19. Moreno and his band join New York Pops for "Roll Over Beethoven," a night of rock 'n' roll covers interspersed with Moreno originals. He'll sample from the usual suspects, including Elvis, Jerry Lee Lewis, Chuck Berry and The Beatles. The show's title tune will open the night.
It will be Moreno's second swing through the legendary performance hall; he was featured with Ryan Silverman, Storm Large, Ryan Silverman and Tony DeSare in "Let's Be Frank," a tribute to Frank Sinatra, in April 2015.
Meantime, Moreno has performed 21 originals in the first two shows of latest run at Myron's Cabaret Jazz at the Smith Center, where he plans to perform a set of new songs for each performance. He has seven remaining shows, including Feb. 6, when he plans to unveil a dozen new tunes.
As Moreno says, all classics were once new songs that had ever been heard. He mentions a live recording of Neil Young, who tells his audience, "I'm going to try a new song now, for the first time," and proceeds to introduce, "Heart of Gold."
John Katsilometes' column runs daily in the A section. Contact him at jkatsilometes@reviewjournal.com. Follow @johnnykats on Twitter, @JohnnyKats1 on Instagram.