Remembering Gronk at Rehab; Brad Garrett's homage to Richard Sturm
Updated October 15, 2018 - 3:16 pm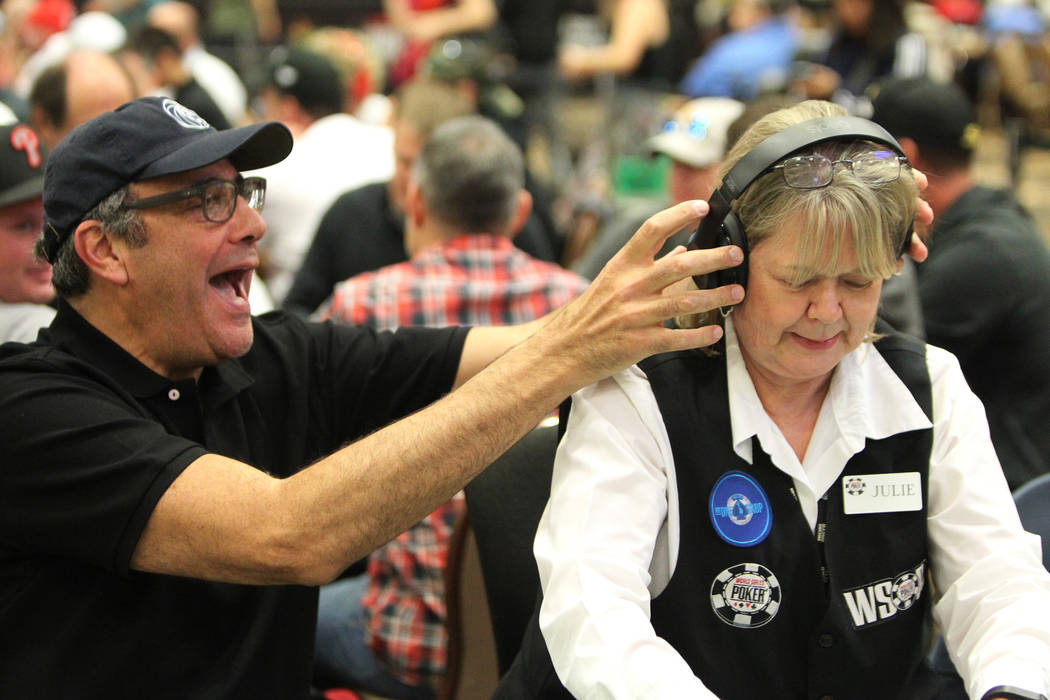 The Kats! Bureau at this writing is Best Western Paradise in Nephi, Utah, on my way back from a trip to Idaho. I've been out for a few days, but I'm never away too long. Nephi is a common rest stop on Interstate 15, if you ever drive this stretch. Complimentary breaky in the lobby, case yer interested.
Nephi is also famous as the "other" hometown of Brandon Flowers of The Killers. He did spend some of his youth here before his family returned to Vegas. That's about all the color I can get out of this burg.
The Rehab/Pats connection
Sorry to have missed the finale at Rehab at Hard Rock Hotel on Sunday while away. My own sendoff was Sept. 2, with Mike Tyson, Diddy and Hard Rock Hotel/Virgin Hotel Las Vegas Chief Executive Officer Richard "Boz" Bosworth.
But Sunday night's Patriots-Chiefs game was something of a loose, unintended tribute to the popular beach club.
Pats tight end Rob Gronkowski frequently brought the party to Rehab, most recently last summer. Gronk and his entourage spiced the scene with WWE star Mojo Rawley and DJ 3LAU, one of many memorable events at the beach club.
A massive renovation and expansion is planned for 2019. Of the beach club, I mean. Not Gronk.
Ode to 'Richie'
Brad Garrett has known Richard Sturm for 30-plus years and refers to the longtime resort official as "a true legend in the sports and entertainment industry." Sturm is now in a consultant role with MGM Resorts International as the company has named George Kliavkoff as its president of entertainment and sports.
Customarily, Garrett, who operates his own comedy club at the MGM Grand Underground, then slipped into his stage act.
"From encouraging Sinatra to lose the fedora, to telling Tyson to only bite the downstage ear (for camera purposes), Richie's indelible mark will shine forever as he enters yet another endeavor," Garrett said via text Sunday night. "Luckily for us, he'll remain in the MGM family so there's still a chance I can get out of the basement. "
But seriously folks …
"Richie literally gave me my career in Vegas," Garrett said, and that is true, as Sturm booked Garrett's debut as opening act for Frank Sinatra at Bally's on New Year's Eve 1988. "Perhaps not a shining moment for him, but a huge bump for the ex-wife."
A no-'Mob' Saturday
"A Mob Story" didn't perform Saturday night at the Plaza. The show's resident reformed mob overlord was at church.
True. "A Mob Story" inspiration/narrator/executive producer Michael Franzese was at Grace Church in Tampa, Fla., speaking to more than 1,000 men. The musical goes dark when Franzese is off fulfilling his road commitments, which draw big crowds and make scads of cash.
Franzese says there is a "big surprise" to cover for him when he's off. Maybe we'll have an understudy. It won't be Oscar Goodman, though. Goodman will remind you (and me) that he's nobody's understudy.
Thompson's 'Me Too' tune
Keith Thompson debuted a new song, titled "Me Too," Wednesday night at The Composers' Showcase of Las Vegas at Myron's Cabaret Jazz. The ever-prolific Thompson plans to use the number in a new stage show focusing on woman empowerment, titled "Roar." As in, "I am woman, hear me … "
Thompson sang lead in Wednesday's performance with Gret Menzies (of "Tony N' Tina's Wedding" at Buca di Beppo at Bally's) and Rachel Tyler (of the vocal ensemble Lady Luck) on backup. From Thompson, "Take a lesson from that Phoenix bird. Rise up and let your voice be heard." We'll be tracking this show, naturally.
Of Blair and whimsy
A vastly under-appreciated talent, Dennis Blair has released a new album of original jazz tunes, "Hapless Romantic." Enjoy this wonderfully constructed release while driving, dining, canoodling … any time, really.
Blair is best known for his 20-plus years opening for George Carlin (he was also featured with Rodney Dangerfield and Joan Rivers in his stand-up career) and is a polished singer/songwriter/musician. Blair sang "Not a Good Idea" from the new album at Wednesday's The Composers' Showcase at Cab Jazz. A sample lyric: "It's like standing in the rain and catching a cold, or eating sushi that's a day or two old …"
Find this release on iTunes, Amazon … I think Dennis is carrying a case in the trunk of his car, too.
Pia Za-Diva
Pia Zadora is bringing Larry Edwards from Frank Marino's "Divas Las Vegas" to her Pia's Place shows Friday and Saturday at Piero's Italian Restaurant. Edwards will portray Tina Turner in a monthlong stint beginning this weekend.
Meantime, Marino has been hinting on social media about a new show of some sort next year.
Return o' Ruby
"Marilyn: The New Musical" producer Tegan Summer has teased to … well, we aren't sure, by posting pictures on Facebook of himself meeting with Ruby Lewis in Las Vegas on Friday. Lewis played the title role in the musical at Paris Theater but has since moved to Brooklyn with her boyfriend, Ian Ward.
But Lewis' name is still on the show's signage at Paris, and the show is still scheduled to re-open Nov. 9. Lewis was in town to present at Wednesday's G2E Casino Entertainment Awards show on Wednesday at Hard Rock Hotel.
Taller order
The new Peti & Taller "Hooligans of Magic" show at Hooters has raised the eyebrows, if not hackles, of Penn & Teller. The long-running Rio headliners have taken notice of the new show's familiar name.
As Teller says, "Maybe we should change OUR names to Peti and Taller."
Do it! Licensing issues be damned …
"Hooligans of Magic" opened for previews Friday. The show co-stars comic master Mateo Amieva of "Criss Angel's Mindfreak Live" at Luxor and Christian Ford of the Fox comedy "Brooklyn Nine Nine." Peti is Amieva, who is comparatively short, a quality that conveniently fits the show's title.
Amieva's Maestro character was a comedic highlight of Angel's Luxor production. This spring's "Action Man" solo show was among his peti — er, pet — projects.
John Katsilometes' column runs daily in the A section. Contact him at jkatsilometes@reviewjournal.com. Follow @johnnykats on Twitter, @JohnnyKats1 on Instagram.