Richard Marx marks opener with ballads and banter
August 16, 2017 - 8:12 pm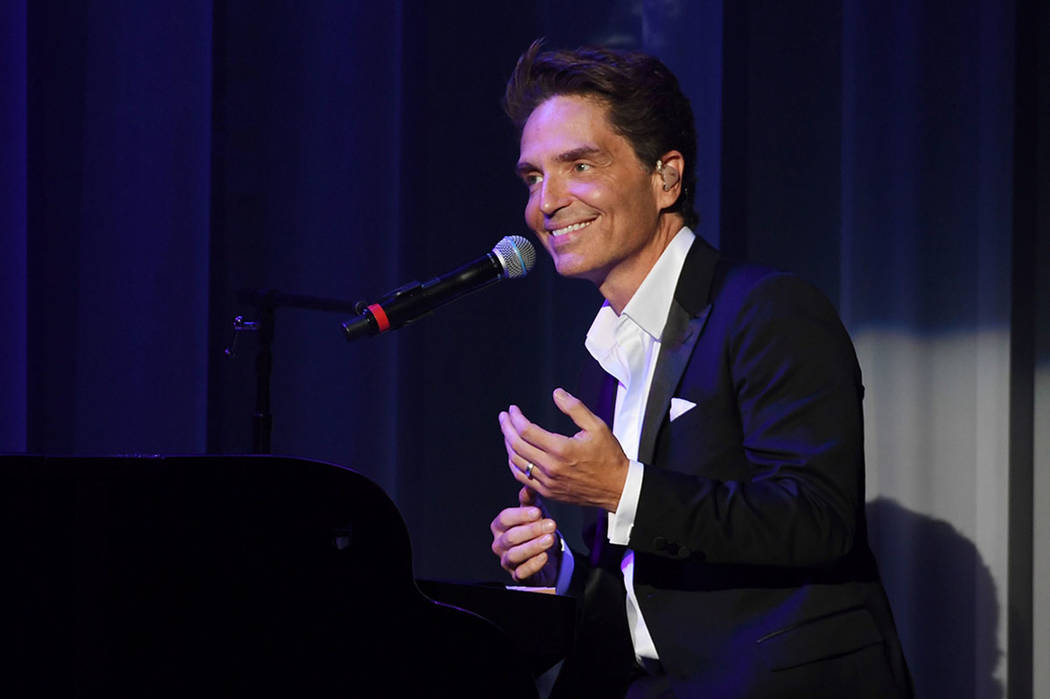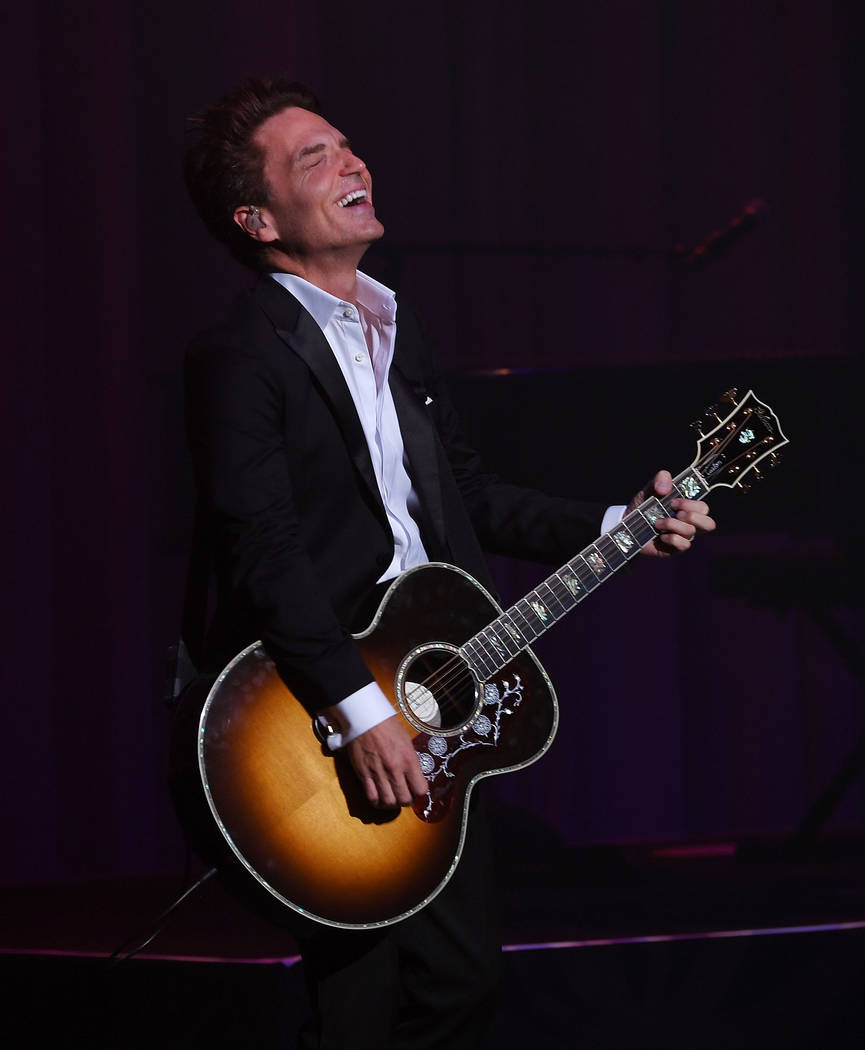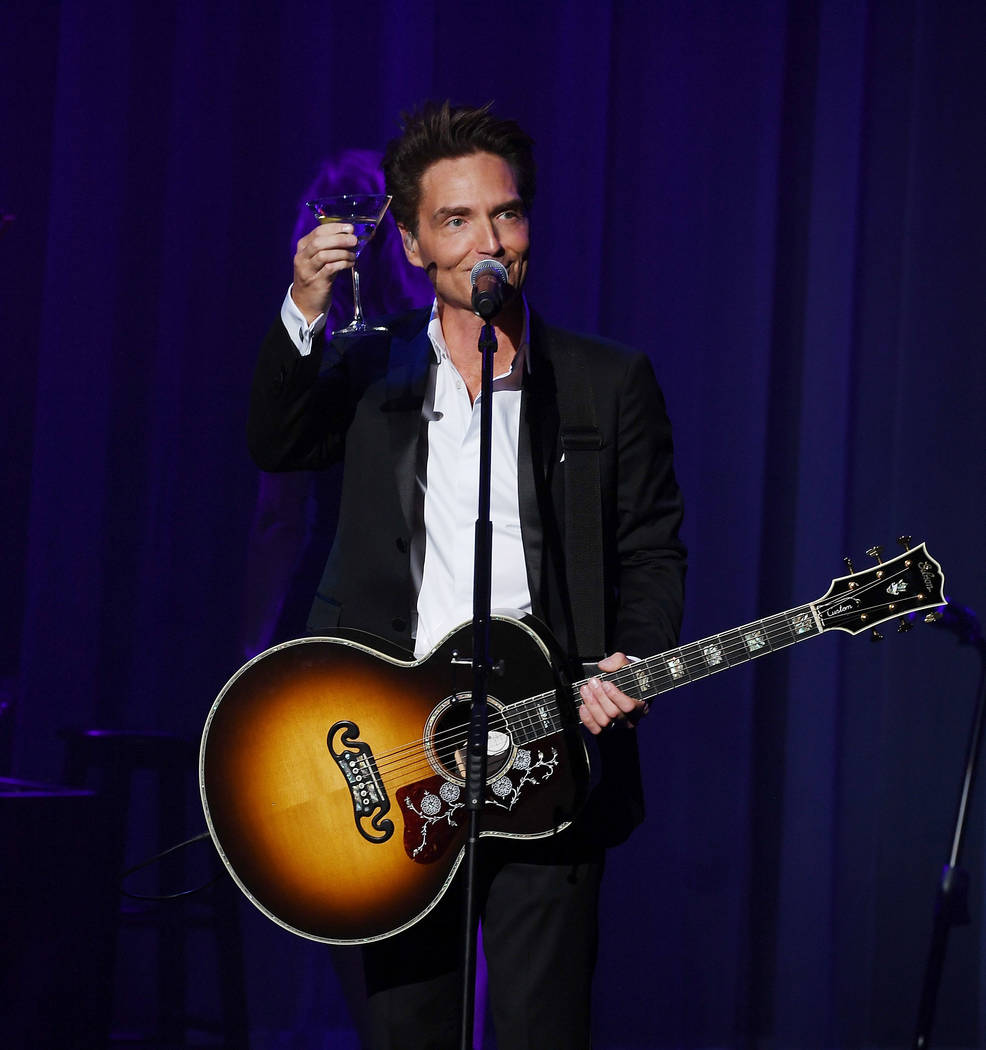 This is where we slow dance.
Thank Richard Marx for creating a circa 1990 prom-night vibe at Flamingo Las Vegas when opening his "Satisfied: Simply The Hits" residency at the Donny & Marie Showroom.
Marx puts you in the mood to grab your date for a slow spin around the dance floor. If you want to canoodle, Marx is your man.
"This isn't a typical Las Vegas show," Marx offers early in the performance. Then a martini is delivered to him onstage. "Or, maybe it is."
Onstage and off, Marx comes across as a great guy to hang with: Measured, warm and self-effacing as he banters between ballads and mid-tempo hits. "Look at that mullet," he says as the big screen shows his furry mane from 25 years ago. Indeed, in his commercial heyday, Marx wore the mother of all mullets.
Still singing flawlessly age 53, Marx is backed by an all-Vegas string quartet of Jennifer Lynn, Monique Olivas, Crystal Yuan and Sarah Chaffee as he strums his guitar through"Endless Summer Nights," "Take This Heart," "Satisfied," and "Don't Mean Nothing."
Marx chided himself for his look on the cover of "Repeat Offender" wearing snug, high-rising jeans and a Fonzie-fashioned leather jacket. "Didn't I have any friends?" he asks, wondering aloud whyno one talked him out of that particular outfit.
But tucked in his self-teasing oratory are references that remind of Marx's legitimacy as a composer, producer and musician.
He revives the stirring "Dance With My Father," which won a Grammy for Song of the Year for Luther Vandross. Lest we forget, Marx was a pivotal figure in the success of 'N Sync (and peripherally, Justin Timberlake) by writing and producing "This I Promise You."
Marx moves to the piano in the latter half of the show, where "Right Here Waiting" closes the evening. That song, and "Satisfied," were No. 1 hits. It would be fun to see Marx explore his great voice and musicianship with a full band accompanying those four sensational string players. Maybe drop in a killer rock 'n' roll cover in that format. Marx could also expand his storytelling.
The gold standard for acoustic-guitar shows in Vegas remains Garth Brooks' 2009-2012 run at Encore Theater, when the superstar commanded the stage with a mix of revealing, frequently funny, anecdotes about his life and musical influences. In his autobiographical acoustic odyssey, Brooks stitched those yarns with song snippets from James Taylor, Bob Seger and George Strait.
Marx could dig deeper in this show, too. For instance, he's performed with Ringo Starr and his All-Starr Band, thatmight be worth an anecdote or two. As it is, Marx has 14 performances left in this runand it'd be great to get to know him better. The songs, we already know.
'50 Shades' going dark
An inspired if under-appreciated production, "50 Shades! A Parody" is closing at Windows Showroom at Bally's Sept. 10. The current version of the show, produced by Windows operators Ken and Helene Walker opened in February 2016; an earlier "Shades" parody had occupied the room in 2015.
Buzz around the venue is that "Evil Dead: The Musical" is moving in as "Shades" closes.
"50 Shades" had a healthy script, full of puns. And in some expert comic acting, lead character Christian Grey was portrayed by the improv heavyweight Paul Mattingly. "Shades" is worth a peek before it closes.
No go for Bronco
On Monday's episode of "Pawn Stars," Rick Harrison turned down a chance to purchase the infamous Ford Bronco from the O.J. Simpson/Al Cowlings slow-speed chase through L.A. in 1994. Sports agent Mike Gilbert offered Harrison $1.25 million for the rig. Harrison declined, saying there was no way to gauge the market for such a unique vehicle. Harrison also resists shopping in Simpson memorabilia.
John Katsilometes' column runs daily in the A section. Contact him at jkatsilometes@reviewjournal.com. Follow @johnnykatson Twitter, @JohnnyKats1 on Instagram.