'Rock of Ages' performs a final striptease at the Rio
January 2, 2017 - 5:25 pm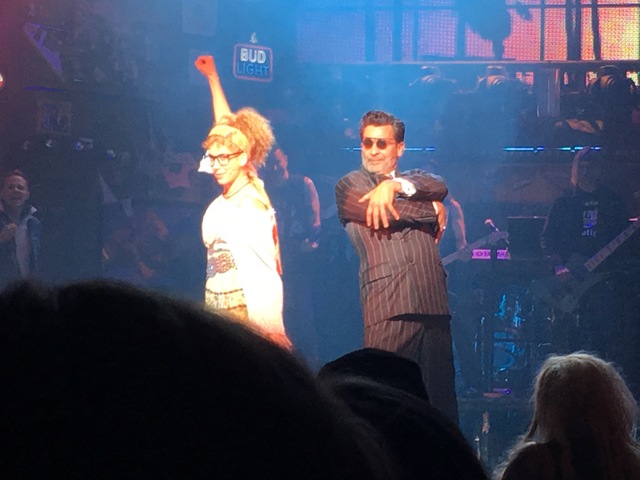 Amanda Miller and Paul Johnson were cruising along during the final performance of "Rock of Ages" at the Rio on Sunday night when Miller, in character as would-be actress Sherrie, confessed to Johnson, as would-be rock star Drew, "I'm a stripper."
Someone from the audience then called out, "So am I!"
Buy that woman a shot!
This led to an extended giggle session between Miller and Johnson, and also the packed audience, during the spirited close of the musical in Las Vegas. Reveling in rock classics and classic references (hello, Bartles & Jaymes wine coolers) from the 1980s, "Rock of Ages," opened in December 2012 at the Venetian. The show moved to the Rio a year ago in the rounded showroom where Danny Gans, Prince and "Duck Commander Musical" held court.
As is the case with most Broadway-style shows that have closed in Las Vegas (especially "Jersey Boys" and "Million Dollar Quartet" in 2016), the musical was shuttered despite its wealth of talent. An important consideration: The Rio is not an ideal destination for musical theater. The "Duck" crew had no chance there, either (the unlikely subject matter notwithstanding).
And the hotel is already host to two successful, established productions: Penn & Teller and "The Chippendales."
No announced replacement for "Rock of Ages" in the hotel's showroom has been announced, either. The room is essentially for rent at the moment.
Original cast members of the Las Vegas production who performed in Sunday's finale were Miller, Troy Burgess as Dennis DuPree, Bob Torti as Hertz, and onstage swings Celina NightengaleandBrandon Nix. Also playing the full run in Vegas were Arsenalband members Chris Cicchino, Alan Childs, Andy Gerold, Dan Grennesand Dave Richardson. In the audience, and onstage at the end, were director Kristin Hanggi and choreographer Kelly Devine.Seated near the stage were former Las Vegas cast members Mark Shunock, Becca Kotte, Allie Meixner, Tiffany Engen and Brooke Engen.
A few cast happenings: Burgess and his wife, Yesiney, a member of the "Fantasy" lineup at Luxor, are expecting their second child (a girl) in late April. Torti plans to stay in Vegas while auditioning for film and TV work in L.A. and also developing his play "Bright Side," which was showcased at Art Square Theatre in 2015; Nix has already joined the ensemble of "BAZ — Star Crossed Love" at Palazzo Theatre.
Also, keep an eye on the terrific Eric Jordan Young, who is working with ex-"Jersey Boys" music director Keith Thompsonon a Sammy Davis Jr.tribute production. EJY, who played the mayor in "Rock of Ages," should have his own show, somewhere.
WALTER WHITE AT BELLAGIO
Bryan Cranston heads the list of celebrities at the Canon U.S.A. National Center for Missing and Exploited Children gala at Bellagio on Friday night. Cranston, who played conflicted methamphetamine "entrepreneur" Walter White on the AMC hit "Breaking Bad," stars in the new feature film "Why Him?"
The center, which focuses on child safety, was founded 20 years ago by John Walsh, host of CNN's "The Hunt With John Walsh." His crusade for the cause began after his son, Adam, was abducted and murdered in Hollywood, Florida, in 1981. Walsh also created the long-running series "America's Most Wanted" on Fox in 1988.
MORE 'BAZ' ACTION
As Clint Holmes' "Between The Lines" closed out its run at Palazzo Theater on Monday night, the room's other tenant is adding a show. "BAZ — Star Crossed Love" is moving to a six-show schedule Jan. 29, adding Sundays and dark (still) Mondays. Time of the shows remains 7 p.m.
SOMETHING TO CATCH
Former "Vegas! The Show" co-star Trina Johnson Finn is back onstage in VegasVille at 7 p.m. Sunday at Cabaret Jazz at The Smith Center. Her "Lipstick Diva" show samples vocal legends including Aretha Franklin, Nina Simone, Billie Holiday and Ella Fitzgerald. In past touring performances, Johnson Finn has paid tribute to Toni Braxton and Whitney Houston. The Sunday show marks her debut as a headliner at Cabaret Jazz.
ROUND 1 FOR 'BIG AL'
One of this month's biggest highlights is sure to be Al Bernstein's first lounge act. Yes, on Jan. 20, "Big Al" is performing in Kenny Davidsen's "Bow Tie Cabaret" at Piazza Lounge at Tuscany Suites.
Details to follow, but this is a serious effort by Bernstein, an expert singer of standards who navigates the scene with the guile of a young Cassius Clay …
But seriously, it's a very cool hang with Bernstein, a legend as a boxing announcer and one of our city's great personalities. He also happens to be a very good, and underappreciated, vocalist. Bernstein has joined Davidsen onstage previously for such classics as "Georgia," and has also taken the mic with Kelly Clinton Holmes at Bootlegger Bistro. The show starts at 8:30 p.m., with Bernstein climbing into the ring at 10 or so.
John Katsilometes' column runs daily in the A section, and Fridays in Neon. He also hosts "Kats! On The Radio" Wednesdays at 8 p.m. on KUNV 91.5-FM and appears Wednesdays at 11 a.m. with Dayna Roselli on KTNV Channel 13. Contact him at jkatsilometes@reviewjournal.com. Follow @johnnykats on Twitter, @JohnnyKats1 on Instagram.