Rolling Stones' Charlie Watts and Wayne Newton hit the stables at Shenandoah
October 25, 2016 - 6:28 pm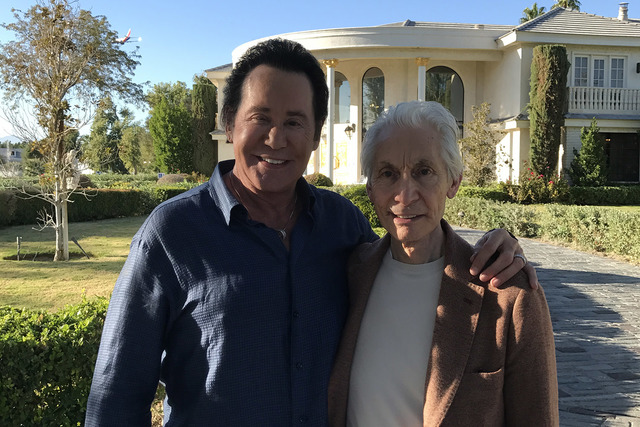 A wheel around the scene in VegasVille, where Wayne Newton hangs with a member of the Rolling Stones, Britney Spears sets a bike ride with Mario Lopez, and male revues take center stage:
WAYNE & WATTS
Mick Jagger called it from the stage Saturday night, telling the crowd at T-Mobile Arena that Charlie Watts had been hanging with "the Midnight Idol himself, Wayne Newton!" True. Watts visited Newton at Casa de Shenandoah on Friday and the two legends bonded over their shared interests.
"Charlie and I had a wonderful time talking about our passion for Arabian horses and antique cars," Newton said Tuesday. "He is a great man, and a humble man, and I was honored to welcome him to the ranch."
Indeed, Watts and his wife, Shirley, breed and raise Arabian horses on a farm in Devonshire, England. Watts toured Newton's stables, home to about 60 horses, during his visit. Watts also checked out Newton's collection of classic cars on the property. The vehicles and horses are part of the public tours of Casa de Shenandoah.
BRITNEY'S CHARITY RIDE
Spears is giving back this week, offering fans a pair of tickets to her show at Axis at Planet Hollywood, round-trip airfare for two to Las Vegas, two nights' stay at the hotel, a meet-and-greet with Spears after her show, and a pair of VIP rides at XCYCLE indoor cycle studio at Boca Park.
The offer is tied to Spears' "Piece of Me Charity Ride" at noon Thursday at XCYCLE. The event is a fundraiser for Nevada Childhood Cancer Foundation, and fans who donate $10 at xcycle.com can enter a drawing for Spears' prize package.
The "Piece of Me Charity Ride" is already halfway to its goal of $1 million, with $500,000 raised through corporate sponsors reserving bikes for Spears' ride. Thursday's 45-minute session will be led by XCYCLE co-owner Jen Barnet, fiancé of Spears' Las Vegas manager Larry Rudolph. Among the noteworthy participants is "Extra" host Mario Lopez, who seems something of a fitness buff.
I'll be in the studio, too, riding somewhere in the vicinity of Lopez and Spears, forever giving chase …
LET'S GET (A) PHYSICAL
The crew from "Thunder From Down Under" were a hit during a taping of "The Doctors" on Monday for the show airing at 10 a.m. Thursday on KCVW (the CW) in Las Vegas. The syndicated health-awareness program invited the troupe for discussion of their fitness regimen, diet tips and (we expect) the do's and don'ts of body oil.
And, know this about the "Thunder" production: It was the first male revue ever on the Strip, opening at the late, great Frontier on July 5, 2001, a few months before "Chippendales" at the Rio was launched. Since that stretch, male revues have been popular draws along the Strip, and elsewhere. For more evidence, read on …
MAGIC MIKE AND MEN OF JEFF
"Magic Mike Live," the Channing Tatum-backed production slotted to move into Club Dominia (or, the old Body English nightclub) at Hard Rock Hotel, surpassed $1 million in ticket sales this month. The show is an investment between Tatum's production company, the Hard Rock Hotel and Base Entertainment. Hard Rock and Base officials, especially, are fired up about the strong sales so far. The production is set in a newly designed space, with Body English turned into a 360-degree performance theater with a 450-seat capacity.
But Mike Lane – the central character in "Magic Mike" – won't be alone in a new male production in VegasVille. Jeff Timmons of 98 Degrees is hinting toward an opening of his "Men of the Strip" male revue next spring. TMZ is reporting that venue is the Stratosphere; no reason to doubt that report, but we've not received independent verification. Timmons also says he's reuniting 98 Degrees next year, and to expect a Strip residency for that production after "Men of the Strip" launches.
UPLIFTING MOMENT
The seventh annual "Battle of the Bras" fundraiser at Planet Hollywood last Thursday on raised a record $120,500 for the American Cancer Society, a record for the event. In this uniquely entertaining fundraiser, a series of Caesars Entertainment officials and assorted news makers wear custom-designed bras and parade down a runway on the hotel's mezzanine level. A live auction for those bras is then held, with Dayna Roselli of KTNV Channel 13 (my TV partner on Midday each Wednesday) serving as this year's host.
Thursday's highlight: A bra signed by Axis headliner Lionel Richie and modeled by Planet Hollywood President David Hoenemeyer drew a winning bid of $22,000. That figure topped the day's bidding and is also a record for the event. The bidder is anonymous, so far, but that figure helped the event wipe out its goal of $85,000 in donations.
John Katsilometes' column runs Saturday, Sunday, Tuesday and Thursday in the A section, and Fridays in Neon. He also hosts "Kats! On The Radio" Wednesdays at 8 p.m. on KUNV 91.5-FM and appears Wednesdays at 11 a.m. with Dayna Roselli on KTNV Channel 13. Contact him at jkatsilometes@reviewjournal.com. Follow @johnnykats on Twitter, @JohnnyKats1 on Instagram.