Sacha Baron Cohen show features connection to Las Vegas murder trial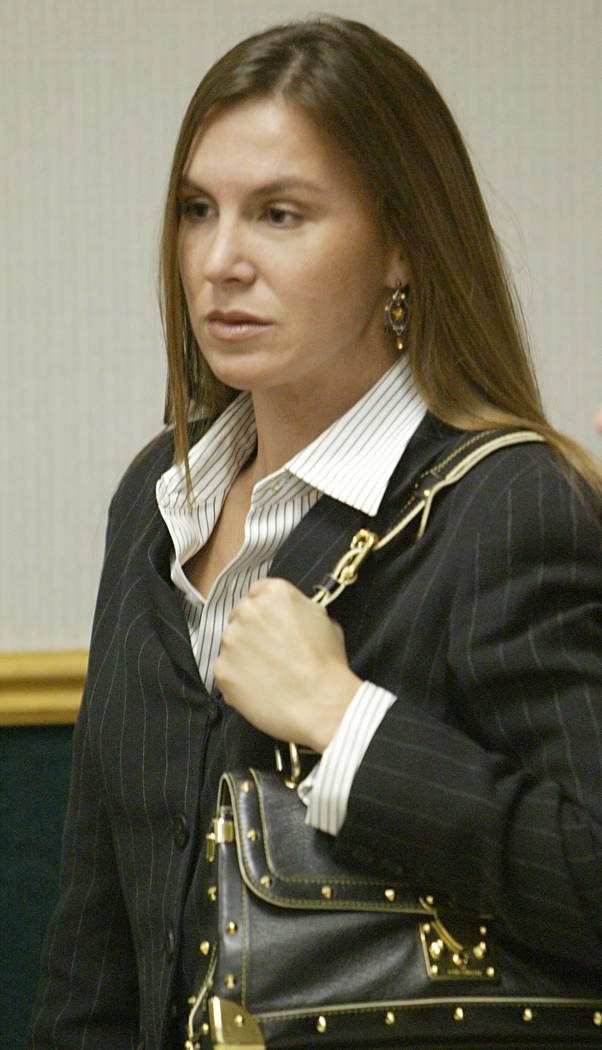 Coast Gallery of Laguna Beach, California, would seem to have no tangible connection to Las Vegas — until you peer closer to the canvas.
The gallery is featured in Sacha Baron Cohen's new Showtime series, "Who Is America?" In Sunday's premiere episode, Cohen portrays a hardened ex-convict who has become an artist during his 21 years of incarceration.
Cohen's Rick Sherman, who speaks with a suspiciously familiar British accent, shows Coast Gallery art expert Christy Cones his works, which he professes were created in prison by using his own bodily fluids and excrement.
Cones displays remarkable poise and patience with her guest, who says of his art, "It's the result of my empowerment, in solitary confinement."
This is all typical of Cohen's undercover, unorthodox method of filmmaking. But what is not readily apparent is Coast Gallery's link to a famous Las Vegas criminal case. The gallery is co-owned by Sandy Murphy.
Though not showed on camera, and not referred to in the episode, this is the same Sandy Murphy who was at the center of the Ted Binion murder trials. In a case that generated interest across the country, the 55-year-old son of Las Vegas gaming legend Benny Binion was found dead in his home on Palomino Lane on Sept. 17, 1998, with an empty bottle of Xanax at his side.
Murphy was Binion's live-in girlfriend at the time but was also having an affair with contractor Rick Tabish, who had been hired to build a vault in Pahrump to hide Binion's vast silver collection.
At the time, the Binion murder trial was considered the biggest criminal case ever in Las Vegas. The courtroom drama was covered by CNN and major network newsmagazine shows of the day. Ten years after Binion's death, CBS devoted an episode of "48 Hours" to the saga. My colleague Jeff German covered this case extensively and is the author of the book "Murder in Sin City: Death of a Las Vegas Casino Boss," the basis for the 2008 Lifetime movie "Sex and Lies in Sin City."
Viewers were drawn to Murphy's role as Binion's girlfriend — they met when she was selling her custom lingerie at Cheetah's adult nightclub — and Tabish's position as a hired hand with an eye on the resort mogul's girlfriend, and also his valuable silver collection.
Tabish and Murphy were convicted in 2000 of murdering Binion in a conspiracy to steal his silver and prevent him from writing Murphy out of his will. They each received sentences requiring them to spend at least 22 years in prison, but the convictions were overturned in 2003 by the Nevada Supreme Court because of trial errors by the presiding judge.
A second jury in 2004 acquitted the couple of the murder charges but upheld the charges in connection with the silver theft.
Murphy was released in December 2004, and simply dropped off the radar, at least around Las Vegas. Within three years she moved in with Coast Gallery owner Kevin Pieropan, and the two were married in 2009. Today, the couple operate the gallery, which has been in business for more than three decades.
Certainly, Murphy has moved beyond the Binion odyssey and her time in Las Vegas. A story published in 2010 in Orange Coast magazine mentioned her interests as art, boating, golfing and surfing. As Murphy said, "I go to work every day, I have a very happy life, and I love my husband."
On Tuesday, I tried to reach Murphy for an update on her life and her thoughts about the family business being depicted in "Who Is America?" After I identified myself, the person who answered my call to the gallery asked if I was interested in talking to his wife.
"That depends," I said. "Who is your wife?"
"Sandy Murphy," he said.
"Yes, that's who I want to talk to," I said.
The person said, "We're not interested," and called the topic "old news." He then hung up. As they say in court, case closed.
John Katsilometes' column runs daily in the A section. Contact him at jkatsilometes@reviewjournal.com. Follow @johnnykats on Twitter, @JohnnyKats1 on Instagram.