Sarah Jessica Parker opens in style on the Strip
August 17, 2017 - 8:27 pm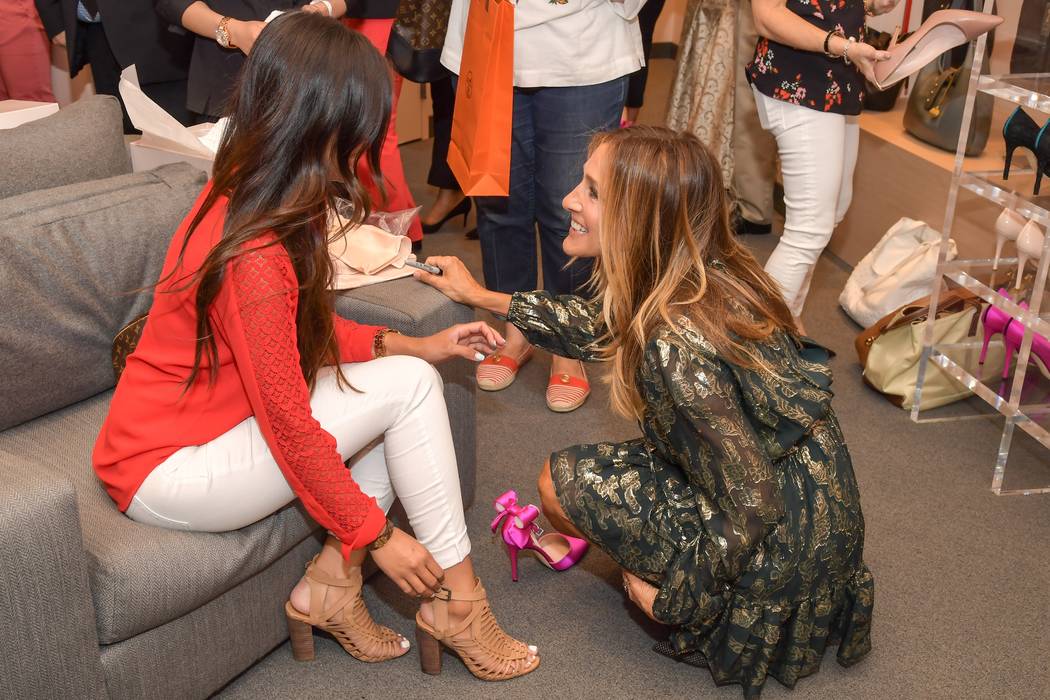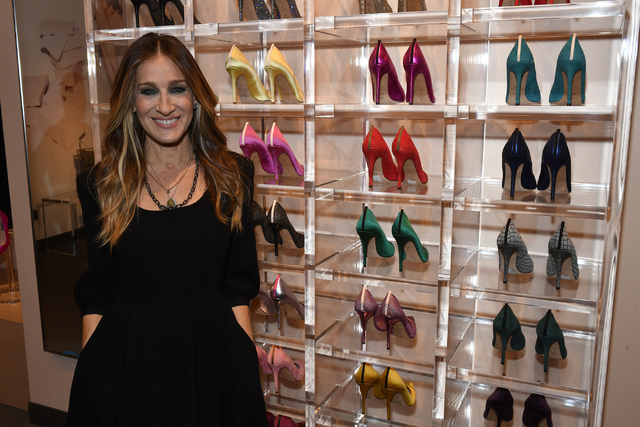 Sarah Jessica Parker delicately pulls a shoe from a shelf at her new Bellagio boutique to show a thin strip on the heel.
"See this strip, right here?" she asks. "Everybody does it now, but we were the first, and that's because my mother made me and my sister wear ribbons in our hair, grosgrain ribbons. We didn't have much money, but we wore these pretty ribbons. We ironed them every day, and this is the signature of my shoe."
Dozens of shoes, handbags and accessories line her new store, SJP by Sarah Jessica Parker Her appearance there earlier this week created a fuss outside the entrance as dozens of fans attempted to catch a glimpse of her as she sat for interviews and a photo shoot inside.
SJP grew from a pop-up event sponsored by Zappos at The Shops at Crystals two years ago, when Parker was similarly swarmed by fans of her Carrie Bradshaw character in HBO's "Sex and the City." Soon after, Parker and her business partner, George Malkemus, (chief executive officer of high-end shoe manufacturer Manolo Blahnik) conferred with then-Crystals General Manager Farid Matraki and MGM Resorts executive Sarah Moore about doing business with the resort company.
In December 2015, Parker launched her first SJP store at MGM National Harbor in Maryland. The Bellagio space opened Aug.9.
"When we stared looking at locations on the Strip, there really was no other location for us than here," Parker says. "It's like in New York City, in terms of retail space, you know where you should be and who you are trying to reach. I think this is heaven for us, where we are."
More highlights from the afternoon chat at Parker's shop:
Her first visit to Vegas was during the filming of "Honeymoon in Vegas" in 1992: "I spent two or three months at Bally's, back in the day," Parker says." I had some of the best times, I felt like I was a resident here, because I sort of was. God, the coffee shop at Bally's was so good. Me and (director) Andy Bergman would eat back there all the time, play Keno. I had some of the best sushi on that trip."
We don't really need another shoe store, but … "This is something I talked about with my partner, George, and nobody needs another shoe company. Nobody needs another pair of shoes, unless you look at it as like we are required by law to wear shoes into a business (laughs)," Parker says. "But beyond that, why does anyone need to carve out space for us? Why will anyone want to carve out space for us, especially in Las Vegas with so many options in fashion retail?"
The answer is, a shoe store can be 'something special': "We really looked at this, and we wanted to deliver something special, something very high-quality," Parker says. "First, we felt that the shoes had to be made in Italy, with a long, storied history of high-quality leathers and coppers. That was really important to me, and so are social compliance issues — I want to know the factories working on my pieces, and that they are socially responsible. That's another way to distinguish ourselves."
The price tag was a challenge: "How do we get to a price point when we are hand-making shoes in Italy? That was a significant challenge for us, a very complicated puzzle, because we're making shoes in a factory where that same factory is producing shoes that are $800, $900, $1,200 and $1,800," says Parker, whose shoes typically retail for between $200-$400. "I would like very much to say I have a $69 shoe, the more important principle is to offer a shoe that is well-made that will last five years, a shoe I can offer in good faith and say, 'This is a shoe I'm going to wear every day.' "
Parker considers the response of her fans when designing, and selling, her apparel: "If I'm asking for someone's hard-earned dollars, it better be freaking worth it," she says. "Lots of people who make shoes for $69 out of China are saying, 'We'll be rich! It'll be a windfall! It's a cash cow!" But I can't do that to the women who I have this relationship with, right? There are 10 million women who I have a relationship with. Do I really want to say to them, "Here's a shoe. The heel's going to break in about 3-4 weeks. It won't feel good on your foot. It's poorly made. Enjoy it!' No. I can't do that."
John Katsilometes' column runs daily in the A section. Contact him at jkatsilometes@reviewjournal.com. Follow @johnnykats on Twitter, @JohnnyKats1 on Instagram.