Sci-fi satire 'Opium' brings warped humor to the Las Vegas Strip
Updated April 11, 2018 - 2:12 pm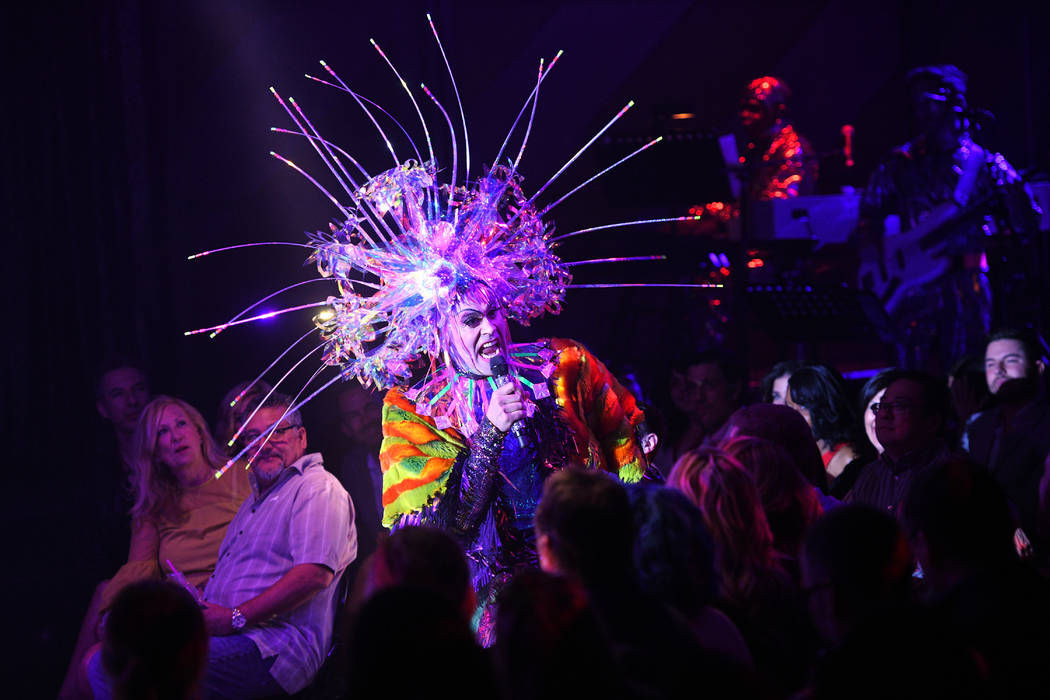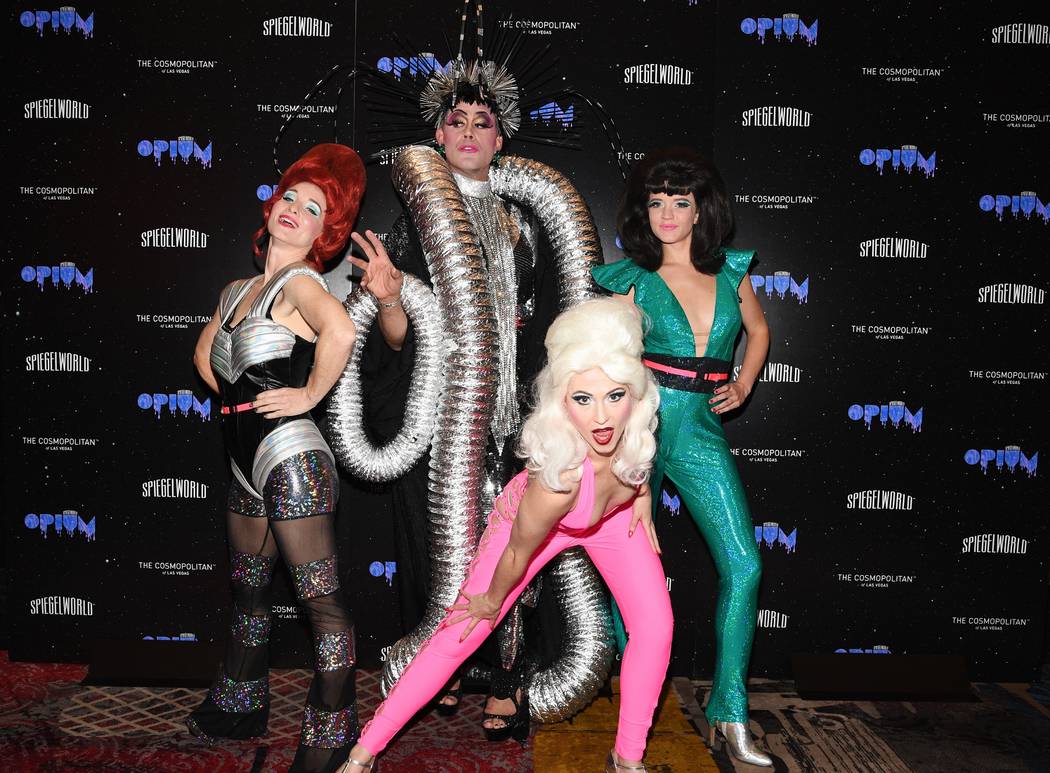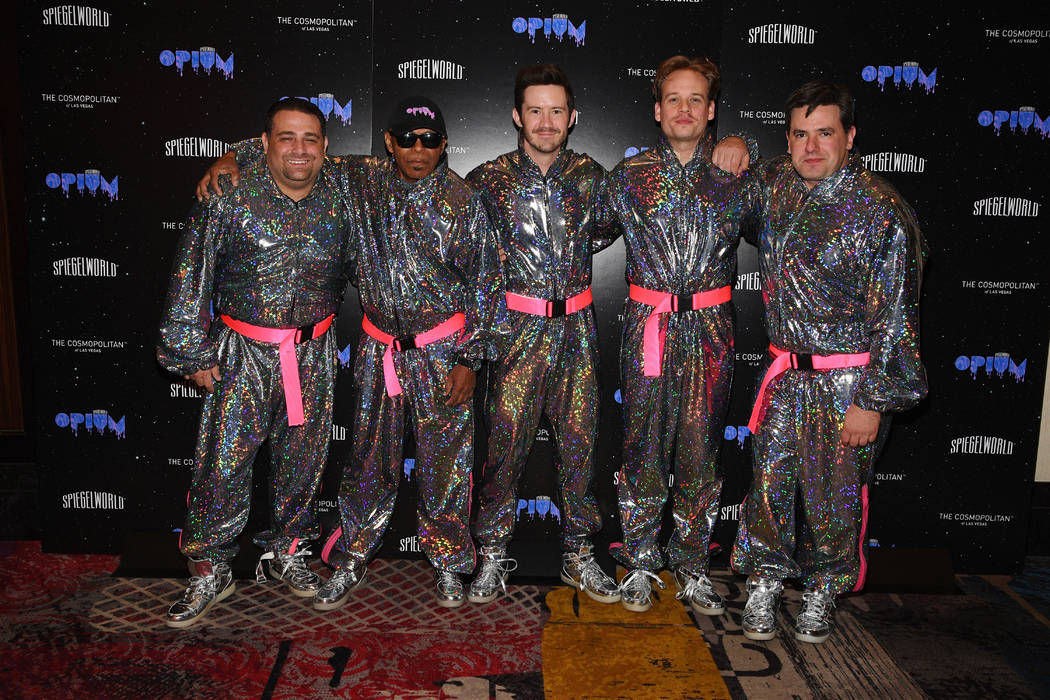 The hotel with the slogan "The Right Amount of Wrong" now has the right amount of weird.
Employing satirized sci-fi as its backdrop, "Opium" has opened, for real, at the Cosmopolitan of Las Vegas. The show is performed in hotel's upper cosmos, or in this case the second-level Opium Theatre at Rose. Rabbit. Lie.
Newbies to the resort might need a map to find that venue, but it is worth the (star) trek. Certainly there is no show in Vegas quite like this interplanetary farce, which is like an episode of "Lost In Space" hijacked by Trey Parker and Matt Stone.
We've had a lot of fun with the cast of Spiegelword's latest production, especially estimable producer/character Harry M. Howie. He's set the tenor with a continual roll-out of such cast members as Tammy Babcock (a comic singer who plays cruise director Leslie) and Dr. Roger Regis and Nurse Raquel (health-care professionals who perform magic in the show).
On this ride we've enjoyed hot apple pies at two McDonald's outposts — one at the D Las Vegas and another on West Tropicana Avenue. We've been carted around by two chauffeurs, including an Uber driver (who sure looks like Chip from the show) who barely avoided a serious collision on a return to the hotel.
We also met a burly and surly limo driver in a blue-satin jacket and black cap who might actually be in the witness protection program.
Enough with the hype, though. "Opium" launched with its red-carpet opening Sunday night. The most sensible —if that word can be employed — means of breaking down this show is with an FAQ (First-time Asked Questions for the just-opened show):
What is "Opium," anyway? A color-splashed ride through space and time peppered with wild musical numbers, raunchy comedy and unique side acts. Expect one randomly exposed breast, a fair amount of spittle and the requisite mushed bananas.
Which cast member looks most like Harry M. Howie? Rob the Robot, dressed in a shiny silver two-piece outfit and matching plastic hairpiece. Rob claims he's a "Roomba 5000" model (but far more advanced than his vacuum-cleaning namesake) and befriends Chip, his first and only best friend.
At one point, Rob falls to its knees to inhale confetti from the stage, much like a vintage Roomba. In any other show, this would be a standout moment. In "Opium," it is entirely in context.
What is the specialty talent of Scottie, the ship's maintenance man? Spinning up to (by my count) 20 hula hoops.
Are there bananas used in the show? Yes, two at least.
Is this an act you remember? Yes, for its projectile and regurgitating qualities.
What happens when Spiegelworld producers use bananas as props? Comedy gold, always.
Bubble girl in the show? Yes. Bubble girl in the show. Bubble is to Spiegelworld what trapeze is to Cirque du Soleil. Gotta have it.
Are all the side acts themed for space travel? Loosely, and only when necessary.
Who are the Many Moons? The band.
Where would we find Spacecrabs? He's the drummer.
Best space-themed musical number? "Fly Me to the Moon" opens the night, fittingly enough.
Why does the gay sword swallower "Todd" seems so familiar? He was in "Vegas Nocturne," in that same room, and as a sub act in "Absinthe," and "Band of Magicians" which is still on, um, hiatus from Tropicana Theater.
Can I find a body balancer working with a Chihuahua? Of course. Yuri (who seems to hail from the former Soviet Union) and the little doggie, Sputnik.
The show unveils the iPhone 47. What is its chief defect? Short battery life.
Lou Tenant is, what again? A unicycle-riding, juggling lieutenant.
Why is he costumed in leather, as Freddie Mercury? So he can juggle and cycle to "I Want to Ride My Bicycle" and 'Another One Bites the Dust.' "
But a band member sings "Bicycle," and Lou Tenant lip-syncs "Another One Bites The Dust." Why the inconsistency? Because it's a Spiegelworld show. Just roll with it.
Who sings it loud and proud? Dusty Moonboots, towering at the center of the mischief, exploring all the keys.
Best costume model? Also Dusty Moonboots.
Love will keep us together? Yes, just ask Captain Ann Tenielle, who inspires that very number.
"Opium" means, what, exactly? It's the lengthened version of Orbital People Mover 4.2 (OPM 4.2), which is the name of the spacecraft.
Doesn't OPM also mean, "Other People's Money?" Yes, but not in this case. Really.
How many random "space" references are in the show? My guess is 2001.
How is "Opium" different from "Vegas Nocturne," which played the same theater four years ago? Smaller. Fewer acts. Reduced cast. Venue seating capacity is cut from 450 to 262. A zany cabaret show compared to a lavishly populated production. (Lest we forget, despite its financial troubles, "V.N." was jammed with talent, showcasing such breakout acts as Piff the Magic Dragon, Sean and John Scott, "Bathtub Boy" David O'Mer, among others.)
How is "Opium" different from "Absinthe" at Caesars Palace? Same points as above. "Absinthe" is a juggernaut in part because it snared some of the best acts from the rubble of "Vegas Nocturne." "Absinthe" performs regularly to sell-outs in a 600-seat venue and just celebrated its seventh anniversary. Intentionally, and wisely, the smaller-scope "Opium" is not trying to be a sequel to "Absinthe."
OK, then, name a show with a similar vibe? "Zombie Burlesque," a holy terror at V Theater at Miracle Mile Shops at Planet Hollywood. A righteously casted host, similar underground feel in a 250-seat theater, live band, no-holds-barred writing, expertly conceived costumes, spot-on choreography … "Z.B." is the show that most reminds me most of "Opium."
Who is brave? Cosmopolitan of Las Vegas Chief Executive Officer Bill McBeath. He hung in with Spiegelworld and the company's artistic equity to finally land a follow-up to "Vegas Nocturne." Now McBeath is betting on the space cadets in "Opium," and you know what? So am I.
John Katsilometes' column runs daily in the A section. Contact him at jkatsilometes@reviewjournal.com. Follow @johnnykats on Twitter and @JohnnyKats1 on Instagram.