Shecky Greene knows slapstick, but fall at Italian club is the real thing
March 22, 2017 - 10:36 pm
Updated March 24, 2017 - 1:11 pm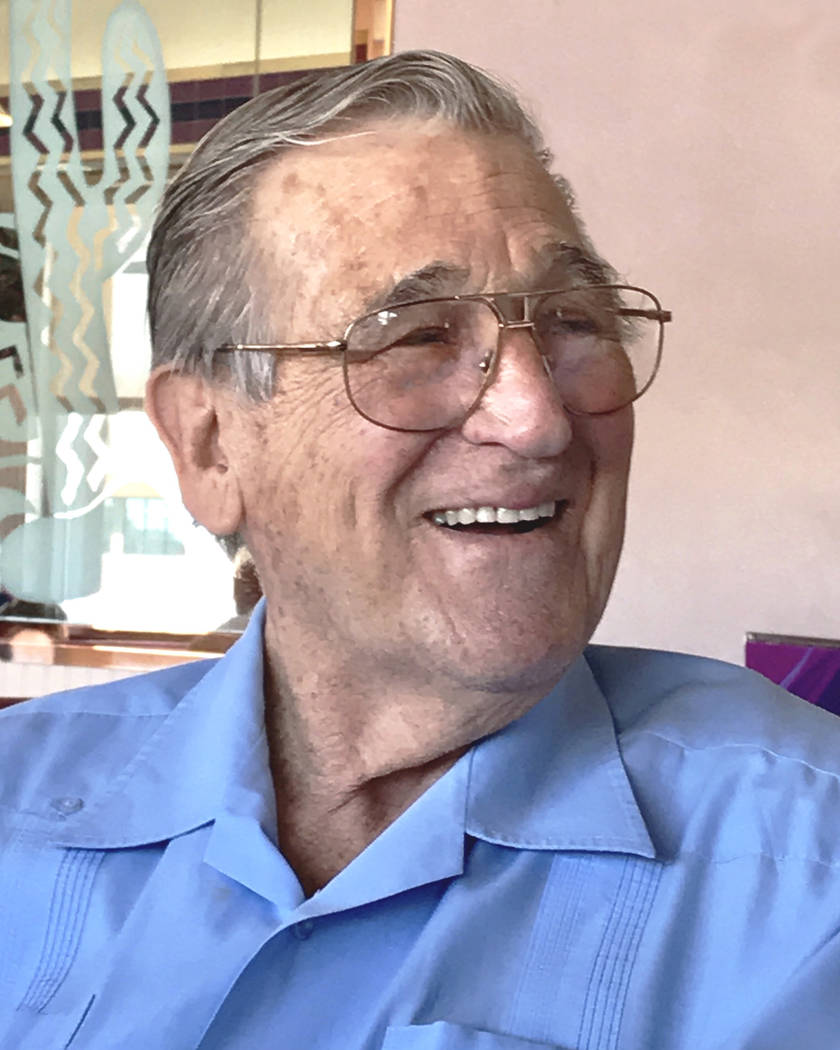 Shecky Greene said, "I'm gonna do something," and started toward the stage at the Italian American Club on Wednesday night.
He didn't quite make it.
The comedy legend and Las Vegas resident, who turns 91 on April 8, fractured his right leg after falling onto the small lounge stage at the IAC, shortly after dining in the club's VIP room. He was taken by ambulance from the club to St. Rose Dominican Hospital's Siena campus. Greene underwent surgery on his damaged leg on Thursday, his wife, Marie, said Thursday night.
Greene is reportedly resting and is not allowed visitors at the hospital, where he is reportedly keeping the staff on its toes with one-liners.
The incident that landed Greene in the emergency room unfolded most unexpectedly. He was about to leave the swanky club and restaurant when he stopped at a table just in front of the lounge stage. Greene's friend, comic and musician Dennis Blair, was the night's headliner and was taking a break between sets.
Greene was soon involved in a spirited conversation with friends Gene Kilroy (former business manager of Muhammad Ali), Vegas photographer and live-entertainment supporter Ed Foster, and myself at a table just a few feet from the IAC lounge's small stage.
In a scene that seemed to play out in slow motion, Greene stood, saying he wanted to take the microphone, then suddenly lost his footing, pitching forward and falling toward the stage. He turned as he tumbled and landed on his right side.
Greene knocked the mic stand into the drum kit. He fell with his upper body on the stage (which is raised about six inches) and his legs stretching to the floor. He called out in pain and grabbed at his right hip and knee — he underwent a total hip replacement about 15 years ago — and attempted to stand.
Blair's wife, Peggy Habbershaw Blair, brought a pillow and blanket to support Green as I knelt next to him and held him in place. Greene continued to attempt to stand pull himself up, each time calling out in pain.
In the moments between those attempts, Greene was more comfortable and joked repeatedly about his plight. "I'll do anything to get onstage!" he said as he looked up at the club's stage lights. And, "How's this for a story angle?" referring to a column I've yet to write from a recent breakfast conversation at Green Valley Ranch.
I asked Greene what he planned to perform when he did reach the stage. His answer: "Something other than this!"
Blair, who opened for George Carlin for 25 years, then made him laugh with, "Well, that was the worst Gerald Ford impression I've ever seen."
Paramedics arrived and soon realized who they were caring for. One asked, "Are you the one and only Shecky Greene?" And in pure Shecky, the comic answered, "Not right now, I'm not!" The hope from everyone in the room was this is not a serious injury, and Mr. Green's recovery is swift.
ABOUT DENNIS
Underscoring all of the action at the IAC was another great performance by Blair. Greene had anticipated a comedy show from the longtime opening act for Carlin, but it was all music. Blair is a multifaceted performer, having performed as an opening act for more than 150 stand-up comics, including his 20 years on tour with Carlin. Blair has also worked with such legends as Rodney Dangerfield, Joan Rivers, Jackie Mason and Alan King. Blair wrote the book "Me First" about those years.
But not so well remembered is Blair's songwriting career, which he resumed about three years ago with his writing partner, John Durkin (who, in an unrelated role, is mayor of Roslyn, N.Y.). Blair has been performing originals and covers at Tuscany, IAC, Bootlegger and The Composers Showcase of Las Vegas at Cabaret Jazz.
During his appearances at Cab Jazz, emcee and music director Keith Thompson has jokingly introduced Blair as "the longtime opening act for Shecky Greene," knowing that Blair never has opened for Greene. Early Wednesday night, before Green's fall, there was discussion at the table of bringing Greene to Cabaret Jazz one night to introduce Blair — while finally correcting Thompson from the stage.
SHOWING THE LIGHT
During a phone chat Thursday, Kilroy talked of Greene's affection for children. Greene usually carries with him such toys as balls that light up. When he meets children at restaurants, he produces the toy and makes a fast friend. As Kilroy said, "He's told me that watching those kids' faces light up means more to him than all of the laughs he's gotten from adults as a comedian."
John Katsilometes' column runs daily in the A section. He also hosts "Kats! On The Radio" Wednesdays at 8 p.m. on KUNV91.5-FM and appears Wednesdays at 11 a.m. with Dayna Roselli on KTNV Channel 13. Contact him at jkatsilometes@reviewjournal.com. Follow @johnnykats on Twitter, @JohnnyKats1 on Instagram.