Sinatra, Cirque, Siegfried & Roy highlight Steve Wynn's entertainment legacy
Updated February 9, 2018 - 2:44 am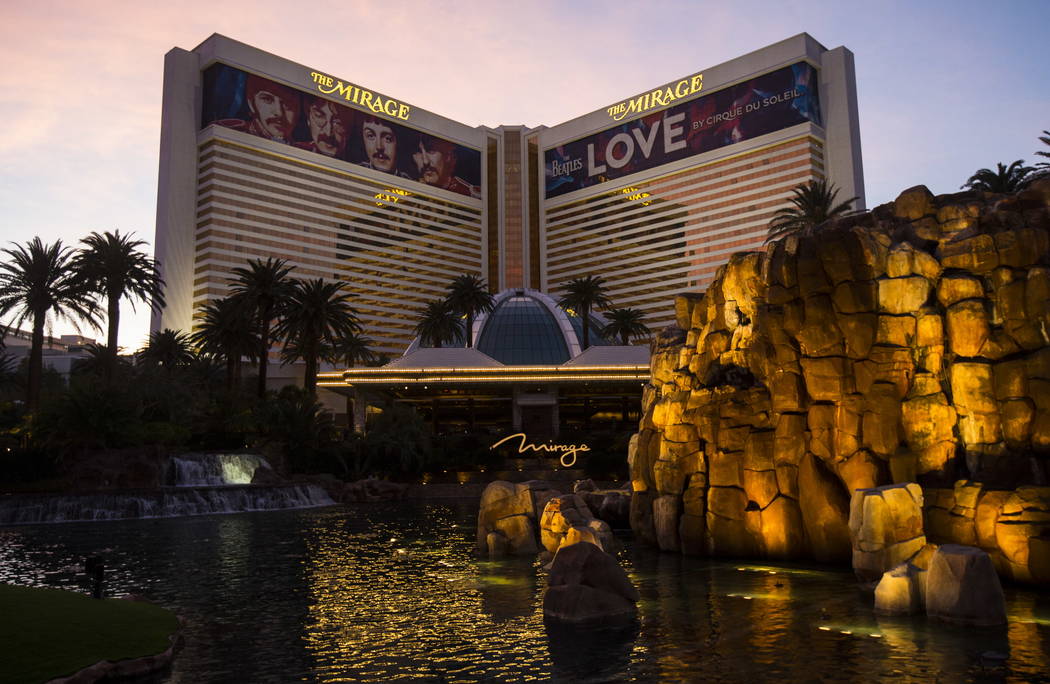 He brought Frank Sinatra to downtown Las Vegas when the Strip was the city's haven for superstar headliners.
He built a theater at The Mirage for Siegfried & Roy and created a billion-dollar partnership that lasted more than a decade.
And before hardly anyone knew of the French-Canadian acrobatic troupe Cirque du Soleil, he staged a tented show on the Strip, called "Nouvelle Experience," also at The Mirage. That was in November 1993.
The next month, he opened the residency show "Mystere" at the new Treasure Island, kicking off Cirque's ongoing run as the Strip's predominant production company.
His ouster Tuesday from the company he founded notwithstanding, Steve Wynn has made an indelible mark on Las Vegas's entertainment culture.
"I have said during lectures, 'When I saw in 1989 that Steve Wynn was putting Siegfried & Roy onstage at The Mirage, I said that nobody would pay $125 to see Siegfried & Roy," UNLV history professor Michael Green said. "Well, I was wrong. They did pay to see Siegfried & Roy, which was why Steve Wynn was a billionaire and I was doing lectures."
Wynn merged his personal wealth and his zeal for business with his passion for live entertainment. He opened the vault to sign Sinatra for a run at the Golden Nugget when the Chairman of the Board had previously only played such major Strip resorts as the Sands and Caesars Palace.
Entertainment visionary
Wynn, too, saw major marketability and artistic merit for international tourists with Siegfried & Roy, who arrived in Las Vegas in the late 1960s as a beguiling side act in "Lido de Paris" at the Stardust.
By the end of their run at The Mirage on the night of Oct. 3, 2003, when Roy Horn was badly injured by the big cat Mantecore, they had performed more than 5,700 shows in 13 years for 10.5 million people, grossing more than $1.5 billion in ticket sales.
The success of Siegfried & Roy in appealing to international tourists gave Wynn confidence to lure Cirque shows to Treasure Island ("Mystere") and the Bellagio ("O"). Today Cirque offers upward of 138,000 tickets per week to its octet of stage shows.
Before Wynn started charging top dollar for shows at his resorts, the strategy among casino operators was to draw high rollers to the hotel with top headliners. In the 1960s, you could see the Rat Pack for 12 bucks and get a steak dinner. But Wynn showed that entertainment didn't have to be a loss leader in Las Vegas.
"I don't know anyone before Wynn who thought entertainment could carry its own weight in a casino," Green said. "It turned out, with his shows, he was right."
Wynn took a shot with Clint Holmes at the Golden Nugget in 1999, signing the popular showman to a one-year guaranteed deal at the hotel showroom, regardless of how many tickets he sold. Holmes used the Golden Nugget residency as a springboard for a six-year stay at Harrah's from 2000-2006, opened Cabaret Jazz at the Smith Center in 2012 and is about to open a new show titled "Soundtrack" at the Westgate Las Vegas International Theater.
Holmes' series of residencies are further evidence Wynn's impact is still being felt in Vegas. And when Wynn needed a headliner to fill the Encore Theater after the death of popular impressionist Danny Gans in 2009, he once more ponied up the cash to land the elusive country superstar Garth Brooks. His inspired, one-man acoustic show was a top draw for four years.
A big miss
Many of Wynn's ideas did not reach full potential, and some cost him and his company millions. "Entertainment is the toughest thing for me to figure out, in 40-odd years of doing this," he said in 2014.
Wynn famously attempted to stage an original musical, "Miss Spectacular," at The Mirage, an idea that sputtered after the property was sold to MGM Resorts in 2000.
Another Wynn risk was paying $5 million for the North American rights to "Avenue Q," the first Encore Theater show. The full-scale Broadway musical closed in May 2006 after a five-month run. The theater's follow-up show, "Monty Python's Spamalot," fared a bit better, closing after a 14-month run in that same theater in 2008.
Undeterred, Wynn continued to attempt to bring original shows to the Strip. But in 2013 he deemed another lavish production, "Funhouse," unfit for the stage, despite casting 20 performers and working with director Kenny Ortega ("High School Musical") through the show's development. Wynn had hoped the show would fit well at the Encore Theater, and he was about to commit to $30 million in production costs before pulling the plug.
Following "Funhouse," he backed "Steve Wynn's Showstoppers," producing and co-directing the Broadway greatest-hits package with "Spider Man" musical director Phil McKinley. Wynn was inspired to develop the show after McKinley assembled a wondrous production for wife Andrea Wynn's 50th birthday party in March 2014.
But Wynn's pet project didn't last nearly as long as he, McKinley or the cast had hoped, opening in November 2014 and closing in December 2o16.
From start to finish, "Showstoppers" was entirely Wynn's pet project.
"In 'Showstoppers,' everything went through Steve Wynn," says Las Vegas vocalist and actor Randal Keith, who performed in both "Monty Python's Spamalot" and "Showstoppers." "I went through an old-school, Broadway audition, with him sitting onstage with his people around him and going, 'You, you, you, you.' That was how we found out we'd been cast."
Wynn was so excited about "Showstoppers" that, during an October 2014 interview in his office at his Wynn Las Vegas villa, he sang and danced, "The Country's In the Very Best of Hands." The Johnny Mercer number from the 1956 musical "Li'l Abner" never made the show's final cut. Wynn just couldn't find the proper moment to unleash the goofy political satire on a Strip audience.
Wynn's grip on the shows in his theater was never more evident than during the revamp of "Le Reve." He'd convinced Alan Menken to compose a new score for the show. An eight-time Academy Award-winner (claiming two Oscars each for "The Little Mermaid, "Beauty and the Beast," "Aladdin" and "Pocahontas"), Menken worked for the better part of a year on the project. Wynn even arranged for the Royal Philharmonic Orchestra to record the entire new score for the stage.
A year ago, Wynn listened to a sample of the new work, on which he spent $3 million. After two minutes, he shook his head, killing the entire concept.
As one person familiar with that session said this week, "He threw away $3 million of Alan Menken in two minutes. Only Steve Wynn would do that."
John Katsilometes' column runs daily in the A section. Contact him at jkatsilometes@reviewjournal.com. Follow @johnnykats on Twitter.