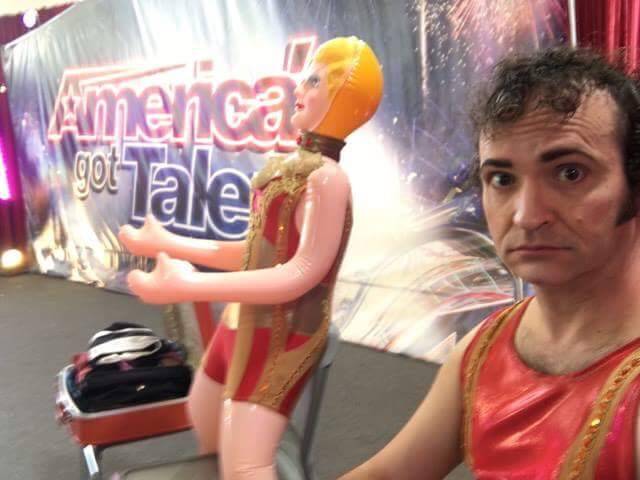 High-velocity skating trumped mirthsome acrobatics on NBC's "America's Got Talent" on Tuesday night.
Sibling skaters Billy and Emily England of "Absinthe" at Caesars Palace blew away the judges during the second audition episode of the show's 12th season. Jimmy Slonina, the swing clown/usher character in "Mystere" at Treasure Island was less fortunate.
The Englands performed a shortened version of their "Absinthe" routine. "You guys are death-defying," judge Simon Cowell said. "What you did before (when appearing on "Britain's Got Talent" two years ago) was good, but this was even better."
Fellow judge Mel B could not hide her shock. "What just happened? Seriously. That was crazy, but crazy good." The act drew a full-house standing ovation and earned unanimous approval from the panel to advance.
Slonina's parody of a circus hand-balancing act, using a blow-up doll instead of a human partner (his human partner ostensibly stood him up for the performance), however, was less successful. Slonina is wildly funny — if you accept his his act as satire, as judge Howie Mandel did.
"It was hysterical," Mandel said. "You were great." Noticing Slonina's doll/partner had been punctured and was quickly losing air, Mandel added, "She seems out of breath." Slonina answered, "She's a little deflated."
But Mandel's endorsement failed to sway Heidi Klum and Cowell. Klum said, "I don't know, you needed to do something that was like, 'Wow, I can't believe he can do this!' " Mandel, shot back, "No! No! No, Heidi, you're missing the point here! This is humor! This is comedy!"
Klum would not budge, nor would Cowell, who shook his head at Slonina and ignored the audience's shouts of "Dum-my! Dum-my!"
"Categorically, never," Cowell said, offering the dagger to the dummy. So it was bye-bye Jimmy.
Goodmans hit 55
Las Vegas Mayor Carolyn Goodman and former Mayor Oscar Goodman were in date mode Tuesday night at Piero's restaurant. The couple celebrated their 55th wedding anniversary at Freddie Glusman's famed Italian eatery on Convention Center Drive. It was a casual scene for the Vegas couple until Glusman called out, "It's the mayors' wedding anniversary! And they're spending it at my place!"
The couple married at a private estate in New York City on June 6, 1962. "Carolyn's parents were very respected in the social community back there," Goodman says. "If they'd had their druthers, she would have married a prince. Instead, they got a pauper." As the Goodmans left, Oscar smiled and high-fived a friend, looking every bit like a pauper who hit a jackpot.
Getting more 'Tanked'
Expect more aquatic shenanigans from Brett Raymer and Wayde King of "Tanked." The brothers-in-law who helm Acrylic Tank Manufacturing of Las Vegas are anticipating Seasons 8, 9 and 10 of the show, which would carry them into 2019. Now in its seventh season, the series airs at 10 p.m. on Animal Planet. Among the guys' recent high-profile projects: A "Beast Mode"-themed aquarium for Oakland (and maybe Las Vegas) Raider running back Marshawn Lynch.
A little less Frank
Frank Marino is shedding weight, but not his wit.
"I've lost 10 pounds, and I want to lose another 15. "My idea of a compliment is, 'Are you OK?' " says Marino, a 31-year headliner on the Strip and star of "Divas Las Vegas" at the Linq.
Marino's diet coincides with preparations for his "Happy Hour" schedule beginning July 10, when the show moves to 4 p.m. Fridays, Saturdays, Sundays and Mondays; 8 p.m.. Wednesdays and Thursdays. He'll be dark Tuesdays, toggling times with the soon-to-be-renamed Mat Franco Theater with the magician headliner and former champion of "AGT."
John Katsilometes' column runs daily in the A section. Contact him at jkatsilometes@reviewjournal.com. Follow @johnnykats on Twitter, @JohnnyKats1 on Instagram.