Slash's band rocks with Las Vegas' Frankie Sidoris
Updated July 26, 2018 - 8:38 am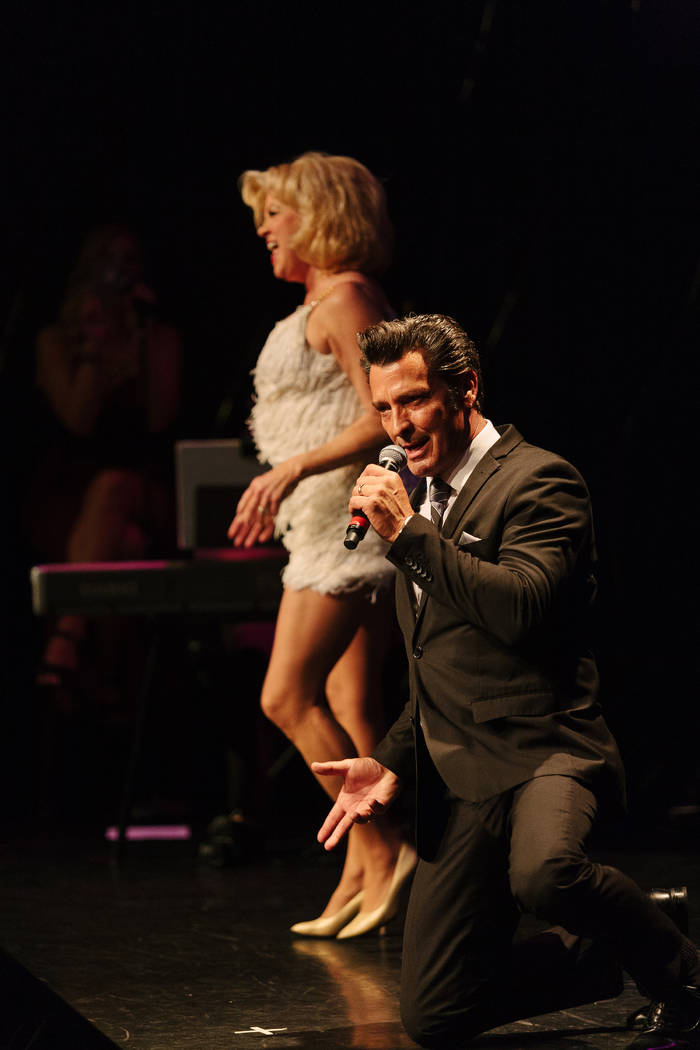 Last week, Piff the Magic Dragon celebrated his 500th show at the Flamingo Las Vegas.
This week, Slash and his backing band released a new single, "Driving Rain."
There is a connection. His name is Frankie Sidoris.
Sidoris is a great guitar player, which is why six years ago he was recruited to play in Slash's band, Myles Kennedy and the Conspirators (Kennedy being the band's vocalist). Sidoris is also from Las Vegas, so you see him occasionally at such events as Gwen Stefani's show at Zappos Theater and backstage with The Killers after their appearance at Caesars Palace on "Jimmy Kimmel Live" last July.
And, Sidoris is the son of Frank Sidoris and Angela Stabile, the latter being the co-founder of Stabile Productions — producer of Piff's show. Stabile and her husband and company co-founder, Matt Stabile, have forged an "X" empire of adult revues on the Strip, led by "X Burlesque," which also performs at the Flamingo.
Sidoris, meantime, is a full-fledged member of Slash's band. His rise to rock stardom started in Las Vegas, when he learned to play guitar at age 15. Sidoris was in the Las Vegas band Saint Rose when he met fellow rock artist Alex DeLeon, of the local band The Cab.
Sidoris, who at the time was working a side job at All Saints at The Cosmopolitan of Las Vegas, joined DeLeon's outfit. Sidoris was a local rocker until Las Vegas drummer Brent Fitz, a member of Slash's band, recommended him to the Guns N' Roses mainstay.
At the time, Slash was looking for a new guitarist, in a hurry, and contacted Sidoris on Super Bowl Sunday on Feb. 5, 2012 (the New York Giants rocked the New England Patriots that day).
Sidoris flew to Los Angeles from Toronto with two guitars and one case of frayed nerves.
"I played Paradise City, and I thought, 'Who else gets to play Paradise City with Slash?' " the 29-year-old Sidoris says. "We played four or five Guns tunes, and I settled down to give it the best performance I could."
In a story that has made its way around the band, the guitarist who was to audition after Sidoris' performance heard the music outside the door and simply left.
"Two days later, my band was playing Allentown, Pennsylvania. Slash called and said, 'We want you in the band,' " Sidoris says. "That day changed my life."
As expected, Slash is an all-business musician. "The most important thing is playing. The first thing he does in the morning is play guitar, and play music in general," Sidoris says. "You feel that inspiration throughout the band. It's a very unspoken vibe, a game-face thing. He brings the best out of all of us."
Slash has also pulled bassist Todd Kerns, founder of Vegas faves Sin City Sinners, into the Conspirators lineup. "Driving Rain" is the band's first single from the upcoming album "Living the Dream," due Sept. 21.
The band opens a U.S. tour Sept. 13 at Whisky A Go Go in L.A. and crisscrosses the country through October. Las Vegas is not on the touring list, at least not yet.
"I hope we play Las Vegas on the second leg," Sidoris says. "I want people here to see us. This band is the real deal."
So get this ...
The great singer Daniel Emmet of "The Cocktail Cabaret" at Caesars Palace might have been sent home last week from "America's Got Talent," but Las Vegas is still represented on the NBC competition show.
We haven't heard this during any broadcast, but vocalist Christina Wells, who states her hometown as Houston, has actually lived in Las Vegas. Wells earned her bachelor's degree in nursing from UNLV — which she has listed on her Facebook page.
Wells advanced through the July 18 Judge Cuts episode after a noble (if off-key) rendition of "Never Enough" from "The Greatest Showman."
And this …
Tropicana Theater magician David Goldrake managed to keep secret (well, nearly) a potentially serious stage accident in which he suffered first-degree burns over most of his body. How's that possible?
When a magician suffers those injuries not by fire, but by water.
About five weeks ago during his "Water Tank" escape act, Goldrake was submerged in a tank filled with water so hot that he suffered extensive burns.
Goldrake's condition was painful, but he has been able to perform in his regularly scheduled shows, and the act remains in the show. The incident was caused because "a stagehand didn't follow protocol," as the magician said in a text message Wednesday.
Goldrake announced Tuesday he's closing his "Imaginarium" show Sept. 30, and he plans to open a new magic production on the Strip next spring.
Torti on Broadway lives!
Bob Torti reports that his "Brunch to Broadway" concept (without the brunch) has new life. The all-star production closed last month at Red Rock Resort but resurfaces for showcases at 1 and 3 p.m. Saturday at Sunset Station.
The new title is "Broadway Revue," but the cast is the same, led by Bob and his wife, DeLee Lively Torti. Station Casinos is considering these initial performances a locals' giveaway. If it plays well, the hotel will make it a show. We are (or at least, I am) remaining optimistic this show can rise again at Sunset.
Contact John Katsilometes at jkatsilometes@reviewjournal.com. Follow @johnnykats on Twitter, @JohnnyKats1 on Instagram.