SLS turns to jazz at Foundry; 'The Get' gets Brad Garrett
February 24, 2017 - 6:26 pm
Updated February 25, 2017 - 8:04 am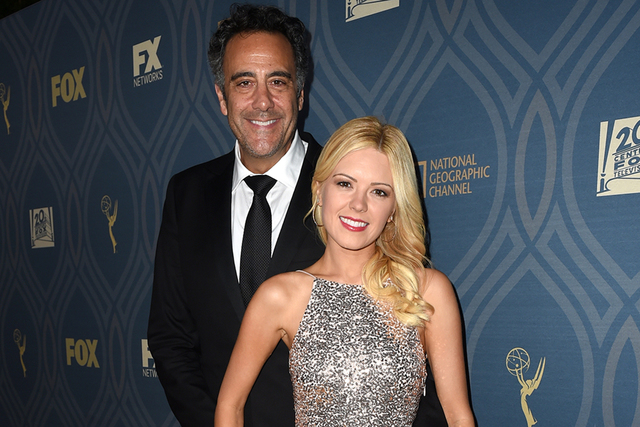 The Kats! Bureau at this writing is SLS Las Vegas/W Las Vegas, the twin towers of the north end of the Strip in the building that was once the Sahara.
SLS is home to the Foundry, which just booked jazz guitarist Peter White for an April 15 performance. It's the venue's first jazz booking, and more broad-ranging bookings can be expected under the hotel's new President and Chief Operating Officer Terry Downey and Chief Financial Officer Robert Schaffhauser, both recently of Aliante.
The Jon Lovitz and Dana Carvey comedy showcase "Reunited," returns to the space March 15, persevering in Vegas' ever-competitive comedy climate where Strip headliners regularly make national news. Here's one now:
THE BRAD BUREAU
Brad Garrett is tacking back to CBS, where "Everybody Loves Raymond" ran for nine seasons to great ratings and acclaim. Garrett has been cast in the pilot for "The Get," about a band of investigative internet journalists . Garrett's character, Bill, is an executive producer for this team. CBS decides whether to pick up the show in mid-May.
Garrett has done stand-up in Vegas for three decades, incluing a stint opening for Frank Sinatra at Bally's. He has operated Brad Garrett's Comedy Club at MGM Grand for nearly five years, and is hosting at the club through Sunday.
But Garrett is also an effective dramatic actor who has shed comedy previously in his role as the mob boss Joe Bulo in the FX series "Fargo," among other roles.
"The opportunity to do an hour drama on a major network has been a dream of mine for some time, so that was very enticing," Garrett said, explaining why he pursued the role in "The Get. "And as always, it all comes down to the writing."
Garrett describedthe show's creator, Bridget Carpenter, as "truly talented." Carpenter was the showrunner on Hulu's "11.22.63" series.
Garrett just took the role Wednesday and plans to research what a reporter actually does. He joked, "I'm the guy following you around with my headlights off."
TAPE TO THE FACE
My initial thought after watching the Tape Face premiere Wednesday at Bugsy's Cabaret at Flamingo Las Vegas: This guy would be great in "Absinthe." My second: He reminds me so much of Blue Man Group.
This is meant as flattery. It's easy to see why New Zealand prop comic named Sam Wills achieved fame as a finalist on Season 11 of "America's Got Talent" (young singer Grace VanderWaal, featured in Friday night's "One Night For One Drop" charity show at Zumanity Theater, won the championship). His taped mouth creates silent tension, same as BMG. Such bits as his staple-gun duel with an audience member, as both fire away at giant balloons cradled under arms and between legs, are uniquely imaginative — and in the spirit "Absinthe" performances.
But in Las Vegas, Tape Face is not a specialty act. He rolls through 75 minutes of physical comedy, drawing more than a dozen audience members to the stage. It's a healthy amount of time for an acquired taste, the sort of act that is more effective in a lineup rather than on its own. But another such artist — Piff the Magic Dragon — has a hit in that very room, in fact. Oddly enough, Bugsy's has become the Strip's fringe headquarters.
THE POPPER EFFECT
Blues Traveler hit the Strip lounge scene this week, with shows at Cleopatra's Barge on Wednesday and Thursday night. It's rare to experience a national act in such a venue (the watery enclave seats about 165). The crowd, boosted by Vegas entertainment types and Caesars Entertainment officials, gave front man John Popper and the band rave reviews on-site. The question is whether enough tourists (or locals, for that matter) will pony up $70 to watch Blues Traveler at Cleopatra's Barge, which otherwise hosts no-admission shows by David Perrico's Pop Strings Orchestra and Zowie Bowie.
Up next at the Barge are rockers Plain White T's on March 30-31, with tickets also starting at $70.
ONE CARD SHORT
My birthday extravaganza at 9 p.m. at Tuscany Suites' Copa Room is an excuse — to raise money for St. Baldrick's Foundation. It's also an excuse to share in a night of great live music in a true-Vegas hang. The show is hosted by Kenny Davidsen in his "Playlist" series of themed show. The title, "One Card Short Of A Full Deck," refers to my upcoming age (51) and all the music is somehow themed for playing cards.
Set to appear (brace for a boldface assault): Frankie Moreno, Franky Perez, Skye Dee Miles, Mikalah Gordon, Michelle Johnson, Rockie Brown, Mark Shunock, Frankie Scinta, Michael Shapiro and Reckless in Vegas, Andrew Freeman of "Raiding the Rock Vault," Sarah Hester Ross, Chris Phillips of Zowie Bowie, Lannie Counts, Tony Davich, Enoch Augustus Scott of "Zombie Burlesque," Al Bernstein, Niki Scalera, These Guys Worldwide, Christina Shaw, Stephanie Sanchez, Marc D. Donovan, Brandon Nix, Nieve Malandra and Melody Sweets.
There is no cover, and please, no gifts. Instead, donations are accepted on my page at www.St.Baldricks.org . For the fifth straight year I am participating in a shave-a-thon for the St. Baldrick's, which fights childhood cancer and has hosted these events for the past decade. My shaving is 2 p.m. March 11 at New York-New York, with Miss Sweets wielding the clippers.
John Katsilometes' column runs daily in the A section, and Fridays in Neon. He also hosts "Kats! On The Radio" Wednesdays at 8 p.m. on KUNV 91.5-FM and appears Wednesdays at 11 a.m. with Dayna Roselli on KTNV Channel 13. Contact him at jkatsilometes@reviewjournal.com. Follow @johnnykats on Twitter, @JohnnyKats1 on Instagram.