Spiegelworld banking on 94-year-old Atlantic City theater
Updated January 18, 2023 - 10:18 am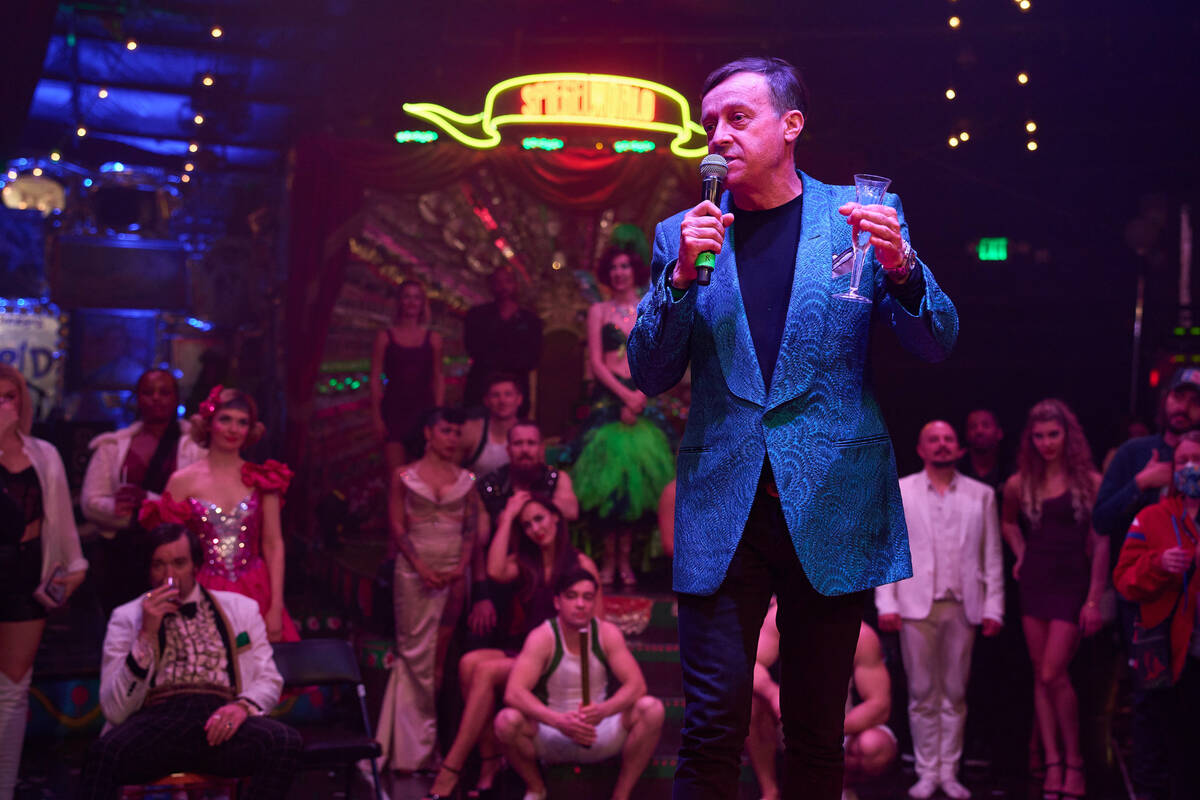 Whether it's Vegas, Atlantic City or Nipton, Ross Mollison is the talk of the town. Spiegelworld's founder and Impresario Extraordinaire is already creating bi-coastal adventures in 2023.
Mollison's company has taken over Nipton, the tiny burg about an hour south from Vegas just across the Nevada-California border on U.S. Route 164. The company plans to turn Nipton into a Burning Man-fashioned experience of like-minded artists and entertainment professionals.
Spiegelworld is also overhauling Warner Theater (the Norma Desmond of theaters) at Caesars Atlantic City for "The Hook" production and second Superfrico restaurant outpost. That development, due to open in June, is part of Caesars Entertainment's $400 million commitment to its Atlantic City resorts. "DiscoShow" is the company's next residency show at the new Glitterloft at Linq Hotel.
That production is to be followed by a yet-to-be named production at Caesars Palace New Orleans, the former Harrah's resort, which is also undergoing renovation and expected to open in late-summer 2024.
That's without mentioning "Box Box, Box Box." This is the show being developed in The Rumpus Room, a 58-seat lounge between the "OPM" theater and Superfrico at The Cosmopolitan of Las Vegas during the Formula One Las Vegas Grand Prix in November.
It's a lot to unpack, whether in Nipton, Atlantic City or Las Vegas. Some highlights from our recent chat with Mollison as he was talking from Penn Station, en route to A.C.:
Johnny Kats: You're in partnership with three major Las Vegas resort companies, Caesars Entertainment, Venetian/Palazzo and MGM Resorts. Are any of them formally involved in the Nipton venture:
Ross Mollison: Not at this stage. But I'm always open for offers if anybody would like to start a little resort out there, a little casino … But seriously, we don't see it as a gaming-related property. Though inasmuch as I say that, I understand in the past, it has been an enormous seller of California lottery tickets. We could end up going into gaming by selling lottery tickets. I think that would be the extent of that idea, if we chose to go that route.
I'm thinking of something away from gaming. Do you think that any of your partners would want to promote Nipton in a VIP getaway package with one of your shows on the Strip.
I think we definitely would do that. If any of our partners would like to arrange to go out to Nipton, just like they would go to a golf course outside of Vegas, I'd be interested in something like that. It's remarkable how close it is to Vegas, a one-hour drive, yet feels so remote. It's a wonderful thing.
Are the Rumpus Room and "Box Box, Box Box" plans related to the Nipton project?
We're looking at doing a workshop of "Box Box" in Nipton in like late-March or early April, but that show is not going to be in Nipton. It will only be at the Cosmopolitan during the Grand Prix. There are some hurdles to jump on that one, but it's really just a show to have fun, a little comedy which I think would be a great thing to add for the whole racing community that's going to show up in Vegas. We'll show them what we do, late at night, for like 58 people.
Will Nipton be used to test other concepts as well?
We're going to do other workshops out there, which will happen in May and June. We're just working on a few other ideas out there for this year. The place is looking a lot cleaner than when we bought it, but there is still an enormous amount of work to do.
Any updates on "DiscoShow" and the New Orleans project?
These things are going slower than we would have liked, but that's just because of due diligence on budgets, and getting all the budgets absolutely correct. When we announced these plans, we kind of had an idea of what it was going to cost. But obviously, the costs move around. Sometimes they come down, which is great. I think we're getting very close to a plan on "DiscoShow," and the New Orleans project is linked to when they want to open the property, which will be in 2024.
Nobody knew what "Absinthe" was when you opened in 2011, and it's a major Las Vegas success story. Since then, that show, "OPM" and "Atomic Saloon Show" have opened and are up against many more headliners than there were a decade ago. How are you able to keep all these shows running?
We very consciously said we were the off-Broadway to the big Broadway-type attractions, so we're the second-night choice to someone who wants to see a headliner on the first night. I think in terms of trends, Vegas headliners are in that Broadway idea, with these big, branded shows. But I think everything goes in cycle. I think people are equally still looking for something new, exciting, and something they can discover. I don't know about you, but when I come to town, I'm looking for the place that's new and exciting.
John Katsilometes' column runs daily in the A section. His "PodKats!" podcast can be found at reviewjournal.com/podcasts. Contact him at jkatsilometes@reviewjournal.com. Follow @johnnykats on Twitter, @JohnnyKats1 on Instagram.