Stage fall leaves Vegas headliner in stitches
Updated August 24, 2023 - 3:52 pm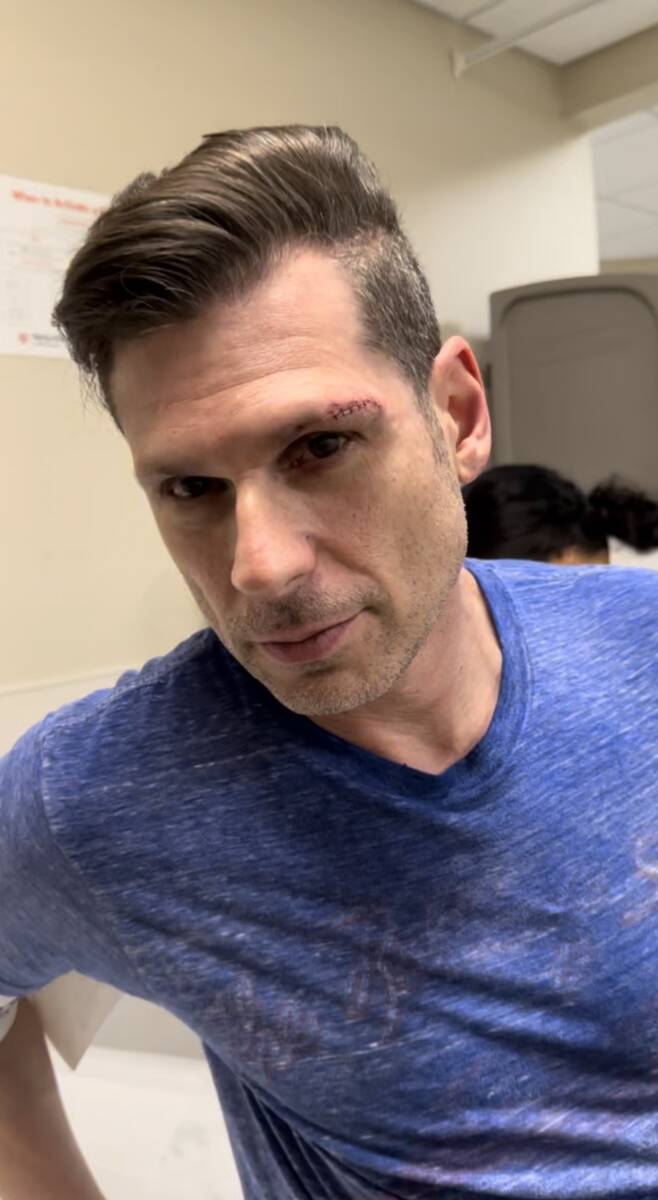 Mike Hammer has slugged it out on Fremont Street for 13 years. But he's never been left bleeding, looking like a boxer who has been cracked with a right hook.
It happened Tuesday night in Hammer's show at Four Queens' Canyon Club. The comic-magician was in the middle of an act featuring the Hoop of Solitude. This is a hula-hoop with an orange drape attached.
Hammer and an invited audience member step inside. Another guest to the stage ties the performer's hands behind him, then lifts the circular drape over Hammer and the audience member. After just a couple of seconds, Hammer calls for the piece to be lowered, showing he has a bra around his neck, ostensibly stripped from the audience member.
The guest in the Hoop of Solitude is always female (or identifies as such), to match the prop. The other audience member is a male, usually that person's date.
In Tuesday's show, Hammer caught his foot on the prop, which was placed on the floor, as he attempted to walk free. He tripped and pitched forward, his hands still tied behind him. His face broke his fall. He didn't break any bones but was cut over his left eye, looking like he needed treatment from Burgess Meredith.
Blood began to stream down Hammer's face immediately as someone in the crowd shouted, "That hurt!"
"Who's not in the WWE!?" Hammer shouted. He would later be admitted to the emergency room, walking out with seven stitches over his injured eye.
"All I saw was the floor coming, and I thought, 'This is not going to be good,' and I blacked out for a second. But the entertainer in me said, 'Get up! Get up!'" Hammer said after Wednesday's performance, his first show back. "But I felt blood. You can feel it when it's dripping down your face. A lot of the audience thought it was a gag at first because I joke so much through the whole show."
Hammer had never been injured in such a way in more than 3,300 shows at Four Queens. He finished this one. But he cut the number (so to speak) where he places razor blades in his mouth, pulling them out by a string of thread.
"I didn't want to do the razor blades with blood all over my face," Hammer said. "It's not a good time for that."
This was definitely an unusual moment, though not necessarily a serious injury. But there is nowhere to hide for Hammer in his 175-seat venue. Wednesday's show was an artistic sparring session, and he was cornered. The crowd that would have needed to amp its energy just to be called "lethargic."
It's typical for folks to walk in exhausted from the heat on the Fremont Street Experience sucking down yard-long margaritas. This was such a crowd.
"In your article, say the audience was 'lively!'" Hammer called from the stage, when he spotted me in the crowd, explaining I took the night off from covering Cirque to see this show.
At one point, a woman invited to participate in a drawing segment nearly lost her footing while taking the steps. Yes, we nearly had another tumble. She told Hammer she was drunk, and her giggling and eye-rolling — and her sketch of what was either a butt or a heart, depending on how you held it — matched that claim.
But as Hammer led her back to her seat, she whispered something to him.
"What was that? What? Did you say you had a stroke?" Hammer said, his voice rising. "You are recovering from a stroke? Why didn't you say that to begin with? You're doing a lot better! I mean, I assume you were worse … But good for you, just drinking right through the stroke."
That's how it is on a weeknight on Fremont Street, where the crowd needs to be won over, and the headliner performs his own stunts.
John Katsilometes' column runs daily in the A section. His "PodKats!" podcast can be found at reviewjournal.com/podcasts. Contact him at jkatsilometes@reviewjournal.com. Follow @johnnykats on X, @JohnnyKats1 on Instagram.