Stormy Daniels hits Crazy Horse III in Las Vegas
Updated April 25, 2018 - 9:17 pm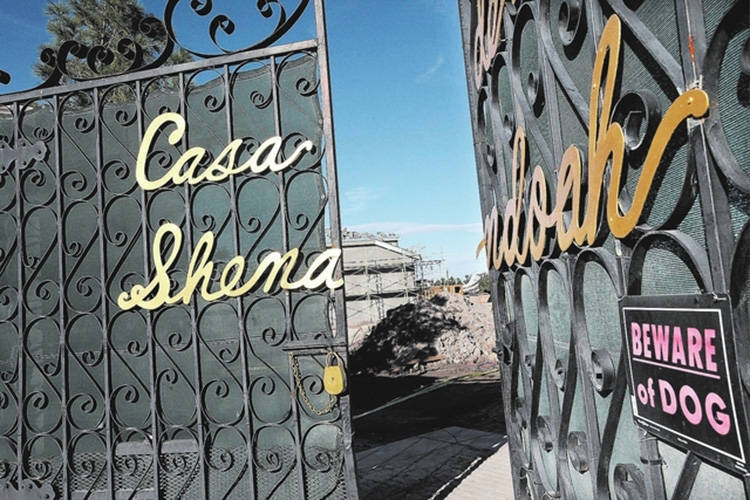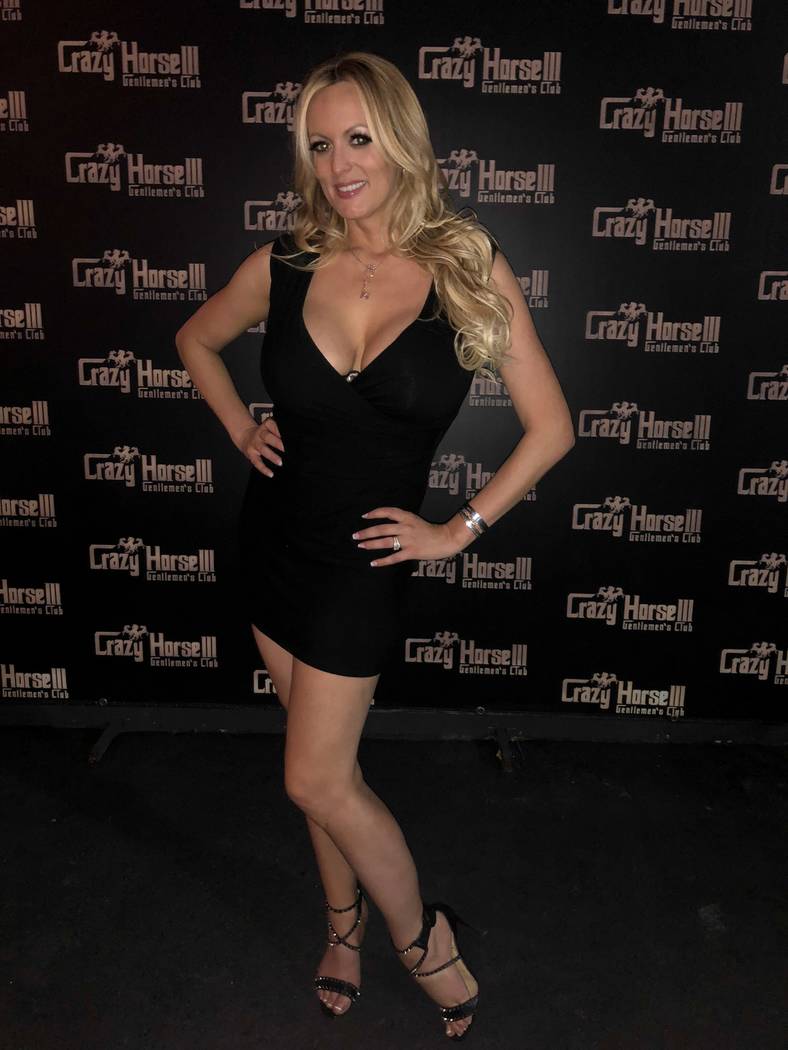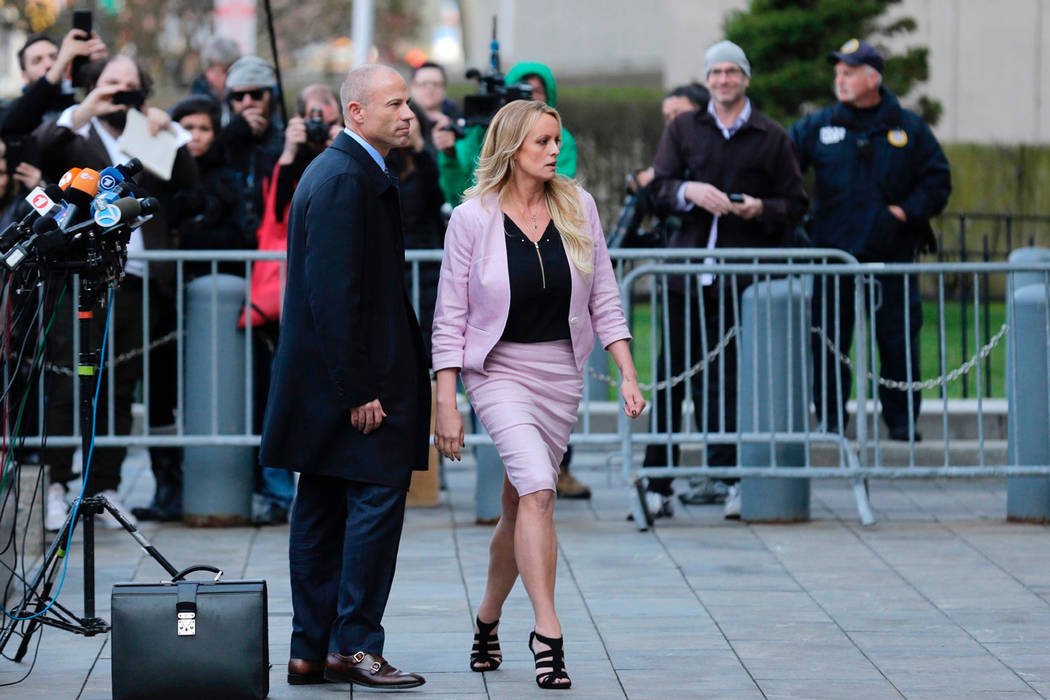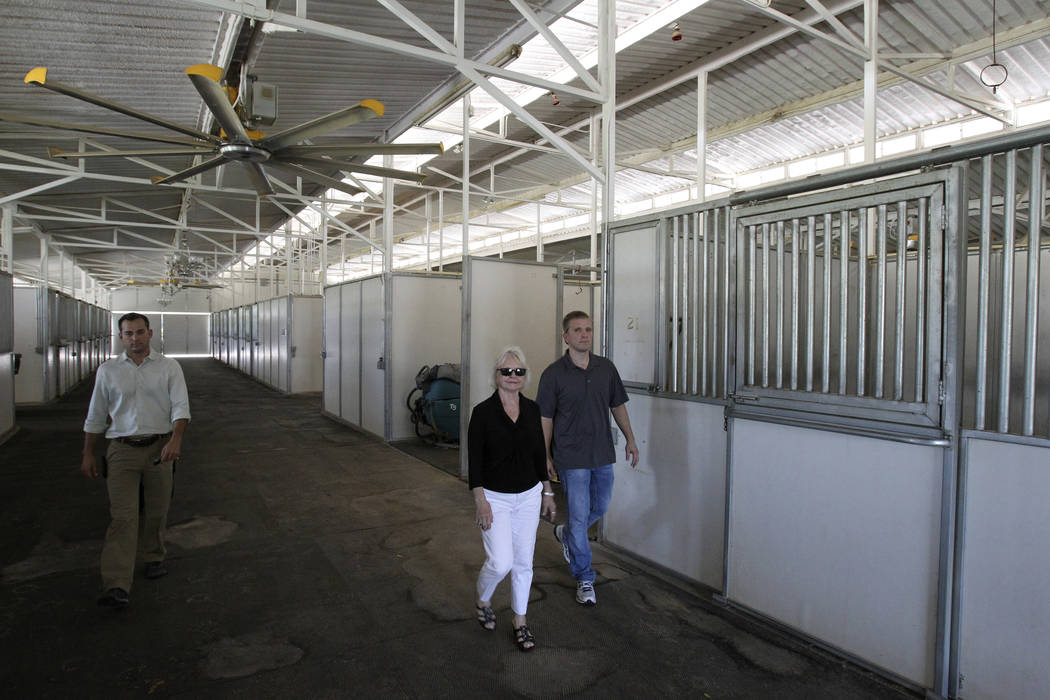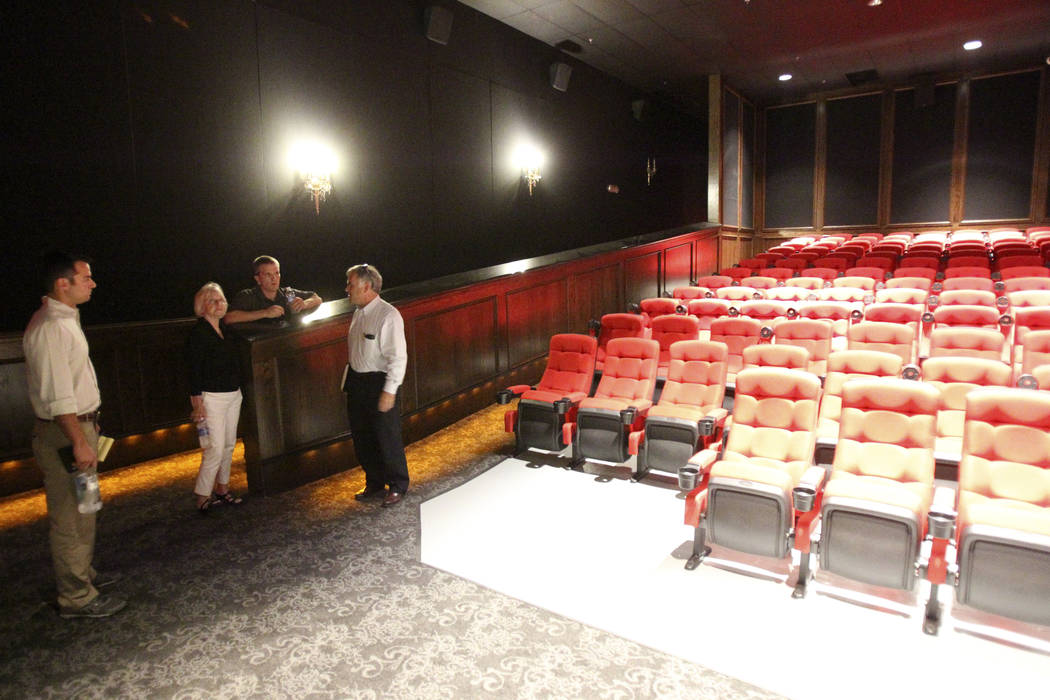 Some strip club owners plan for months to successfully book an appearance by Stormy Daniels.
But sometimes, the Storm hits with no forecast.
Daniels made an unannounced arrival at Crazy Horse III gentlemen's club late Tuesday night.
The renowned adult film actress and prominent presidential litigant swept into the club around 1:30- 2 a.m. Wednesday with an entourage of 15 of friends and confidants in tow.
Club marketing exec Scot McKinley says Daniels' visit was not a formal appearance, which includes a single striptease performance and costs $5,000. (She sometimes performs additional stripteases, which command an additional $5,000 each). This was an unbilled drop-in, as Daniels had been partying with her posse when she showed up at the club. She had a quick photo taken on the step-and-repeat at the entrance, then filed into a VIP booth.
A Crazy Horse III host summoned a pair of security guards to keep the fans at bay, but otherwise, Daniels was partying as any CH III guest. She asked for and received a lap dance from a "thick" (her term for "voluptuous") blond. She threw back a few vodka cocktails, departing before sunrise.
Word is Daniels might return to the club again this week. No confirmation so far, but the folks at Crazy Horse III are ready should she decide to … hold court (boom).
Hiatus for Shenandoah
On the topic of horse play …
Wayne Newton's Casa de Shenandoah is shuttering its gilded gates for an unspecified period of time for a general refreshing of the property. The museum was temporarily closed Tuesday.
"We have been open almost three years, and I have noticed the wear and tear and deterioration that happens over time," Newton said "Unfortunately, this work can not be done while tours are going on. We expect to re-open as soon as possible."
Leaders of LED
Vegas Golden Knights Vice President of Entertainment Jonny Greco calls it "the evolution of the Vegas hockey fan."
Which is how you describe someone in a Golden Knights cap and sequined jersey performing the bossa nova.
Fans have figured out how to make it on the T-Mobile Arena scoreboard's big screens. Some ticket-holders are actually keeping score, game-to-game, on how often they are broadcast to the crowd.
"The camera guys are looking for anyone having a good time," Greco says. "If you want to be on, wear some sort of crazy costume. Wear some sort of bling. Bring a creative sign, and just look like you're having a good time." It helps, too, if you happen to resemble The Wolverine (and that's for you, Jason Griego).
Got it covered
Incidentally , MGM Resorts offers attractions related to the Vegas Golden Knights and San Jose Sharks. The Tournament of Kings dinner show at Excalibur celebrates King Arthur and Knights of the Round Table.
Just south, at Mandalay Bay, you'll find the ever-popular Shark Reef.
It's too late in the process to make this change, but maybe the ExCal execs could temporarily re-name the show the "Tournament of Knights" in honor of the Golden Knights. It's a novel idea, and everyone (aside from dozens of luckless Cornish hens) wins.
AngelTalk
Luxor headliner Criss Angel is developing a talk show, but don't count on him breaking out the Johnny Carson leisure suits.
Angel's first interview is with Air Force Technical Sgt. Israel Del Toro, who was severely burned by an IED explosion while serving in Afghanistan in 2005. Del Toro re-enlisted five years later, and in July was awarded Pat Tillman Award for Service at the 25th ESPYS.
Angel posted a segment of his Del Toro interview on Instagram , adding that the clip was "for my new #Live show," and that an announcement about the project is coming soon. Angel says he has an abundance of exciting news about upcoming TV projects, a film project scheduled for 2020, and live shows (we expect something related to Planet Hollywood Showroom). Again, Angel closes his 10-year run at Luxor on Oct. 28.
Head's up!
Legendary impressionist Rich Little was the latest celeb to be honored with a shrunken head at The Golden Tiki. His ceremony was held Tuesday night. Little (who performs at 7 p.m. Sundays through Wednesdays at Laugh Factory at Tropicana) joins Luxor headliner Carrot Top, Frank Marino of "Divas Las Vegas" at Linq Hotel; Chris Phillips of Zowie Bowie, Vinnie Paul of Pantera and Hellyeah, Murray Sawchuck of Sin City Theater at Planet Hollywood, and 2011 Playboy Playmate of the Year Claire Sinclair as a shrunken-head honorees.
Golden Tiki Managing Partner Branden Powers presented the artifact, created by Smithsonian artist Terry Barr. The figure took four weeks to complete.
In accepting the honor, Little said, "My mom said to me, 'If you don't give up doing these stupid impressions, you'll never get ahead in this business.' I didn't give up and I did get a head — a shrunken head!" George Burns couldn't have said it better …
The Gossy haven
Prince's ex-wife, Mayte Garcia, took in Matt Goss's show at 1Oak at the Mirage on Tuesday night. Friday night, Jerry Lewis's widow, Sam Lewis, was in the house with a friend visiting from out of town. Lewis was also at Goss's March 16 performance celebrating the birthday of her daughter, Danielle. That night also marked what would have been Jerry's 92nd birthday.
John Katsilometes' column runs daily in the A section. Contact him at jkatsilometes@reviewjournal.com. Follow @johnnykats on Twitter, @JohnnyKats1 on Instagram.