Teller's injury forces Penn & Teller to go dark earlier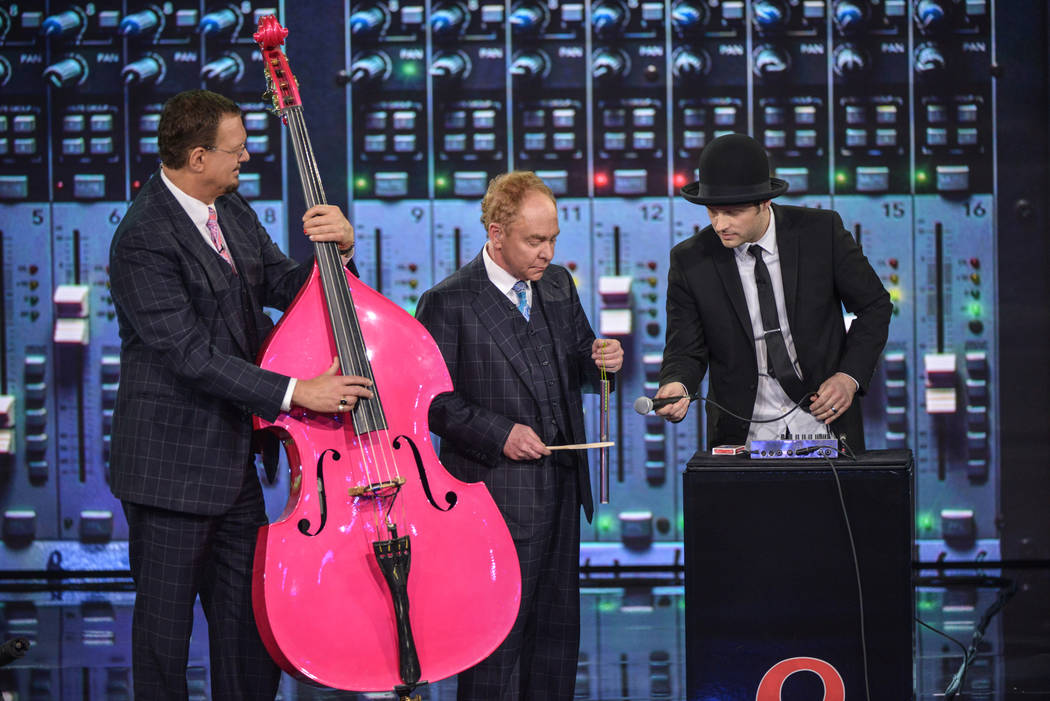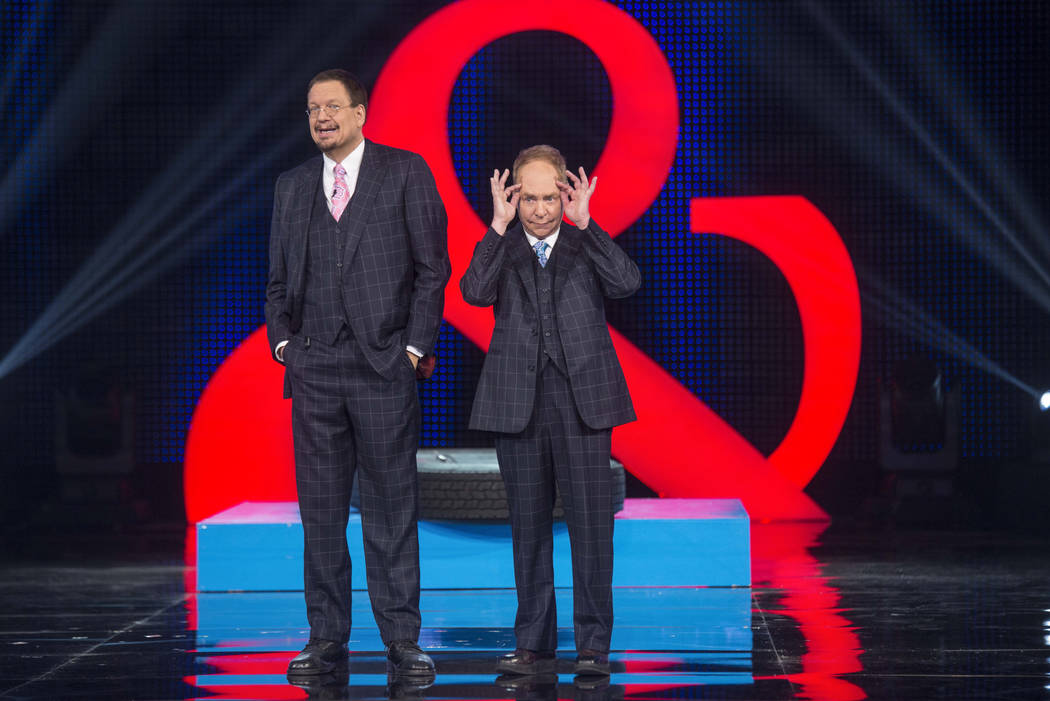 Spinal-fusion surgery and a comedy-magic production are an unhappy mix.
Consequently, Penn & Teller have shut down their production show effective immediately. The duo will not be back onstage until Aug. 18. They called off their show at Beau Rivage Resort & Casino in Biloxi, Miss., on Friday night and have pulled their shows at the Rio off the schedule, too.
The duo already had planned to take a hiatus so Teller could undergo spinal-fusion surgery, the lingering result of hanging from straitjackets and climbing in and out of boxes for more than 40 years. The original dark period was to start July 10, but Teller's back had other ideas after P&T's performance Wednesday at Beau Rivage.
Though in pain, Teller was able to finish the performance. But then skipped the post-show meet-and-greet for the first time in 43 years, and began making calls to alter the duo's upcoming schedule.
Teller's surgery is now scheduled for Monday in Las Vegas. He posted a note to fans and ticket-holders on his Twitter page Thursday:
"My sincere apologies to our fans in Biloxi and folks who were planning on seeing the Vegas show. Last night during the show my back firmly ordered me to cut the crap and get it fixed. So I'm stopping work from today till August 18th and getting my back surgery pronto. Love – T."
In a separate post, the 70-year-old illusionist added, "In our entire prior career, I think we've had to cancel only four shows on short notice. So I (and much of our crew) feel disoriented and befuddled — as if we're in one of those showbiz nightmares where you can't find your way back to the stage in time for the next cue."
Jillette also posted, "Teller is getting his back totally fixed a little sooner than expected. So P&T are on hiatus from everything until August 18th and then the boys will be back and bad!"
The CW magic-competition series "Penn & Teller Fool Us" resumed at 8 p.m. last Monday. Those shows were recorded in the spring at Penn & Teller Theater. There are no shows scheduled in the venue during P&T's break; "Wow — World of Wonder" continues to run in its own theater on the Rio casino floor.
Criss, Kiss and Lewis
Where do Strip headlining magician Criss Angel, the iconic rock band Kiss and the legacy of Jerry Lewis meet?
At an estate sale.
Angel bought a set of Lewis' vintage Louis Vuitton monogrammed canvas hard-case trunks on June 22 at the Julien's Auctions estate sale at Planet Hollywood. He presented the set to Kiss co-founder and singer Paul Stanley. Julien's reported Lewis' Vuitton set went for $19,200.
"Criss knew I loved these & purchased them at auction for me," Stanley said in a Twitter post. "A very special person I'm proud to know."
Felix the Great
More from the Angel Bureau: The soon-to-be Planet Hollywood headliner is leading an effort to change the name of Fox Theater at Foxwoods Casino Resort to Felix Theater after the late resort executive Felix Rappaport. The longtime hotel official and chief executive officer of Foxwoods died June 19 of a massive heart attack in his suite at the resort.
Rappaport, who was 64, spent more than 20 years in Las Vegas at such resorts as New York-New York, Excalibur, Luxor and Mirage. He signed Angel to his 10-year contract at Luxor, and was also responsible for Carrot Top's residency at the hotel and also signed Boyz II Men at Mirage, and Thunder From Down Under and Australian Bee Gees at Excalibur. All of those shows are still onstage.
Angel announced his effort to rename Foxwoods' main theater on a video from a zip line at the resort, where he had been headlinig this weekend. He and Rappaport had shared rides on that attraction, and Angel dedicated his weekend shows to the widely liked and respected executive.
Riot of a Crimson hue
Las Vegas punk band Crimson Riot has won the web-TV competition series "Who Will Rock You," claiming the prize in the show's finale Thursday from the Nashville music venue The Cowan.
Preliminaries were filmed at Topgolf at MGM Grand and also in Nashville. Rockie Brown was the other Vegas entry. National radio host and country artist Bobby Bones and country singer/songwriter Maggie Rose judged the series.
Crimson Riot beat Chris Ferrara & The Common Good for the $25,000 first prize and a tour of Topgolf venues. The band is the graduated punk version of the popular Vegas act Roxy Gunn Project. Gunn remains on vocals and guitar. Her husband, Chris Reject, is on bass and vocals and Gunn's father, Ryan J., is on drums. The band has been called a Punk Rock Partridge Family, and if you don't get that reference, do some research. It works.
Pia a hit at Miss Nevada
Piero's Italian Restaurant songstress, actress and adroit joke-teller Pia Zadora is the 2018 recipient of the Honorary Miss Nevada Award at the Miss Nevada Pageant at 6 p.m. Sunday at Westgate Las Vegas. Zadora follows former Miss Nevada President Jodi Fonfa as an honoree. Zadora and sidekick Sonny Charles are on break from their Friday and Saturday night shows at Piero's through Sept. 7.
Contact John Katsilometes at jkatsilometes@reviewjournal.com. Follow @johnnykats on Twitter, @JohnnyKats1 on Instagram.