Terry Fator survives by using more than his puppets
September 14, 2016 - 6:10 pm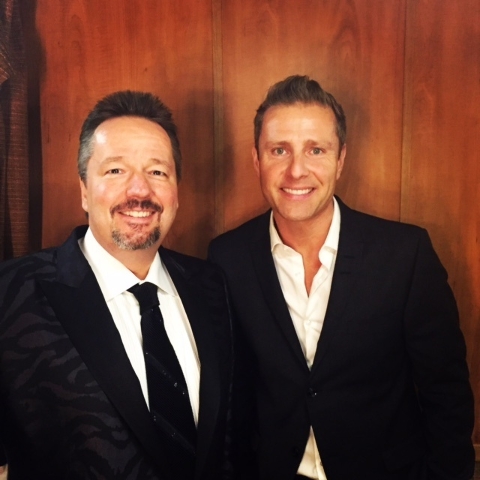 In the shuffling of shows in Las Vegas this year, and the recent series of announced closings, we've wondered about the Preponderance of Puppetry in our city.
Two shows featuring puppets, and those who operate them, have come and gone over the past five months: Paul Zerdin's "Mouthing Off" left Planet Hollywood Showroom on Sept. 4, and "Puppet Up! Uncensored" closes at Sands Showroom at Venetian on Saturday.
The survivor, again, is Terry Fator, still headlining at the venue named for him at the Mirage. A high volume of shows with (and without) puppets have cycled through the Strip since Fator opened in the former Danny Gans Theater in April 2009.
How have the star ventriloquist and his assortment of puppets, including Winston the Impersonating Turtle, Vikki the Cougar and Barry Fabulous, managed to sustain their residency on the Strip?
"I really don't know, but I do know that my show kind of transcends people's view of puppetry — they have a very negative view of puppetry," Fator said as he stopped on the "gold carpet" at Criss Angel's H.E.L.P. charity show at Luxor on Monday night. "You would think that the Muppets would have helped with that, but for some reason they don't like puppets. I saw 'Puppet Up!' and it was hysterical, and Paul is great. But with my show … it's much more like a traditional Vegas show, where we have music and singing and dancing."
Fator's weekend performances resume in October at the Mirage's Parlour lounge, where every other Wednesday after his show he samples such artists as Frank Sinatra, Dean Martin, James Taylor and Michael Buble, James Taylor — with no puppets onstage.
MUSINGS FROM CARLOS
The spirit of the '60s is back at Mandalay Bay.
Carlos Santana has returned to his Las Vegas Double-R (Recurring Residency, another alliteration) experience at House of Blues. He was to return Wednesday night and is onstage for a half-dozen more shows through Sept. 25. The new singer in Santana's band, Ray Greene, formerly of Tower of Power, is joining him for this latest set of dates. Greene announced his departure from the famous horn band in January.
About a month after this run ends, Santana is issuing the live CD, DVD and Blu-ray recordings of the reunion performance of his original band at HoB in March. The drop date is for the package (including two CDs from that terrific show) is Oct. 21. The performance marked the release of "Santana IV," the album featuring guitarist Neal Schon, keyboardist/vocalist Gregg Rolie, drummer Michael Shrieve and percussionist Michael Carabello.
During an interview Tuesday afternoon at his office in Las Vegas, where he also owns a home, Santana referred to the Sept. 4 San Francisco Fest at AT&T Park. The lineup of Journey, Santana, the Steve Miller Band, the Doobie Brothers and Tower of Power sold out the 42,000-seat home stadium of the San Francisco Giants in just four hours.
"It was great, really great," Santana said of the event, modeled after the Bay Area's Day on the Green festivals, promoted by the late Bill Graham in from 1973 through '91. "They should bring it here."
Good idea. At least one parcel in Vegas — Las Vegas Festival Grounds on southeast corner of the Strip and Sahara Avenue — still has no events scheduled, at all, as Rock in Rio USA and the ACM Party for a Cause debate a return to the 50-acre property. And, every band that played AT&T has performed recently in Vegas.
STRAIT TO THE BOX OFFICE
George Strait brushed against two sold-out shows over the weekend at T-Mobile Arena, but was not quite at capacity. The official ticket sales figures for the shows were a total of 34,483 (about 17,000 per night), compared to 38,562 in his first two shows at the arena April 22-23.
Strait continues to be an enormously popular draw at T-Mobile, the closest thing to a resident performer, and returns for two shows Dec. 2-3 (coinciding with the National Finals Rodeo at the Thomas & Mack Center) that officials are optimistic will sell at a similarly brisk pace.
THE PUNCH LINE AT SIN CITY
Three days after announcing that Sin City Comedy & Burlesque was closing after a seven-year run in two Planet Hollywood venues, Cabaret club Director of Operations Pete Housley says the production will remain afloat. Expected to close Oct. 1, Sin City is remaining in its nightly 9 p.m. slot at the club on the P.H. mezzanine level.
This week, Cabaret club owner Norbert Aleman, Sin City Comedy license owner John Padon and Housley renegotiated a partnership that relieved Padon of some of the booking responsibilities (he moved to Hawaii last year) and also maximized profit potential by cutting the Wednesday night show from the schedule. The regular headliner is still the fine stand-up Greg Vaccariello.
John Katsilometes' column runs Saturday, Sunday, Tuesday and Thursday in the A section, and Fridays in Neon. He also hosts "Kats! On The Radio" Wednesdays at 8 p.m. on KUNV 91.5-FM and appears Wednesdays at 11 a.m. with Dayna Roselli on KTNV Channel 13. Contact him at jkatsilometes@reviewjournal.com. Follow @johnnykats on Twitter, @JohnnyKats1 on Instagram.