The Chicks break through with memorable Strip show
Updated May 5, 2023 - 7:05 pm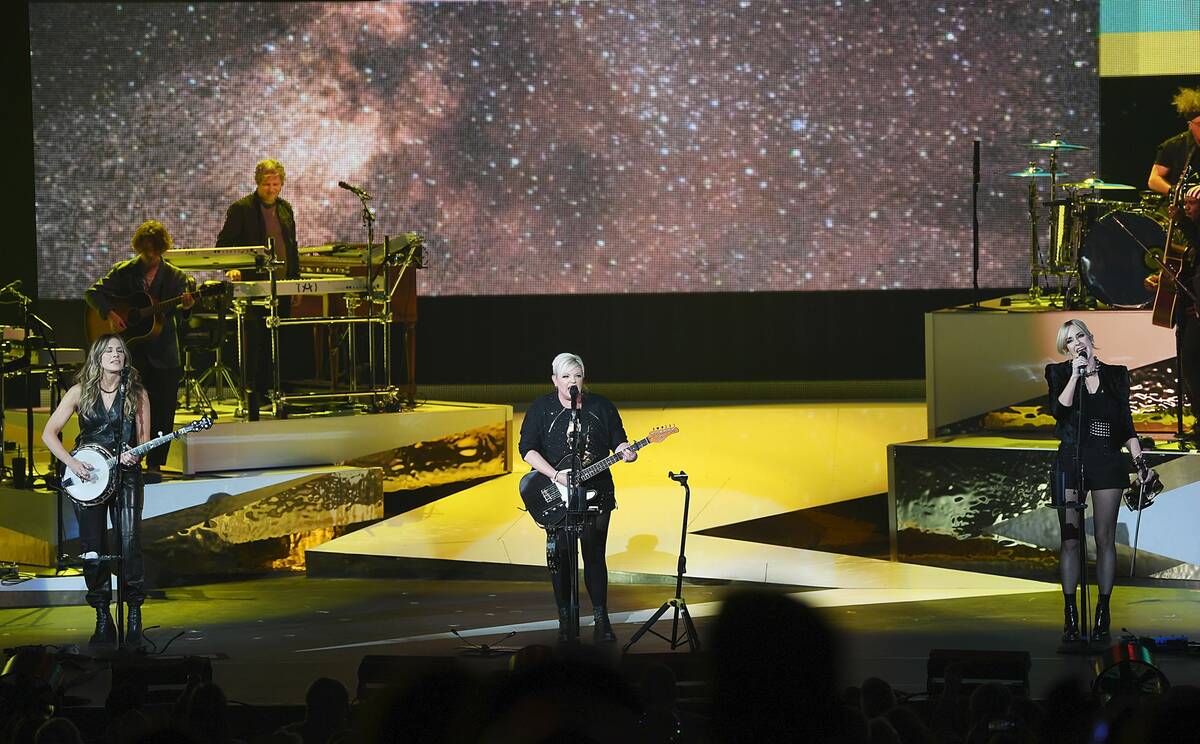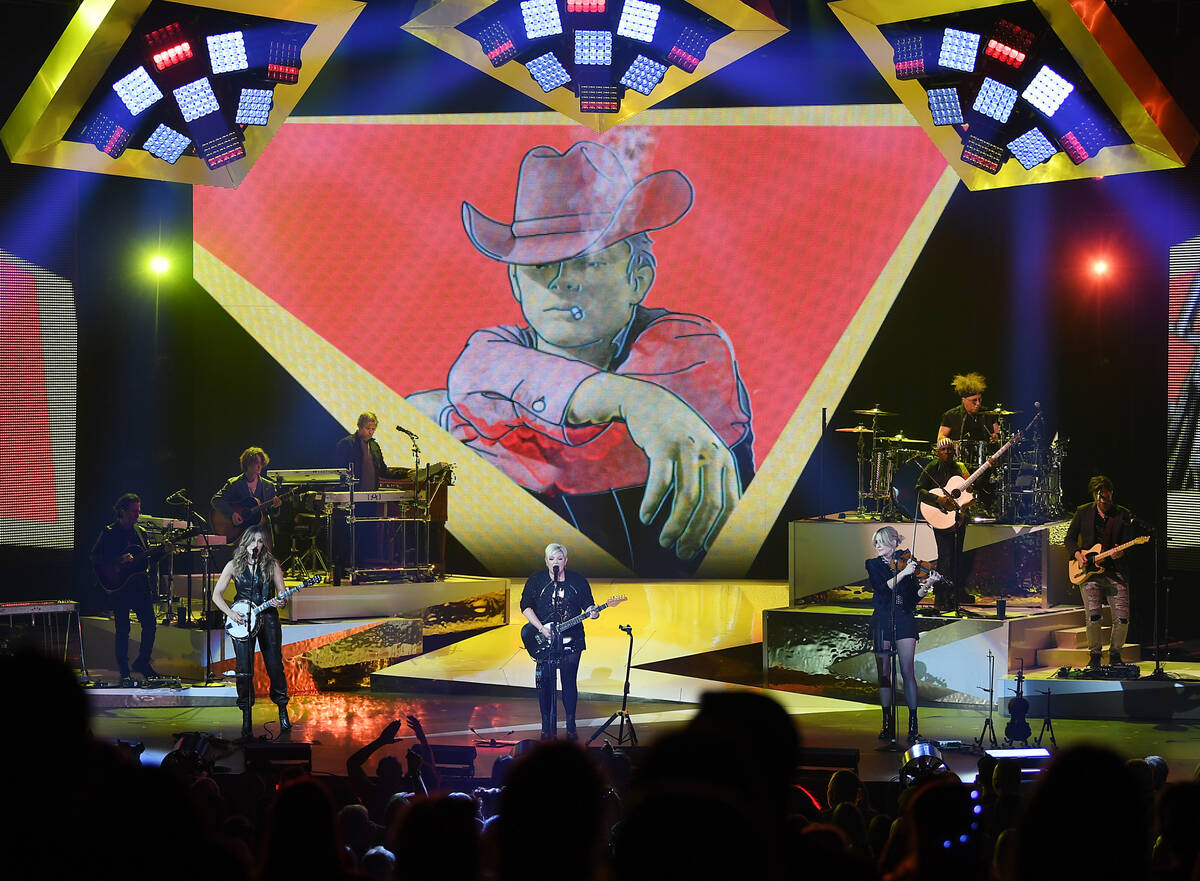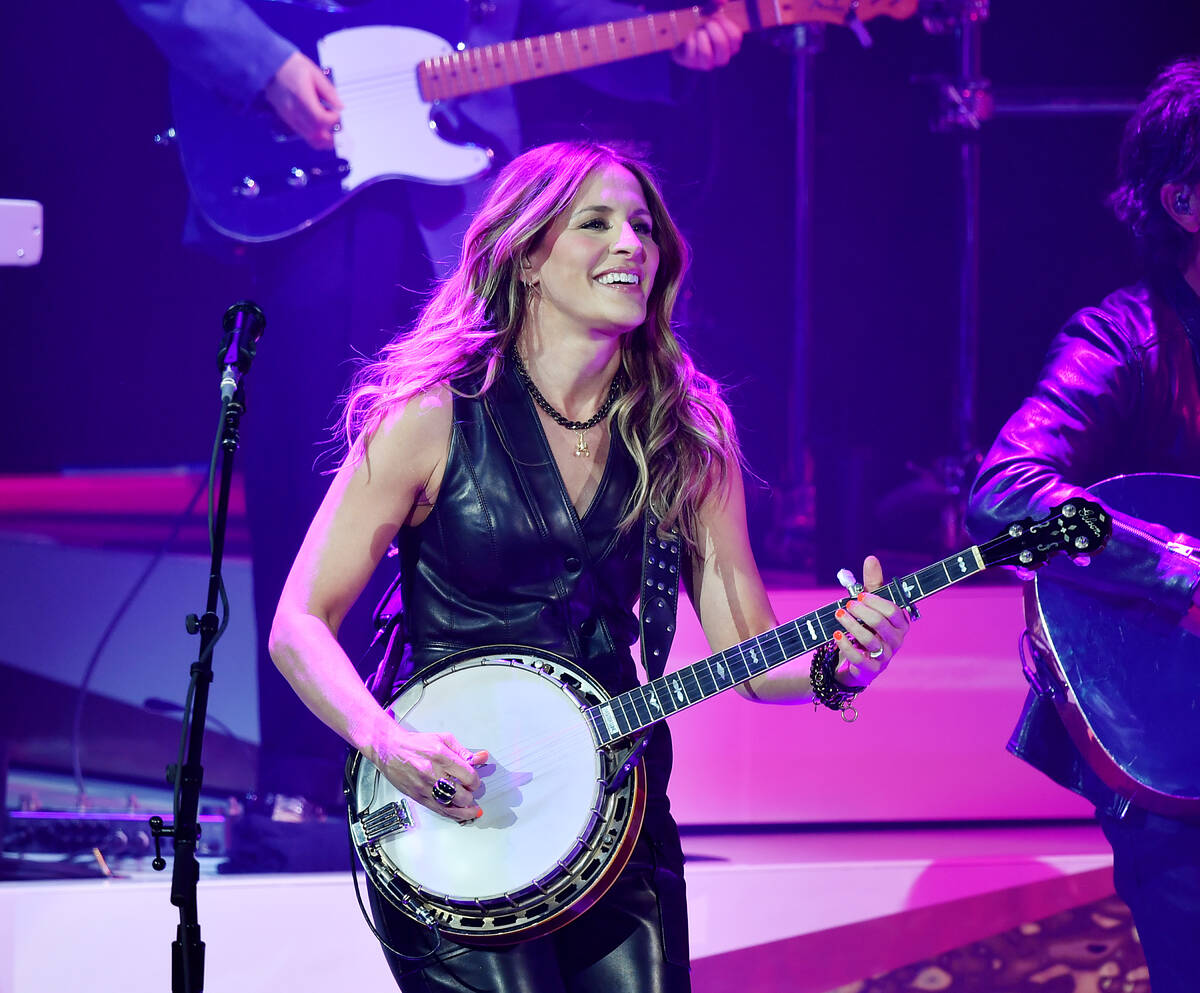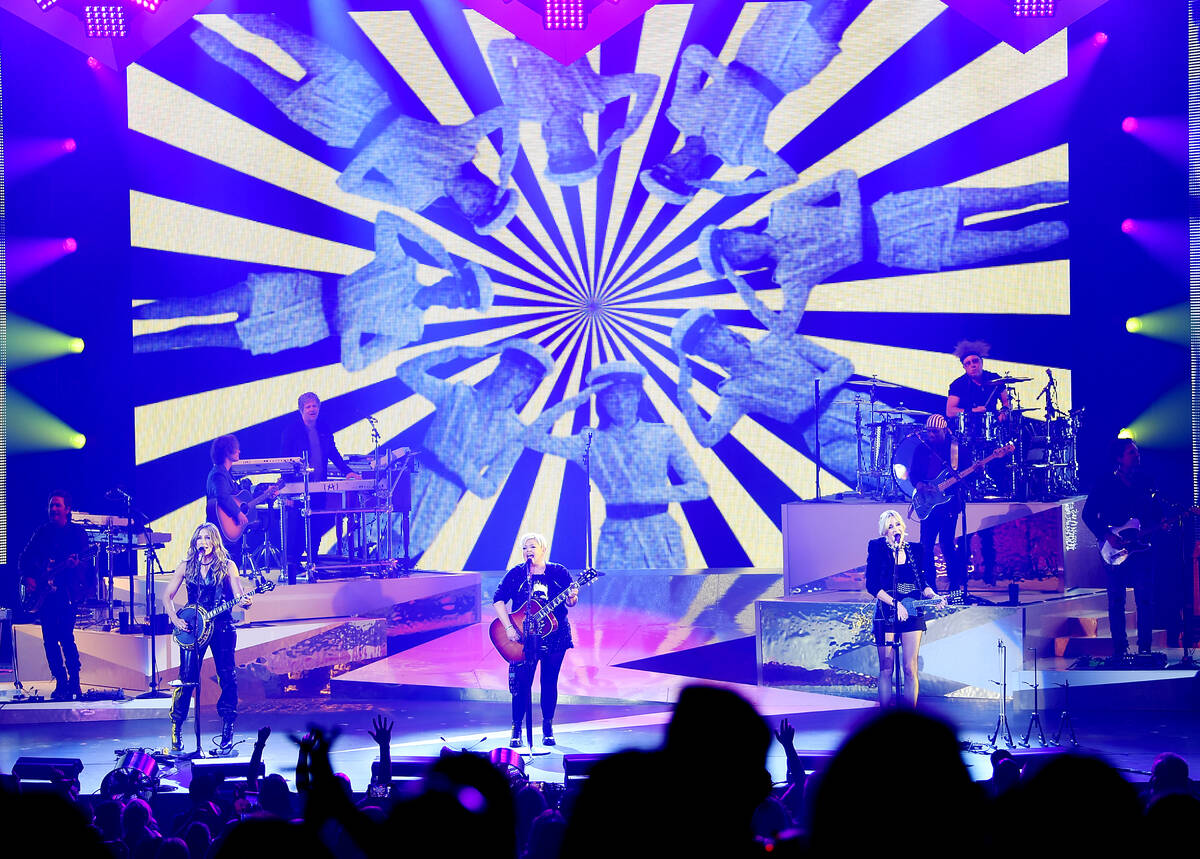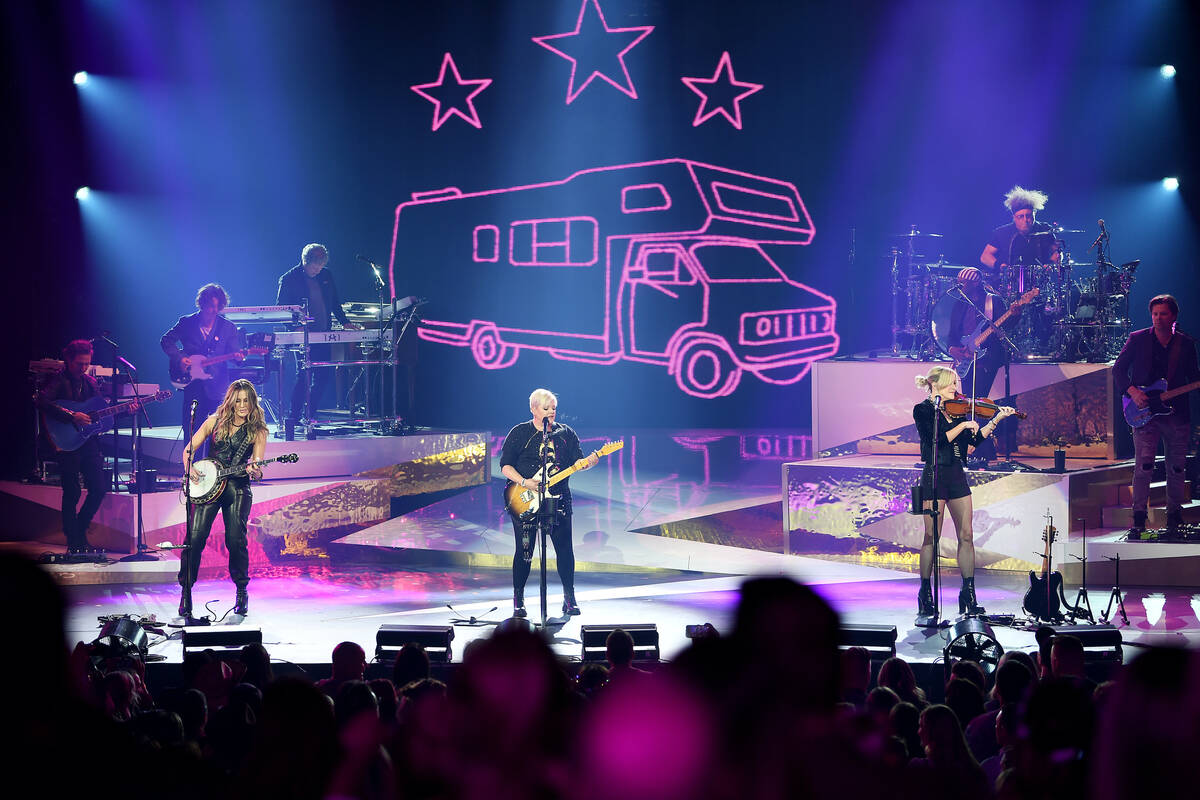 We expected The Chicks do their own thing in their debut at Planet Hollywood. They did not disappoint.
The superstar trio held the stage for 2 hours and 20 minutes. In a Strip hotel-casino. On a weeknight. Crazy! Who do they think they are?
We joke of course. But maybe Natalie Maines, Martie Maguire and Emily Strayer are altering the trajectory with these headlining residency shows. Take your time to make your statement, right? Over the years these have been are clipped at about 90 minutes, so hotel guests can wade back to the casino and enjoy a different form of entertainment.
Likely, The Chicks simply don't care about such provisions. But Maines did joke that she'd hit a massive jackpot earlier in the day. "Maybe you saw it on TMZ," she said. Some of us searched our phones, finding no evidence of this alleged windfall.
The extended showtime was fine with The Chicks' devotees who ventured to Bakkt Theater, recently renamed but still set up as a party zone. Fans in the standing GA section always create a festival atmosphere.
The Chicks were energized and engaged while knocking out such favorites as "Ready to Run," "Cowboy Take Me Away," "Goodbye Earl" and 10 selections from their most recent release, "Gaslighter."
Ever defiant, The Chicks brought their sharpened worldview to the dance. The band made it clear it is pro-choice, pro-LGBTQ, pro-Ukraine, pro-civil rights. "March March" enforced The Chicks' gun-control advocacy, school safety, ending with images of women protesting and holding up such signs as, "Keep Your Laws Off Our Bodies."
Maines' wicked run through "Tights On My Boat" (which fans interpret as an account of the events leading to the singer's divorce) played with a graphic of Vladimir Putin riding the waves on a rainbow-horned unicorn.
The acerbic articulation was widespread. The Chicks performed Patty Griffin's "Don't Let Me Die in Florida," an unambiguous take-down of the Sunshine State. A sample, from the stage, "I don't care about my name/If you catch me dying in Daytona/Roll my bed onto a train."
As she finished, Maines smiled and said, "If anyone here is from Florida, we love y'all."
The Chicks later summoned the Miley Cyrus-Dolly Parton collab "Rainbowland," which in March was banned by an elementary school in Wisconsin because some parents said it encourages LGBTQ acceptance, while referencing rainbows. Cyrus and Parton's spoken banter at the top led into the number.
Midway through the set, The Chicks' nine-piece band, which featured Maines' son, Slade, on guitar, broke it down for an eight-song acoustic set. This was some confident musical craftsmanship.
Vocally, Maines was flawless. She has done her homework about how the desert air can damage a singer's voice, her microphone equipped with a what seems steaming device as a humidifier (Maines missed three shows two years ago for vocal problems). The mist rising actually created its own mystic stage effect.
"Not Ready To Make Nice," the James Taylor cover of "That Lonesome Road" and "Goodbye Earl" sent the fans away happy. Well, most of them.
A concert-goer waiting at valet said the show was musically great but "too political." Maybe, or maybe it wasn't political enough. Depends on your side of the aisle. But always, The Chicks are going to be who they are. You can set your watch to it.
This nation is live
Live Nation seems to have recovered from the pandemic shutdown. CEO Michael Rapino's total compensation package leapt to $139 million last year, up from $13.8 million in 2021. That's an increase of … a lot, music fans.
As reported by industry pub Billboard, Rapino's base salary of $3 million was higher than $2.6 million in 2021, and the executive also took in cash-performance bonuses of $12 million, stock awards of $116 million. He also has a $6 million signing bonus for extending his contract through the end of 2027.
Companywide, Live Nation's first quarter earnings vaulted to $3 billion this year, a 73-percent (that's right) increase from the first quarter of 2022. The company's adjusted operating income is up 53-percent (at $320 million) over first quarter '22.
The reason simple: Demand. The company continues its worldwide growth by selling out tours and (in Las Vegas) residency productions at top dollar. Live Nation is the predominant concert booker in Las Vegas, led by exclusive partnerships with Caesars Entertainment at the Colosseum at Caesars Palace and Bakkt Theater.
The company's concerts division has sold nearly 90 million tickets for shows this year, about 20 percent ahead of sales a year ago.
"These early sales have been driven by a record number of stadium shows and continued strong growth in arena tours," Rapino said before Thursday's earnings call. "With many major tours — from Beyoncé to Drake to Bruce Springsteen — demand was so strong that even when artists added a number of additional shows, they still were not able to meet all of the fan demand."
Cool Hang Alert
On the topic of … music, generally, Michael Ross Nugent's "Tribute to Bublé" is set for 8 p.m. (doors at 7 p.m.) Saturday at Aliante's Access Showroom. Bublé is Michael Bublé, for the uninitiated.
Nugent has crisscrossed the valley in various lounge configurations. His trio performs regularly at the Underground at The Mob Museum. This is his firat casino showroom gig, replete — replete, I tell you! — with multimedia effects. Nugent is a fine vocalist, backed by a band of such Vegas vets as Joey Singer, Bob Sachs and Mark Barrett. Tickets are $19.95 at aliantegaming.com.
John Katsilometes' column runs daily in the A section. His "PodKats!" podcast can be found at reviewjournal.com/podcasts. Contact him at jkatsilometes@reviewjournal.com. Follow @johnnykats on Twitter, @JohnnyKats1 on Instagram.