The Golden Tiki remembers Vinnie Paul
Updated November 15, 2018 - 7:24 pm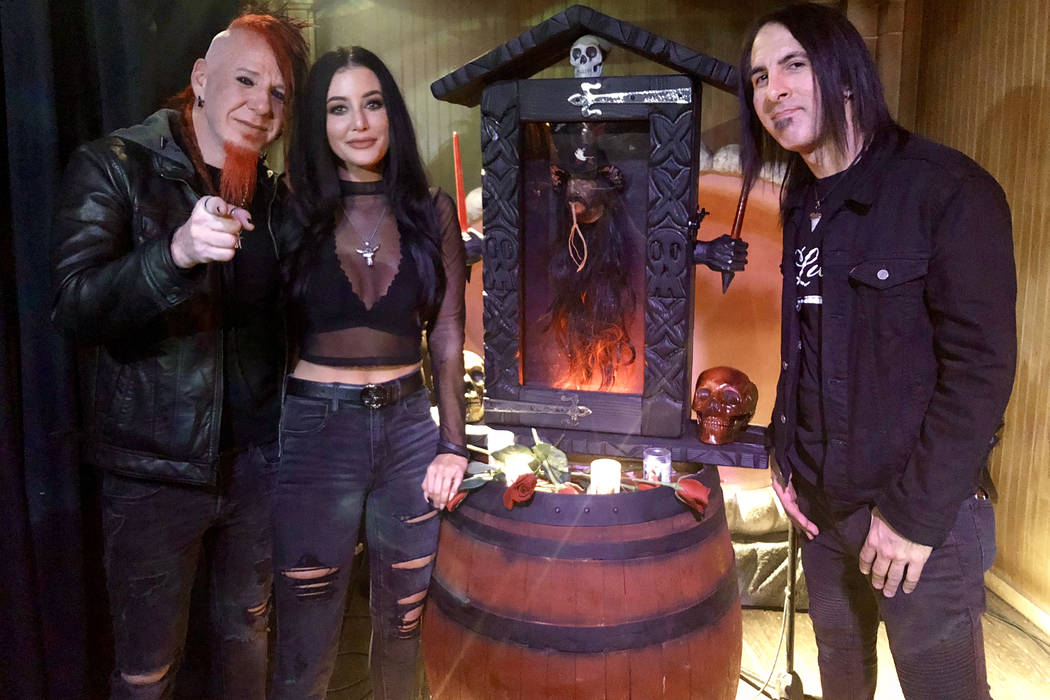 Posthumously, Vinnie Paul headlined Las Vegas a final time Sunday night.
The co-founder of Pantera and Hellyeah and a Vegas resident was honored that evening with a shrine at The Golden Tiki. The glass case showcases the shrunken head the club dedicated to Paul a little more than a year before his death on June 22.
Not surprisingly, the place was jammed for late-night session. Paul was enormously popular on the local entertainment scene and was known to hit the town routinely to catch live music, comedy, magic — any variety of entertainment. Paul loved talent in all of its forms.
Fittingly, the night drew members of Hellyeah and such luminaries as Carrot Top and Tony Felicetta of Dino & The Sharps (who emceed the event).
Paul's girlfriend, Chelsey Yeager, took the mic to address the crowd that packed the club's dance floor. She managed, "I miss him so much …" but could not finish and stepped from the stage. Many of Paul's friends said they were still stunned at his passing. Carrot Top called him "a big, kind soul," and, "a sweet, generous man who always had a smile on his face."
Topper has always been grateful for Paul's repeated visits to his show at Luxor over the years— more than 100 by Paul's own count. The hard-rock legend will continue to be memorialized near the entrance of The Golden Tiki, one of his favorite haunts.
Chips chide Kimmel
Jimmy Kimmel says he mutes his phone on his birthday, because his Aunt Chippy always calls at the crack of dawn to wish him happy birthday. She arrived in person Monday, Kimmel's 51st birthday, with a collection of "Chippendales" — or as she calls them, "Chippy-Dales" dancers from the Rio.
Arranged by Kimmel's wife, Molly; and brother, Joe the troupe covertly entered the Kimmels' home dressed in holiday lights and bearing noisemakers. "He's going to hate this," Molly said as the group filed up the staircase to Kimmel's bedroom. Aunt Chippy jumped out of a decorative box and sang, "Rise and shine! And give God your glory!" and "Happy Birthday to You" while hitting a pan with a wooden spoon.
And those were certainly members of the Vegas "Chippendales" lineup (some of Ryan Kelsey's best work, actually). The folly was caught on a cell-phone video and aired Monday night on "Jimmy Kimmel Live." Great TV.
Phan up
New show and new venue alert: The official opening for Naathan Phan's "Martinis & Magic" at Pegasus Showroom at Alexis Park is 7 p.m. Dec. 2. Admit.VIP Chief Executive Officer Pete Housley runs that 175-seat venue and has plans for similarly scaled productions. On Nov. 29, the room is launching a show called "Comics Battle." The format pits comics against each other, likea boxing match, with a ref (John Hilder) and even a ring girl.
Suffice to say, if you have a show idea that is fleshed out, opportunity knocks at Alexis Park.
Baby Choudhry
Life is Beautiful and Emerge Music + Impact festival founder Rehan Choudhry and his wife, former KSNV-TV Channel 3 anchor Jessica Moore, have welcomed their first child. Nico Moore Choudhry was born on Nov. 8. The family lives in New York, where Moore now works at WCBS-TV.
The couple wanted a shorter first name (which, as friends have noted, sounds like a rock star) to complement the longer last name. Moore remains Jessica's on-air name. Little Nico's stats at birth: 8 pounds, 7 ounces. Labor time: 34 hours. The couple says the entire experience has been life-changing, and we believe it.
Rock show
Recent Vegas transplant Elijah Rock has a show at 8 p.m. Friday at Italian American Club that's worth a look-see. The smooth, throwback vocalist sings the classics from such Vegas favorites as Sinatra, Tony Bennett and Nat King Cole. Rock's backing band itself is worth the trip: Uli Geissendoerfer on piano, Jake Langley on guitar, Bob Sachs on bass and Jakubu Griffin on drums. The cost is $25, a mere pittance. Contact the club for more info.
Cool Hang Alert
Members of Barry Manilow's backing band are planning a jam session at about 11 p.m. Friday at Westgate International's I Bar after Manilow's earlier performance at International Theater. I Bar is just of the hotel's main entrance, and this performance — loaded with horns and an a blistering rhythm section — fills the casino.
This is the second such performance. Some hotel guests have claimed they observed the bronze Elvis statue actually grooving at the first performance a couple of weeks ago … we'll go with that. Regardless, there is no cover charge, and the vibe is very Vegas.
John Katsilometes' column runs daily in the A section. Contact him at jkatsilometes@reviewjournal.com. Follow @johnnykats on Twitter, @JohnnyKats1 on Instagram.