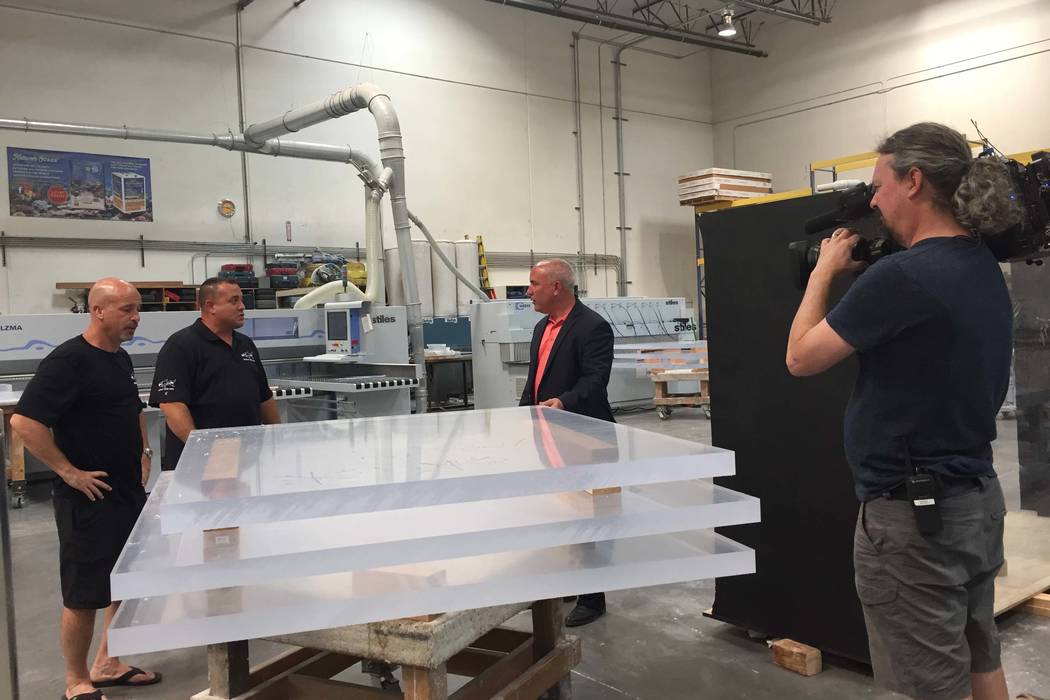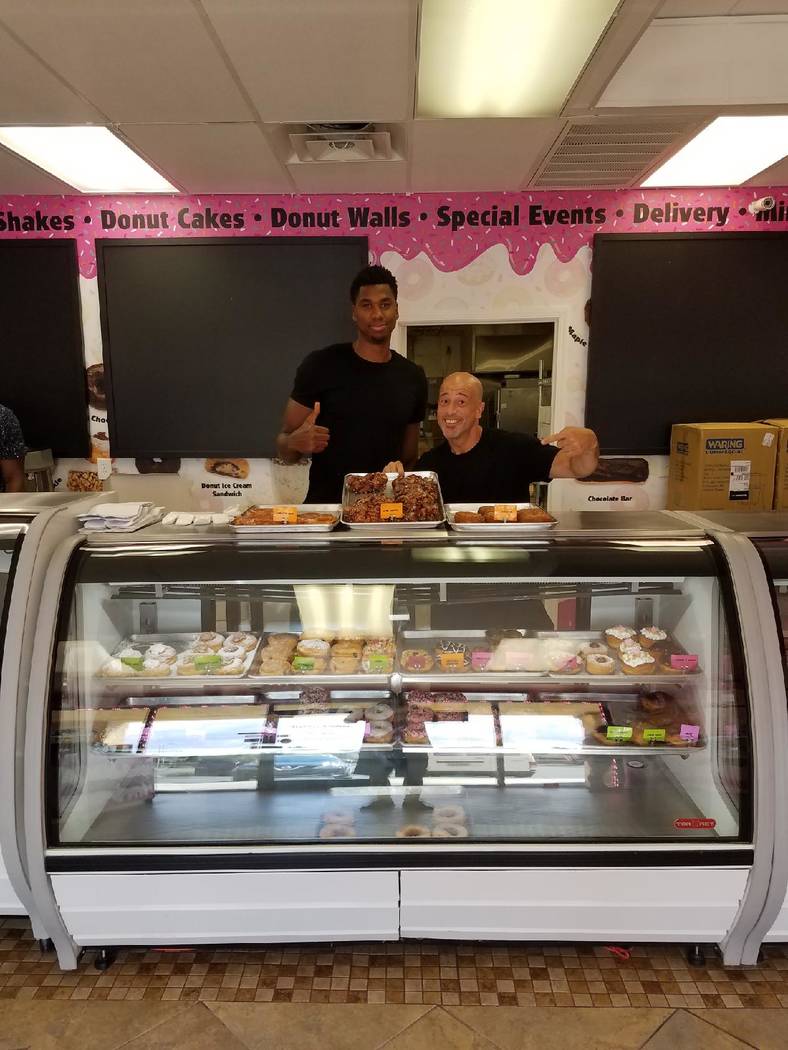 The Killers are touring without their killer guitarist.
Founding member Dave Keuning has announced he's leaving the band on its upcoming U.S. tour in support of "Wonderful Wonderful," which is out Sept. 22. The upcoming leg of the tour includes an announced date Feb. 3 at MGM Grand Garden Arena, and an expected (though not yet announced) appearance Dec. 11 at Pearl at the Palms.
In a story published this week, Keuning told the British music magazine Q that he was breaking from touring to spend more time with his family.
Keuning's departure, albeit just for road dates, leaves the band with front man Brandon Flowers and fellow founding member Ronnie Vannucci on drums. Bassist Mark Stoermer previously opted out of live performances, citing the rigors of the band's U.S. and world tours, and is pursuing an art history degree and solo recording endeavors.
Even as they've taken themselves out of the touring lineup, both musicians are still considered part of The Killers' core band. In a handwritten statement (in Vannucci's handwriting, specifically), the band said:"Despite conjecture, The Killers are the same four weirdos we've always been. And worry not, we will not be performing as a two piece. As our fans have seen, the live line-up has grown over the years. Both Ted and Jake have been in the mix for a very long time (since "Sam's Town" and "Battle Born"). Hell, we even have 3 background singers now!"
— The Killers (@thekillers) August 28, 2017
The "Ted" and "Jake" name-checked in the note refer to touring members Ted Sablay and Jake Blanton, taking over for Stroermer and Keuning on tour. Blanton has been playing bass since Stroermer's departure. Blanton played guitar on both of Flowers' solo albums, 2010's "Flamingo" and 2015's "The Desired Effect."
The shifting of the personnel in The Killers' stage lineup reinforces Flowers' impact as the band's front man. He's long been The Killers' leading spokesman and most famous member. He's also the lone band member to appear in the video for "The Man," recorded in and around Las Vegas and the first single from "Wonderful Wonderful."
LVA sings and shines
As Foreigner opened its show at the Chelsea at Cosmopolitan of Las Vegas on Sunday night, a quartet of girls were grooving and singing to "Double Vision." They were certainly teenagers, not exactly the band's target demo (hello), and soon they were whisked away, as one called out, "We gotta go sing!"
It turns out they were members of the Las Vegas Academy choir. The singing ensemble joined the band for "I Want to Know What Love Is" to close the show, and the place came apart at the end of the song. Foreigner vocalist Kelly Hansen pleaded with the crowd: "Talk to your superintendents! Keep the arts in schools!"
It was a wonderful moment, on a night when Jason Bonham opened and was followed by a blazing set by Cheap Trick, leading to the Foreigner show. If anyone booking theater shows on the Strip hasn't pursued an extended engagement from Cheap Trick and Foreigner, they should. That would rock the room.
A hole lotta love
"Tanked" on Animal Planet co-star Brett Raymer has taken over the Donut Mania outposts at 4460 S. Durango Dr. Suite D and at 765 S. Green Valley Pkwy. in Henderson. The grand re-opening of the Durango store is Labor Day, from 11 a.m.-2 p.m., with a barbecue and donut specials and an autograph-signing session.
Raymer, who runs Acrylic Tank Manufacturing of Las Vegas with his brother-in-law Wayde King, also plans to open a third Donut Mania in Summerlin in a month or so. He spends weekends at one of the stores, and there are plans to use Donut Mania as a setting in an upcoming season of "Tanked." The second half of Season 7 launches Sept. 22.
The business has had its first Who Was Where sighting: Hassan Whiteside of the Miami Heat stopped in Monday for a Boston Cream (but not Boston Celtic) donut.
Egan recalls Hooper
For the second time this year, Fright Dome at Circus Circus founder Jason Egan has lost a kindred spirit in the horror-film culture. Director Tobe Hooper, famous for his work on "The Texas Chainsaw Massacre" and "Poltergeist," died of natural causes on Sunday in Sherman Oaks, Calif. He was 74.
In July, "Night of the Living Dead" creator and Egan creative partner George Romero passed away.
Hooper partnered with Egan in the 2014 Fright Dome, designing a "Texas Chainsaw Massacre" haunted house. The two used the film's effects and images, including the notorious central figure, Leatherface.
"This has been a very sad few weeks for the horror community. First, the passing of George Romero, and now Tobe, who also forged such an unforgettable path for this genre," Egan said Monday. "I will never forget him, and owe my career and success to such pioneers as he and George."
This year's Fright Dome opens its 15th-anniversary Halloween season on Sept. 29 and runs through Halloween.
Who Was Where
Actress Abigail Breslin (from Fox's "Scream Queens") at the pawn shop at Beauty & Essex in The Cosmopolitan of Las Vegas on Monday night … UFC founder Dana White, at the Longbar at D Las Vegas and the Dropkick Murphy show at Downtown Las Vegas Events Center. Wearing a black Conor McGregor T-shirt, White was hanging with D Las Vegas owner Derek Stevens and his wife, Nicole … Raiders owner Mark Davis at MB Steak at Hard Rock Hotel on Monday. Davis dined with co-MB Steak owner Michael Morton and his wife, Jenna; and Luxurious Real Estate co-owners Jill and Bob Barnhart. Davis is looking for a home in town in VegasVille, for obvious reasons … Rajon Rondo of the New Orleans Pelicans in the Hublot Chairman's Suite and Fabolous, Jeezy, Chris Brown and Trey Songs in the bungalows at Topgolf at MGM Grand on Sunday night. All were in town for some fight at T-Mobile Arena on Saturday.
John Katsilometes' column runs daily in the A section. Contact him at jkatsilometes@reviewjournal.com. Follow @johnnykats on Twitter, @JohnnyKats1 on Instagram.