The next stop on 'Alice's' trek: Red Rock Resort
Updated June 13, 2017 - 10:26 am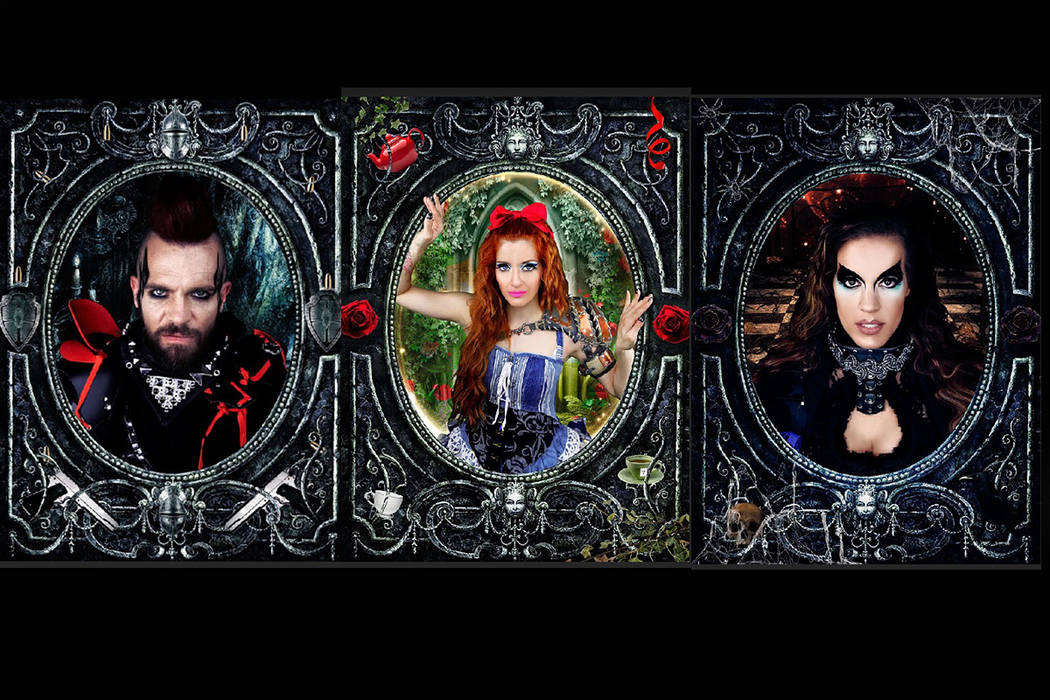 "Alice" is diving down the rabbit hole once more.
The musical adaptation of Lewis Carroll's "Alice's Adventures in Wonderland" returns to Rocks Lounge at Red Rock Resort July 10. Inspired by industrial steampunk effects and driven by re-imagined rock classics, "Alice" is to perform at 10 p.m. (following a 9 p.m. pre-show) on alternate Monday nights.
The balance of the schedule runs through December, with dates on Aug. 14, Sept. 25, Oct. 9, Nov. 13 and Dec. 11.
The cover charge is $25; ages are 21 and over.
"Alice" is an 80-minute rock odyssey, unleashing the "Alice" narrative through a series of rock numbers that have featured Lady Gaga's "Bad Romance," The Beatles' "I Want You (She's So Heavy)," the Eurythmics "Sweet Dreams (Are Made of This)" and Johnny Cash's "Ring of Fire." Included in the new set list is a nod to Vegas rockers Imagine Dragons, "Believer," from their new album, "Evolve." Other songs new to the show arrive from Queen, Genesis and Metallica.
The show's cast dons Victorian costumes and dynamically shaded makeup. It's a powerful ride where the smiles arrive only from Cheshire Cat (played by Jeffrey DeBarathy of "Zombie Burlesque'), and the vocals furnished by creator Anne Martinez as Alice and her singing alter-ego, Ashley Fuller as Ecila (that' "Alice" backward).
"The whole idea with this show is that anything is possible, says Martinez, the indefatigable Strip stage performer who has performed in several Vegas production shows, including the since-closed "Jubilee" and "Pin Up" and currently "Baz" at Palazzo Theater and "The World's Greatest Rock Show" at Stratosphere.
Martinez's optimism has served as the show's heartbeat, leading it through an uncharted path similar to Alice's nonsensical trek through Wonderland.
Martinez rolled out "Alice" out in the spring of 2014 at Tuscany's Copa Room (then called T Spot lounge). The firepower of the show's debut — I wrote at the time the performance was akin to tossing an M-1000 into a mailbox – proved it needed a bigger venue.
The performers have never lost sight of "Alice's" potential as Martinez has been on the hunt for the right room and financial deal. The show has bounded from Club Madrid at Sunset Station, Vinyl at the Hard Rock Hotel and Brooklyn Bowl, seeking a long-term commitment from room operators at every stop.
The common assessment of this show is that would-be financial partners love the performances. But those suited types have been less certain of how and where to stage the show. After one performance at Vinyl, a casino rep turned to me and said, "I have no idea what I just saw, but I loved it."
The show wound up with an extended stay at Brooklyn Bowl before taking a break — a respite that lasted 16 months, long enough to derail any show of this scope. Yet Martinez and her co-director, Ryan Kelsey (late of "53X" at Chateau at Paris Las Vegas and currently in the "Chippendales" cast at the Rio) have kept most of the show's original lineup in place and invigorated about the project.
From the start, Alice always incorporated a robust nine-piece band, now under the direction of Aaron Fuller, who is Ashley's husband and yet another example of "Alice's" familial quality. The show's dance team wades into the crowd, firing up a hookah in once scene and throwing plastic plates across the stage (to Aerosmith's "Crazy") in another.
Martinez and Kelsey have also added a pair of aerial hoops in more recent productions, lifting the chaos skyward.
"When the show started, we kept it pretty ambiguous, because we didn't know how blunt we wanted to be," says Martinez, who is shaping the show's story line and invoking more of the book of "Alice" into the production. "Now we want to let the reins go."
By the time Lora Kelsey (Ryan's sister and herself a terrific performer) performs a pole act while wearing full-length stilts, you're deep into Wonderland. The new home for this red-hot rock show is Red Rock, opening a new chapter befitting a piece of fiction.
John Katsilometes' column runs daily in the A section. Contact him at jkatsilometes@reviewjournal.com. Follow @johnnykats on Twitter, @JohnnyKats1 on Instagram.