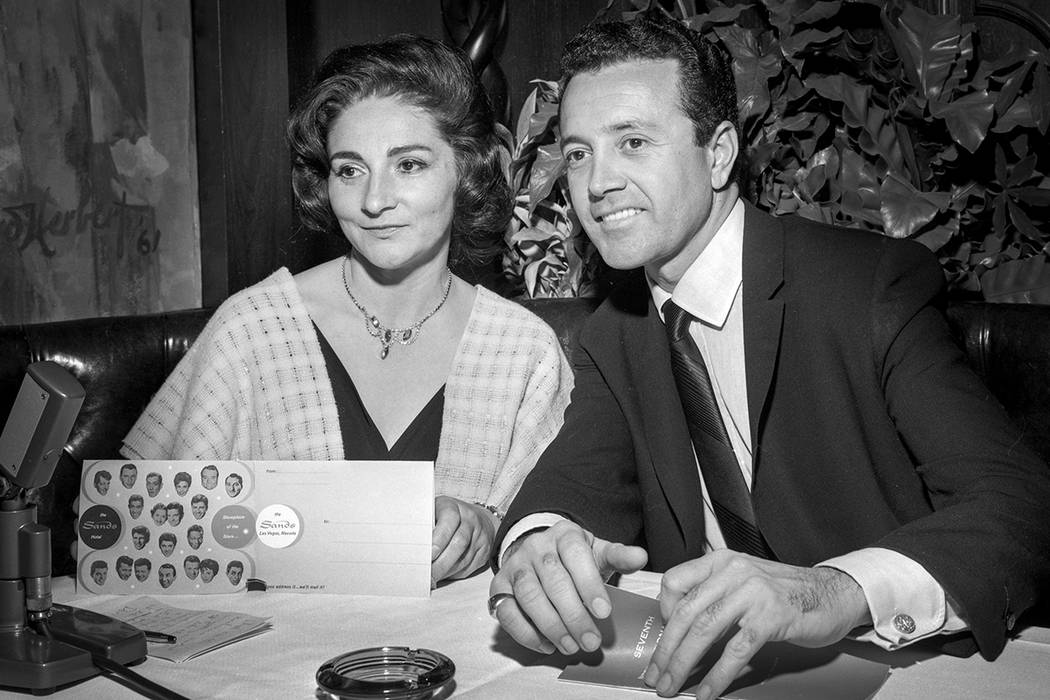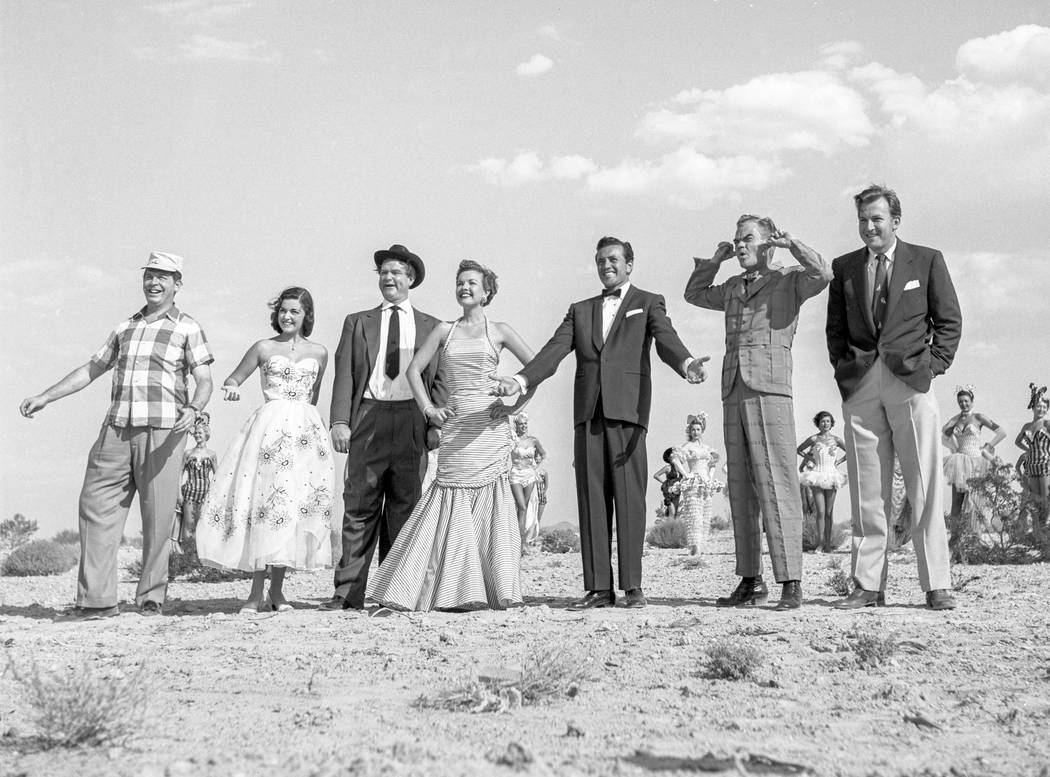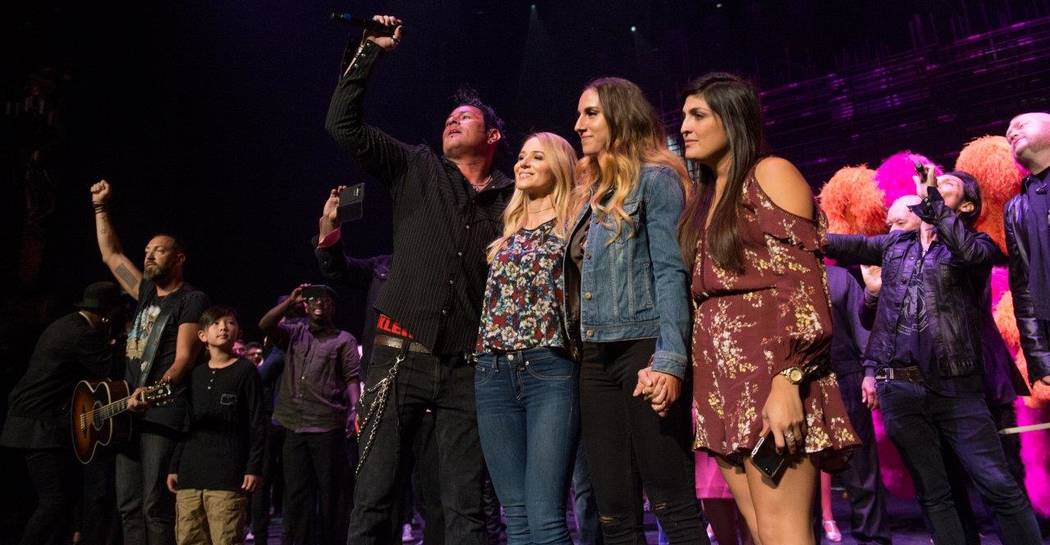 For a night, Vic Damone ruled the strep.
That is not a typo.
Damone, who died Monday in Miami Beach at age 89, headlined periodically in Las Vegas beginning in 1971. He was friendly with the top Vegas singers of the day, including venerable vocal impressionist Bob Anderson, who in 1975 launched a decade-long run at the Top of the Dunes.
Anderson moved his showtime from midnight to 2 a.m. — in those days, entertainers sought an even later hang than midnight.
On the premiere of Anderson's new showtime, the late-night stars turned out, led by Tony Bennett, Tom Jones, Sammy Davis Jr., Ann-Margret, Jack Jones and Damone, who was headlining at Versailles Room at Riviera in those days.
Anderson was nervous, and also sick — nearly calling out for a bad case of strep throat.
"I was introduced to Vic that night, by the maître 'd, and I said, 'Mr. Damone, do you happen to have any remedy for strep throat?'" Anderson said Monday. "He took me to the little bar in that room, and ordered a double-shot of Green Chartreuse and said, 'Drink this and thank me later.'"
Anderson had never before tossed back a shot of the 110-proof liqueur, which he said, "Could take the varnish right off the bar. I drank it and tears streamed out of my eyes, it burned so bad, and I ran directly to the men's spa, which was also the dressing room in those days."
But the remedy was just that, at least for a few hours, and Anderson tore into his set, which was laden with impressions of the very stars who were in the audience.
"I called out Vic and thanked him, and after about six songs, this guy ran onto the stage, took the mic and said, 'Gimme that! Maybe you'll learn something!'" Anderson said. "It was Don Rickles. That whole thing happened because of Vic."
Jewel's Encore
Folk superstar Jewel, who has a home in Las Vegas, is booked for two nights at Encore Theater on March 30-31. Tickets for "Jewel: Hits, Muses and Mentors" go onsale 10 a.m. Friday.
March is shaping up as the Month of Jewel. She's also set to perform in the "One Night for One Drop" Cirque du Soleil charity show March 2 at MJ One Theater at Mandalay Bay. The production is actually inspired by her life story.
Also, the Jewel song "Mercy," from her 2015 album "Picking Up the Pieces," is serving as inspiration for a monument being conceived by Las Vegas abstract artist Tim Bavington, honoring first responders and those affected by the Oct. 1 shooting on the Strip. She also performed at the Nov. 4 "Vegas Cares" charity show, produced by The Best Agency Chief Executive Officer Ken Henderson at The Venetian Theater, which raised $100,000 to fund that effort.
Signing off
On Monday I attempted to remember a conversation with ex-Palms owner George Maloof that might not have happened. It centered on the renovation of the marquee at the hotel; I'd remembered us talking of that possibility in 2009 or so. "It might have been in the air at the time, I know we were always talking about how to move the property forward," Maloof said. "But I don't think we had any specific plans for it."
Regardless, the sign is being overhauled even as we speak, with the 14-foot-tall letters being taken down as part of a fully refurbished LED display package. The project should be finished by the end of the year.
Maloof, who has not toured the hotel-casino in several months, said, "It's a really famous sign, but it is dated," then joked, "Maybe I'll ask to take the letters to my place, as mementos."
Maloof added that he has many friends in the Station Casinos empire, including hotel general manager Jon Gray, who are enacting the Palms' $485 million overhaul. "I can't wait to see what they've got going over there."
History of 'Absinthe'
The ill-fated Fontainebleau resort will forever be known as the original reason Spiegelworld officials moved "Absinthe" to the Strip. The initial plans for the hotel, which on Monday was renamed The Drew under the stewardship of resort mogul Steve Witkoff of New York, called for a 3,000-seat theater. That venue was adjusted to an 800-seat, state-of-the-art theater as plans were made for the hotel to open with "Absinthe" as its anchor production.
All of those plans halted when the project went bankrupt in 2009; "Absinthe" opened at Caesars Palace two years later.
John Katsilometes' column runs daily in the A section. Contact him at jkatsilometes@reviewjournal.com. Follow @johnnykats on Twitter, @JohnnyKats1 on Instagram.