The Sphere scene: Mark Davis hangs with Bon Jovi
Updated October 6, 2023 - 9:51 pm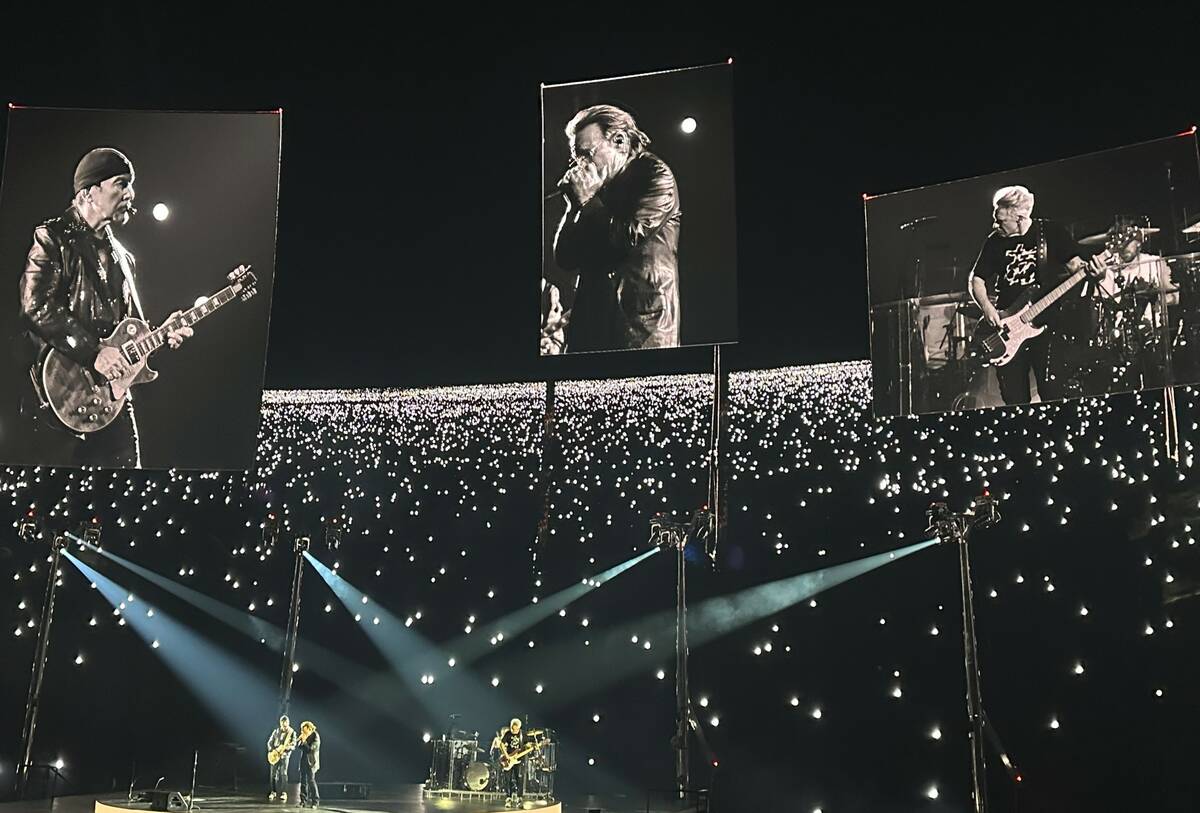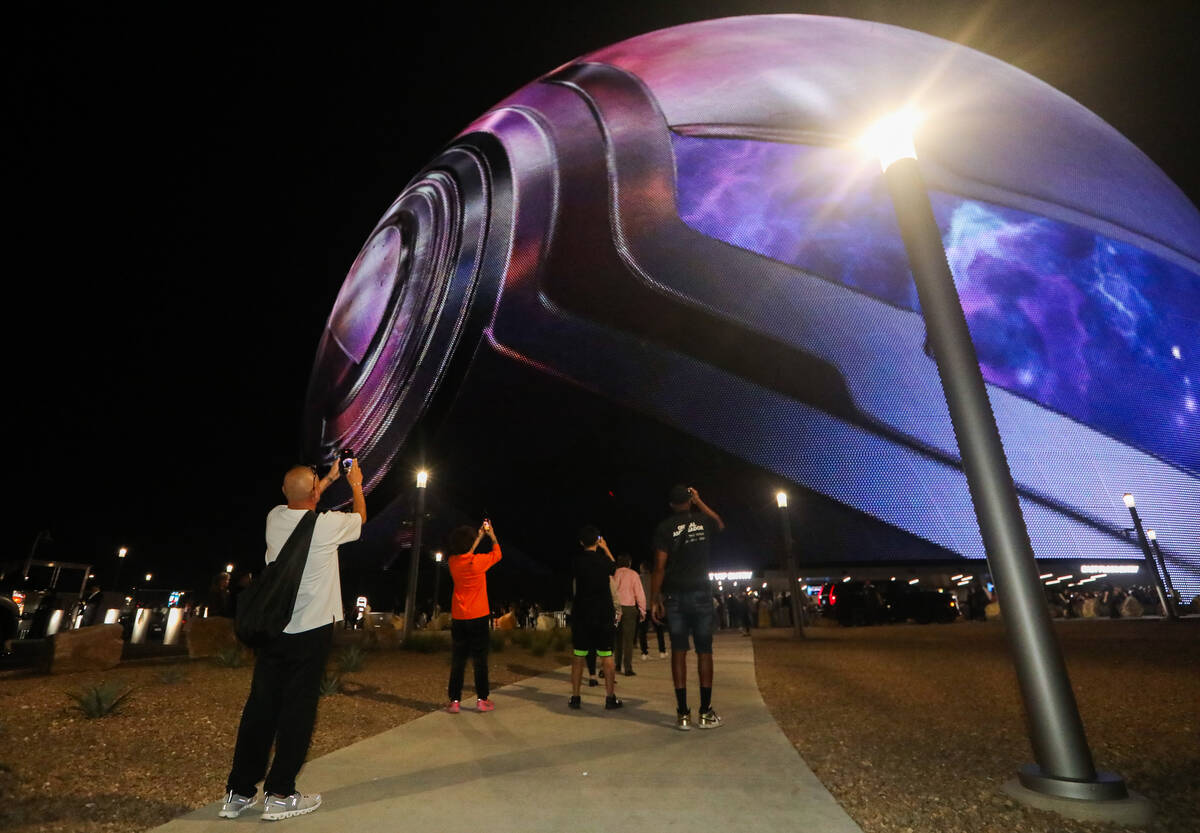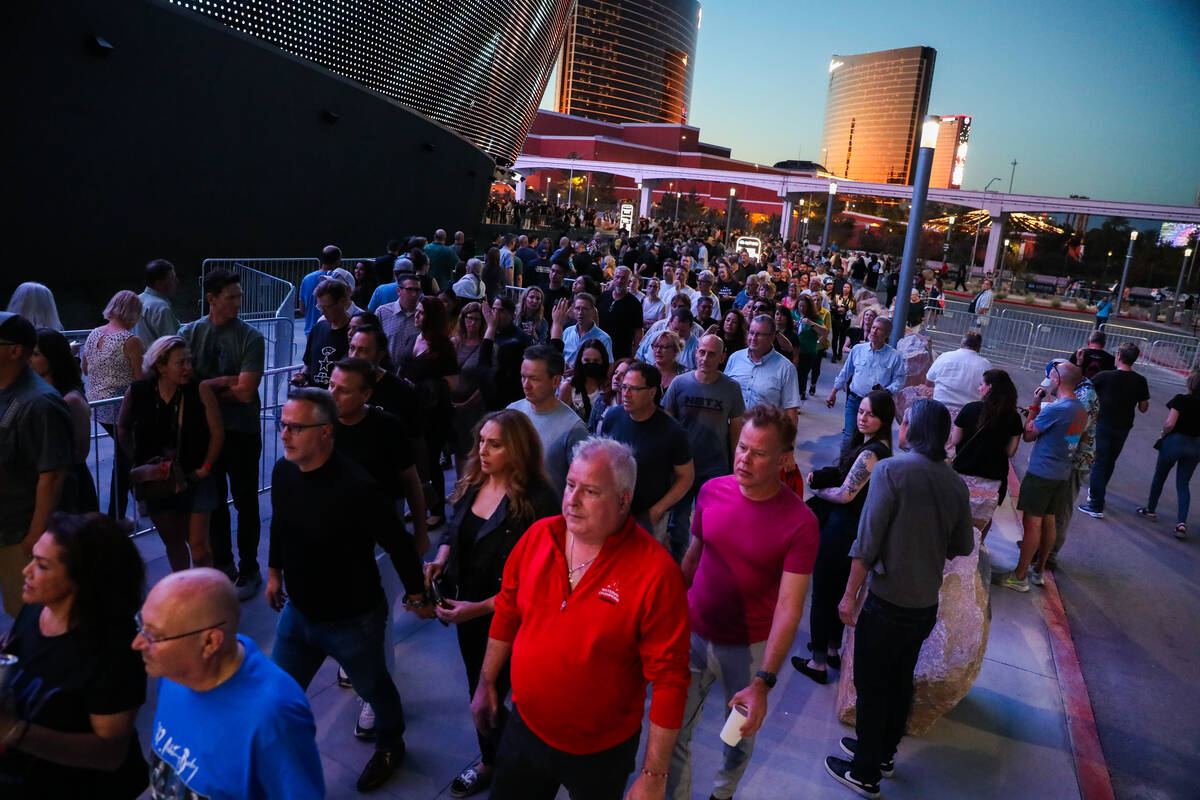 Jon Bon Jovi joked about U2 playing the birthday party for his wife, Dorothea, on Friday night. But the rock star didn't mention that a couple of the guests at this party were NFL owners.
Raiders owner Mark Davis and New England Patriots owner Robert Kraft were in Bon Jovi's radius at "U2 UV: Achtung Baby" at The Sphere. The "Runaway" singer posted on X, "Thx for all the great bday wishes for Dorothea and thx to U2 for putting on a show in her honor."
Bon Jovi also posted a shot of Dorothea with a two-layer birthday cake with three tall candles, wishing her a happy birthday.
Not mentioned is the unmistakable figure in the background, easily recognizable as Davis. Bon Jovi was also caught in the crowd with Kraft.
Pats owner Robert Kraft there too … https://t.co/CZ3Co8HA25

— John Katsilometes (@johnnykats) September 30, 2023
The sighting of Bon Jovi at The Sphere has ignited speculation that his band, too, is planning a series at The Sphere. The answer, in the here and now: Not happening.
Dolan's Sphere forecast
Sphere Entertainment Co. CEO Jim Dolan said he was not ready to tease the next headliner at The Sphere.
"You're going to have to wait. I am not stealing U2's thunder tonight," Dolan said with his girlfriend, Kathryn Rotella, at his side. "But we will announce, shortly, the next couple of acts coming in. I don't think anyone will be disappointed."
Darren Aronofsky's "Postcard From Earth" theatrical show is next up, opening Friday. The presentation is under the Sphere Experiences umbrella, and is not in an open-ended run.
Asked how long Postcard would run, Dolan said, "It's a guess at this point, but my guess would be about a year. Then we'll come out with the next one."
There he is! https://t.co/BO4S89qMxn

— John Katsilometes (@johnnykats) September 30, 2023
Agassi's return
Andre Agassi showed up to celebrate The Sphere, which on Sept. 9 took on the look of a tennis ball to offer congrats to Coco Gauff on her U.S. Open triumph. Agassi was alongside his wife of 21 years, Steffi Graf.
Their appearance on the U2 red carpet reminded of the Grand Slam for Children Events that Agassi hosted from 1995-2011. The event for Agassi Preparatory Academy played MGM Grand Garden in its first 12 years, before moving to Wynn Las Vegas.
Love it. Also Mark Davis in the background … 👏🏻👏🏻👏🏻 https://t.co/hYeTmk9kbo

— John Katsilometes (@johnnykats) September 30, 2023
As a Las Vegas native, Agassi has seen all variety of Vegas venue opening and gala event since the '70s. I hit him up after to see what he thought of The Sphere.'
"In the city of taking chances — technology with art and lights — to stand out in the city of lights is an epic win for us all. It was so good to be here tonight. U2 is a perfect fit. They live up to the creativity of what The Sphere represents. Just so proud to be a native, so proud to be here, so proud of what The Sphere will exponentially contribute to our city."
An eight-time Grand Slam champ, Agassi wore a Ramones T-shirt to the show. He is forever the rock star.
"Tryin' to Throw Your Arms Around the World," w/ real rope and a graphic balloon … @spherevegas @U2 #SphereVegas @reviewjournal #U2Vegas pic.twitter.com/ZeEUwigxB6

— John Katsilometes (@johnnykats) September 30, 2023
Honoring Buffett
Bono broke down during the show in introducing the late Jimmy Buffett's family, friends and doctors. Buffett died Sept. 1 at age 76 due to complications from skin cancer. Buffett's widow, Jane Buffett, led the late recording star's party.
"Everybody knew him," Bono told the crowd, his voice cracking, as the band dedicated "Love Rescue Me" to the late "Margaritaville" legend. "(Expletive), it's hard to say goodbye to somebody."
Bono and Buffett survived a near-tragic episode in January 1996 in Jamaica.
Buffett was piloting his seaplane, carrying Bono's wife, Ali; their two children; and Island Records founder Chris Blackwell.
Local law enforcement had received a tip that drug smugglers were in the area. When the plane landed, confused officers opened fire at the entourage, mistaking them for the smugglers. Bono's family dove for safety as bullets punctured the plane's fuselage and cracked its windows.
Though Buffett said seven shots were fired, nobody was injured. Buffett later wrote "Jamaica Mistaica" about the incident, saying, "Like all things, it made for a good song."
Give the drummer some
Friday made for an epic night for Bram van den Berg. The drummer subbing for Larry Mullen Jr. celebrated his 42nd birthday in what had to be the biggest show of his career. Bono asked if he wanted to say anything, and Van den Berg came with, "Let there be no mistake. There is only one Larry Mullen Jr."
A roar went up, as you'd expect. Bono took back the mic, "That is a very cool Dutch gentleman, right there."
What about the "The" thing?
Which is it, Mr. Dolan? The Sphere, or Sphere? We've heard it both ways from the company's Sphere-Oids.
"I think the ruling on it is, this one, in Las Vegas, is, 'The Sphere,'" Dolan said. "When I build the second one, it will be 'Sphere.'"
We have vertigo
Just a few seats apart on opening night, MGM Resorts International Chairman Bill Hornbuckle, Live Nation President Kurt Melien and rap legend Flavor Flav.
There was talk of everyone heading to karaoke after the show. If that happened, certainly not everyone made it.
Cool Hang Alert
Column fave Giada Valenti is appearing for the first time at the Showroom at Ahern Hotel, at 8 p.m. Thursday. A dinner-and-show (separately) experience is being encouraged. Or, show-and-dinner. The brilliant, Venice-born vocalist is worth the trip, regardless. Go to ahernhotel.com/dining for intel.
John Katsilometes' column runs daily in the A section. His "PodKats!" podcast can be found at reviewjournal.com/podcasts. Contact him at jkatsilometes@reviewjournal.com. Follow @johnnykats on X, @JohnnyKats1 on Instagram.