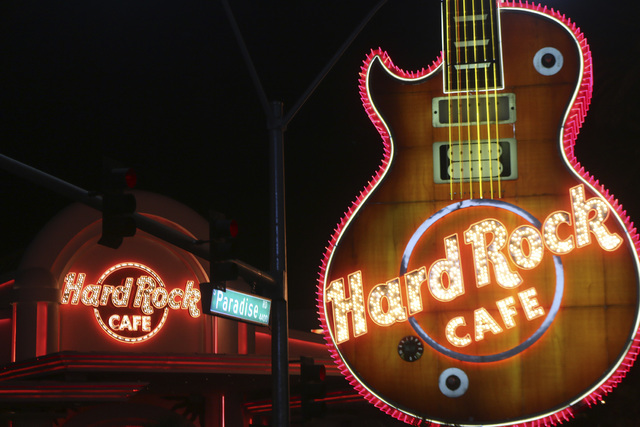 Talk is abundant in VegasVille, so this performance of Kats! will fittingly begin with "The Voice" — a show long expected to open at Hard Rock Hotel. Initially, speculation centered on Vanity nightclub, which remains open and is not in line for a ticketed show.
The old Hard Rock Cafe lot on the corner of Harmon Avenue and Paradise Road, however, is a fit. Look for a stage version of "The Voice" to drop into a new facility on that lot by spring, possibly as early as March.
Hard Rock Cafe closed Dec. 31, after a 26-year run as one of the groundbreaking entertainment taverns and restaurants in the city. The original Hard Rock Cafe was largely responsible for success at the nearby Double Down Saloon, as its employees filed into the watering hole between shifts. Double Down opened about two years after Hard Rock Cafe, and has become a Vegas institution.
Hard Shaq Hotel
On the topic of large developments at the Hard Rock, Shaquille O'Neal — under the stage name DJ Diesel — performs at Rehab Beach Club at 4 p.m. Sunday. If you can't be there — and really, what is your excuse? — catch the set on the ShaqFu Radio app or at shaqfuradio.com.
I can't speak to Shaq's aptitude as a DJ, which is likely somewhere between myself and Tiesto, but he has to be the tallest individual to man the booth.
Who's next?
The Who — specifically, Pete Townshend and Roger Daltrey — are reviewing plans to return to the Colosseum at Caesars Palace next year. I'm hearing 12 dates split between two engagements, if the guys are up for it.
Jarrett, Raja — and you!
This is not official, not announced, but happening now: The music-magic phenomenon Jarrett & Raja are headed for the Stratosphere after tomorrow's closing performance at Hooters. The duo is to take over the 5 p.m. slot vacated by the "Spy Escape & Evasion" show, which closed about three months ago.
J&R have said they plan to open at a "rival property" on Sept. 27. The great Jeffrey Neiman is to return as music director in a show that is a mix of illusions (from Jarrett) and topnotch piano playing (from Raja).
By fall, the Stratosphere Showroom lineup will be Jarrett & Raja, followed by "MJ Live" at 7 p.m. and "The World's Greatest Rock Show" at 9:30. Red Mercury Entertainment of Las Vegas books the shows in that venue.
Kingdom for 'Opium'
Content concerns related to the projected "Opium"production reportedly have been allayed. Produced by Spiegelworld, still riding high on teh success of its hit show "Absinthe" at Caesars Palace, Opium is another edgy endeavor planned for The Act space at the Shops at Palazzo.
The original plan for "Opium" reportedly concerned Venetian/Palazzo officials, who were conscious of a circus-styled show moving into the property while a similarly themed production — "Revive" — has also been in development at Opaline Theater at The Venetian. "Opium" is also moving to a spring opening.
Vegas actors in the mix
A pair of Las Vegas actors are featured in Sunday night's episode of "Ray Donovan" on Showtime, where, according to the official website description of the show: "Tensions flare between the two families at Terry and Maureen's wedding."
There is a visit to Sheri's Ranch involved; maybe we find some tension there.
Whatever the case, the show features Vegas' own Vincent Jerman-Jerosa (who plays Ring Announcer) Mike Wurst (Mr. Wayne, the brothel brothel owner/manager). Jerman-Jerosa has appeared in "In An Instant,' and "Boston Public," "All My Children," "LAX", and "The District." Wurst has been cast in "No Clemency For Old Men" and "In Plain Sight."
Who Was Where
On Thursday, Chris Harrison of "The Bachelor" and "Who Wants to Be a Millionaire" at the 8 p.m. performance of "Absinthe." … Keyboard player Loren Gold of The Who at the 10 p.m. performance … Also Thursday, Detroit Pistons center Andre Drummond at the Coolest Party with DJ Esco at Drai's Nightclub at the Cromwell.
John Katsilometes' column runs daily in the A section. Contact him at jkatsilometes@reviewjournal.com. Follow @johnnykats on Twitter, @JohnnyKats1 on Instagram.