TKO'd in the ring, Conor McGregor parties like a champ
August 27, 2017 - 6:59 pm
Updated August 28, 2017 - 1:13 am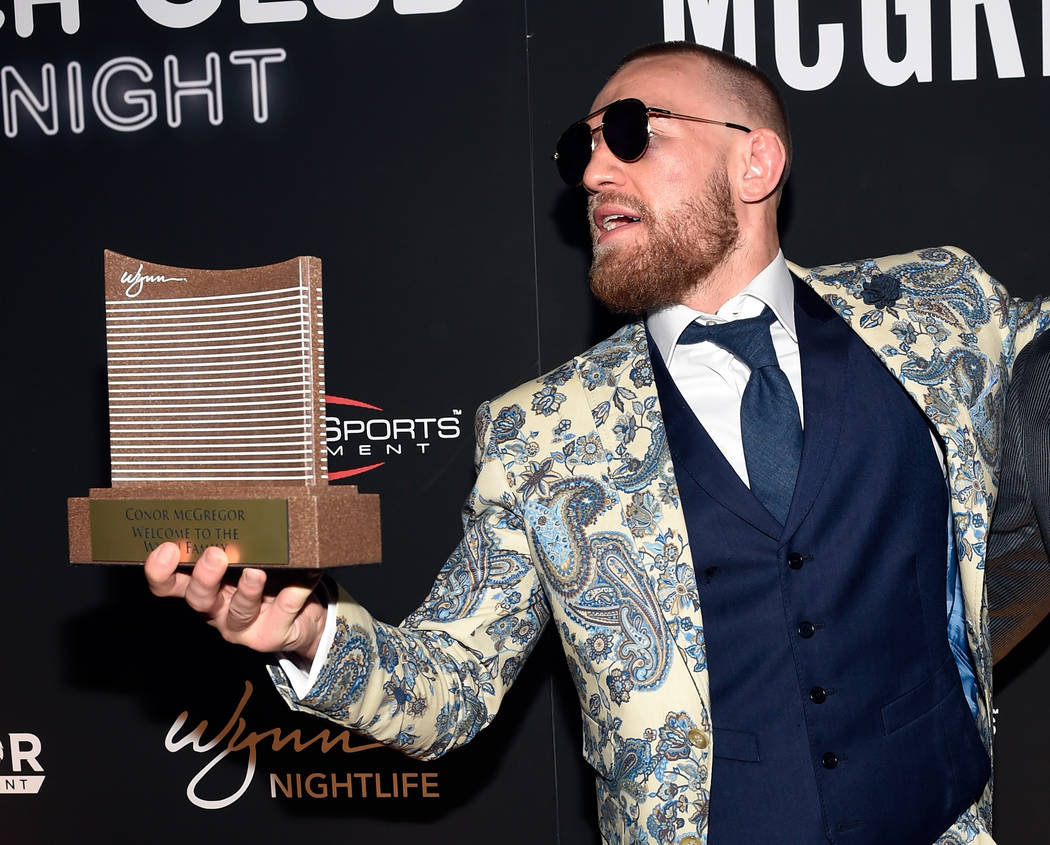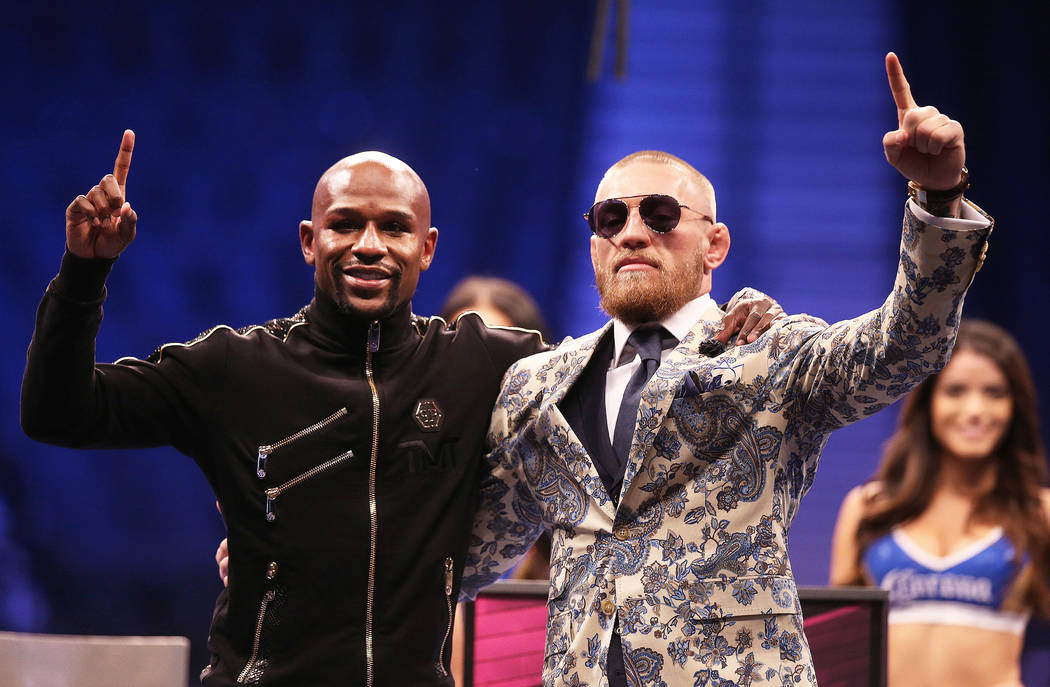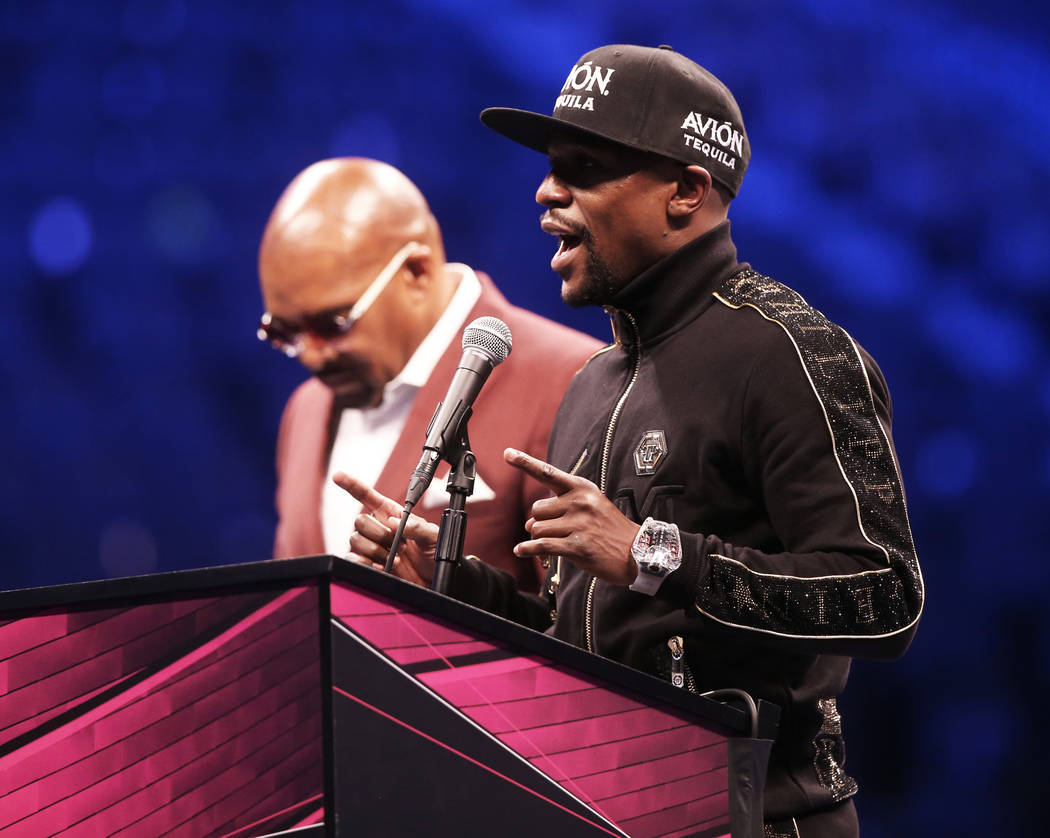 Aside from a mouse under his left eye, and the inescapable reality of having been TKO'd hours earlier by Floyd Mayweather, Conor McGregor looked like a champ at Encore Beach Club at Night late Saturday night.
With his mug showing some wear and tear, McGregor was in high spirits when he showed up just after 2 a.m. following dinner at Andrea's at Encore Las Vegas. The UFC superstar who, now 0-1 in professional boxing matches, was presented a trophy of the hotel, then met up with the odd pairing of owner Steve Wynn and actor Orlando Bloom on the red carpet.
McGregor hustled to the VIP terrace and addressed a sold-out crowd: "It didn't turn out the way we wanted, but we can still party like it did!"
The appearance opened McGregor's two-year residence to host post-fight parties at Wynn nightclubs. He holds the distinction as the only non-DJ to partner with the resort in such a deal, but he did take the booth at the 50,000-square-foot party fortress and rapped the Fat Joe-Rema Ma single, "All the Way Up."
Across the hotel, Leonardo DiCaprio, Kevin Connolly and Adrien Brody (along with their requisite entourage) hit XS Nightclub for The Chainsmokers' set. Joining that fray: Bloom, model/actress Charlotte McKinney, ex-Indiana Pacers star Reggie Miller and actor Michael Bay.
Whither the Money Man?
As expected, Mayweather held forth at Girl Collection, his strip club at the former Sheri's Cabaret adult club site at 2580 S. Highland Drive. Mayweather reportedly rolled in at about 2:30 a.m., navigating his newly purchased 2012 Bugatti Grand Sport Convertible.
The celeb website TMZ reports Mayweather bought this beast Wednesday for $3.3 million.
The entry fee for Mayweather's club was ramped up Saturday. Typically the low-end cover charge is $50; Saturday it vaulted to $500. Mayweather has said his post-fight plans are to build business at the club, while also developing "the next Floyd Mayweather" as a trainer.
Seats unoccupied
The fight drew an announced 14,623 at T-Mobile Arena, short of a sellout and far short of the capacity crowd of 20,150 for Canelo Alvarez's unanimous decision domination of Julio Cesar Chavez Jr. on May 6.
For Saturday's card, entire sections of T-Mobile were left unoccupied — specifically sections 101-105 and 117-120, in the arena's upper level. Many tickets were reportedly sold in those sections, but fans were relocated to unsold seats on the floor — tickets in the $5,000-$7,500 range — which made for a more robust crowd for the Showtime pay-per-view telecast.
The 100-level sections were behind the main cameras facing the ring, out of view for those watching the broadcast.
Veteran ticket broker Ken Solky, founder of LasVegasTickets.com, said his "best guess" on the shuffling of seats was that blocks of tickets held by MGM Resorts and the UFC went undistributed and were returned to Ticketmaster for public sale. Those returned tickets were available for purchase on the site throughout the day, but most went unsold.
MGM Resorts officials said the arena was set to seat about 15,000 for Saturday's event, but offered no official specific capacity figure number (nor an official explanation as to why the arena would be set up for 15,000 for Mayweather-McGregor, but 20,000-plus for Canelo-Chavez Jr.).
The resort company did sell out all of their closed-circuit viewing parties, which commanded a minimum $99 cover charge.
Regardless, it is apparent the general-public seats for the live fight were priced too high for a sellout, even as independent ticket brokers were able to deal their full allotment of tickets. Solky said the lowest ticket price on his site was a healthy $1,250-$1,500 as late as 5 p.m., with top prices considerably higher than the $10,000 face value.
"The people who were willing to pay those prices got what they paid for," Solky said. "It was a great fight, and a great night."
Shaf rocks the Barge
Paul Shaffer and Martin Short again joined David Perrico's Pop Strings at Cleopatra's Barge at Caesars Palace again Saturday night, following up their unbilled appearance on that stage Friday night. Short was in town for his co-headlining gig with Steve Martin at the Colosseum. Shaffer, who also jammed with Imagine Dragons at Friday's Tyler Robinson Foundation Believer gala, has been effectively generating buzz for his shows with the Shaf-Shifters at the Barge in late-December and early January.
John Katsilometes' column runs daily in the A section. Contact him at jkatsilometes@reviewjournal.com. Follow @johnnykats on Twitter, @JohnnyKats1 on Instagram.