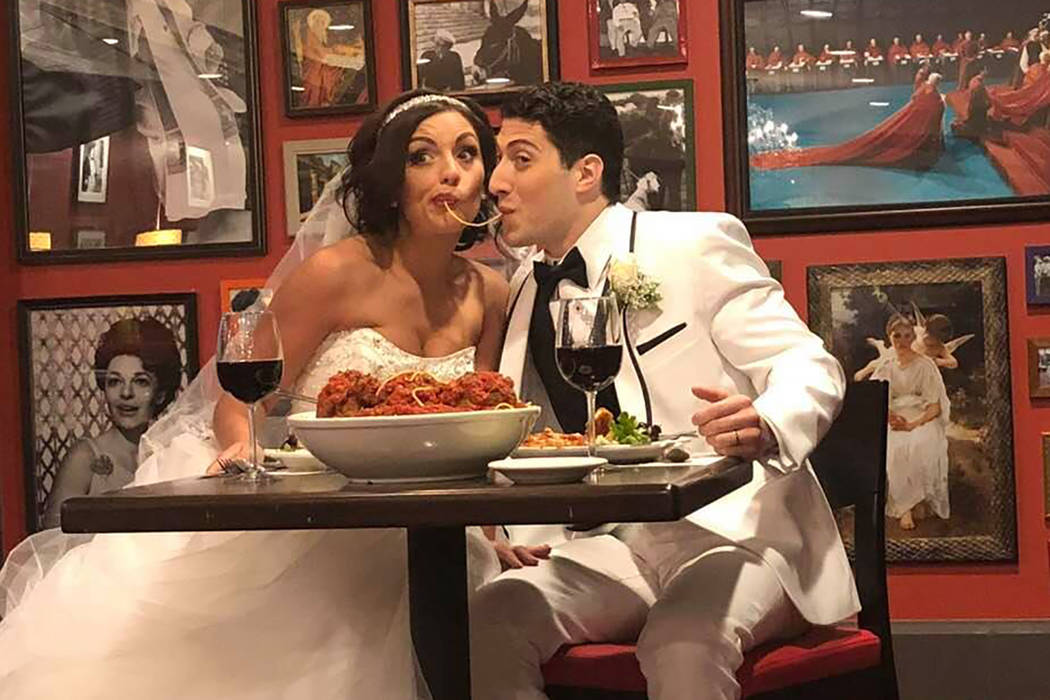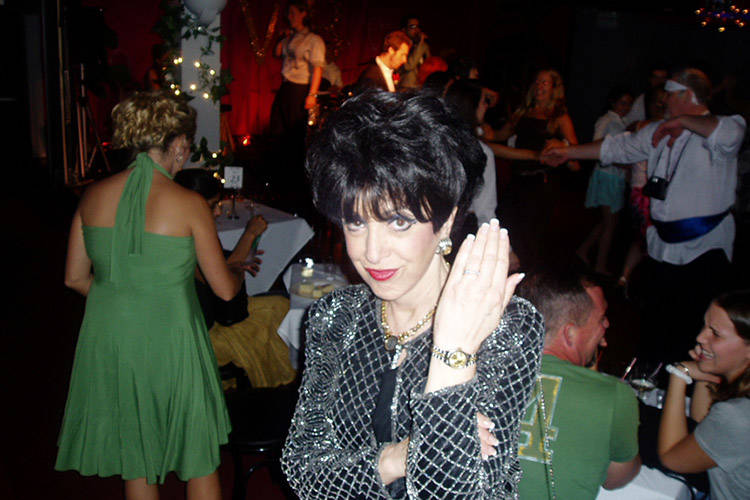 The city is littered with productions that are "on hiatus." That term is too often synonymous with "in denial," used by shows that have, in fact, shut down for good (I'm thinking of an adult revue from Australia at Planet Hollywood, a twisted variety show at Westgate Las Vegas, and a band of illusionists at Tropicana, among many other shows "on hiatus").
The comedy dinner show "Tony n' Tina's Wedding" is a production that went on hiatus — for real — in September 2016. The show's matriarch, star and casting director Barbara Lauren said at the time the show would return, and it will.
Expect the show to reboot mid-June at Buca di Beppo at Bally's. The original creative team is largely intact, with producers Raphael Berko and Jeff Gitlin returning, along with New York director Larry Pellegrini.
Lauren, who heads up her own Las Vegas-based casting company, has issued two casting calls, the most recent for men in their early 20s-early 30s, requesting "big personalities with improv skills a plus." That's in the Tony N' Tina's wheelhouse.
The cast infiltrates the guests' conversations to the point where you don't know who's in the show and isn't. I met the great Vegas vocalist and "Tony n' Tina's" cast member Stephanie Calvert at the show at the Rio, when she abruptly cut in front of me at the bar.
I had no idea Calvert was in the show. I just thought she was being rude … or thirsty.
A promotional photo posted on Lauren's Facebook page shows Vegas performers Rachel Swindler and Joseph BenShimon, in full costume, sharing a spaghetti noodle, "Lady and the Tramp"-style.
Once one of the hottest shows in the city, "Tony n' Tina's" opened at the Rio in 2005, with Lauren playing the hostess Loretta (she eventually took over as Mrs. Vitale). The show moved to V Theater at Miracle Mile Shops at Planet Hollywood, then the mezzanine level of Planet Hollywood, and finally Windows Showroom at Bally's, where the show was most recently performed.
For a time, the show leaned on such guest stars as famed house guest Kato Kaelin (this, during its run at Planet Hollywood). But this round, "Tony n' Tina's" is sticking to the original family recipe.
Gaga in '19
While we look forward to scheduling details for Lady Gaga's extended engagement at The Park Theater (we know it begins in December), we can be confident she will perform there on New Year's Eve. Still open to question is whether she will count in the new year. Bruno Mars, the 2018 Park Theater headliner, was cleared out by midnight. So was Britney Spears at Planet Hollywood.
Et tu, JLo?
We've reported confidently, though not officially, that Spears is to return to the Strip at Park Theater in 2019. Now comes reliable intel that Jennifer Lopez, too, will opt for Park Theater as the venue continues to gather superstars from Axis theater (now Zappos Theater) at Planet Hollywood.
And speaking of Park Theater …
While we're in Park MGM mode, we're ready for Widespread Panic to perform a pair of three-day sets at the theater, the first in July …
Brinkley at the bout
In the middle of a torrid month of news (already), supermodel Christie Brinkley turned up last week at Caesars Palace for the Wine & Spirits Wholesalers of America's (WSWA) 75th Annual Convention and Exposition to promote her all-organic and vegan prosecco, called Bellissima.
At age 64, Brinkley is still as bubbly as ever, saying during an interview last Wednesday that she keeps her youthful vigor through "an attitude of gratitude."
Brinkley remembered her first visit to Las Vegas, which was also at Caesars Palace. It was for the Muhammad Ali-Larry Holmes heavyweight title bout in 1980, which also was Brinkley's first time watching any boxing match.
How this came to be: Weeks earlier, Brinkley was having lunch at the Plaza in Manhattan and happened to see Ali walking by the hotel.
"Every guy I knew was talking about Ali fighting Larry Holmes in Las Vegas," Brinkley said. "I'd never been to a fight, didn't know much about it, and all of a sudden I see Muhammad Ali walking down the street. I thought, 'Here's my chance!' "
Brinkley left her table and rushed up to Ali, who readily recognized her as that summer's Sports Illustrated swimsuit issue cover model.
"I introduced myself and said, 'I would love a ticket to your fight!' and he smiled and said, 'And I'd like a woman like you in my life!' So funny," Brinkley said. "Then he said, 'Of course!' "
Brinkley packed her camera equipment — she has long had an avid interest in photography — and a suitcase full of pink clothes. "Me and a friend were staying at the Flamingo, so everything was pink," she said. Brinkley had a seat close to the action, and snapped through the entire card.
"I was so excited to be there that night," she said. "All these characters coming around, Sugar Ray Robinson, Leon Spinks's mom — he was on the undercard — and O.J. Simpson walking like 20 paces in front of Nicole Brown, so rude."
Brinkley shot rolls and rolls of film, in the days when there were rolls of film, which were published in Ring magazine.
"The first time Ali was hit in the face, he looked so shocked, stunned. It was like he could tell it was not going to go well," Brinkley said. "Afterward, we went out to the Caesars Palace fountains and cried. We didn't know what to do … And then, out of nowhere, Don King walked by and we just started following him, all the way to this big after-party. They asked for our invitations, and I just waved at Don King, 'Hi!' and went in the door.
"It was crazy in there, and I loved it. It was a great time."
At the Westgate!
Barry Manilow's production team need not look far for its dancers in his upcoming residency at International Theater at Westgate Las Vegas. Jennifer Romas's dancers from her "Sexxy" show at Westgate Theater are performing in the upcoming production, including the "Copacabana" number.
Romas is also auditioning dancers specifically for the Manilow show.
Amieva … Mateo Amieva
In "Mindfreak Live," Mateo Amieva's Maestro character is essentially presented as Criss Angel's Mini-Me.
Now the Maestro is breaking out, as just, "Me."
Amieva is showcasing a new solo production, "Action Man: Mission Las Vegas" (love the title) at 10 p.m. May 23 at The Space.
Amieva is a superb comic actor who has effectively tempered Angel's Goth-fashioned edge in both "Believe" and "Mindfreak Live."
Amieva is also one of the artists moving on as Angel finishes his run at Luxor in October. He describes his show as a vigorous parody of James Bond films, a physical-comedy production filled with "the best cinematographic, television and cartoon humor." Expect Amieva to be shaken, stirred, and dang funny.
Who loves the '90s?
Maybe VegasVille. A show themed for that decade, with Salt-N'-Pepa in the mix, is planning to move into Tropicana Theater this year. What that means to the productions already in the theater — David Goldrake's "Imaginarium" (which just signed a year extension through next spring at the hotel) and the long-running Prince tribute Purple Reign — is yet to be specified.
Scheana at 33
Scheana Shay lives in the Land of Unicorn Cake.
The "Vanderpump Rules" cast member and just-departed, co-star of "Sex Tips For a Straight Woman for a Gay Man" at Paris Las Vegas celebrated her 33rd birthday Monday night at Andiamo Italian Steakhouse at D Las Vegas. She was joined by a group that included MTV "Real World: Go Big or Go Home," cast member Kailah Casillas and Shay's parents, Ron and Erika van Olphen.
After dinner, the restaurant rolled out a customized (is there any other kind) unicorn cake, as Shay loves unicorns. Nice design work by the D Las Vegas staff. If you can make a unicorn cake, you can make any cake.
Prince show on the Strip
Prince Harry (or rather, his wax statue) is back in VegasVille. The figure has been flown from Madame Tussauds in New York to the museum's outpost at The Venetian. Wax Harry is now hanging at the bar, available for idle chitchat and photos as the real Harry preps for is upcoming marriage to Meghan Markle.
Who Was Where
A quintet of Golden Knights and Oklahoma City Thunder star Russell Westbrook (separately) Sunday at Encore Beach Club and XS Nightclub. The Knights celebrated their Game 6 victory against the Sharks earlier in the evening; Westbrook was in town celebrating his brother's birthday. The Thunder all-star joined The Chainsmokers onstage at Encore, and was also at David Guetta's set at XS. Golden Knights teammates William Karlsson, Tomas Tatar, Alex Tuch and Oscar Lindberg wheeled in after returning from San Jose and sipped cocktails and Red Bull as Guetta held court … Former Vice President Al Gore on Saturday night at Elton John's performance at the Colosseum at Caesars Palace … "Dancing With the Stars" pro Louis Van Amstel at the 8 p.m. Saturday showing of "Absinthe," his third visit to the hit show.
John Katsilometes' column runs daily in the A section. Contact him at jkatsilometes@reviewjournal.com. Follow @johnnykats on Twitter.