Tyson Fury brings the party to MGM Grand's Hakkasan Nightclub
Updated February 23, 2020 - 2:01 pm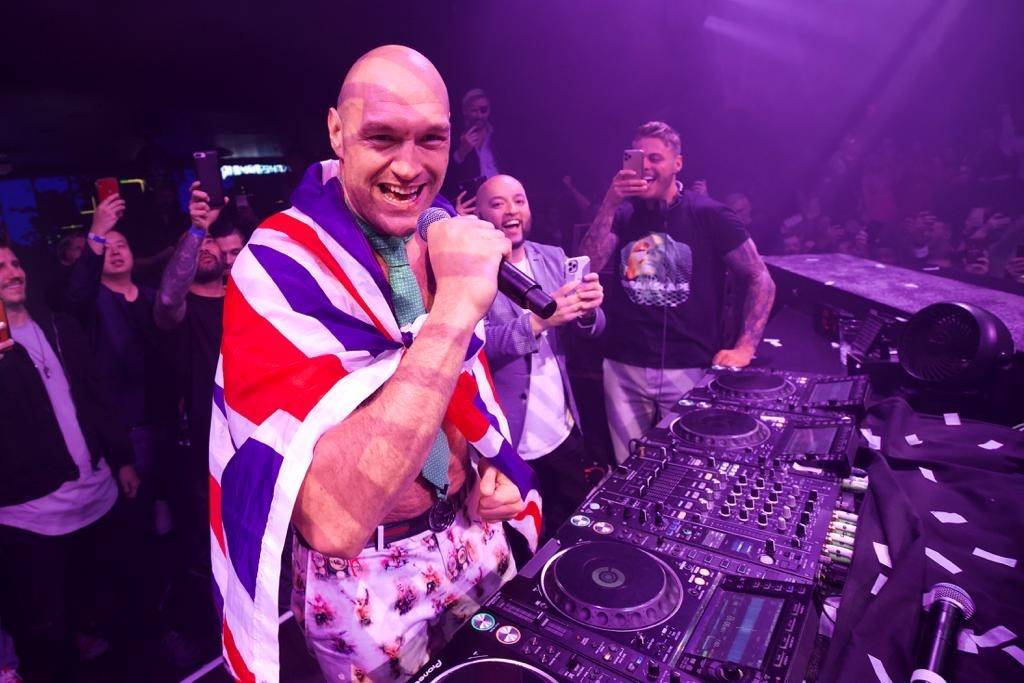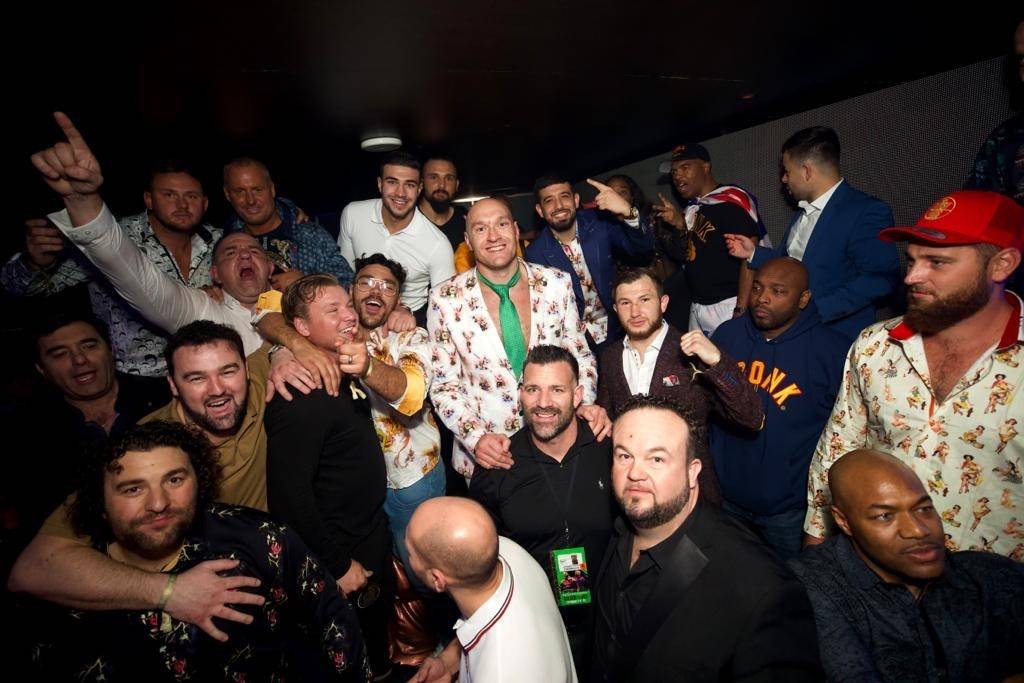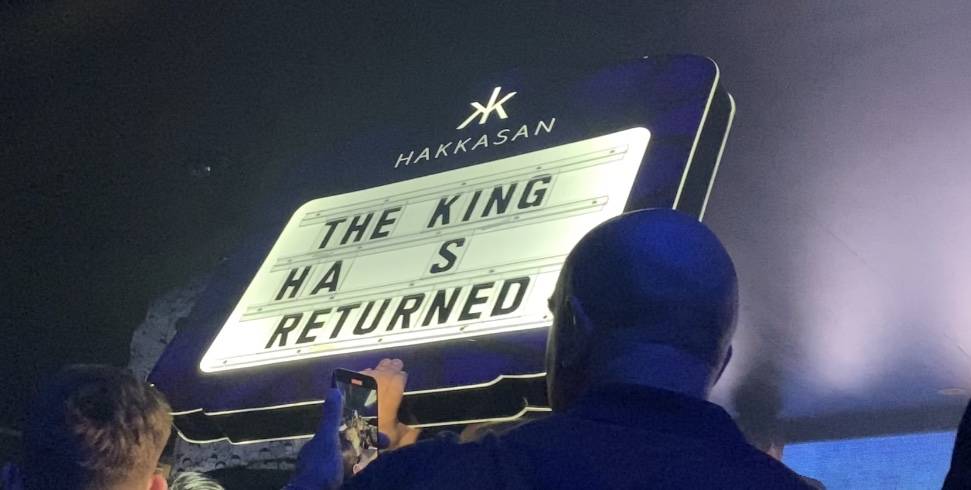 Even if Tyson Fury were not a boxer, he'd be a boon to the fight game. He'd be a fantastic color commentator. Ring announcer. Promoter. But the fact that he's the champion of the sport's most glamorous, and lucrative, weight class is something of a bonus.
The sport is lucky to have the Gypsy King, a towering, bald, well-suited and (frequently) shirtless ambassador. There is nothing lightweight about this British heavyweight champ. Fury proved it once more as he took over Hakkasan Nightclub on Saturday night, relishing his beat down of Deontay Wilder at MGM Grand Garden.
Fists of granite. Belt of jewels. Voice of silk. @Tyson_Fury arrives @HakkasanLV #WilderFury2 #VegasVille #Vegas #OnlyVegas @reviewjournal pic.twitter.com/MyjKaD4epa

— John Katsilometes (@johnnykats) February 23, 2020
Fury and a party posse of about 50 blew in a little after 1 a.m., with the club in full revelry. He wore the same suit he sported at the post-fight news conference, splashed with images of himself with his fists raised. "My Gypsy King suit!" he calls it.
The club's cocktail servers held up flashing, LED-trimmed signs spelling out TYSON FURY as the new WBC champ plowed his way to the DJ booth to superstar DJ Steve Aoki's spin of Neil Diamond's "Sweet Caroline."
One waitress held up a white marquee sign with black letters reading, "THE KING HA S RETURNED" the "S" knocked off center for all the jostling.
When @Tyson_Fury speaks of his party, this is the place @HakkasanLV @MGMGrand #WilderFury2 #OnlyVegas #Vegas #VegasVille pic.twitter.com/QA8B2CHwoM

— John Katsilometes (@johnnykats) February 23, 2020
Around the venue, Kansas City Chiefs teammates Pat Mahomes and Travis Kelce (who might as well have their own held VIP table at the club) and former One Direction member Liam Payne joined the frivolity.
"Who's ready for a (expletive) party!?" Fury, wearing a Union Jack flag as a cape, called to the masses.
"But before we start, I'd like to sing a little something for everybody!" Yep. Time for what we can call "Gypsaoke," fit for a nightclub or even Ellis Island Casino Hotel & Brewery.
From last night: @Tyson_Fury parties w/ @steveaoki @HakkasanLV #WilderFury2 #AmericanPie #onlyvegas @reviewjournal https://t.co/5jZMHTDjsH pic.twitter.com/u3ycbyobsr

— John Katsilometes (@johnnykats) February 23, 2020
He then sang, powerfully, the children's World War II song, "Ten German Bombers," leading with, "There were three Bronze Bombers in the air! Then the Gypsy King from England shot one down!" Bronze Bomber being Wilder's well-known, if on this night misapplied, nickname. He and Aoki would later cue up Don McLean's "American Pie," which Fury sang from the ring after dispatching Wilder. Within hours, #AmericanPie was trending across the country on Twitter.
Fury could have been any bloke at the club during this vocal foray — any 6-foot-9 inch, 273-pound bloke eager to lead the party. But he's the champ. The night and nightclub were his. When I left he was chugging brews with all his boys, with at least an hour of merriment ahead.
But I couldn't go the distance with this Gypsy King, not on this night. He knocked me out, too.
What Works In Vegas
Bret Michaels playing a free show at Fremont Street Experience. The longtime Poison front man headlined the NASCAR weekend RaceJam blowout, drawing a crowd of about 12,000 to the 3rd Street Stage between Four Queens and the D Las Vegas. His head wrapped in his ever-present bandana, Michaels performed "Nothin' but a Good Time" and "Every Rose Has its Thorn" from the Poison days, and also a credible cover of "Give It Away" by the Red Hot Chili Peppers. The event was the 17th anniversary of RaceJam at FSE where, like the SlotZilla zip line, time flies.
He knows the drill
Side-act specialist John Shaw of Zak Bagans' The Haunted Museum is heading to Rome on March 24-30 to shoot a segment for a new Guinness World Records show. Shaw is attempting to establish a record for drilling the most drill bits into and out of his nose in one minute.
Yes, there is now a Guinness designation for this feat. It's a new category, so Shaw is, um, drilling into uncharted territory. He's performed 30 passes — picking up the drill, turning it on, putting the bit in his nose — during practice, and says he can increase that number once the official clock is running.
Shaw's drill-bit bit also caused a woman to faint this month at the Haunted Museum. Not a world record, but an indication of Shaw's penetrating power.
Cool Hang Alert
Periodically, I hear complaints that there are not enough midnight shows in VegasVille. I hear this, because I'm usually the one complaining.
But David Perrico's Pop String Orchestra is playing no-cover, midnight shows at Westgate Cabaret on Feb. 29, March 6-7, and March 13-14. Doors are at 11:15 p.m. This is some serious, vintage-Vegas action from our friends at Westgate, who roll up the room's retractable doors and let the sound fill the casino. The idea is to generate the type of big-band scene the city used to be known for. We'll get a verdict over these five shows if there's an appetite today for such a hang.
John Katsilometes' column runs daily in the A section. His PodKats podcast can be found at reviewjournal.com/podcasts. Contact him at jkatsilometes@reviewjournal.com. Follow @johnnykats on Twitter, @JohnnyKats1 on Instagram.