U2 set to make more money per show than any Las Vegas artist in history
Updated February 20, 2023 - 7:05 pm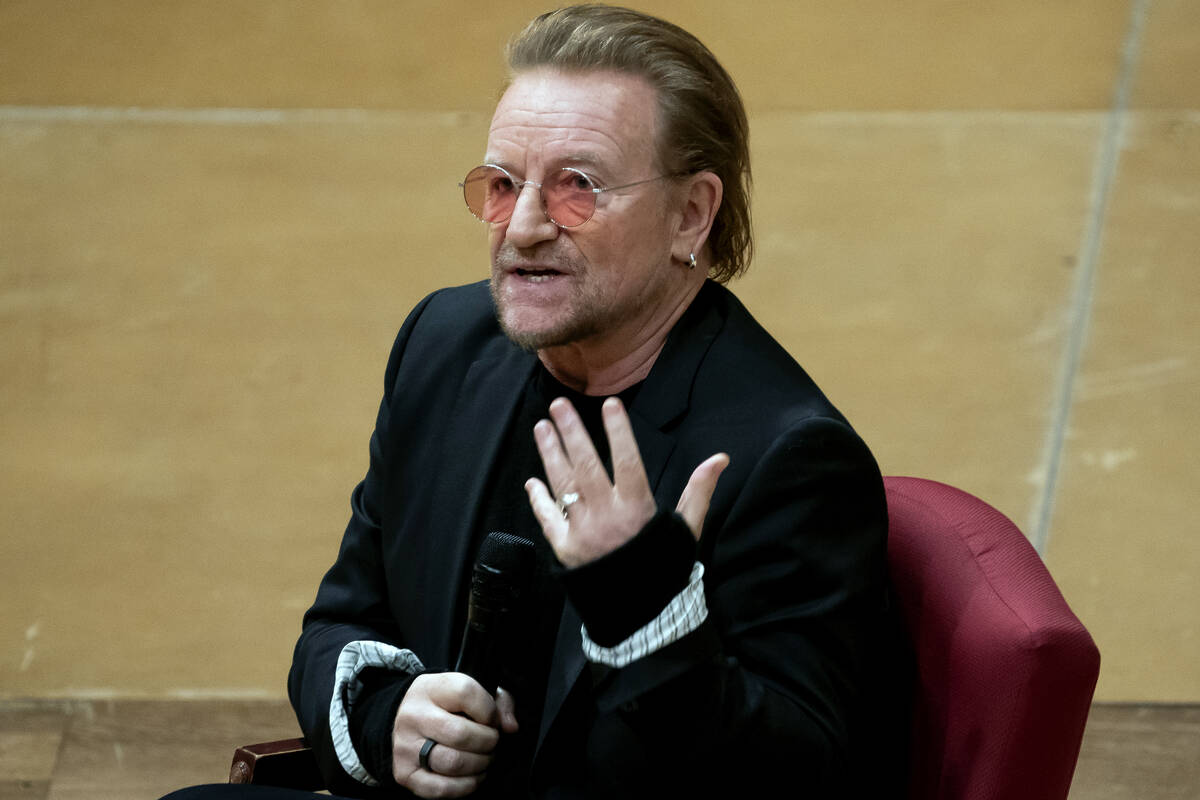 U2 will make at least $1 million per show at the MSG Sphere — and that's before they sell a single zipper-hoodie with the "Achtung Baby" image.
U2 plans to open its "U2: UV Achtung Baby" production in Las Vegas this fall, the dates expected to be Sept. 29-30. The series (a launch and not a residency) will run six non-consecutive weekends, 12 shows total.
According to published reports, and those familiar with the band's plans, U2 will earn 90 percent of the face value of tickets sold, which is expected to clear at least $1 million per performance and $12 million overall. And that is a very safe, conservative assessment.
By comparison, Adele has reportedly commanded $1.2 million per show at the Colosseum, Bruno Mars $1 million per show at Dolby Live, and Lady Gaga $800,000 per show, also at Dolby Live. U2 should surpass all those superstars in per-show earnings.
With an average face-value price of, say, $100 per ticket at the Sphere's 17,500-seat capacity, U2 would make $1,575,000 gross per show. I'm actually anticipating $500 for seats in the front to $100 at the back. If U2 sells out at those price points, the band's take could easily double or even triple.
Those figures are applied to tickets sold by Ticketmaster, not listed by secondary brokers. So, the band would not get a percentage of a ticket listed at (for example) $15,000 on StubHub.
But predicting what fans will pay through the Ticketmaster Verified Fan process is similar to figuring out what room rates on the Strip will be over a given weekend. Dynamic prices adjust according to market demand.
In this arrangement, the Sphere would keep the remaining 10-percent of face-value ticket revenue, most of the service and handling fees on every ticket. That figure would be very lucrative for a show that would sell out every night. The venue would also collect a healthy percentage of merchandise sales.
I've been using my abacus to figure out how the $2.2 billion venue makes a healthy profit just from the U2 shows, and falling short. There is reportedly immense pressure on the Sphere team to open in September, with Lucas Watson exiting his position as the venue's president last week.
But where the Sphere would make bank is with a naming sponsor, which could reportedly be worth more than $100 million. And for any company out there looking to make history on the Strip, opportunity knocks.
Still dancing
Column friend Norm Johnson turned 90 this week, marking the event Wednesday night at the Italian American Club Showroom. Johnson wasn't even the oldest person in the room. I heard later one guest was 103.
Johnson moved to Vegas in 1965 as a reporter for the Las Vegas Sun. Two years later he co-founded the Mint 400 off-road race. Johnson was also a fine dancer in his younger days prior to moving to VegasVille. He was a backing dancer in "Jailhouse Rock," alongside Elvis himself.
Johnson's "audition" was actually winning a dance contest at a club on the Sunset Strip in L.A. Choreographer Alex Romero, who was working with Presley, caught Johnson's victorious moves and invited him into the "Jailhouse Rock" cast.
"That's the only reason I was in the movie, because the choreographer happened to be there that night," Johnson said Friday.
Johnson also recalled that Presley twisted his ankle during filming and had to sit for a week.
"Elvis couldn't dance, but we rehearsed a little and he watched us," Johnson said. "But he paid us, in full, for an entire week when we really didn't do any work. He didn't have to do that. He was a great guy to work with." Presley himself choreographed the iconic "Jailhouse Rock" scene, and paid his dancers $90 apiece — about $950 in today's money — while he healed.
Jackson show to The Orleans
"MJ The Evolution" has survived the closing of Mosaic On The Strip last summer to move into a four-show run at The Orleans Showroom. The dates are March 20, 23, 24 and 25. The show performed what I heard was a pretty wild showcase in November at Vu Studios in Las Vegas. Michael Firestone continues his uncanny portrayal of Jackson. Guitar great Christian Brady leads the fiery band.
Raiding the Hard Rock Cafe
Raiding the Rock Vault celebrates its 10th anniversary in VegasVille in March. The show is relocating to Hard Rock Live on the Strip. RV has played the Las Vegas Hilton/LVH, Tropicana, Vinyl at Hard Rock Hotel (now Oxford 24 at Virgin Hotel today), Club 172 at the Rio, and currently the Duomo, also at the Rio. It was Ozzy Osbourne who famously cried out, "You can't kill rock 'n' roll!" He could have been talking about Raiding the Rock Vault, helmed by the tireless producer Harry Cowell.
What Works In Vegas
Human Nature at South Point Showroom. The Aussie threesome of Andrew and Mike Tierney and Toby Allen are listed on Ticketmaster for nine additional dates this year, running Sept. 5-7, Oct. 3-5 and Nov. 14-16.
Those tickets are available at noon Pacific on March 7. All showtimes are 6:30 p.m. The dates are in addition to shows in March, April, May and June. We missed them this month, but not everyone did. HN typically sells out the venue.
Cool Hang Alert
Country artist Tom Yankton is back at Dawg House Saloon at Resorts World on Tuesday, Wednesday and Thursday. Yankton has opened for Luke Bryan, The Brothers Osborne, Walker Hayes and Riley Green, among other artists. Go to DawgHouseLasVegas.com for info.
John Katsilometes' column runs daily in the A section. His "PodKats!" podcast can be found at reviewjournal.com/podcasts. Contact him at jkatsilometes@reviewjournal.com. Follow @johnnykats on Twitter, @JohnnyKats1 on Instagram.