U2's Sphere rehearsals are a no-fly zone
Updated September 8, 2023 - 6:47 pm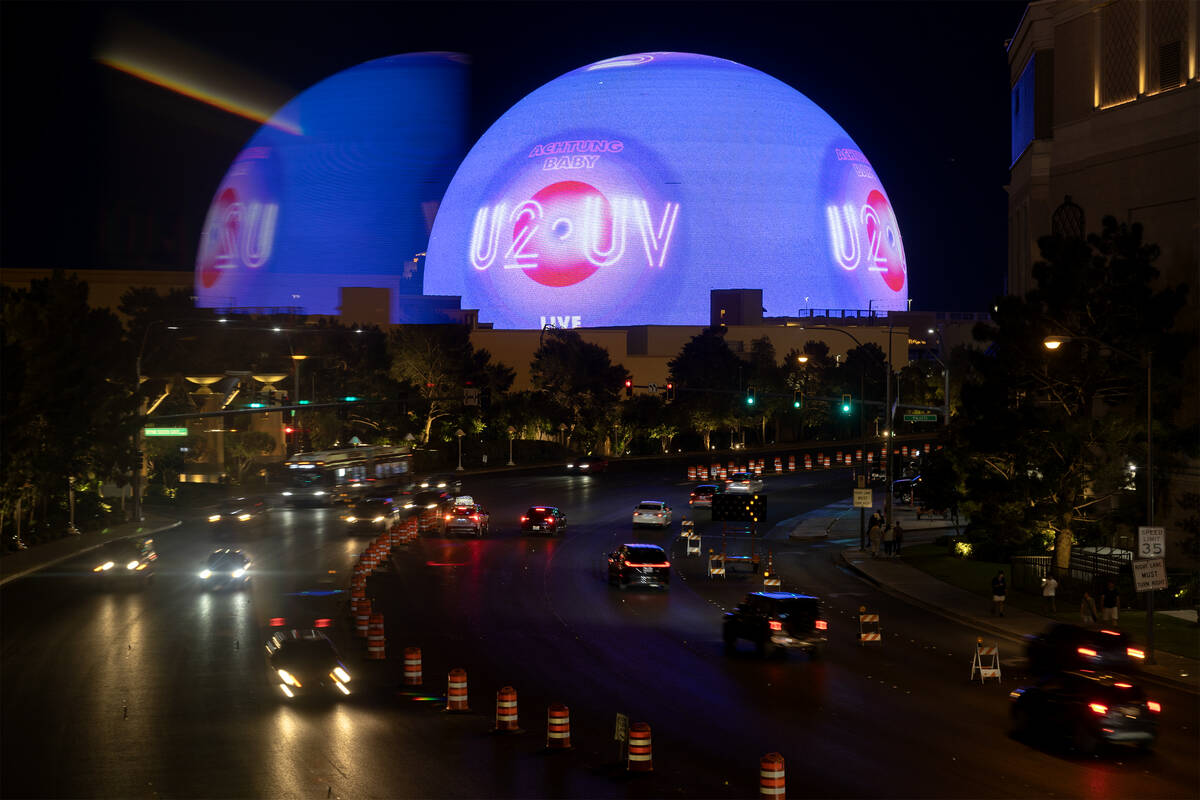 The Sphere is all aglow outside, but inside its straight-up lock-down as U2 started rehearsals this week.
Just know to avoid Elevator C. That's for the band. And for gosh sakes don't go left at the wrong time.
The U2 crew hauled in Tuesday for run-throughs of "U2 UV: Achtung Baby." The shows open Sept. 29-30. An email to on-site crew Monday warned, "Effective immediately, the U2 production area and the use of elevator C is prohibited unless you have a defined business need to be in the area. Please utilize any of the other elevators in quads A, B and D to perform your duties.
"As we get closer to having artist(s) in the venue, it is critical that the integrity of the restricted production areas is maintained. Upon entering the venue via the employee entrance, please do not go left, unless your work area is in the loading dock area. All pedestrian traffic should go right towards the kitchen and front of house areas."
("Right Towards The Kitchen" might be the title of a dance number, in a show I might produce.)
Those with knowledge of "U2 UV" have described the scene as totally focused, even (pun intended) edgy. The band has been locked in on generating a production that's promised to be ground-breaking on every technological level.
The 1991 "Achtung Baby" album is to be played in its entirety. The concept of a U2 series at The Sphere was to celebrate that album's 30th anniversary. The pandemic messed with the timeline, but the concept has been unshakable.
'Postcard' delivery
The theatrical production "Postcard From Earth" is being sold at between 5,000 capacity, rather than the originally announced 10,000. Half of the available seating is closed, for now, until the entire experience is dialed in.
"Postcard," directed by Hollywood heavyweight Darren Aronofsky, opens Oct. 6.
Can-do event
The seeds of the AFAN Black & White Party were sewn from an apartment party in Green Valley in 1986. As AFAN executive director Antioco Carillo says, "Someone said, 'Hey, AFAN needs food. Why don't you guys go to the grocery store and get some canned foods, but you don't need to buy the branded ones. Go for the generic ones, the black-and-white ones."
A theme was launched. The Black & White Party's 37th anniversary is 8 p.m. Saturday at Kaos and Soak Pool at the Palms. Media maven (and proud Las Vegan) Perez Hilton and drag star Nora Llyaman host.
Members of "Ru Paul's Drag Race Live" at the Flamingo, Vanessa Vanjie Mateo from the MTV series "RuPaul's Drag Race," performers from from Piranha Nightclub, "Chippendales," "iLuminate," "Rouge," and Jennifer Romas' "Exxcite — The Show" are on the entertainment roster. Penn Jillette, representing longtime AFAN supporters Penn & Teller, will introduce Carillo.
The event is to run until midnight in the connected venues. The afterparty is scheduled for Piranha. The baseline, black-and-white theme had led to some ribald fashion decisions. "AFAN encourages guests to wear as much black and white as possible or as little as they can get away with," says the organization.
Though this is the 37th anniversary of the party, AFAN itself turns 40 next year. The organization provides health expertise, support and advocacy for adults and children living with and affected by HIV/AIDS in Southern Nevada (This is for ages 21-and-over; for tickets and related intel, go to afanlv.org).
Carillo remembers the party's title being "The Black & White Generic Party" in 1996.
"It was just, welcome to our 'Generic Party!' " Carillo says. "I think I still have a poster in my office, somewhere, that says 'Generic Black and White Party.' That was the idea at that time. Can you believe that?" When you look around Kaos and Soak on Saturday, "generic" is not the theme.
Tease this …
A superstar whose name rhymes with Mistina Maguilera has big plans for VegasVille, beginning in late-December.
Great Moments in Social Media
The 7½-foot-long mirrored armadillo, named Delilah, that hung at Texas Station's South Padre nightclub, has been moved to Stoney's North Forty at Santa Fe Station. Go to @StationCasinos on X for video worthy of Exosphere treatment.
Stoney's North Forty is bringing the Armadillo. pic.twitter.com/DrmROFeEPD

— Station Casinos (@stationcasinos) September 7, 2023
What Works in Vegas
Downtown Rocks, the Fremont Street Experience's free concert series. Taking Back Sunday, the venerable rock band out of Long Island, take over 3rd Street Stage at 9 p.m. Saturday. The show is open to the public under the FSE Viva Vision canopy. At max, the Fremont Street Experience performances can handle crowds of 30,000 … Many of them dressed as cowboys, showgirls or members of Kiss.
On Sept. 16, Neon Trees plays the 1st Street Stage. As always, go to vegasexperience.com for intel.
Cool Hang Alert
The "Late Affair" dining and entertainment at scene at S Bar at Mandalay Bay runs 9 p.m. Saturdays. This is a mix of fine noshes, cocktails (including zero-proof libations and FizzyWater) and entertainment in a swanky lounge hang.
We need to make a return to this hovel ASAP (S Bar was once Red Square, the place personally famous as my first triple-digit bar tab ever in Las Vegas). Go to mandalaybay.mgmresorts.com for the intel.
John Katsilometes' column runs daily in the A section. His "PodKats!" podcast can be found at reviewjournal.com/podcasts. Contact him at jkatsilometes@reviewjournal.com. Follow @johnnykats on X, @JohnnyKats1 on Instagram.