'Vegas Cares,' and proves as much at Venetian Theatre
November 5, 2017 - 9:44 pm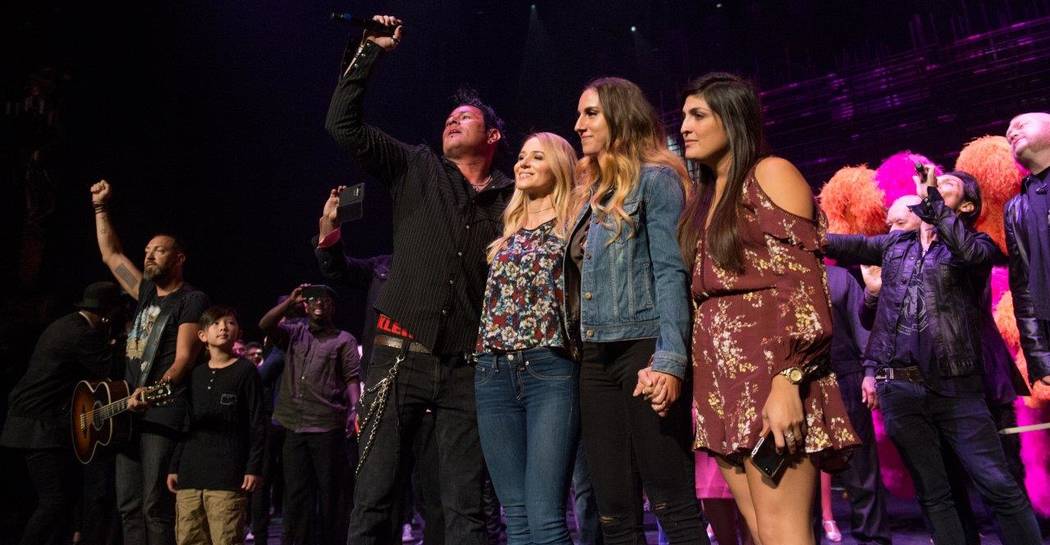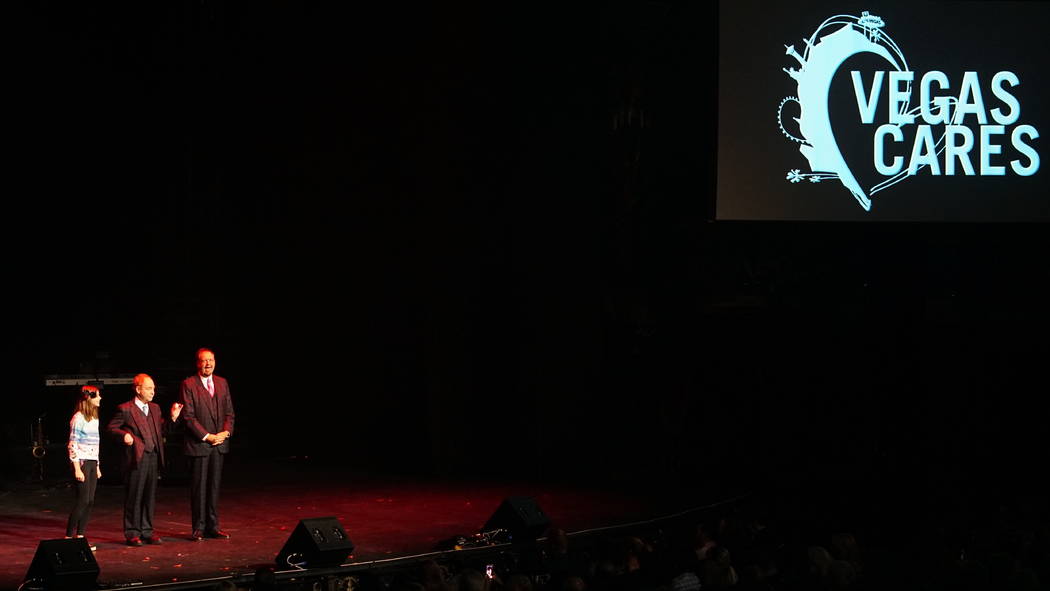 The KATS! Bureau at this writing is the production office at The Venetian Theatre, where the "Vegas Cares" Oct. 1 tribute show has just ended. Brimming with wonderful performances, the show closed with the Las Vegas band Elvis Monroe playing the new song, "The Fight."
The close was a powerful, heart-thumping moment as members of the band — including front man Bryan Hopkins and guitarist Ben Carey — had been near the front of the stage during Jason Aldean's performance and the rain of gunfire that ensued. So were their friends Nicole Ruffino and Nicole Yorba.
They were all about 10 rows back when the shooting started, and watched as concertgoers began to fall, "We watched 1-2-3-4 go down right away," Hopkins recalled. The group helped fashion ramps for spectators to scale the fences out of the Village, held back to assist those who had been struck or were huddled as the shooting continued, then rushed to Hooters and to safety.
As an epilogue, the two Nicoles joined Elvis Monroe for "The Fight," with the sold-out crowd and many of the afternoon's performers holding illuminated cellphones aloft.
It was our time in Las Vegas, one moment of unity for those who wanted nothing more than to help recover from Oct. 1.
More from this scene:
She shines
Jewel lit up the room, too, with her two-song medley of "Mercy" and "Hands," the first song the inspiration for Las Vegas artist Tim Bavington's standing monument paying tribute to the first responders and victims of the mass shooting. Standing in the wings during the finale, Bavington said his next step was to devise a proposal for his project.
"I have ideas, and I've been coming up with ideas through the week and even right now," Bavington said as he gazed at audience. "This is incredible."
Tyson's Foxx advice
Mike Tyson, who introduced Al B. Sure, was in this room earlier. He said the biopic based on his life and starring Jamie Foxx in the lead role has been finalized. All that is left is the shooting schedule, additional casting announcements and — most pertinent — Tyson's acting advice for Foxx.
Tyson has yet to specify his directives to Foxx, who won an Oscar for his portrayal of Ray Charles in "Ray."
"I just want to be in a room with him, one on one," Tyson said. "Get to know each other. It's going to be very interesting to see how he plays me." No doubt. And Foxx has already said that Martin Scorsese is directing. The Tyson saga would be Scorsese's first boxing film since "Raging Bull," which was also the saga of a fighter who gave as good as he got.
Palm's Sunday
Great to run into former "Jubilee" company manager Diane Palm, who seems far more relaxed these day than in the last couple of years of the famed stage show. A protege of the great director Fluff LeCoque, Palm arranged for the original costumes from the show to return to the stage.
I well remember Palm telling me, on the night "Jubilee" closed, that times had changed in this city. "When you're thinking of Las Vegas, there used to be a lot of these shows around town, and now there aren't these shows anymore. It's the last one of its kind." The"Jubilee" cast members performed to "Viva Las Vegas."
Despite persistent conversation around the entertainment scene that a scaled-down form of "Jubilee" would return to Bally's, nothing has transpired. A group of investors based in China kicked the tires of the theater for a time, then faded out. Instead, "Masters of Illusions" opens at the old Jubilee Theater on Dec. 6.
Fator's statement
Mirage headliner Terry Fator is boycotting, temporarily, the NFL as players continue to take a knee during the national anthem in protest of racial inequality from law enforcement officers. The protests have expanded throughout the league this year.
"I know people have a right to express themselves, I just don't like it during the national anthem at NFL games. That is not the time or place for it," Fator said during a backstage chat. "But I will be back with the NFL when the Oakland Raiders — Las Vegas Raiders, I should say — move to Las Vegas." That's scheduled to be in 2020. Fator says he'll back the Raiders, though he is a lifelong Dallas Cowboys fan. "My dream Super Bowl match-up is the Cowboys against the Raiders," Fator says, not surprisingly.
Who was in this shindig
The conveyor belt of talent either onstage or on video in the "Vegas Cares" show, produced by Best Agency Chief Executive Officer Ken Henderson, included these folks not already mentioned: Host and stand-up comic Alex Reymundo, the cast of "Baz — A Musical Mash-Up," star photographer Peter Lik; Harrah's magician Mac King; singers in an all-guys' medley Frankie Scinta, Chris Phillips, Earl Turner, Sonny Charles, Bubba Knight, Travis Cloer, Adrian Zmed, Vin A. Adinolfi, Jimmy Hopper and Clint Holmes; impressionist Gordie Brown; members of "Thunder from Down Under" at Excalibur and "Fantasy" at Luxor; the Australian Bee Gees from ExCal; Ruslan Khusinov from "Absinthe"; Britney Spears (via video); Planet Hollywood magician Murray Sawchuck; Kendra Wilkinson and Jai Rodriguez of "Straight Tips for a Straight Woman from a Gay Man" at Paris Las Vegas; Tom Green of Bally's Las Vegas; the cast of "Mystere" at Treasure Island; Penn & Teller; Blue Man Group at Luxor; Jen Romas and the cast of Sexxy at Westgate; Lance Burton; Tenors of Rock at Harrah's; Jarrett & Raja of Stratosphere; Pia Zadora; Rich Little; singers in an all-female medley Anne Martinez, Naomi Mauro, Janien Valentine; Kelly Clinton Holmes and Gret Menzies; Dan Reynolds of Imagine Dragons; and David Copperfield (video for him, too).
The list is to make a point (beyond the fact that the show lasted more than three hours) about the quality and quantity of talent in Las Vegas. In one memorable moment I was in a conversation with Green, Al B. Sure, a "Jubilee" dancer and members of Blue Man Group. That lineup does say something — aside for the Blue Men, who say nothing — on a day where goodwill did speak for itself.
John Katsilometes' column runs daily in the A section. Contact him at jkatsilometes@reviewjournal.com. Follow @johnnykats on Twitter, @JohnnyKats1 on Instagram.