Vegas performer to sing national anthem for Bills-Patriots
Updated January 7, 2023 - 11:54 am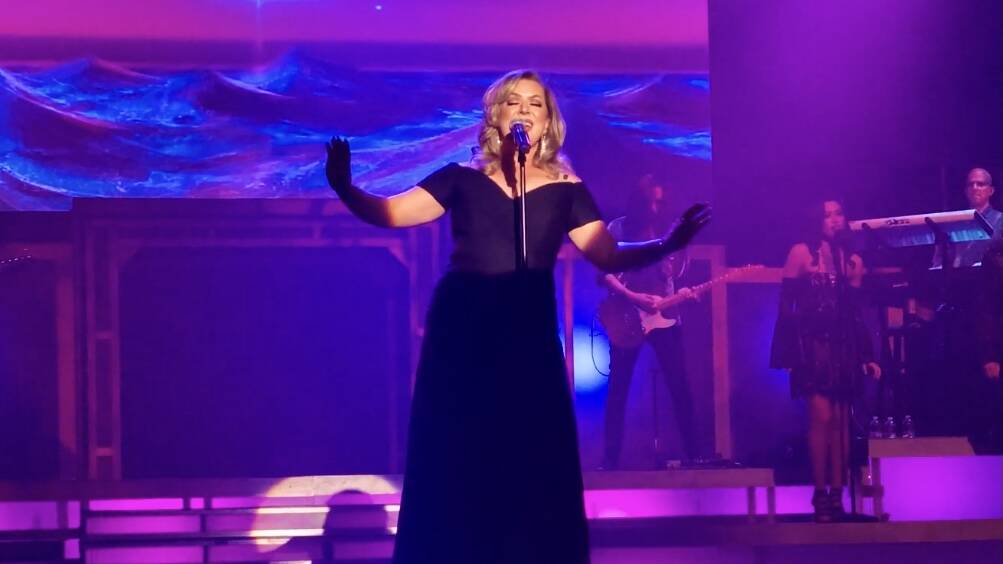 Janae Longo was a member of "Legendary Divas" for nine months.
But she's a member of the "Bills Mafia" for life.
The entertainer we came to know as Adele in the "Legends in Concert" production at Tropicana is singing the national anthem at the Bills-Patriots game at 10 a.m. Pacific time Sunday at Highmark Stadium in Orchard Park, N.Y.
The game is slated for national broadcast on CBS. Longo is still unsure if the anthem is part of the telecast.
Recording industry royalty @mashupmartin among those @Imaginedragons @TRFdotORG show @dolby Live last night … Some pics from the event … #RJNow @reviewjournal pic.twitter.com/hWYCsTtfog

— John Katsilometes (@johnnykats) January 6, 2023
Longo was booked to sing in her hometown before the season kicked off. But this appearance has become far more meaningful, of course, after Bills safety Damar Hamlin collapsed in the first quarter of Monday's game in Cincinnati. By Friday, Hamlin was awake, and he addressed the team briefly via FaceTime. The 24-year-old has been placed on injured reserve while his teammates play the rival Pats on Sunday, as scheduled.
"I'm feeling like, OK, this is happening. I am singing Sunday, with Damar in my heart," Longo said during a phone chat from Harry Reid International Airport, as she was about to board her flight back east. "The game will go on, just like we say the show will go on, not just in theater but also in the athletic arena."
Longo is an avid Bills fan, from the Buffalo suburb of West Seneca, N.Y. She also sang the national anthem at the Bills-Broncos game at then-New Era Field on Nov. 24, 2019, as part of the Bills' Military Appreciation game.
Longo's father, Dennis, served in the Air Force from 1964-68. During that performance, Longo wore the No. 61 jersey of the late Bob Kalsu, the Bills offensive lineman and Army officer who was killed in action in Vietnam in 1970.
As Longo watched the events of Monday night's game, her family in Buffalo called while Hamlin was being treated on the field.
"I was just speechless. Your thoughts go to the parents, to the family and to the team," Longo said. "Whenever something like this happens, you immediately know it could have been anyone on any team. We are all humans and we're all connected when this happens."
Longo performed for 14 years on Carnival Cruise lines before landing her role as Adele. She was at the center of the "Legendary Divas" offer to those who had purchased tickets to the then-postponed Adele show to see "Legends" for free. In March, she rejoins the company, again as Adele, in Myrtle Beach, S.C.
Longo is also working on a one-woman show, while keeping her home in Las Vegas. She suggested wearing Hamlin's No. 3 jersey for Sunday's game. Instead, the team has asked her to wear a commemorative Hamlin pin being given out to fans in attendance.
Longo says she hasn't performed in event of this importance, ever. Her hometown has also bonded after the blizzard in the region that claimed dozens of lives over the holiday season.
"The Bills' mantra is, 'One Family, One Buffalo,'" Longo said. "We come together in challenging times. It is a true community."
Reynolds' rap
Imagine Dragons front man Dan Reynolds asked for a show of hands at Dolby Live on Thursday night. He was seeking Las Vegas locals. He got more than he expected, more than half of the theater. Reynolds collapsed on his back, smiling at the support.
Intense, pyrotechnic action .., @Imaginedragons @Dolby Live @TRFdotORG #RJNow @reviewjournal pic.twitter.com/604n2QEEpf

— John Katsilometes (@johnnykats) January 6, 2023
The Vegas rock band we first saw 13 years ago at Hard Rock Cafe has grown into superstars. Thursday's show, which packed the venue, was a private event benefiting the band's Tyler Robinson Fund. The concert was also to show off the theater's new Dolby Atmos sound system.
The performance was aligned with CES, with Dolby a major power player at the convention. The new audio technology was crisp, the pyro well-placed, the confetti storms frequent.
Such Imagine Dragons staples as "Believer," "Sharks" and "Radioactive" were highlights. So was guitarist Wayne Sermon's elevated platform, which has become a signature stage effect.
Reynolds offered a group new year's resolution, presented as a toast: "May you be good to each other, may we accept each other, equality for all." We concur.
So @CiscoAguilar's victory lap after winning the Secretary of State election is a bicycle trek across Cambodia. This is from his FB page. He's been pedaling for about a week … #RJNow @reviewjournal pic.twitter.com/bzCMTsjj0r

— John Katsilometes (@johnnykats) December 26, 2022
Who Was Where
Just before the show we ran into Giles Martin, son of George Martin, who today remasters all the Beatles' music (including the "Love" soundscape).
Afterward, we caught up briefly with newly elected Secretary of State Cisco Aguilar, who just finished an eight-day bicycle trek across Cambodia. He pedaled from Dec. 21-29, a total of 250 miles, and didn't age a day.
Hat trick
A fist bump to the ever-rocking Frankie Sidoris. Jan. 3 was dubbed Frank Sidoris Day by Clark County during a ceremony Tuesday at Hard Hat Lounge. He was also given the Key to the Las Vegas Strip, issued by key-bearing Commissioner Tick Segerblom. We understand Hard Hat is on Industrial Road, not on the Strip. But the club is in unincorporated Clark County, so … Here comes Tick.
Sidoris, a marvelous rock guitarist, was honored at the business he and his buddy Robby Cunningham of Guerilla Pizza took over in August.
Hard Hat Lounge opened in 1962. What the club offers today that it didn't then? Read on …
Cool Hang Alert
The Hard Hat presents karaoke, from 10 p.m.-close every Wednesday. We recommend "That's Life," by Sinatra, and the pepperoni, by Guerilla.
John Katsilometes' column runs daily in the A section. His "PodKats!" podcast can be found at reviewjournal.com/podcasts. Contact him at jkatsilometes@reviewjournal.com. Follow @johnnykats on Twitter, @JohnnyKats1 on Instagram.