Vegas stars present for 'Toys for Tots' show at Westgate
November 24, 2017 - 6:28 pm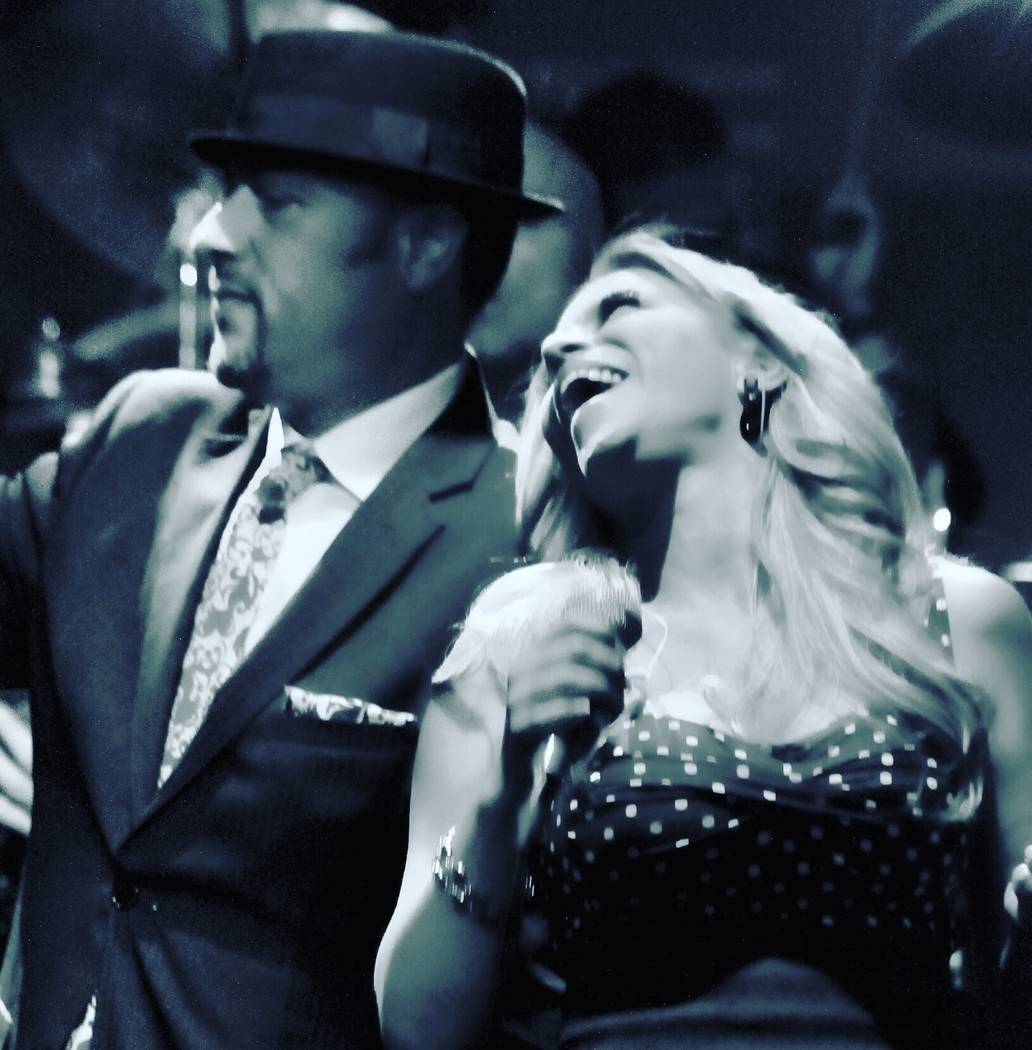 The KATS! Bureau at this writing is T-Mobile Arena, where the Vegas Golden Knights are played the visiting, and also hated, San Jose Sharks.
Earlier I did some holiday shopping, picking up some Golden Knights attire for the family (I'm not concerned with spoiling any Christmas surprises; they stopped reading my column about seven years ago). The Knights dubbed the day Golden Friday, for their logo, though black is also a team color.
Regardless, it'll feel good to outfit the clan in Idaho in authentic Vegas pro-sports gear, repaying them for all the Boise State hoodies I've accumulated over the years.
And as I watch the pregame video highlights on the T-Mobile LED screen, I see Celine Dion outfitted in a Golden Knights game helmet. Terrific look for her.
More from this cool haunt:
Toys in the attic
It's totally Toys for Tots time.
Alliteration aside, a pair of toy-gathering holiday events are on fast approach. The ninth annual "Toys for Tots Celebrity Benefit Show" for the United States Marine Corps toy-donation program is set for 7:30 p.m. Dec. 16 at Westgate Las Vegas' International Theater.
Tickets are $20, available at Westgate's box office. Supporters can also receive a ticket by dropping off a new, unwrapped toy worth at least $20 at show sponsor Findlay Cadillac at 993 Auto Show Drive in Henderson.
Navigated by bandleader David Perrico and his Pop Strings Orchestra (still kicking it up at 10 p.m. Fridays and Saturdays at Cleopatra's Barge at Caesars Palace), the event is just stacked with VegasVille favorites.
Listing away, it's Rock and Roll Hall of Famer and ex-Heart guitarist Howard Leese of "Raiding the Rock Vault" at Hard Rock Hotel; Chris Phillips of Zowie Bowie; "Magic Murray" Sawchuck of Sin City Theater at Planet Hollywood; Lorena Peril of "Fantasy" at Luxor; Lily Arce of Pop Strings "The World's Greatest Rock Show" at Stratosphere and "O" at Bellagio; the Lon Bronson Band horn section; comic Lenny Windsor, late of the "Benny Hill Show"; Neil Diamond tribute artist Rob Garrett; "Sexxy" at Westgate creator and star Jennifer Romas; Paul Shortino of Quiet Riot and "Raiding the Rock Vault'; Robin MacAuley of Survivor and, also, "Raiding the Rock Vault"; vocalist Serena Henry of the Smokey Robinson band; Vegas jazz great Michelle Johnson of Sonny Turner's Platters and solo shows at Myron's Cabaret Jazz; Kenny Fletch of Pop Strings; Adrian Zmed (from "Grease 2," "Dance Fever," and "T.J. Hooker"); Vegas singer Lyssa Baker (of Mr. & Mrs. Smith); Skye Dee Miles of Rose. Rabbit. Lie. at The Cosmopolitan of Las Vegas; Vegas comic Kathleen Dunbar; KISS tribute performers from "The World's Greatest Rock Show"; Vegas country artist Sam Riddle; and vocal ensemble Mo5aic. Jon Lindquist, better known as Jon The Announcer, is the emcee.
Still with me?
Perrico and Findlay exec L.J. Harness (who will also rock it out from behind the drums) are co-producers, with media support from Sherry Swensk of KLAS Channel 8, J.J. Snyder of KTNV Channel 13, and yours truly. The goal is to deliver 5,000 toys to the USMC Toys for Tots program and raise $200,000 in this year's campaign through ticket sales and direct donations.
Also this week, the USMC announced its record haul of $45,000 from its 16th annual Toys Tor Tots Golf Classic at Painted Desert. Organizers of the fundraiser, including USMC Toys For Tots President Thomas J. McGrath and TFT Coordinator Will Ryder, accepted a record $45,000 check from event secretary and treasurer Gerry Brodeur.
The donation was made at the USMC Leatherneck Club, home of the famed (at least, it is now) camouflage-felt pool table. This was a real check, too, not one of these comically giant, photo-op checks. This baby was ready for deposit.
And, to close the toy talk: At 8 a.m. Thursday, esteemed radio personality and event emcee Chet Buchanan of KLUC 98.5-FM begins his 19th annual toy-drive residency from his 30-foot-high scaffold in the parking lot of NV Energy at 6226 West Sahara Ave.
Buchanan will hold forth in his tented residency for 12 days, through 9 a.m. Dec. 11, collecting toys for needy kids through the holidays.
Last year, the Buchanan-led team took in 30 semi-trucks with toys and 6,700 bikes. The toy total, bike take and cash haul of $442,669 were records for the event. We're planning a KATS! Bureau visit with the Chetster again this year.
Contact John Katsilometes at jkatsilometes@reviewjournal.com. Follow @johnnykats on Twitter, @JohnnyKats1 on Instagram.