Vegas venue manager: 'It's not us' about errant fire report
Updated August 5, 2022 - 2:50 pm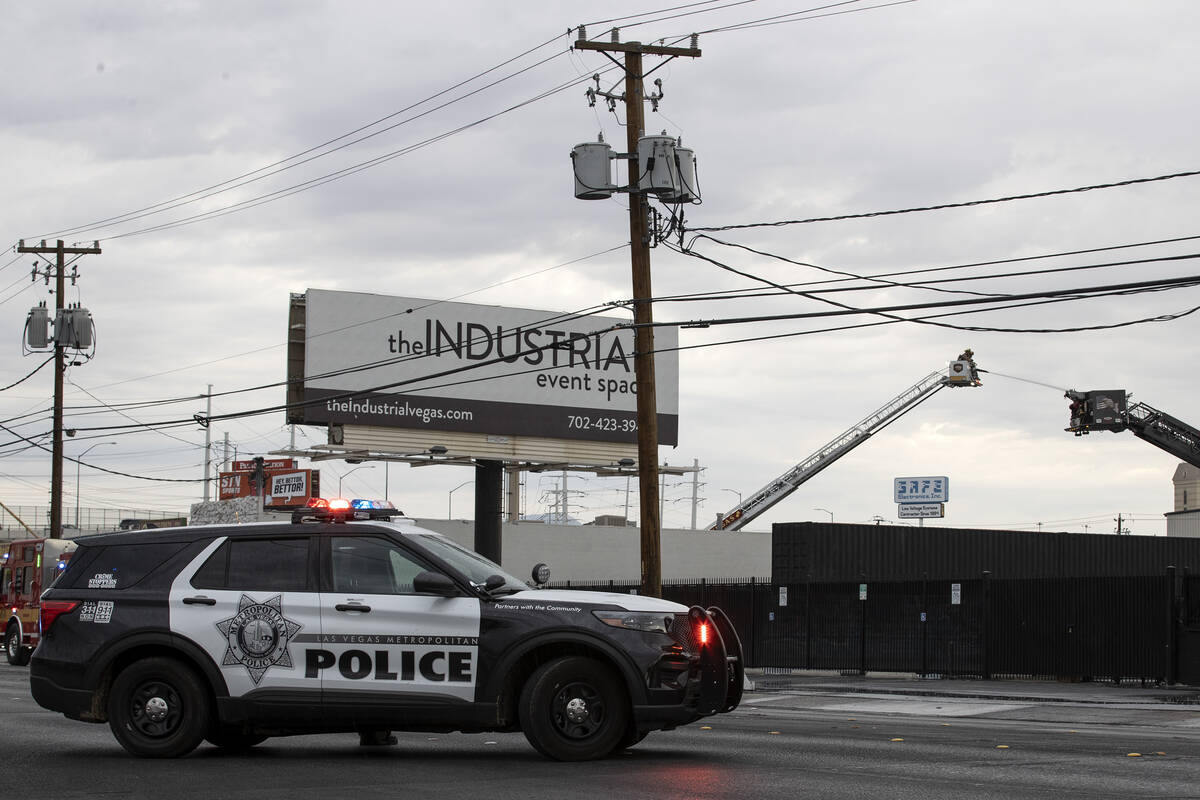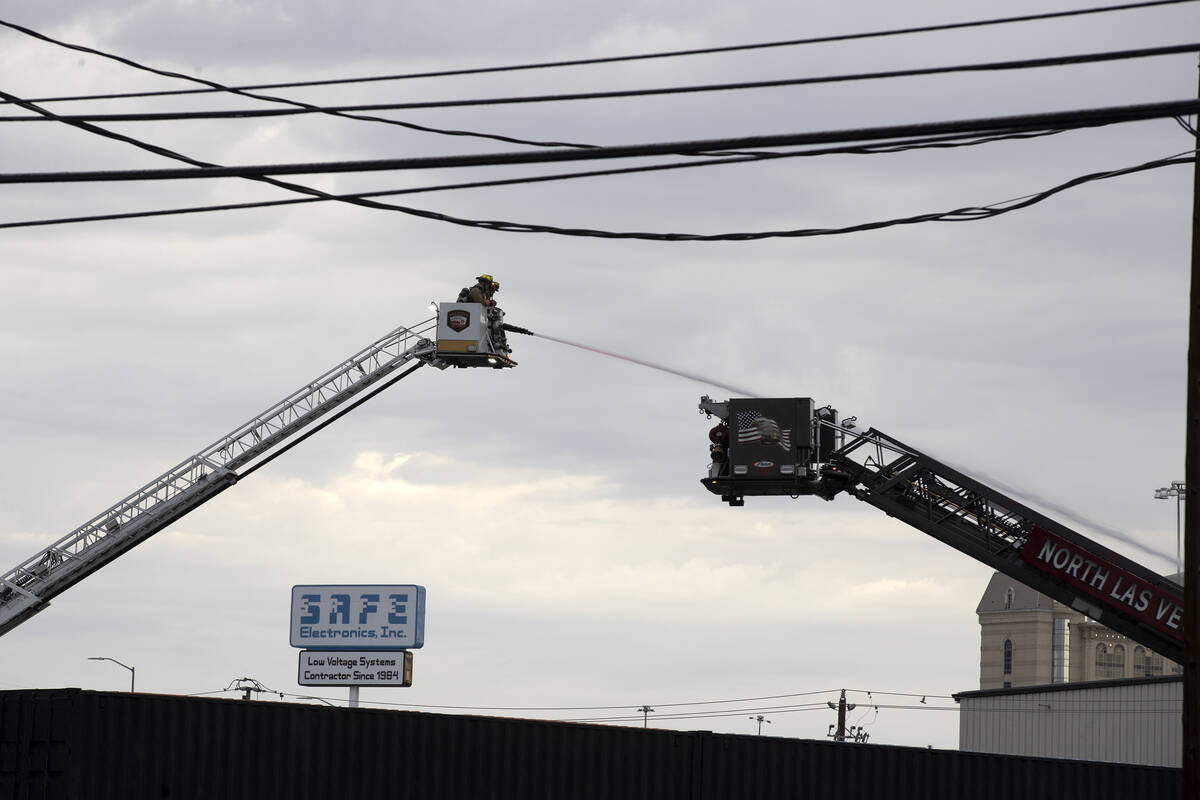 We said that a recent show at the Industrial Events Space "would blow the roof off the place." But we didn't mean it literally.
That description of "Soul Full Sundays" came to mind Thursday as a fire ripped through a closed facility in central Las Vegas.
Originally, the address reported by the Las Vegas Fire Department's social-media account was 2330 Industrial Road, site of the Industrial Events Space.
We can assure you, the blaze was not at the Industrial Event Space.
"I was getting calls left and right about this," Industrial Events Space General Manager Josh Abelson said Friday morning. "It's not us. It was next door. We are safe."
The fire was in a vacant structure behind the closed Crazy Horse Too structure on Industrial Road, at 2476 Industrial Road. The Industrial Events Space is about 100 yards to the south. The blaze took 70 minutes to extinguish.
Since its launch five years ago, the Industrial Event Space has hosted such private events as the "Mystere" 25th anniversary party, and such corporate events as a Microsoft conference. But Abelson said after the "Soul Full" show he was committed to bringing in public, ticketed events to the versatile, 10,000-square-foot venue.
The false alarm happens at an important moment in the venue's history. Abelson has just recently refocused his programming to ticketed shows. "Singers Las Vegas" played the venue last Saturday. The one-off production co-starred several popular Las Vegas vocalists and was produced by L.A. singer/producer Julian Miranda.
On July 24, former Prince backing singer Elisa Fiorillo and James "D Train" Williams fronted the well-attended "Soul Full Sundays" R&B party production. It was the second performance in an extended engagement for the new show. "Soul Full Sundays" has also been on the books for Aug. 14 and 21.
Abelson and "Soul Full Sundays" manager/producer Steve Arnold actually met Thursday afternoon, about five hours before the fire was reported. The two discussed more dates for "Soul Full Sundays," and also to book recording artist Paul Peterson in October.
Abelson is bringing back the Las Vegas Pizza Festival in November. The inaugural event drew 1,300. The GM expects 2,000 this year.
"We have more we want to announce for October," Abelson said. "We've got a lot planned, and more to come."
Great Moments In Social Media
Wiseguys Comedy Club posted on its Instagram feed a rider from a comedian that includes: one XXL Calvin Klein T-shirt (tagless) per show, five bottles of fruit-punch flavored Gatorade, two dozen baked wings (12 hot, 12 regular baked), a half-dozen bottles of Diet Coke, 12 cans of RUNA energy drink (blood orange and lime, or any flavor, must Amazon immediately), fresh wild-caught salmon (grilled or baked from restaurant or venue), two whole organic rotisserie chickens (served cut-up), and a dozen bottles of Harmless Harvest 100-percent raw coconut water.
That's just a sampling. And the items must be restocked each night because the comic takes some of the items to his room each night.
The post is from Wiseguys' Salt Lake City venue, but the club also operates on 1511 Main Street in the Arts District. For those uninitiated in the business of show (hah), a rider is a list of an artist's requirements when performing at a venue. These requests cover the food and drink served backstage.
Van Halen was infamous for dropping odd demands in its riders. The band required that all brown M&Ms be filtered out of their backstage snack spread. This wasn't to be cute. We learned years later that the uncommon requests were to make sure the venue operators were actually reading the rider. If they were not reviewing the list, something particularly vital (such as stage rigging) might also have been missed.
Regardless, Wiseguys founder Keith Stubbs did read that particular rider. His comment, "I can put up with some things, but this is excessive. That'll be a HARD PASS, ladies and gentlemen. Drive safely #Showbiz." Stubbs is not saying who made these demands. We'd start with comics who wear size-XXL T-shirts.
First and Longo
Janae Longo, who plays Adele in "Legendary Divas" at the Tropicana, is scheduled to sing the national anthem for the Bills-Patriots game at Highmark Stadium in Orchard Park, N.Y. This is in Week 18, either Jan. 7 or Jan. 8, subject to the league's flexible scheduling. This one might have playoff implications and wind up on primetime.
And how does Las Vegas' (for now) only Adele wind up singing at a Bills game? Longo is from Buffalo, and is a serious Bills fan. She also sang at the Bills-Broncos Military Appreciation game at Highmark Stadium on Nov. 19, 2019. We'll follow it all with great interest.
Cool Hang Alert
The Moonshiners, a swinging, Gatsby-themed outfit that makes new mashes of contemporary hits, plays Lost Spirits Distillery at Area 15 from 7 p.m.-11:30 p.m. Saturday and 7 p.m.-9:30 p.m. Sunday. Hit lostspirits.net for ticket info. A version of the band also plays Maxan Jazz 7 p.m.-10 p.m. Sunday at Maxan Jazz on 4130 Decatur Blvd. No cover there, where there is also sushi.
John Katsilometes' column runs daily in the A section. His "PodKats!" podcast can be found at reviewjournal.com/podcasts. Contact him at jkatsilometes@reviewjournal.com. Follow @johnnykats on Twitter, @JohnnyKats1 on Instagram.