Wayne Newton closes Las Vegas estate as public attraction
Updated July 12, 2018 - 12:31 pm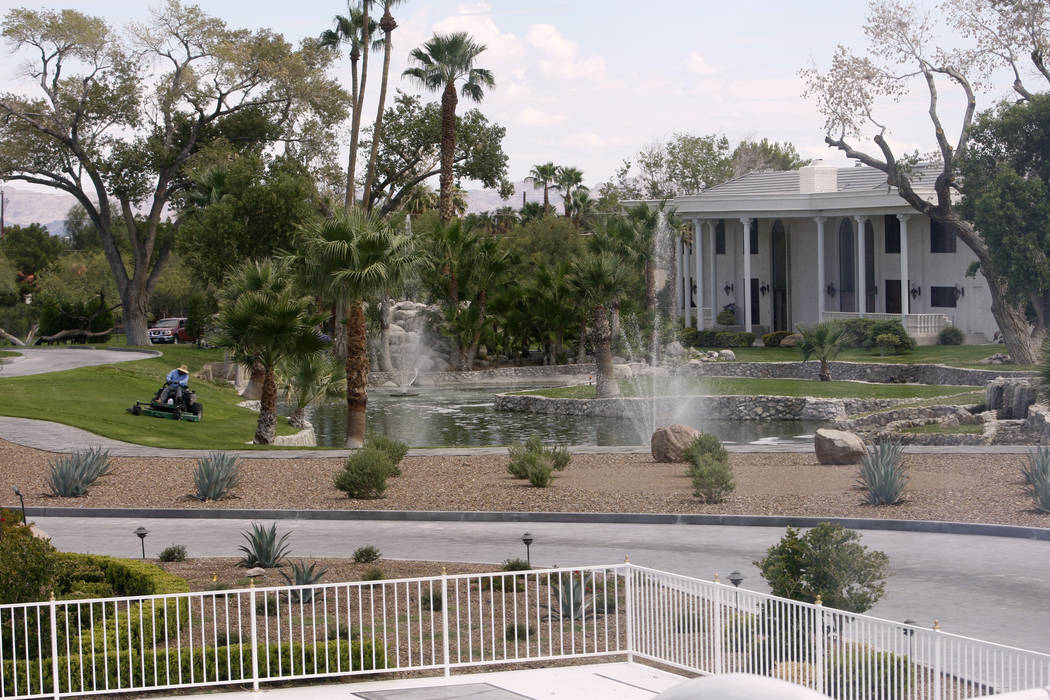 Wayne Newton's Casa de Shenandoah has shut down as a public attraction.
The museum's closing is met not with fanfare, but a letter.
Las Vegas attorney Jay Brown, counsel for Newton and his wife, Kathleen, informed Clark County officials on Tuesday that the Newtons were withdrawing the permits that allowed the property to be used as a for-profit museum and tours.
"It is the Applicant's intent that the property revert back to a single family residential use," Brown wrote on behalf of the investors in the property, a group headed up by Texas banking magnate and Newton family friend Lacy Harbor and his wife, Dorothy.
The withdrawals of the permits went in to effect Tuesday, effectively closing Shenandoah as a public museum and tour site. Famous as Newton's former home and ranch estate, Casa de Shenandoah opened to the public in September 2015.
The Newtons have not provided a specific reason for closing the museum. Even before Shenandoah was open to the public, neighbors have long complained about events held on the acreage, and about the occasional exotic animal that has run loose in the neighborhood.
"As of now, we are just taking a breather and deciding what we want to do in the future," Wayne Newton said. "We have not wanted to make any rush decisions."
The Newtons' private home was recently broken into as the family returned from his show at Bally's Windows Showroom. Newton was also hospitalized briefly a couple of weeks ago as he was treated for an infected right hand that had been cut on broken glass inside the home.
The Newtons said in May they had shut down the museum for renovations, and such cosmetic work as exterior painting will continue at the estate.
The Casa de Shenandoah museum and tour covers two parcels on corners of Pecos and Sunset roads: A building for a gift shop, theater and shuttle-bus loading area on the northwest side, and the 46-acre estate on the southwest corner. That parcel has been home to Newton's original homes (including his white mansion), a building that displays many of Newton's fancy vehicles, his old costumes, many memorabilia cases and barns for his dozens of Arabian horses.
Newton began work on Shenandoah in 1965 as a home for his parents and his late brother, Jerry. The property has been used as a setting for many films and TV shows, including the 1997 movie "Vegas Vacation."
Stirling Club to swing
On the topic of famous VegasVille properties …
A regal reclamation project is fully underway at the Stirling Club at Turnberry Place.
The new owners of the tony, 3-acre entertainment and spa complex on Paradise Road just across from Westgate Las Vegas have launched a $1 million renovation project through next year. They are committed to a New Year's Eve relaunch of the entertainment annex, which in its heyday was one of the more popular hangs for rich and refined in Las Vegas.
"We are still working out the details on New Year's Eve, but are definitely having an event," says DK Hospitality President Debra Kelleher, who is handling the details of restoring Stirling Club to its palatial past. "The club will most likely have a soft opening, with hard-hat tours over the holiday season."
And unlike years past, Stirling Club will be open to the public. Kelleher and lead investor Richard Ditton (co-founder of the amusement-game corporation Incredible Technologies) are not relying solely on residents' dues payments to make a profit. The rates and options, too, will be known by New Year's Eve. All we can expect is some sort of party, and as fans of Stirling Club know, it's been too long between gigs.
Moreno to be honored
Frankie Moreno is being inducted into the UNLV College of Fine Arts Hall of Fame on April 2. Moreno has been slamming it down in town since 2000, most recently alternating dates at Myron's Cabaret Jazz and South Point Showroom along with road dates in performing-arts centers across the country. Moreno performed at the opening of Hard Rock Hotel in Atlantic City from June 26-Saturday. His highly anticipated headlining show at Carnegie Hall with New York Pops is set for Oct. 19.
Tiki haps
Travis Pastrana ducked into Golden Tiki on Monday night with a group of friends and ordered Evel Pie pizza, delivered tableside. Both businesses are managed by Branden Powers, a fan of Evel Knievel, and of tiki motif and pizza joints.
And, Gazillionaire of "Absinthe" is to be honored with his own shrunken head at 6 p.m. July 18. Gaz is the first fictional character to be so honored.
A certain age
"Menopause the Musical" marks its 5,00oth show Wednesday at Harrah's Cabaret. Cindy Williams of "Laverne & Shirley" (and earleier, "American Graffiti") fame is back in her recurring guest-star role. Lisa Mack, Jaqueline Holland Wright, Lori Legacy, Vita Corimbi and Cherity Harchis are onstage for the landmark performance. "Menopause" opened at the then-Shimmer Cabaret, now Westgate Cabaret, in 2006.
John Katsilometes' column runs daily in the A section. Contact him at jkatsilometes@reviewjournal.com. Follow @johnnykats on Twitter, @JohnnyKats1 on Instagram.