Will Smith, Lady Gaga, LeBron among the celebs at Canelo-GGG
Updated September 15, 2018 - 10:23 pm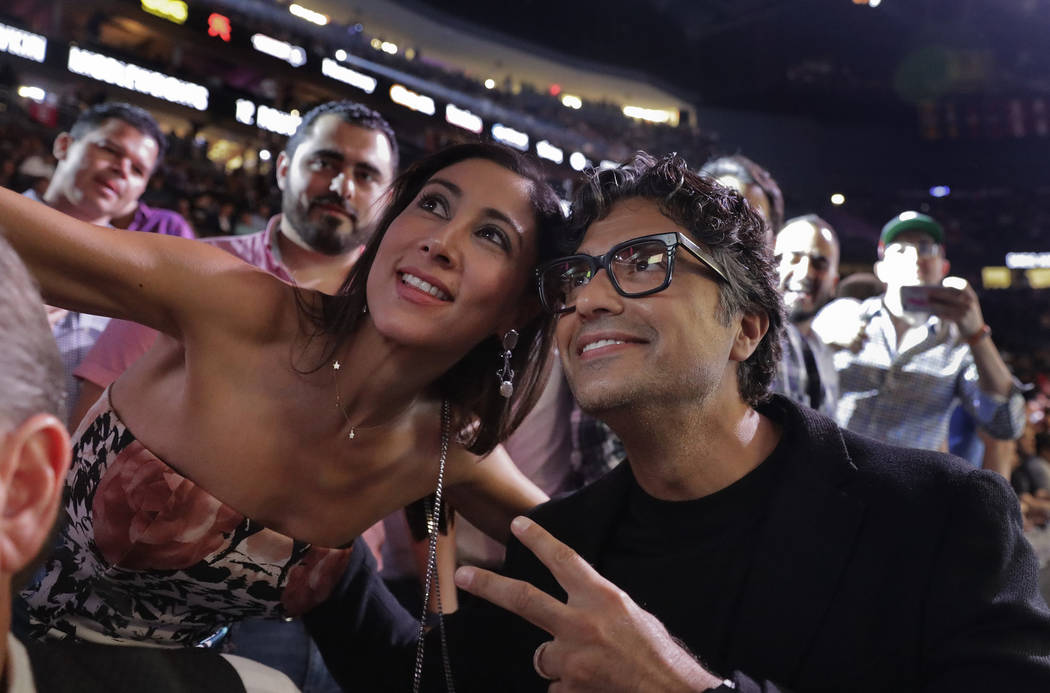 The Kats! Bureau at this writing is T-Mobile Arena, Section 20, a corn-hole toss from the ring for the Canelo-GGG bout. The fight falls into a busy sports weekend in VegasVille with the NASCAR racing action at Las Vegas Motor Speedway and the Mr. Olympia competition at Las Vegas Convention Center.
The NASCAR and Mr. Olympia competitions have more in common than you'd imagine. Both require oil, for starters.
More from this scene, and elsewhere:
Celebs in attendance
Those who are famous name-checked in Canelo's frenetic majority-decision victory at T-Mobile included Lady Gaga (indeed!), LeBron James, George Lopez, Charles Barkley, Denzel Washington, Cedric the Entertainer, Will Smith, Scottie Pippen, Dave Chappelle, Prince Royce, Luis Miguel, Jaime Camil, Chuck Liddell, Dale Earnhardt Jr. and Mike Tyson.
.@KingJames and @mavcarter join some friends for fight night. #CaneloGGG2 pic.twitter.com/mSVO0BlNLv

— HBOboxing (@HBOboxing) September 16, 2018
This is a fluid, and also diverse, list. Updates certain to follow …
Golden ticket?
During fight week, Golden Boy Promotions founder Oscar De La Hoya mused about running for president in 2020. He told a group of reporters Tuesday at the MGM Grand that his interest is "real" though "preliminary."
Quoted in the L.A. Times, De La Hoya said of his interest: ""It's real … that's the beauty of our nation. If Arnold (Schwarzenegger) can be governor, if Trump can be president, then why can't a Mexican American who won an Olympic gold medal, who's over 35 and a U.S. citizen run for president?"
One of Nevada's most prominent political operatives is skeptical about De La Hoya in 2020. Sig Rogich, director of "The Tuesday Team," the heavy hitters who managed President Ronald Reagan's 1984 re-election campaign, says De La Hoya is not close to being prepared for a presidential run.
"Oscar is a great advocate, he has a great following in the Hispanic and Latino communities," Rogich, founder and president of Rogich Communications Group in Las Vegas, said in a phone chat Saturday night. "But as a candidate for the presidency, on the face of it, it's pretty ridiculous. He's never run for office. He has no platform nor organization per se, and so he would run with no base."
Rogich continued, "Latinos, themselves, who are now very savvy and understanding of the political process, would not want to waste their vote with no hope of success."
Rogich says De La Hoya would have more pull as a supporter for more experienced candidates. "He would have a lot of impact in swing states with Latino populations, who would listen to him," Rogich said, listing Colorado, Nevada, New Mexico and Arizona among such states.
Rogich has known De La Hoya since he was Nevada Athletic Commission chairman and De La Hoya was a champion fighter.
"I have always liked him," Rogich said. "There's no question he's a very likable guy, but as a candidate for president … I can't see it."
Mayweather-Pacman draw
About a year ago, veteran Las Vegas ticket broker Ken Solky predicted a Floyd Mayweather-Manny Pacquiao rematch. Solky told me after the Mayweather-Conor McGregor bout at T-Mobile last August that Mayweather would take a break, then return for a major payday against Pacquiao.
Solky's optimism is steeped in professional interest, of course. Solky is Mayweather's man in the Las Vegas ticket-sales industry. The Money Man has even sent anyone interested in ducats to his fights to Solky's LasVegasTickets.com website.
Solky made a bundle on Mayweather's most recent bouts, his May 2015 encounter with Pacquiao and his fight with McGregor last year.
"Canelo-Triple-G is a great middleweight rematch, and I'm the sure fans will be excited," Solky said. "But no fight could ever hold a candle, value-wise or in terms of demand, to any Floyd Mayweather fight, especially a Manny Pacquiao rematch."
The night before the fight …
De La Hoya and his wife, Millie Corretjer, took in Miguel's show Friday night at the Colosseum at Caesars Palace.
Bob, Marty & Jerry
"Conversations With Norm," starring my friend and colleague Norm Clarke, focuses on three women who were close to a trio of all-time entertainers: Vera Goulet, widow of Bob Goulet; Karon Kate Blackwell, widow of Marty Allen; and Danielle Lewis, daughter of Jerry Lewis.
That is the lineup for the 2 p.m. Sunday presentation at Myron's Cabaret Jazz. Tickets are $25, available at the Smith Center website.
The Tenors 500
Tenors of Rock celebrate their 500th show at Harrah's Showroom on Monday night. I love the act. Miss the dancers who opened the show, but the set list still rocks.
Great moments in the loo
"Flip the Strip" radio show co-host and People freelancer Mark Gray observed some men's room follies at Friday's Imagine Dragons Tyler Robinson Foundation Rise Up Gala at Caesars Palace. Gray walked into the men's room with a pair of cast members from the Tenderloins troupe, who star in the truTV series "Impractical Jokers." One was Brian "Q" Quinn.
A fan recognized Quinn, and asked, "Q! Can we get a selfie?" Q responded, "This is a little awkward. Can I at least wash my hands first?"
John Katsilometes' column runs daily in the A section. Contact him at jkatsilometes@reviewjournal.com. Follow @johnnykats on Twitter, @JohnnyKats1 on Instagram.