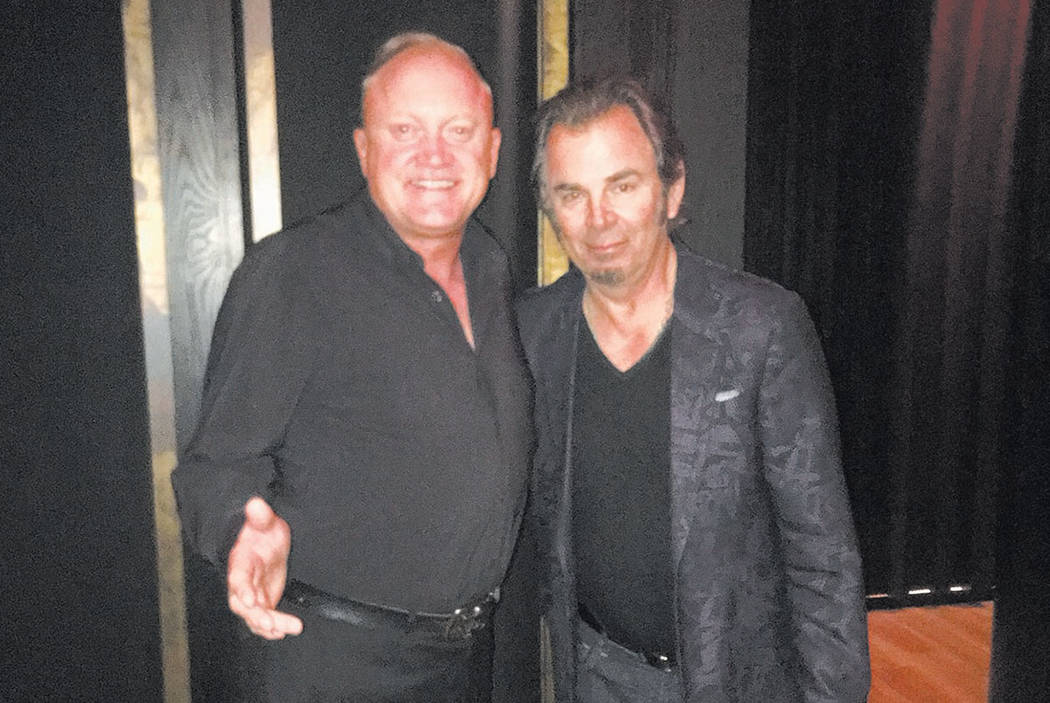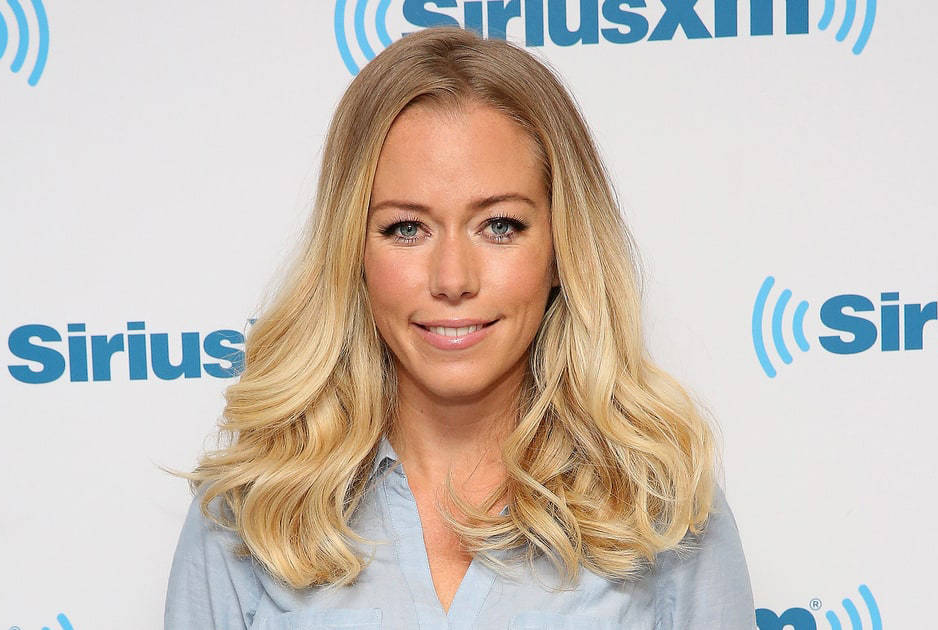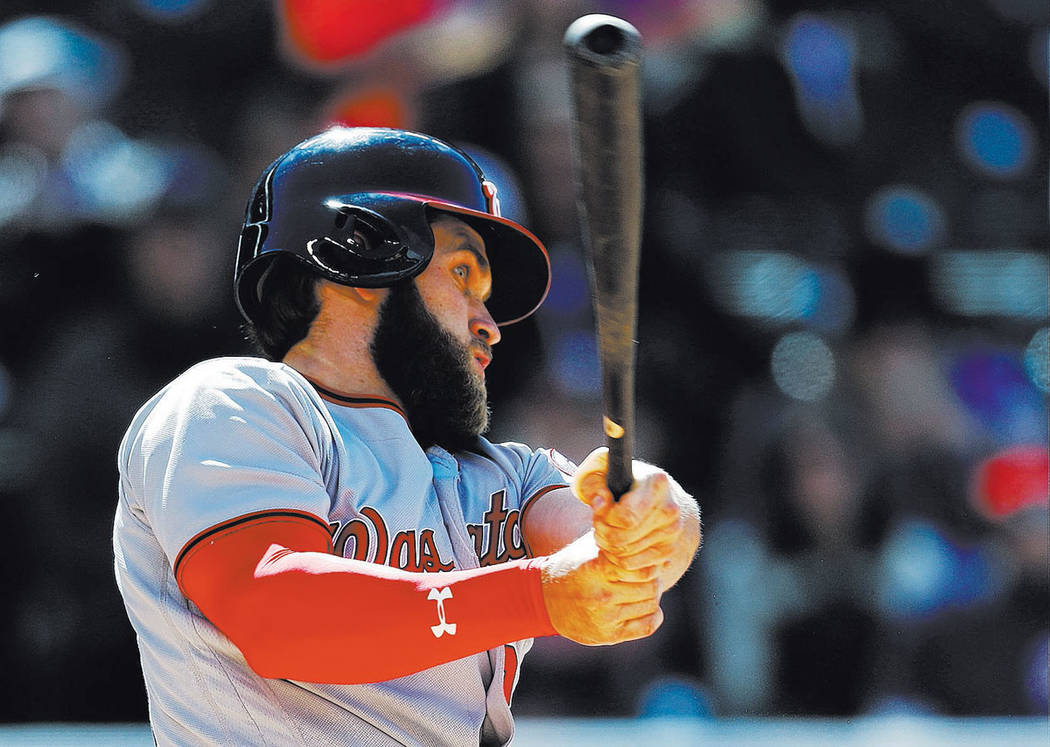 The Kats Bureau has operated largely out of Hard Rock Hotel this weekend — catching Journey at the Joint (intended), and later caught the band hanging at the resort's new steakhouse (coincidentally).
From the scene:
Steak-out at MB Steak
The scene at the bar of the new MB Steak on Friday night reminded me of the heady days of the Palms from a few years back.
Former Palms and N9ne Group exec Jon Gray, who has returned to the hotel as assistant general manager after a stint in Portland working for Nike, alongside Live Nation former concert promoter Billy Conn, who was formerly the Palms entertainment director.
And behind the bar was Vegas' favorite (and only, by title) "funologist," Johnny O'Donnell, who worked as a bartender and manager at N9ne steakhouse at the Palms for several years and is a partner in Michael and Jenna Morton's Morton's Restaurant Group, which includes Crush at MGM Grand and La Comida on Fremont East.
MB Steak is a partnership between brothers Michael and David Morton, but MB does not not stand for Morton Brothers. Rather, it's My Brothers, which speaks to the siblings' relationship without straying into the Morton's territory owned by Landry's Inc. (the company is owned by Golden Nugget operator Tilman Fertitta and not involved in the Hard Rock eatery).
MB Steak has been open for a week, coinciding effectively with Journey's extended engagement at the Joint. The band has dined at the restaurant after this weekend's performances. The band's keyboardist and songwriter Jonathan Cain was joined by his daughter Madison Cain, of opening act Madison Avenue, in the establishment Friday. Cain recorded a brief video clip with O'Donnell behind the bar wherein the "funologist" tried to get a version of "Faithfully" or "Don't Stop Believin'," but didn't quite get there. No matter. As we say, try the veal.
Coo-coo for Coco
Mom's sweet tooth played a role in the naming of one of Dan Reynolds' and Aja Volkman's twin girls. The Imagine Dragons front man and his wife, who is front woman for the rock band Nico Vega, welcomed Gia and Coco on March 28.
Gia was chosen as a nod to Volkman's Italian-Spanish roots. And Coco?
"We were looking for something unusual, but didn't want to be strange for the sake of being strange," Reynolds said during a recent phone chat. "With Coco, we felt it was unique, dark and beautiful."
Reynolds then laughed and added, "Plus, my wife really loves chocolate."
Imagine Dragons are set to play the new song "Believer" from their upcoming album "Evolve" next Sunday at the Billboard Awards Show at T-Mobile Arena.
Love letter to Mom
On Saturday, Washington Nationals slugger and Las Vegas native Bryce Harper signed a one-year, $21.65 million contract, the largest single-year contract ever for a Major League player eligible for arbitration.
Earlier in the week, Harper spoke of a signing of a different sort.
Harper was filmed reading a Mother's Day letter to his mom, Sheri Harper, during an airing of SportsCenter on ESPN.
Unbeknownst to Harper, Sheri watched him recite the note on a monitor from a nearby bedroom.
The All-Star outfielder recalled being dropped off at school one day and "running off before I could give you my regular kiss on the cheek." Sheri called his name and made the "I Love You" sign with her hand. That's the sign Harper still makes, for his mother, every time he hammers a home run.
Kendra hits Chipps
Kendra Wilkinson filmed a bachelorette episode of her WE Network series "Kendra on Top" with "The Chippendales" at the Rio on Friday night. Lest we forget, Wilkinson was one of Hugh Hefner's three girlfriends on the E! series "Girls Next Door," alongside Holly Madison and Bridget Marquardt.
Wilkinson is also co-starring with Jai Rodriguez ("Queer Eye for the Straight Guy") in "Sex Tips for Straight Women from a Gay Man," which begins its 12-week run May 27 at Paris Las Vegas. The stage show is to also be woven into the plot of "Kendra on Top."
More heat
A sequel is in development for "Menopause the Musical" — one of the Strip's enduring productions. The original show opened at the then-Shimmer Cabaret at the then-Las Vegas Hilton (now Westgate Cabaret at Westgate Las Vegas) in 2006.
John Katsilometes' column runs daily in the A section Contact him at jkatsilometes@reviewjournal.com. Follow @johnnykats on Twitter, @JohnnyKats1 on Instagram.