'World's Greatest Rock Show' tunes up — loudly — at the Stratosphere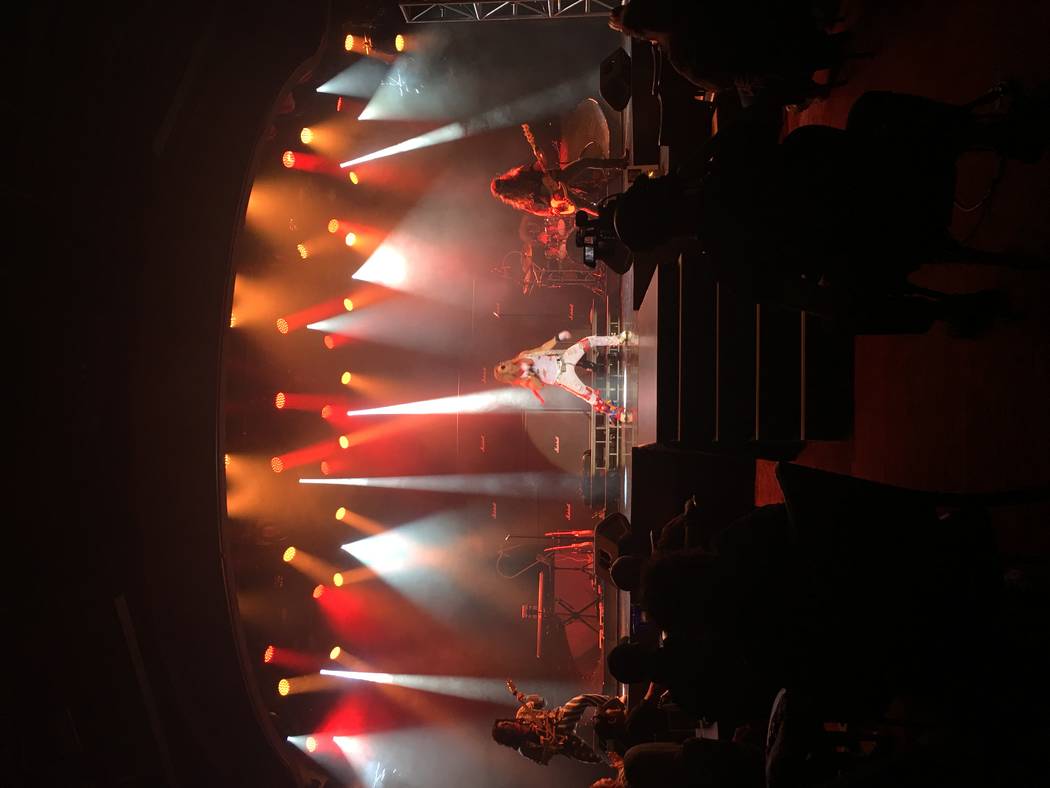 Every day, the Apple Music app posts "Playlists" customized to your listening patterns. If you like, say, polka music, your Wednesday Playlists are likely to be full of Brave Combo, Tom Brusky, Slavko Avsenik and the like.
My Playlists are blasting out of a few Strip showrooms and rock clubs. Classic rock is the new thing, and Tuesday night at the Stratosphere I ducked into the last production in that genre, "The World's Greatest Rock Show." Love that title, which the show's music director, Lon Bronson, says is the least-ambiguous name for a show he's seen in Las Vegas.
The opener was not much more than an extended dress rehearsal, but it still was a lively night of rock 'n' roll. The show's concept is familiar, reflects the tribute samplings of "Legends in Concert" at Flamingo Las Vegas, and a show that was once presented at Stratosphere Showroom, "American Superstars." "Rock Show" hustles out a rotation of classic rockers. Opening night it was Bruce Springsteen and the E-Street Band (fronted by Reckless in Vegas founder Michael Shapiro), Van Halen (with Drew Hart pefroming the Diamond David Lee Roth leaps and yelps), Heart (with Anne Martinez of "Baz" and Cassie Stone, late of "Zarkana," swapping vocals), Journey (starring Paul Johnson of "Rock of Ages" as Steve Perry), Meat Loaf (with Jared Dalley, also from "RoA'), and a full treatment of Kiss to close the night.
Following the leads of "Tenors of Rock" at Harrah's and the newly relaunched "Raiding the Rock Vault" at Vinyl at Hard Rock Hotel, "Rock Show" employs video and backing dancers and advanced staging (including some pyro during the Kiss segment). New LED panels are to arrive soon, replacing the old projection screens that add an unintended 1980s-era flair.
But crucial to the success of any of these shows is they are musically sound: The band funded by co-producers Dick Feeney ("The Rat Pack is Back") and Darin Feinstein of Red Mercury Entertainment and built by Bronson is filled with top veteran players. The familiarity and popularity of the music is inescapable. With no advance marketing outside of social media posts and news releases announcing the show's opening, the showroom was nearly full.
For those who visit Vegas and don't care to be seen in the scene of a nightclub, or pay high ticket prices at one of the superstar residencies on the Strip, these tribute shows fill a void. Tuesday, I sat with a couple from Punxsutawney, Pa., during Tuesday's show. He was a car salesman and she a bank teller who are in town for a few days and staying at the hotel.
By show's end, they were standing and calling out, "I wanna rock and roll all night! And party every day!" They had not known of the show until arriving at the hotel earlier that day. When I mentioned it was the opening night, the guy said, "They'll have a lot more nights. This was fun."
John Katsilometes' column runs daily in the A section, and Fridays in Neon. He also hosts "Kats! On The Radio" Wednesdays at 8 p.m. on KUNV 91.5-FM and appears Wednesdays at 11 a.m. with Dayna Roselli on KTNV Channel 13.