World's largest immersive art experience opening on the Strip
Updated March 2, 2023 - 7:20 pm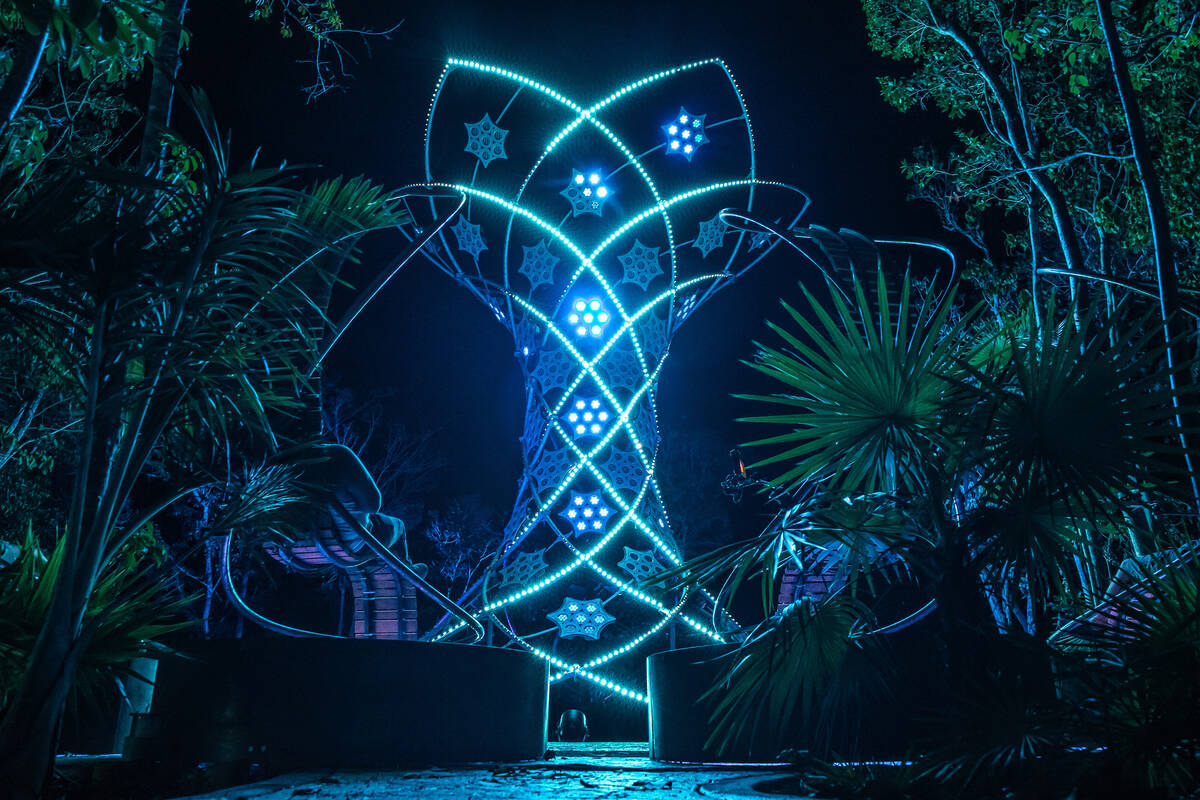 Resorts World is assembling a maze of amazing stuff.
Billed as the world's largest immersive art experience, Transfix opens April 21 with plans to run through the fall on the north end of the Strip. This is more than 50 "interactive, kinetic, illuminated, and fire-breathing artworks" by international artists.
Transfix will occupy a 200,000-square-foot, multilevel facility on the plot just south of the hotel's towers where the holiday attraction Enchant was presented (tickets are on sale March 15, starting at $59, not including fees).
Officials plan to tour Transfix across the country, and internationally, after hauling out of Vegas.
Participating artists include Christopher Bauder & KiNK, Marco Cochrane, Foldhaus Collective, Kate Raudenbush, Christopher Schardt, Playmodes, HOTTEA and Kevin Clark.
The venue features 10 bars and speakeasies, designed by artists, in a 2-acre labyrinth.
"We are thrilled to be partnering with Transfix and for the opportunity to bring such a unique offering to our guests," Resorts World President Scott Sibella said in a statement. "This experience will truly elevate and redefine the immersive experience approach, and we cannot wait to welcome our guests and visitors alike to this never-before-seen attraction."
Guests take a tour of the attraction, lasting between 90 minutes and two hours.
"Our aim is to elevate and redefine 'immersive,' " said Tom Stinchfield, Transfix's co-founder and chief revenue officer. "We believe that interacting with art at this large of a scale can change the world by illuminating one mind at a time. If we can inspire even a fraction of our guests to restore their childlike wonder and curiosity — or explore their own personal creativity and expression — we've done our jobs well."
The project is two years in the making.
"We've carefully built out the Transfix business model by placing artists at the forefront of what we do," co-founder and CEO Michael Blatter said. "Our goal is to change the way that artists receive recognition and compensation for their work. We founded Transfix to create a platform that funds artists of all backgrounds to develop new large-scale artworks that would have never been realized otherwise, and we're thrilled to present it with the world."
Queen show
Jackie Siegel and the construction of the fabled Florida version of the Palace of Versailles is moving toward a live stage adaptation. Kristin Chenoweth is to portray Siegel in a musical named for, and based on, the 2012 documentary "The Queen of Versailles," which focused on the melodrama of Jackie and David Siegel's estate in Orlando.
David Siegel is the founder of Westgate Resorts, and the couple own the Westgate hotel-casino in Vegas.
Chenoweth, who has headlined at The Smith Center, broke the news on social media.
The Siegels' estate was to be the largest private home in America. The $100 million property was inspired by the actual Palace of Versailles, but plans were undercut by the 2008 recession.
The stage musical reunites Chenoweth with Oscar-winning composer Stephen Schwartz. The two worked together on "Wicked." The "Queen" stage show is described as "a new musical exploring the true cost of fame, fortune, and family."
A reading is set for March 24, with the project building from there.
What Works in Vegas
Ronnie Foster, wherever and however. This is just a general plug for the Hammond B-3 legend. Foster, who will be 73 in May, still plays full-court basketball five times a week. He is no longer working with barbells. "It's not good for my fingers," he says. "I'm doing pushups and bodywork."
Foster will represent Vegas at the prestigious Blue Note in New York City on April 24. The Blue Note label signed him 50 years after re-releasing his debut album, "Two Headed Freap," on vinyl in the Blue Note Classic Vinyl Reissue Series.
Among Foster's late-arriving fans is Elton John, who connected with him at John's show in November at Allegiant Stadium. You'll see it here when Foster is booked again in VegasVille, which is not soon enough.
'Midnight' goes dark
The inspired production "Midnight Skye," starring column fave Skye Dee Miles, ended its run at Ghostbar at the Palms on Thursday. The project rocked the 55th-floor club for eight months.
This was probably too much show for that space, rolling with Miles' wild backing band, dancers and the occasional electric violinist. Locals didn't move to its midweek schedule change, either.
The hotel is going with DJs and other "specialty programming." Maybe someone punching a laptop in a kiosk. But catch Miles anywhere, always. She's booked Saturdays at the new Easy's next to Proper Eats at Aria, starting 9 p.m. March 11. A proven survivor, and a real entertainer.
Cool Hang Alert
"Sandy's 7 Year Vegas-Versary" is 7:30 p.m. Thursday at the Tuscany's Piazza lounge. Sandy Knights is the Sandy in question. I first caught this artist one Knight at "Vegas Gone Country" at the V Theater, slaying it as Shania Twain. Wonderful artist. No cover. Be 21 years old or older, because of the bar. And tip your waitstaff.
John Katsilometes' column runs daily in the A section. His "PodKats!" podcast can be found at reviewjournal.com/podcasts. Contact him at jkatsilometes@reviewjournal.com. Follow @johnnykats on Twitter, @JohnnyKats1 on Instagram.
Transfix art installation highlights
From a news release announcing the attraction, running from April 21 through the fall (tickets start at $59):
— Marco Cochrane's "R-Evolution" | Cochrane is a self-taught sculptor who creates epic scale art with the intention of sparking ideas, conversation, and action. Best known for his large-scale sculptures of women intended to de-objectify women and challenge viewers to see past the sexual charge typically associated with the female body, Cochrane will present R-Evolution, a monumental sculpture standing over 45 feet tall and weighing 32,000 pounds. It is the third sculpture in a series depicting San Francisco area dancer, Deja Solis, and is Marco's only kinetic sculpture to date containing 17 motors. The figure stands strong in her power and breathing, radiating her own humanity. The artist's intent is to inspire everyone to take action to end violence against women, allowing both women and men to live fully and thrive.
— Christopher Bauder & KiNK "Axion" | Christopher Bauder, an artist working in the fields of light-and installation art and media art and creator of Berlin's multidimensional space DARK MATTER together with composer KiNK, electronic music's most known "dynamo", will present AXION, a large-scale outdoor experiential art installation. With its grid-like arrangement of light tubes and moving lights, from a distance the installation resembles a giant scientific device for space exploration or particle detection. But once the visitor steps inside, it is a reflection on the potential of axions, dark matter, and the idea of the unknown. AXION is a hallucination taking shape, a flowing dream of light and sound that meanders through the night.
— Kate Raudenbush's "As Above, So Below" | Raudenbush is a New York-based artist who has established herself as a prominent figure in large-scale art since 1999. Her contemplative environments, which she creates by combining sculpture and architecture, often comment on the perils and potential of humanity. As Above, So Below is a 25 foot indigo and mirrored pyramid that acts as a gathering space inspired by the fractal icosahedron of the mathematician Sierpinski. Its reference to the fractal nature of reality, together with its reflective interior, welcomes all to a futuristic refuge to converge and contemplate the infinitely large and small worlds that make up our reality.
— Pablo González Vargas' "ILUMINA" | Founder of the renowned collaborative project Mayan Warrior, Gonzalez will erect ILUMINA, a 37-foot tall interactive light and sound sculpture that invites participants to take part in an immersive three-minute long meditation, in which biometric sensor are connected to each participant and translated into data that powers the lighting design and moving soundscapes of the structure.