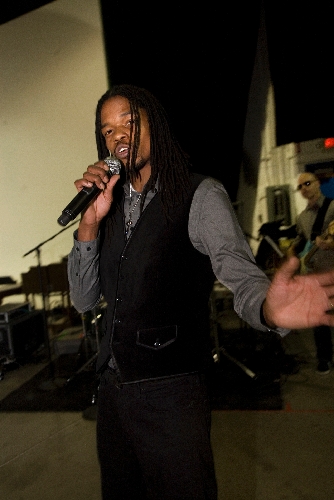 It is a genuine washrags-to-riches story. But like most things on TV, they left a lot of stuff out.
The important part is still that Landau Eugene Murphy Jr. went from detailing cars in West Virginia to the Colosseum at Caesars Palace this weekend. And that he did so by winning "America's Got Talent" as a dreadlocked African-American crooning Frank Sinatra standards.
"There was a whole lot of singers there. But none of them were doing what I was doing, and that's what made me stand out," says the 37-year-old winner of the million-dollar first prize. He performs with other finalists — including Las Vegas magician Landon Swank — in "America's Got Talent Live" today through Sunday.
The part that TV skipped? Murphy did try it other ways before "My Way."
"I do everything from R&B to Southern rock," says the singer who auditioned for "Talent" not long after the implosion of a blues-soul band called Top Shelf, which he really felt was going to make it out of Logan, W.Va.
"We were at the top of our game … really at that doorstep of fame. I'm like, right there at the door handle with my hand on the handle," he recalls.
But two band members had a falling out over money, and one took down the band's website. "The band kind of stopped rolling because we didn't have a consistent bass player. We couldn't book too many shows," Murphy explains of how he ended up washing cars.
It wasn't all bad, because smoky bars gave him a sinus infection and the band didn't indulge his flair for standards.
"That's the thing, they wouldn't listen to me. Everybody I always told I wanted to do this, they would always laugh at me."
But Murphy had loved Sinatra since "Love and Marriage" was the theme song for "Married … with Children." When he was old enough to go to karaoke bars, "My friends would make me bets I couldn't sing Frank Sinatra in an all-black place and get a standing ovation."
But he did, because "I was different. I was the only different thing that they'd seen.
"I just didn't want to be like everybody else. I could easily get up and sing Motown, I could easily get up and sing the Temptations. I just found something that nobody was interested in doing."
And he doesn't think a Motown song would have caught any attention at his New York audition for "Talent," which came after a home burglary left him to perform in the only outfit he owned.
Winning the judges' approval "made me feel so emotional. I've been fighting this thing so long. Like, 'Am I really good enough? Do I really belong in this?'
"To hear those judges saying the things they said was like taking that gorilla and slamming him off my back into the corner. It's been that way ever since."
After his win, the singer rushed to record an album of standards in only five days of vocal sessions. The Nov. 21 release was overseen in part by another crooner, Steve Tyrell, who has sung at the Golden Nugget.
Someday, Murphy says, he will branch out beyond the Porter and Gershwin classics to show off his versatility. "It's in me (and) you gotta stay true to yourself," he says. "But right now I gotta stay true to my fans."
Murphy will be reunited with Swank and other contestants booked for this weekend's shows: the Colorado youths of Silhouettes who create living art tableaus, the young musicians of PopLyfe and 11-year-old singer Anna Graceman. Jerry Springer returns to host, with added guest spots from last year's winner, Las Vegas-based Michael Grimm, the acrobatic troupe Fighting Gravity and Jack Vidgen, winner of the Australian version of "Talent."
Las Vegans may find it ironic to discover Swank on television. He is the rare magician who has not tried to launch a show on the Strip.
Such a show is still "the ultimate goal" for the Alaska native, who graduated from the University of Nevada, Las Vegas in 2007 with a degree in business management. (Swank says he attended UNLV the same time as Seth Grabel, whom he ended up competing against on "Talent." But the two met only briefly back then.)
Swank instead works the corporate and convention circuit. "I think it's been helpful being down here for seven years and not getting my shot straight away," he says. "But now that I feel like it's within my reach, I need to make a move."
His face time on the NBC hit "gets people to listen to you I guess. At least opens that first door for you. And then you can actually pitch them your other ideas."
But his top priority after this weekend is a November wedding to Harmony Moniz, the native Las Vegan who performs some of the illusions with him and has her own fan following.
"Some of the Silhouettes are in love with Harmony," Swank says. "They'd always say they wanted to be like her when they grew up. It was pretty cute."
Contact reporter Mike Weatherford at mweatherford@ reviewjournal.com or 702-383-0288.
Preview
"America's Got Talent Live"
7:30 p.m. today through Sunday
Colosseum at Caesars Palace, 3570 Las Vegas Blvd. South
$42.50-$99.50 (731-7333)