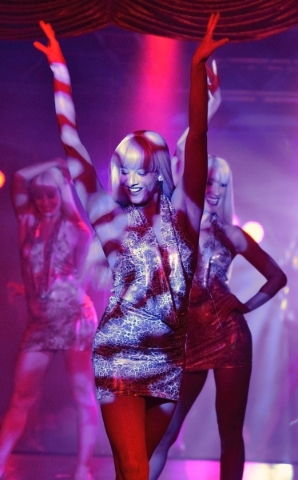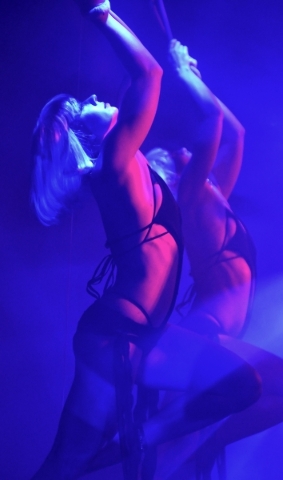 Take a topless dancer for granted? Only in Vegas.
"Crazy Girls" celebrated 28 years on the Strip last month, and "Fantasy" just threw itself a 16th birthday party. That makes them the third- and seventh-longest running shows in town.
The opening narration of "Crazy Girls" goes a step further, telling audiences it's the longest-running topless revue in the country.
A relaunch was mandated in May by the closing of the Riviera, where the "Girls" strutted their peroxide blonde wigs since September 1987. The bronze "butt" statue — the rare reason to snap a photo at the rundown casino — was hauled down the Strip to Planet Hollywood, where the show's creator and producer, Norbert Aleman, has taken over the Sin City Theater.
"Fantasy" also has been through more than one boom-and-bust cycle since it bowed at Luxor in 1999. Seeing both shows in the same week is a reminder that, yes, the safest bet for a modest budget is still the clothing-subtraction theory.
But maybe the real question is, too safe? Should we start to think of these cabaret shows as more of a privileged license?
Their longevity could be an argument for a little less complacency. A little more risk-taking. And, in the case of the well-entrenched "Fantasy," maybe a little more reinvestment?
Sure, you can argue "If it ain't broke …" and all that for a dance line that is collectively the most stunning on the Strip. And it's only fair to note "Fantasy's" annual birthday parties mean local scribes and industry folk end up seeing it once a year more than most paying customers.
Still, the show remains the safest and most "innocent" of the five (soon to be six) female topless cabaret shows. It's an almost-wholesome little party with minimal changes from year to year; this time, a new opening with the gals in matching jackets from the Michael Jackson Special Forces Batallion.
"Fantasy" does tease some winkingly naughty scenes such as three gals tucking themselves into bed. But its heart is more in playful, old-school variety, such as singing hostess Jaime Lynch covering "Single Ladies (Put a Ring on It)" while comic relief Sean E. Cooper vamps as Beyonce.
The dance solos solos follow the path of the show's annual calendar and give the likes of conga-propelled Yesi Burgess a chance to emerge as an individual. The MVP turns out to be athletic Sonya Sonnenberg, who does a pole dance while Lynch belts a soulful "Try a Little Tenderness," and later an aerial ballet on vertical swaths of fabric, a rare use of the stage's full depth.
Charting a direction is more necessary — but also a little trickier — over at Planet Hollywood. "Crazy Girls" is the underdog of the topless pack, even with the advantage of the longest-running brand name.
The "Girls" have re-emerged with a retro vibe that's promising, but not quite finessed. There's a fine line between "old-school" and "old," and the revue still needs to perfect the balance.
On the plus side, it's a true cabaret now. Taking over the leased theater space from comedy producer John Padon, Aleman has expanded the stage and added a red-velvet curtain. "Crazy Girls" is now even more like its inspiration, the Crazy Horse Paris (which once had a Las Vegas presence at the MGM Grand).
Dudes who want to sit right up front can almost rest their slack jaws right on the stage. And the dance numbers are spelled not only by a singer, Jacklyn, but the rimshot-comedy and speed magic of Tony Douglas.
But being up close also makes you more conscious of the choreography and the dancers hitting the mark; sometimes it feels less like they're trying to seduce us than impress us.
And the show takes its sweet time getting to the advertised attractions. Some of the costumes are a little weird and even, lascivious lads would argue, in the way. Those goofy wigs have retaken some ground in the move to Planet Hollywood, after recent editions at the Riv let us see more of what the six dancers really look like.
But "Crazy Girls" has always been the same show to give us both Melissa's lip-sync to Eartha Kitt's "How Could You Believe Me?" and Michelle's gyrations on a revolving wheel to Led Zeppelin's "I Can't Quit You Baby." And the "Girls" do get a bit more R-rated than their "Fantasy" counterparts with some bondage and discipline set to Nine Inch Nails' "Closer," and a two-woman scene with pulsating techno music and psychedelic lighting.
That number reminds us "Crazy Girls" can have a future as well as a past. In the meantime, "Fantasy" just keeps living in the present.
Read more from Mike Weatherford at reviewjournal.com. Contact him at mweatherford@reviewjournal.com and follow @Mikeweatherford on Twitter.